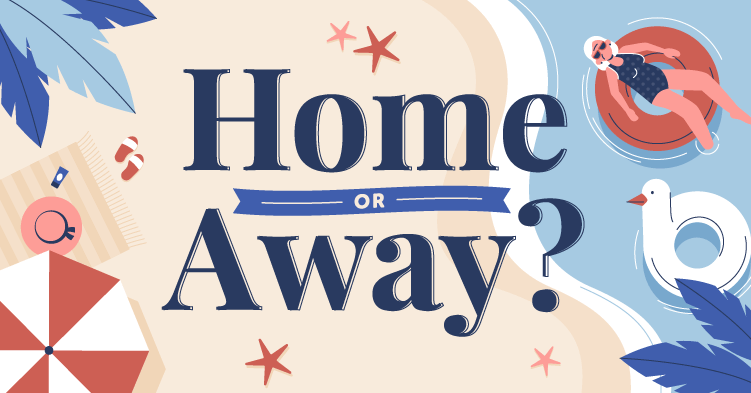 The Cost for an American to Comfortably Retire in Every State and Country
Your retirement plans might not look quite how they did three years ago.
The cost of living has ballooned. Interest has soared. Jobs have been lost or reinvented, and redundancies have forced many into lower-paid work.
When COVID-19 struck, some employees took early retirement. With businesses shutting down and revenue dwindling during lockdown, the average retirement age — which has risen by three years over the past three decades — briefly dropped, although it is now back on the rise. Some are now returning to their jobs to cope with the economic downturn.
How will you make ends meet when you finally quit for good? According to the latest Retirement Confidence Survey, 70% of workers envision continuing to work for money during retirement, with 68% expecting this to be "at least a minor source of income in retirement." One-third of those who are less confident about their retirement blame inflation and the cost of living for their doubts.
A sudden change in circumstances like the pandemic can be unavoidable. But drifting unprepared into retirement can be avoided. Simply put, the better you plan your retirement years, the better standard of living you can enjoy. The wise retiree balances their savings and projected income against their lifestyle and the cost of living locally. For some, the quickest way to balance those figures is to relocate to an area where costs are lower. If you itch to travel or start afresh when you reach retirement, relocation can be a magic bullet.
It's been two years since NetCredit revealed our guide to the cost of retiring around the world, and a lot has changed since then. So, we have decided to update and expand our study for 2023, using all the latest figures and adding the cost of retirement in every state to help you make this big decision.
What We Did
NetCredit used Numbeo's cost of living data to calculate the cost for the average American to comfortably retire in every country, using the period between retirement (61 years) and life expectancy (76.15 years).
Key Findings
Singapore is the most expensive country to retire, costing $1,118,375.43 over a 15-year period.
Pakistan is the cheapest place to retire, at $158,410.13.
The average cost of retirement in the U.S. is $702,330.47.
The most expensive state in which to retire is Hawaii ($893,400).
The cheapest state is Mississippi ($469,517).
Singapore is the Most Expensive Country for an American to Retire In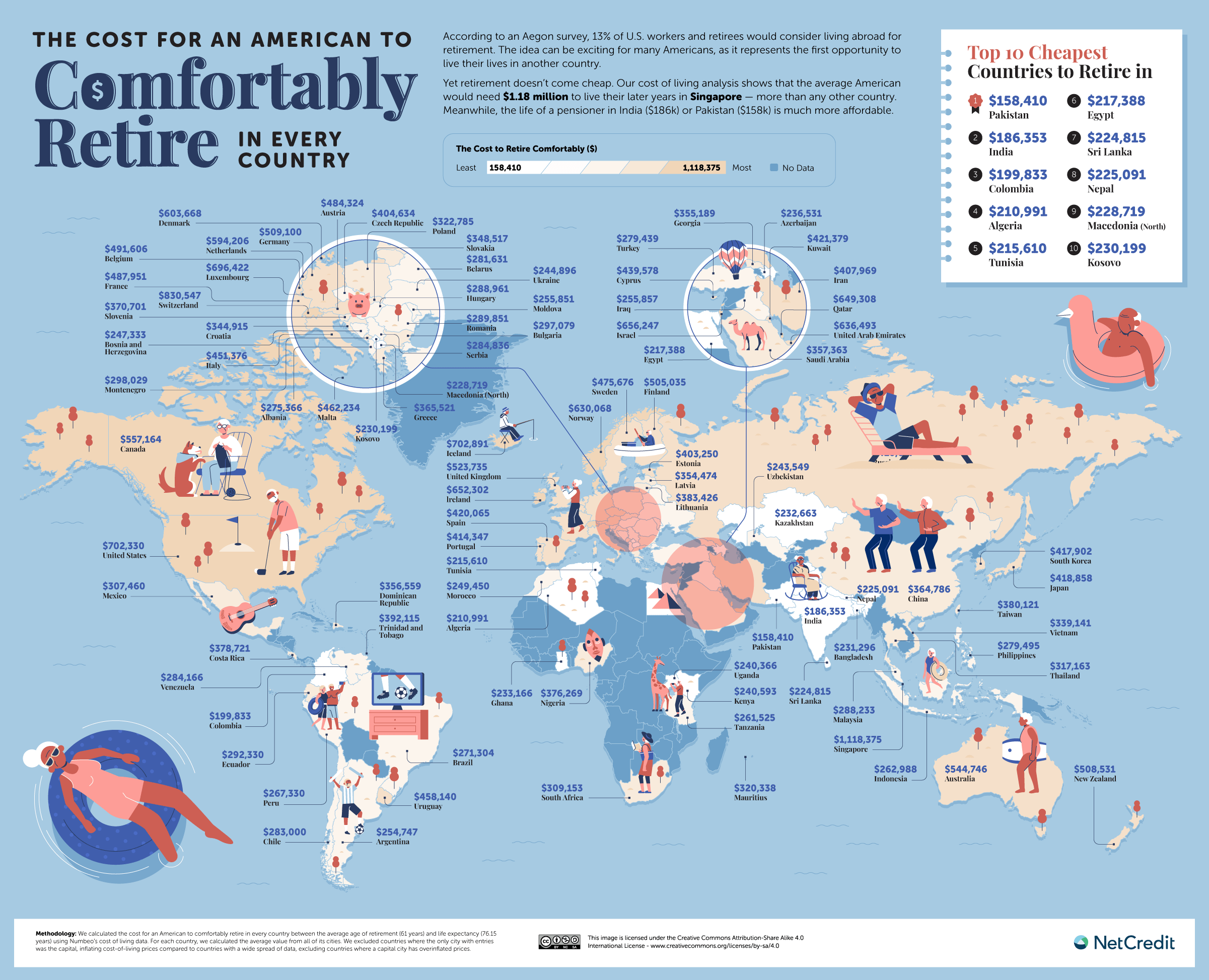 Click here to see the image in full size
Singapore is now the most expensive place for an American to retire. Inflation has been particularly high in this notoriously expensive city-state, and expat retirees will also need to factor in extra visa costs since Singapore has no specific retirement visa. At $1.12m, retirement in Singapore now costs over $171k more than it did two years ago. This difference alone is more than the entire cost of retiring in Pakistan ($158.4k) — which remains the cheapest country in the world in which to retire.
Hop Over the Border for a Cheaper Retirement in Canada — But It's Not So Simple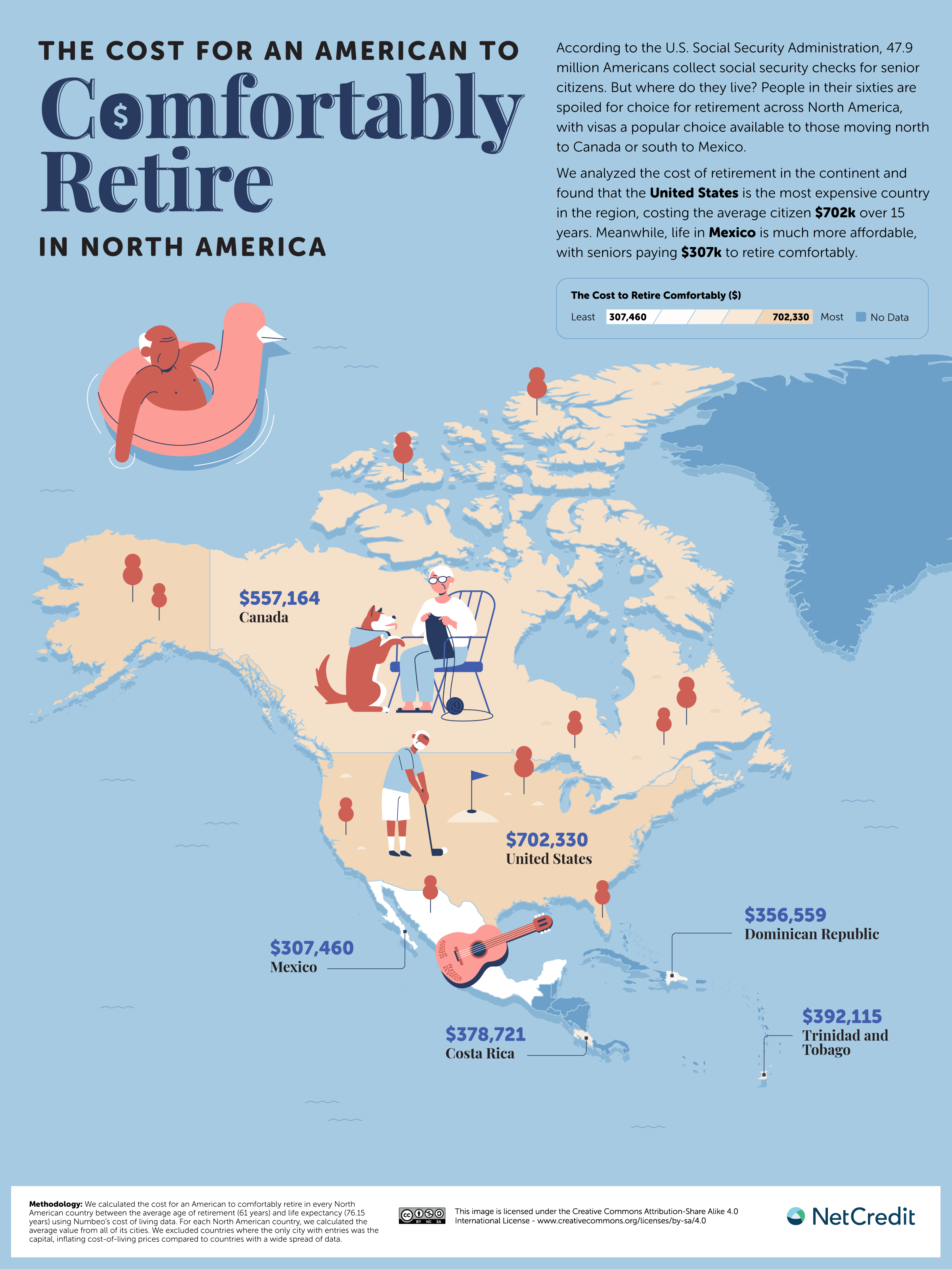 Click here to see the image in full size
Retiring local — but not too local — can prove a smart economic move. Americans can cut $145k off the cost of retirement by moving from the U.S. to Canada. However, this saving is contingent on the route you take to get there. With no retirement visa available, one option is to split your time between the U.S. and Canada, enjoying a cheaper lifestyle for six months a year on a tourist visa. However, without permanent residency, you won't benefit from state healthcare.
Uruguay a Very Pleasant Retirement Destination — But South America's Most Pricey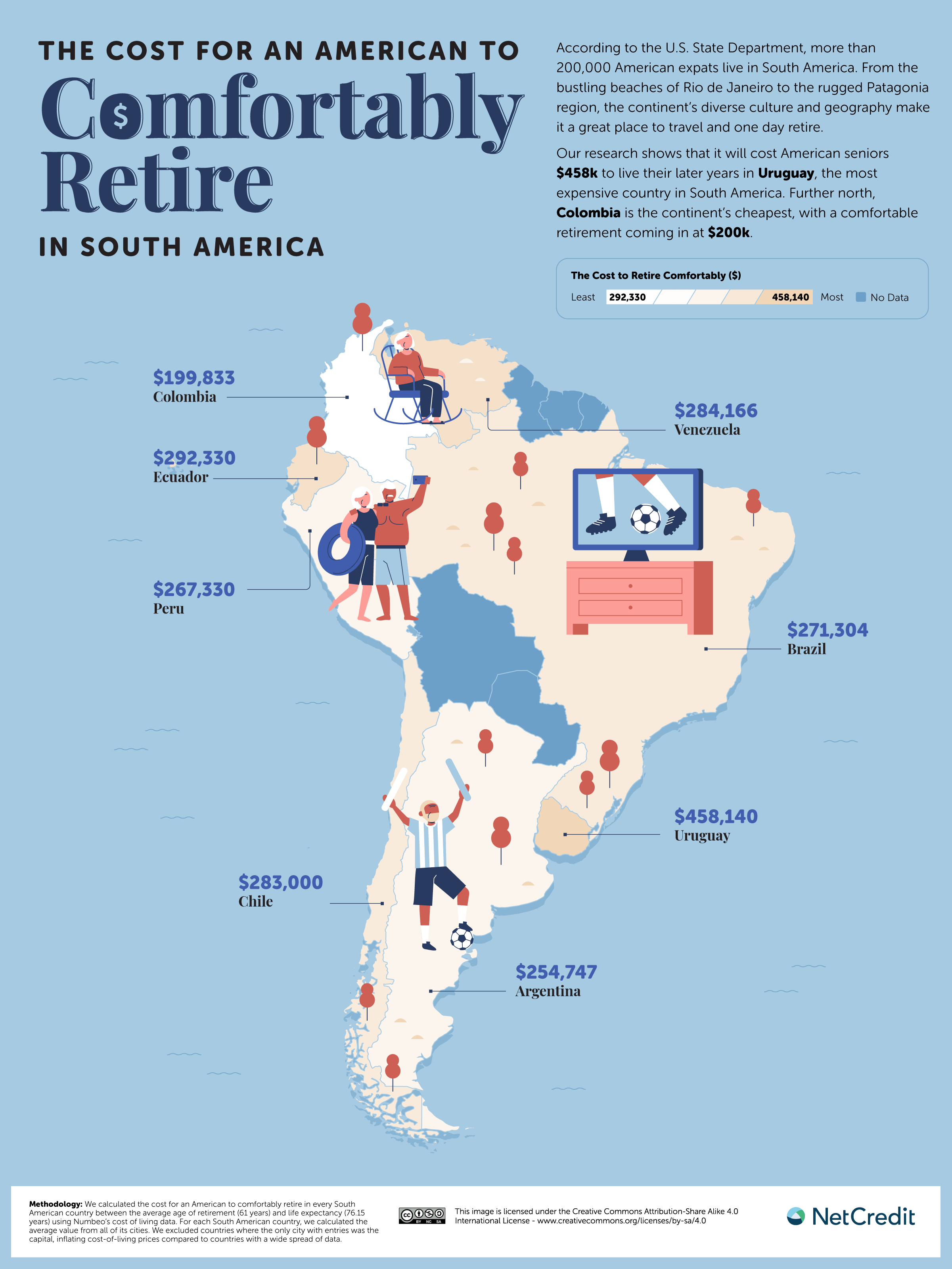 Click here to see the image in full size
Life in Uruguay is 34.8% cheaper than in the U.S., and a beachside retirement is a tempting offer. There are few natural dangers, and daily life can be very pleasant. However, Uruguay is still the most expensive South American country you could choose. Owning a car in Uruguay costs nearly three times what it does in Colombia since the latter has some of the cheapest fuel costs in South America (although they are set to rise due to inflation). In addition to offering the continent's cheapest retirement, Colombia is also disproportionately cheap for home groceries and going out.
Iceland is Europe's New Second-Costliest Retirement Destination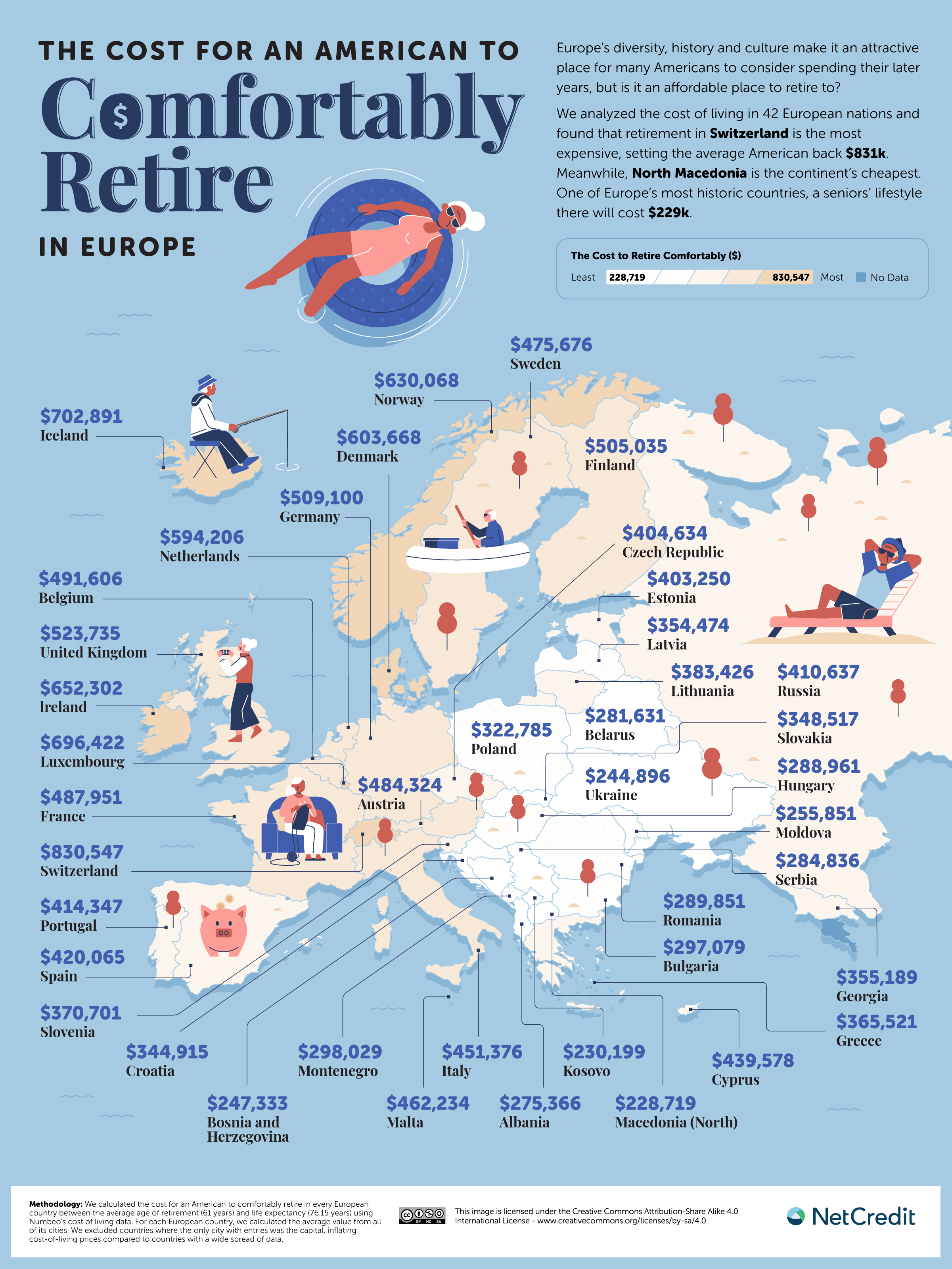 Click here to see the image in full size
Iceland leapfrogs Luxembourg to become the second priciest European retirement option at $702.9k. Retirement in Iceland involves some serious visa-wrangling, made easier if you have family connections on the Nordic island. Since the average retirement in Iceland costs just a few more dollars per year than in the States, this is a decision you'll make based on your desire for a harsh but spectacular landscape and regular hot tubbing. Greece is a little over half the price and offers "ancient ruins, colorful fishing villages, sprinkling of sun-drenched islands lapped by the clear blue Aegean" and a golden visa program for foreigners who buy property.
Turkey Looks Good in Middle East & Central Asia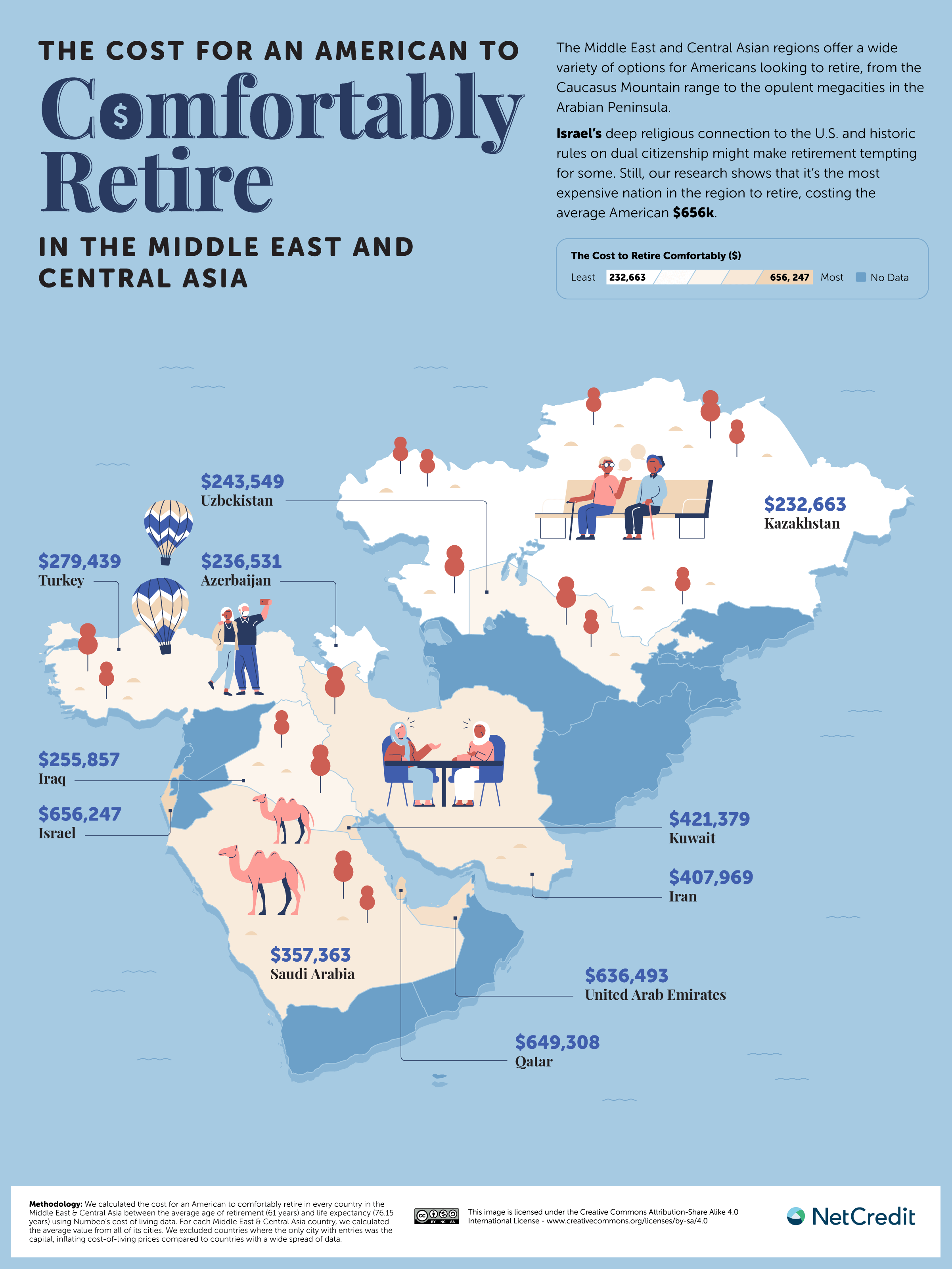 Click here to see the image in full size
There is no country in this region where retirement costs more than in the States. However, as the World Cup has highlighted, some of these countries have significant lifestyle restrictions. Same-sex sexual activity is illegal in Qatar and the UAE, for example, while drinking alcohol is illegal in Saudi Arabia and frowned upon in other countries. Straddling Europe and Asia, Turkey is a popular choice for retirees and comes with a price tag of well under $300k, although it is not without its human rights issues. Permission to stay in Turkey is easily won, and guests benefit from exquisite architecture, weather and food.
Rest of Asia & Oceania: Thailand is Affordable Retirement Paradise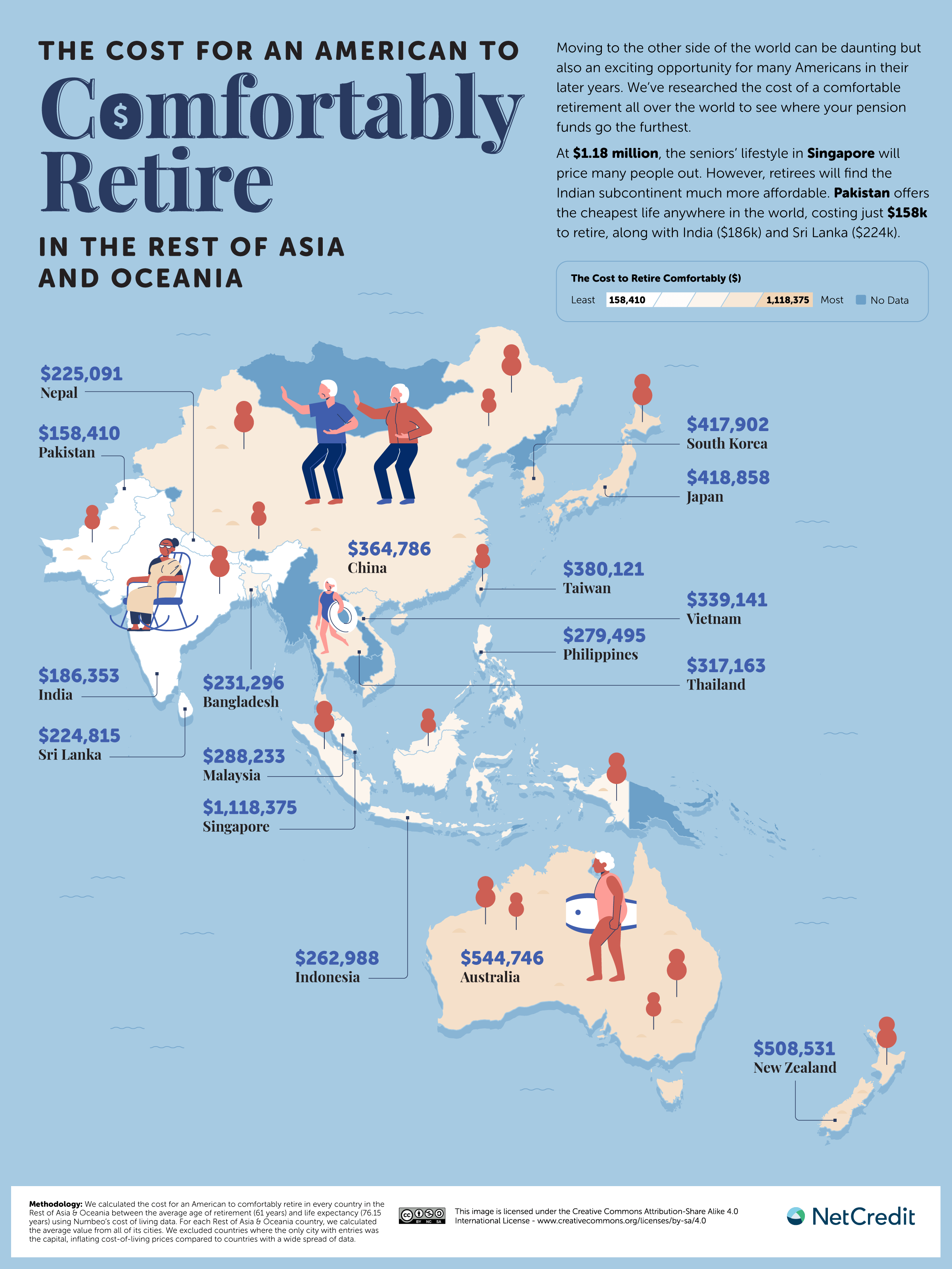 Click here to see the image in full size
It costs more than twice as much to retire in Singapore as it does in any other country in this region. So let's skip to the Antipodes: New Zealand is a bucket list destination for many, and the cost of living for a retiree is 27.6% cheaper than in the U.S. Unfortunately, most will need a far more significant bundle of cash to invest, money in the bank and a U.S. $38,500 annual income to get a visa. Meanwhile, the city of Chiang Mai in Thailand made Sixty and Me's list of Best Places to Retire for Single Women Over 60, with the Thai towns of Koh Lanta and Hua Hin also praised for their color, expat community and healthcare. A Thai retirement should cost around $317,163.38 over 15 years.
Tunisia Among Africa's Hot Spots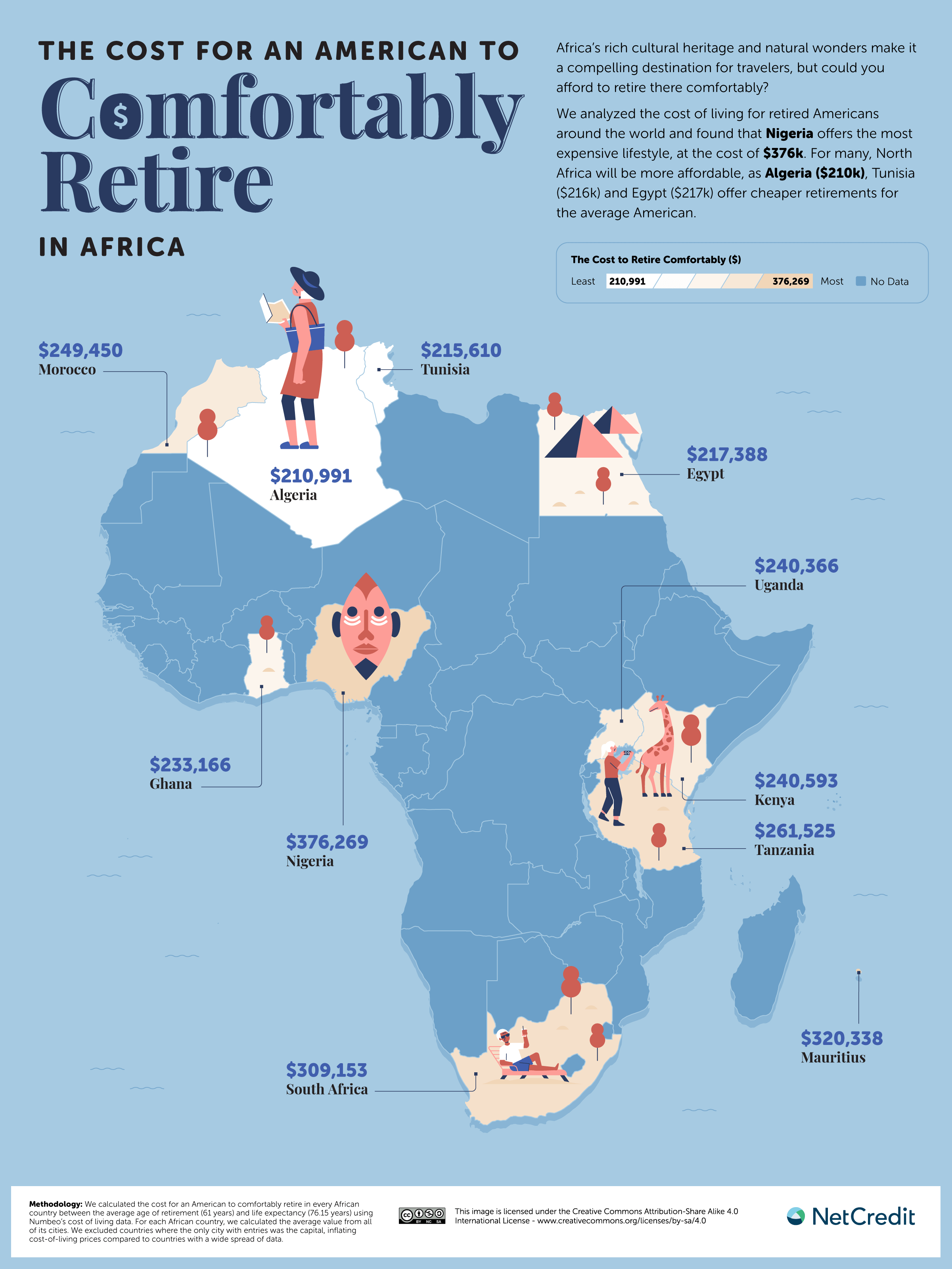 Click here to see the image in full size
Uganda has lost its spot as the most affordable African country in which to retire. Ghana, Egypt,
Tunisia and Algeria now work out cheaper. Tunisia is already a popular vacation destination, but it is not yet swarmed with retirees. Americans of European heritage may find a connection in the French language and Italian architecture due to strong connections (including a complex colonial history). Tunisia is warm-to-hot all year round, the coastal life is pleasant and easy and the living costs for retirees are the second-lowest in Africa.
Hawaii is the Most Expensive State for Autumn Years
While the average cost of retirement in the States is $702,330, the cost from state to state varies immensely. If you're thinking of retiring to any of our overseas options partly to save money, it's worth checking your local cost of living index first. And if you're planning on staying put in America, it could be worth considering an interstate move for a change of scenery — and to save a few bucks.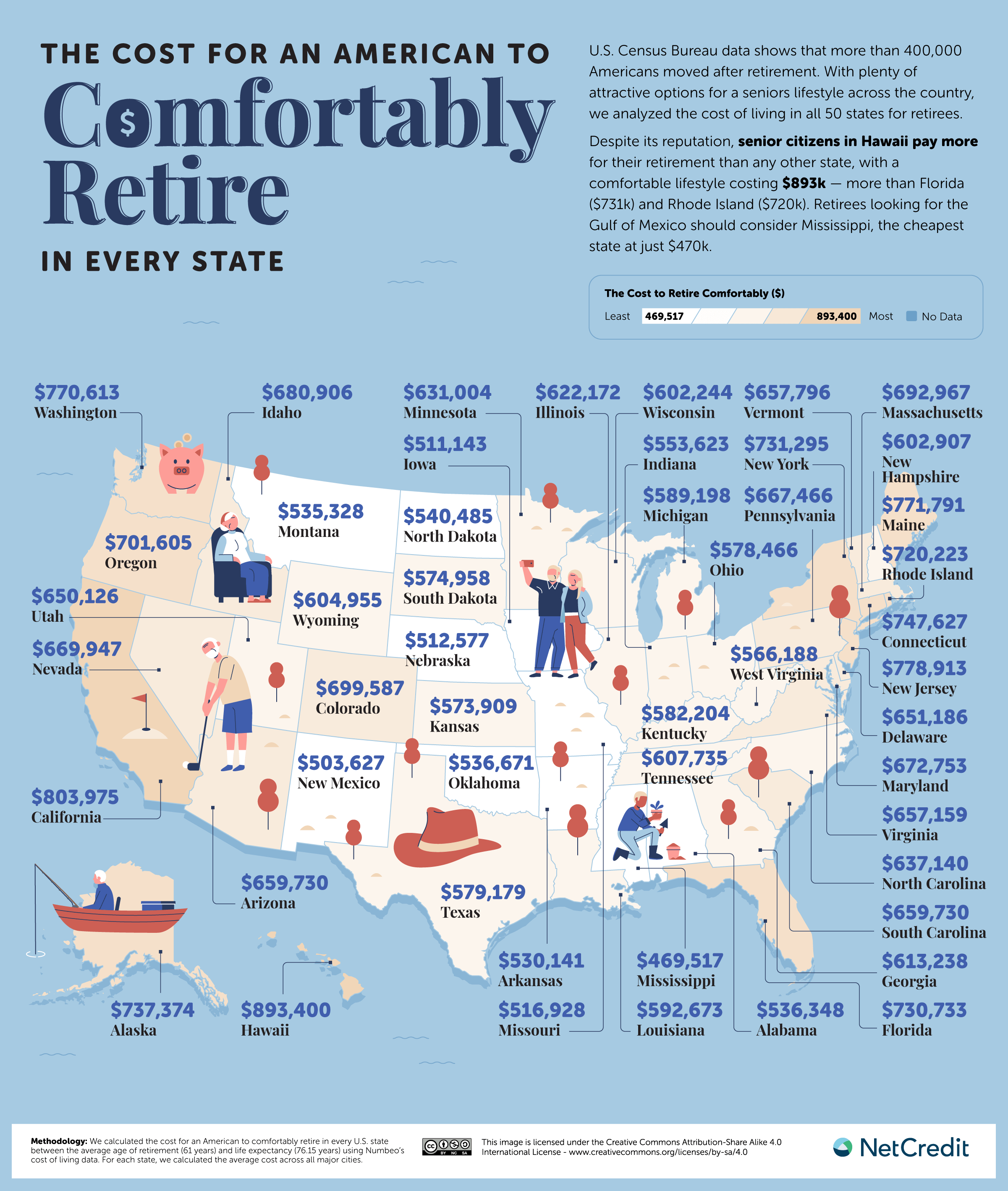 Click here to see the image in full size
Hawaii may seem an obvious choice for retirement, and indeed, it's the fifth most popular destination according to one survey. But it is also the most expensive for a retiree's lifestyle, at nearly $200k over the U.S. average, while island fever is a real risk — especially if you leave behind your friends and family to move here. Offering a vastly different vibe but plenty of sun and sand, Texas is an affordable alternative to Hawaii, California or Florida, with a projected cost of $579,179.
Don't Forget Your Friends
Whether you're doing it alone or you have significant others to consider, planning for retirement involves a dizzying number of variables. Place and cost are two of the key ones, and they have a profound effect on each other. You can compare the cost of every place in our study using the interactive table below.
Money will be at the forefront of your mind as you strategize your exit from the working world and towards unbridled leisure/adventure/invention. But while it is essential to figure out what you can afford and how you will pay your way, underestimating the support and happiness you get from your local network of friends and neighbors can lead very fast to loneliness — and loneliness kills. On the other hand, nostalgia can actually rejuvenate your brain cells, so if you already relocated from the place where you grew up, perhaps now is the time to check the cost of a move back home.
METHODOLOGY & SOURCES
To calculate the cost of a comfortable retirement for an American in every country and U.S. state, we pulled living costs from Numbeo and applied the following calculations:
The retirement calculations were based on the average American retirement age of 61 years, according to Gallup, and the average American life expectancy of 76.15 years, according to the CDC's National Center for Health Statistics.
There are 181.8 months between the average retirement age and average life expectancy. So the monthly living costs in a country or state were multiplied by 181.8 to determine the retirement cost.
To allow for a more comfortable retirement, this final figure was then increased by 20%. Note that none of the other values, like annual or monthly costs, include the 20% increase.
For this project, the values for each U.S. state are an average of data for living costs in its notable cities. The source for the U.S. states' most populous cities was Wikipedia.
For the countries, the values are an average of all cities for that country in the Numbeo dataset. We only selected countries with more than 1,000 entries on Numbeo, excluding some countries where most of their entries came from the capital city, overestimating prices.
The monthly cost of living figures we calculated using the following assumptions
Members of your household = one
Eating lunch or dinner in restaurants = 15%, Choosing inexpensive restaurants = 70%
Drinking coffee outside your home = moderate
Going out = once per week
Smoking = no, Alcoholic beverages = moderate
At home, we are eating = Western
Driving car = moderate, Taking taxi = no
Public transport = two round trips weekly
Sports memberships = all household members
Vacation and travel = two per year
Buying clothes and shoes = moderate
Rent = apartment (one bedroom) in city center
No children
All currencies are USD. The data was collected in October 2022.