It's easy to get money with your personal line of credit.

Apply
The secure application takes just minutes. Depending on your application, you could be approved for a line of credit of up to $4,500.

Get Funds
You can take a Cash Advance from your Available Credit whenever you need funds. You'll get your money the next business day or sooner, after a 10% Cash Advance Fee is deducted.

Repay
You'll have a Minimum Payment each Billing Cycle, which includes a portion of your Cash Advance Balance plus a Statement Balance Fee. Your payment history is reported to major credit bureaus, meaning you can build credit history with on-time minimum repayments.
Head to the Rates & Terms for more details and to learn what is offered in your state. For a full list of terms and definitions, visit the Line of Credit glossary page.
What can your personal line of credit give you?
Flexibility
With a line of credit, you can get the money you need up to your credit limit, repaying only based on what you've borrowed.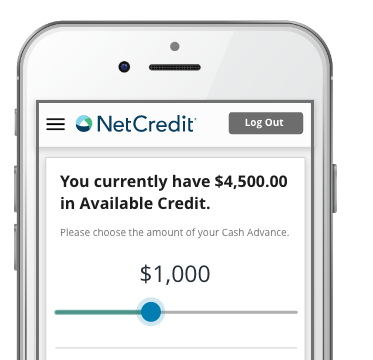 Rewards
Qualifying account activity can unlock rewards that make your line of credit more flexible to pay back and more affordable to get money when you need it. For more information on Skip-a-Pay and Fee Saver rewards, visit the Line of Credit Rewards page.
Confidence
NetCredit is owned by Enova, a publicly traded company (NYSE:ENVA), and has been helping customers meet their financial needs for more than a decade.
What do I need to apply for a line of credit?
You must have a valid personal checking account.
You must have an active email address.
You must have a verifiable source of income.
Frequently Asked Questions
Trusted by thousands of people like you.