Online Installment Loans up to $10,000
Get a lump sum with a fixed rate and pay it off over a set amount of time.
NetCredit Installment Loans
Installment loans are a popular form of a personal loan that can be used to cover a number of financial needs. With loan amounts that can offer thousands of dollars and a set payment schedule to pay it back, installment loans are a common type of funding for debt consolidation, moving expenses, home and auto repair, and more. With loans available up to $10,000, NetCredit installment loans come with unparalleled U.S.-based customer support and great features.
Customize your loan amount and duration.
If eligible for a personal installment loan, you can modify your loan details and select the right amount for your needs. Similarly, you can select the repayment schedule that best fits your budget or goals.
Receive funds the next business day or sooner.
Approved applications are typically funded next business day. If your application is submitted before 7:00 a.m. CT Monday – Friday, you may receive your funds the same business day!
Build credit with fixed installments.
Your entire payment history is reported to major credit bureaus, meaning you can build credit history with on-time repayment. You can repay early at any time with no penalty.
NetCredit and lending partner banks offer online installment loans up to $10,000. We also offer lines of credit up to $4,500, which — as a form of revolving credit — are great for covering unexpected expenses as they arise.
Depending on your application and the state where you live, you might qualify for one or both of our lending products. Head to the Rates & Terms for more details and to learn what's offered in your state.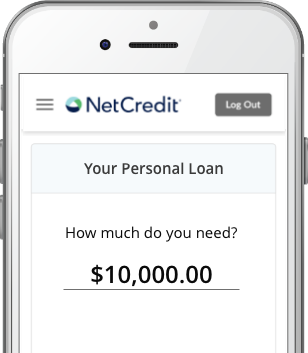 How It Works

Check your eligibility.

Review your offer.
Choose what you want and see if the available amounts and terms work for you.

Get your money.
If approved, requested funds are typically deposited the next business day or sooner.
See how a NetCredit customer can use an installment loan.

Louise's personal expenses keep piling up, so she decides to look for an installment loan to help consolidate her debt.
Louise searches for an installment loan online, and comes across NetCredit. Here, she can quickly check her eligibility.
Louise learns that she is eligible for the installment loan. From the range she is offered, she is able to customize the amount and term to cover her debt and repay it in fixed payments every month.
Louise signs her contract. Because she submitted her application before 7 a.m. CT and was approved before 9:30 a.m. on a weekday, she receives her funds later that day!
Trusted by thousands of people like you.