Short-Term Loans
NetCredit personal loans and lines of credit offer money with more time to repay.
NetCredit can help with short-term funding.
When funding needs like emergency home and car repairs arise, people often look to short-term loans such as 30-day loans or 90-day loans to help. They might not think of how an installment loan or line of credit can cover the same expenses. NetCredit personal installment loans and lines of credit can both be used for emergency short-term funding.
Personal Loan
Up to $10,000*
Lump sum of funds up front
Ideal for immediate expenses
Unsecured (no collateral required)
Repay over 6 months – 5 years
Line of Credit
Up to $4,500
Revolving access to funds
Ideal for emergency expenses as they arise
Unsecured (no collateral required)
Repayments based on what you borrowed
Apply for fast funding without collateral.
The application process is designed for speed, so you don't have to offer up any collateral and, if approved, requested funds are typically deposited the next business day or sooner.
Get a decision based on more than just your credit score.
When you apply with NetCredit, advanced algorithms look at your broader financial picture rather than just your credit score.
Pay it back on a schedule that works for you.
If approved for a personal loan, you can choose a payment schedule that works best for you — and you can repay the loan early with no pre-payment fees to save on interest. With either lending product, you can pay back more each billing period, so long as your minimum payment amount is met.
NetCredit and our lending partner, Republic Bank & Trust Company, Member FDIC, offer personal loans up to $10,000* and lines of credit up to $4,500.
Depending on your application and the state where you live, you might qualify for one or both of our lending products. Head to the Rates & Terms for more details and to learn what is offered in your state.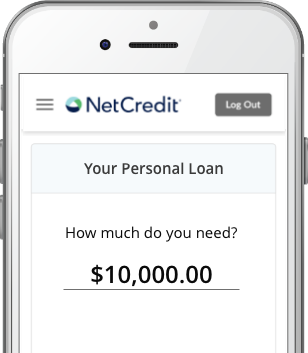 How It Works

Check your eligibility.

Review your offer.
Choose what you want and see if the available amounts and terms work for you.

Get your money.
If approved, requested funds are typically deposited the next business day or sooner.
See how a NetCredit customer can use a loan for short-term expenses.

Joyce has an urgent home repair to make, so she decides to look for a short-term loan to cover the cost.
Joyce goes online and finds NetCredit. A NetCredit personal loan could help her receive the money she needs and give her more time to pay it back compared to a short-term loan.
Joyce applies and learns that she is eligible for a personal loan within minutes. From the range she's offered, she is able to customize the amount and term length to best fit her needs.
Joyce signs her contract. Because she submitted her application before 7 a.m. CT and was approved before 9:30 a.m. on a weekday, she receives her funds later that day!
Trusted by thousands of people like you.