Online Loans up to $10,000
Get fast, flexible funding easier than ever before.
NetCredit Online Loans
When you need money, it can be hard to decide where to turn. Banks, friends and family, and credit cards aren't always viable options. That's why NetCredit's process is entirely online — so you can apply for, receive and repay funds quickly and easily from the comfort of your own home.
Apply using a fast and easy application.
Request funds in just a matter of minutes — you'll receive an instant eligibility decision that looks at a wide range of data points to determine whether you're eligible.
Know that your information is safe and secure.
Our site has earned a TrustedSite certification, and the application uses 128-bit encryption to guard your personal data.
Receive funds the next business day or sooner.
Approved applications are typically funded next business day. If your application is submitted before 7:00 a.m. CT Monday – Friday, you may receive your funds the same business day!
What We Offer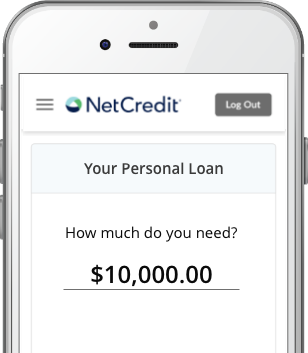 How It Works

Check your eligibility.

Review your offer.
Choose what you want and see if the available amounts and terms work for you.

Get your money.
If approved, requested funds are typically deposited the next business day or sooner.
See how simple NetCredit online loans can be.
Jennifer's looking for a loan to handle some outstanding expenses, but she's having difficulty getting approved.
Jennifer then searches online for a loan, and comes to NetCredit. Here, she can quickly check her eligibility in a matter of minutes.
Since she is eligible for both products, Jennifer can choose between a line of credit and a personal loan. Because she is looking for a fixed payment schedule, she selects the personal loan offer.
Jennifer is happy with the loan amount and terms she is offered, so she signs her contract. A hard credit pull is then quickly conducted for final approval, and she is approved.
Because she submitted her application before 7 a.m. CT and was approved before 9:30 on a weekday, she received her funds later that day!
Trusted by thousands of people like you.