No Credit Check Loans
Check your eligibility for up to $10,000 without affecting your credit score.
Does NetCredit offer no credit check loans?
NetCredit does check your credit when you apply for a loan with us, but we understand that many people are worried about how their current score can affect their eligibility and how checking eligibility can affect their credit moving forward. That's why we make sure you can protect and build your credit with a NetCredit loan.
Checking your eligibility doesn't affect your credit score.
When you complete our fast application, we look at a wide range of data points, including your credit score, to determine whether you're eligible. At this stage, we look at your score using what's called a "soft pull," which doesn't affect your credit score.
We look at more than just your credit score.
Our advanced analytics let us make a lending decision based on more than just one number. We take the long view, looking at factors other lenders might not consider, which means we are often able to offer money to people with less-than-perfect credit.
You can build positive credit history with NetCredit.
When you have an online loan with NetCredit, your payment history is reported to major credit bureaus. That means full on-time payments may help you build positive credit history.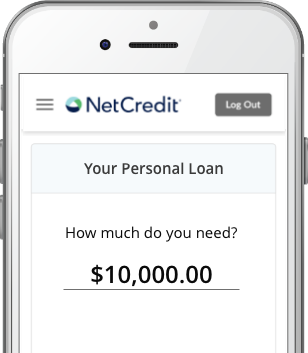 How It Works

Check your eligibility.

Review your offer.
Choose what you want and see if the available amounts and terms work for you.

Get your money.
If approved, requested funds are deposited as soon as the same business day.*
Here's how a customer's credit could be affected with a NetCredit loan.
Louise is looking for a way to get funds, but she's worried that her credit isn't good enough to get the amount she wants.
She comes to NetCredit and sees that she can check her eligibility without affecting her credit score.
She completes the application, and NetCredit looks at her credit score with a soft pull, not affecting the score.
She is happy with the amount and terms NetCredit is offering, so she signs her contract, allowing a hard pull. This hard pull has the potential to affect her score for a time.
She gets her money and makes all of her repayments on time. NetCredit reports those on-time payments to major credit bureaus, helping Louise build positive credit history.
Trusted by Thousands of People Like You