What is a pre-approved personal loan?
A pre-approved personal loan offer means that you've met certain borrowing requirements and are likely to qualify for the loan. The lender typically pre-approves you for a specific funding amount. If you're interested in the offer, you apply.
Receiving a pre-approved offer does not guarantee that you will receive the stated loan amount. It also does not guarantee approval. It does, however, indicate that the lender is confident that you meet their typical borrowing requirements.
With personal loans, "pre-approved" and "pre-qualified" often mean the same thing.
Pre-Qualified NetCredit Loans
NetCredit and lending partner banks offer pre-qualified installment loans and lines of credit to select candidates. Typically, you'll receive a notice in the mail. Use the code in your letter to access your personalized offer.
Apply securely in minutes.
The quick, secure application process is entirely online, so you can request funds with no paperwork in a matter of minutes.
Receive an instant eligibility decision.
You'll receive an instant eligibility decision based on a wide range of data points to determine whether you're eligible. If you haven't received a pre-qualified NetCredit offer, a "soft pull" will be made at this stage, which doesn't affect your credit score.
Get funds the next business day or sooner.
Approved loans are typically funded by the next business day. If you submit your application before 7:00 a.m. CT Monday through Friday and are approved before 9:30 a.m., you may receive your requested funds the same business day. The exact timing of when your loan funds will be available will be determined by your banking institution.
What We Offer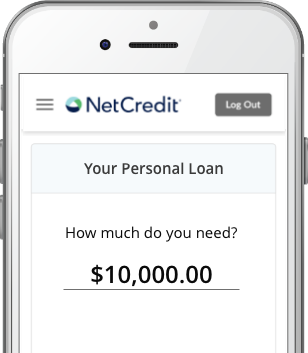 How a pre-qualified loan through NetCredit works.
Get your letter.
You'll typically receive your pre-qualified offer by mail. Find your offer code in the letter.
Review your offer.
Choose what you want and see if the available amounts and terms work for you.
Get funds.
Sign your contract to get funds the next business day or sooner, if approved. The exact timing as to when your loan funds will be available will be determined by your banking institution
See how a NetCredit personal loan can help consolidate debt.
Tyson and Tyra are renovating a recently purchased fixer-upper. On a chilly summer night, they turn on the heat and discover their furnace is broken.
As fall approaches, Tyson receives a pre-qualified offer by mail. The loan fits his budget and would allow him to replace the furnace.
Tyson locates the eight-character offer code included in the letter and visits our offers page. He follows the instructions to access his personalized offer and apply. The whole process only takes a few minutes.
After Tyson confirms his eligibility, he signs his contract to authorize a hard credit check and is approved.
With the weather turning cold, Tyson and Tyra want a new furnace as soon as possible. Because Tyson submitted his application before 7 a.m. CT on a weekday and was approved before 9:30 a.m., his funding is deposited later that day.
Learn more about pre-approved and pre-qualified loans.