Quick Online Loans
Find out instantly if you qualify for up to $10,000.*
Fast Funding Through NetCredit
Speed can be of the utmost importance when applying for a loan. Even if it isn't a complete necessity, it still adds ease and convenience to the lending process. That's why NetCredit helps people with fast funding, letting you apply for funds and receive them the next business day or sooner, if approved.
Apply securely in minutes.
The quick, secure application process is entirely online, so you can request funds with no paperwork in a matter of minutes.
Receive an instant eligibility decision.
You'll receive an instant eligibility decision that looks at a wide range of data points to determine whether you're eligible. At this stage, a "soft pull" will be made, which doesn't affect your credit score.
Get funds the next business day or sooner.
Approved applications are typically funded next business day. If your application is submitted before 7:00 a.m. CT Monday – Friday, you may receive your funds the same business day!
What We Offer
NetCredit and our lending partner, Republic Bank & Trust Company, Member FDIC, offer personal loans up to $10,000*, while NetCredit offers lines of credit up to $4,500.
Depending on your application and the state where you live, you might qualify for one or both of our lending products. Head to the Rates & Terms page for more details and to learn what's offered in your state.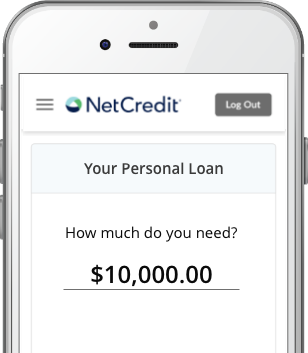 How It Works

Check your eligibility.

Review your offer.
Choose what you want and see if the available amounts and terms work for you.

Get your money.
If approved, requested funds are typically deposited the next business day or sooner.
See how a customer could use fast funding through NetCredit.
Devin's automotive repair expenses are much higher than anticipated, and he needs the money to pay for them fast.
He comes to NetCredit and sees that he can quickly check his eligibility without affecting his credit score.
He completes the application in minutes and NetCredit looks at his credit score with a soft pull, not affecting the score.
Devin is happy with the amount and terms he is offered, so he signs his contract. After signing, he promptly provides a few requested documents to ensure fast funding.
Because Devin submitted his application before 7 a.m. CT and was approved before 10:30 on a weekday, he was able to receive his funds later that day!
FAQ
Fast funding is built into the process. Approved applications are typically funded the next business day. And while same-day funding can never be guaranteed, applying for a NetCredit loan before 7 a.m. CT greatly improves your chances of receiving same-business-day funding.
Please note that personal loan and line of credit approvals are subject to additional verification. Providing requested documentation in a timely manner may help prevent funding delays. Keep in mind that the exact funding time will depend on your bank. If there's any delay, don't hesitate to inquire with them.
Approved applications are typically funded next business day. Applicants who submit an application before 7:00 a.m. CT Monday – Friday may receive their funds the same business day. Approval subject to additional verification. Failure to provide additional documentation promptly may delay funding.
Yes! Online lenders don't require paperwork and typically use automated decisioning technology that allows them to receive applications and review and make eligibility decisions much faster than the manual process used by storefront lenders with human underwriters.
Trusted by thousands of people like you.