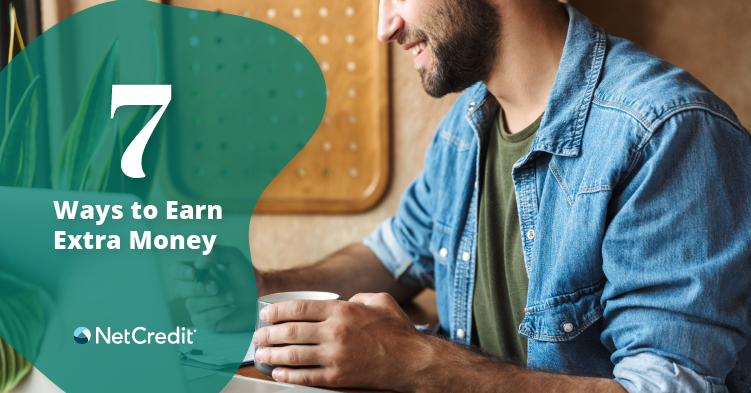 How Can I Earn More Money?
Are you living within your means? Budget shortfalls can happen to anyone, but it may be time to find a new solution if you're regularly running out of funds before the next payday. If you're looking to bring in more cash, here are seven ways to earn extra money.
Sell Your Stuff
While you might feel like you don't have much to sell, you may be able to unload clutter and earn cash back by selling your belongings. If you live in a well-populated community, a garage sale can be a quick way to earn a few bucks. Otherwise, consider listing a few items online with a free marketplace:
Take On Additional Work
If you're currently employed, you may be able to take on a few additional shifts, responsibilities or assignments that can lead to more money in your pocket. Depending on your work arrangement, you can ask your employer if you can work a couple additional hours each day or come in for an additional shift to earn overtime.
Join an Online Work Community
You can also use apps and online communities to advertise your skills or find temporary roles and assignments in order to earn extra money. Some of the best side-gig apps include:
TaskRabbit: This app and online tool lets you look for quick, paid tasks and assignments in your area, from home repairs and cleaning to personal assistant roles and delivery services.
Fiverr: If you're in a creative field, Fiverr is a great place to find freelance work like writing, animation, design and marketing assignments.
Upwork: This is another great website to list and find professional service freelance roles, including IT, marketing, administration, engineering and writing projects.
Update Your Skills
A longer-term solution to earn extra money is by sharpening your career skill set. Whether you want to transition to a new field or advance at your current job, improving your soft skills is a great place to start. You can also search job postings to identify additional career skills necessary for your desired position. Free and affordable online career courses are available from Coursera or similar websites.
Find Another Job
Sometimes, you can find a significantly better-paying position at a different company doing comparable work. In order to find out what you may earn in a similar position, you can research jobs on employer review websites like Glassdoor. Whether you're looking to replace your current job or transition back into the workforce, SpringFour can connect you with employment resources in your area.
Rent Out Space in Your Home
If you own your own home or condo, you can earn money with a tenant or guest. While this solution won't work for all situations, renting out an extra bedroom or floor in your home can help you earn passive income every month. Or, you can use a website like Airbnb to rent out your space on a nightly basis.
Explore Small-Scale Investing
If your emergency savings are well-funded and you have leftover money to spare, you may want to consider investing some capital in a low-risk setting. While most investment products carry some risk, those considered "low-risk" by financial experts may include:
High-yield savings account: This option generally provides a higher return than a standard savings account. You can find a high-yield savings account from sources like online banks and credit unions.
Certificates of deposit: A certificate of deposit is generally purchased for a lump sum and has a fixed interest rate. Purchasers agree to leave the money at the bank for a certain period, and may withdraw the money with interest after that time. They're available from banks, credit unions and similar financial institutions.
Savings bonds: With a savings bond, you can accrue interest on the principal, or amount you paid for a bond over a set period of time. Federal savings bonds are available through the TreasuryDirect website.
The information in this article is provided for educational and informational purposes only, without any express or implied warranty of any kind, including warranties of accuracy, completeness or fitness for any particular purpose. The information in this article is not intended to be and does not constitute financial, legal or any other advice. The information in this article is general in nature and is not specific to you the user or anyone else.