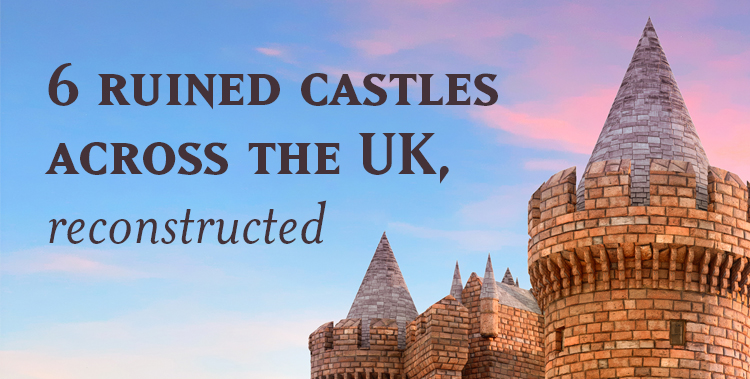 6 Ruined Castles Across the UK, Reconstructed
Disclaimer: This post was originally published on our UK partner's site.
Britain is rightly known for its great stately houses, castles, and churches – and its ruins are also worthy of celebration.
Wandering through ancient ruins can inspire tales of adventure, historical insight, and wonder for the way we used to live. But there is one drawback with exploring a half-destroyed fortress: you only get half the story!
So here are seven ruined castles we've digitally reconstructed to show the true splendour enjoyed and defended by yesteryear's barons, queens, and kings.
1.Dunluce Castle (County Antrim, Northern Ireland)
Dunluce has one of the most dramatic histories of any UK castle. Built around 1500, it was abandoned as early as 1639. The castle's kitchen – and kitchen staff – had collapsed over the cliff edge and into the sea as the 2nd Earl of Antrim's family sat waiting for their dinner.
Two years later, the small town that developed around the castle was razed by the Scots, and abandoned. It has now become a valuable archaeological site and the historic footprint of this short-lived settlement is a haunting destination for visitors to the northern tip of Northern Ireland.
2. Dunstanburgh Castle (Northumberland, England)
King Edward II's most powerful baron, Earl Thomas of Lancaster, built this enormous castle as a show of might when relations soured between the two men. However, the earl was captured and executed before he could enjoy his epic crib.
The castle fell into disrepair after sustaining damage as a battle hotspot during the Wars of the Roses. Today, a walk along the Northumberland Coast in view of Dunstanburgh's ruins offers a melancholy but awe-inspiring day out.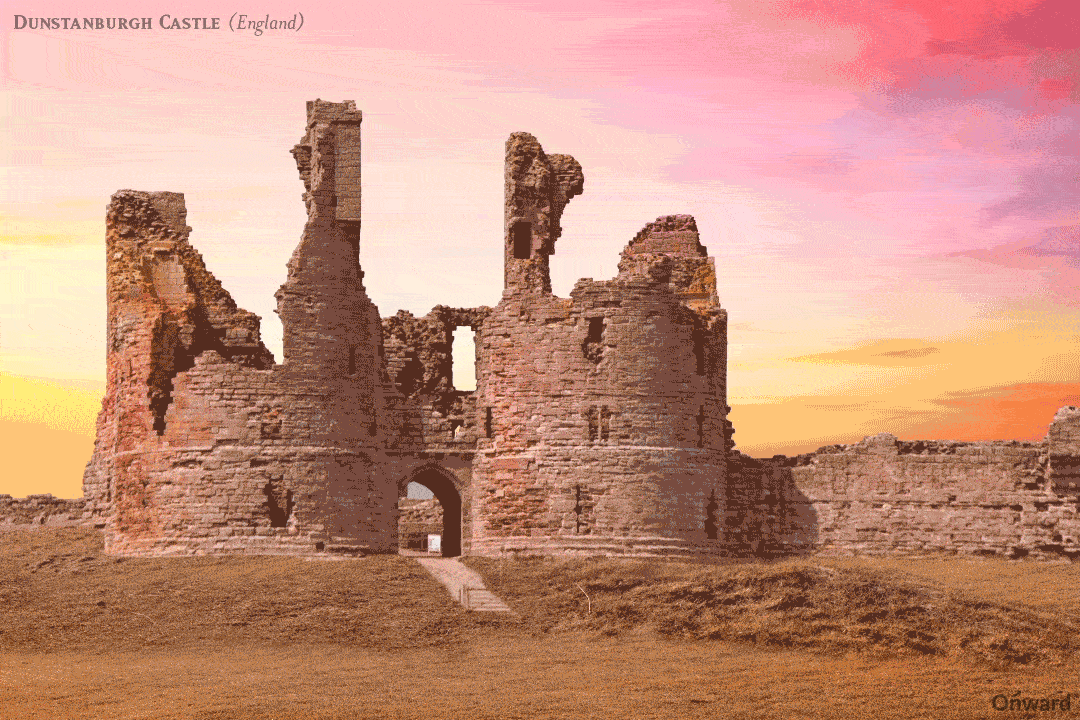 3. Bothwell Castle (South Lanarkshire, Scotland)
This thirteenth-century castle saw a lot of action through Scotland's Wars of Independence. It repeatedly swapped hands between the Scots and the English in the wake of fierce battles.
Architecturally, Bothwell is notable for its "cylindrical donjon" (a fortified refuge for the castle's inhabitants), which was ruined in a series of sieges. Visit on Halloween and you may encounter the ghost of Bonnie Jean, a noblewoman who drowned crossing the River Clyde to elope with her lover.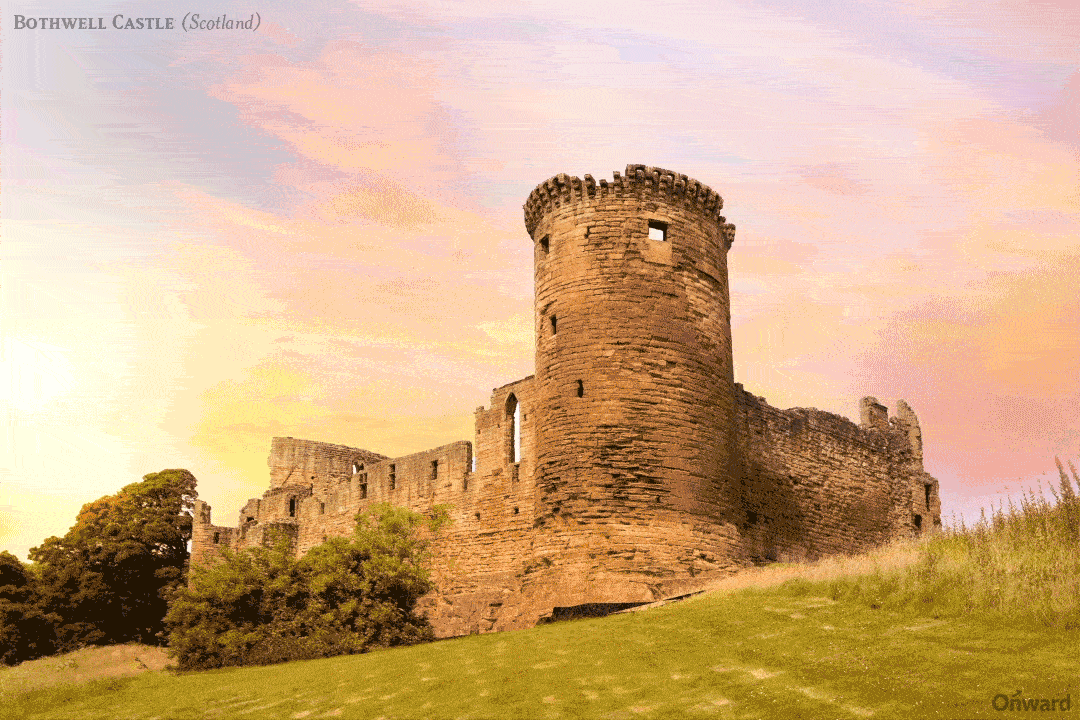 4. Goodrich Castle (Herefordshire, England)
Goodrich was begun in 1102, and strengthened later that century by the fantastically named Godric Mappestone (from whom the castle probably took its name). It wasn't until the Civil Wars of 1642-6 that the stronghold would sustain serious damage. Cromwell's army pelted it with 200-pound balls from Roaring Meg, a cannon built specifically for the purpose.
After the war, the ruined castle was partially dismantled and then abandoned. Thankfully, they've since installed a tearoom so visitors can recharge after enjoying the historical exhibits and spectacular views from the parapets.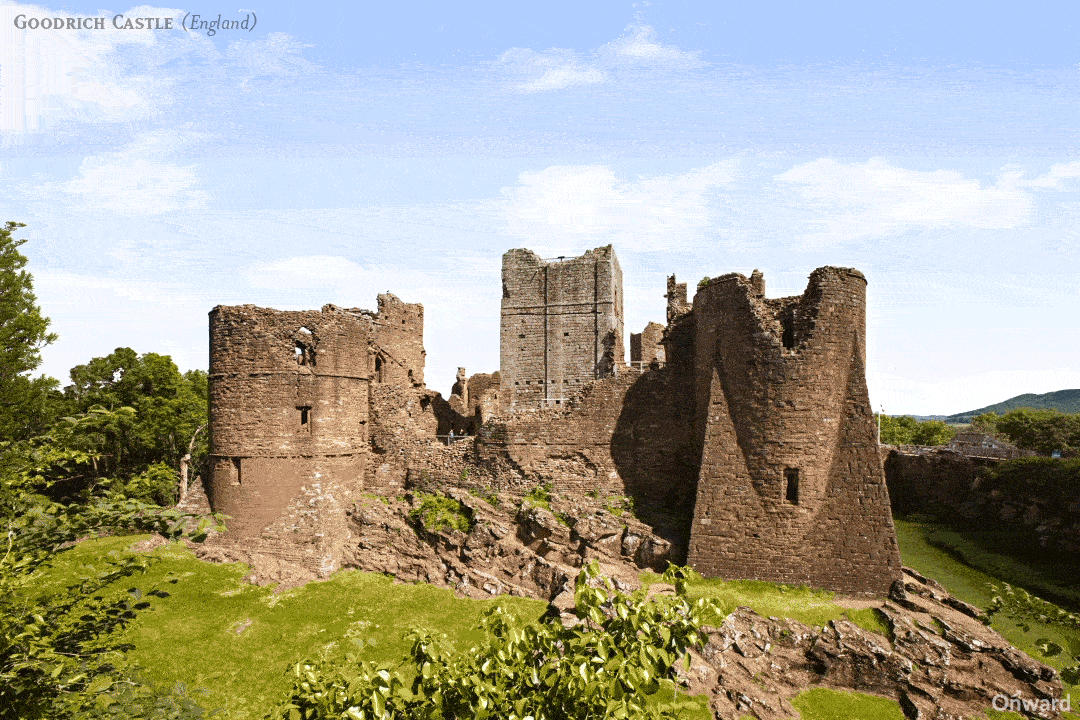 5. Caerlaverock Castle (Dumfries and Galloway, Scotland)
The UK's only triangular castle has a triple history: built in the 1280s, it was partially dismantled in the 14th century on the word of Sir Robert Bruce, to prevent it falling into English hands. Once rebuilt, it was again taken apart after being besieged by the Earl of Sussex in 1570. Again rebuilt, a thirteen-week siege during the Bishops War resulted in one last dismantlement; and that is how the castle is to be found today.
But the ruins are awesome. Caerlaverock's moat, twin-towered gatehouse and lofty battlements are supplemented by an exhibition honouring the castle's turbulent history.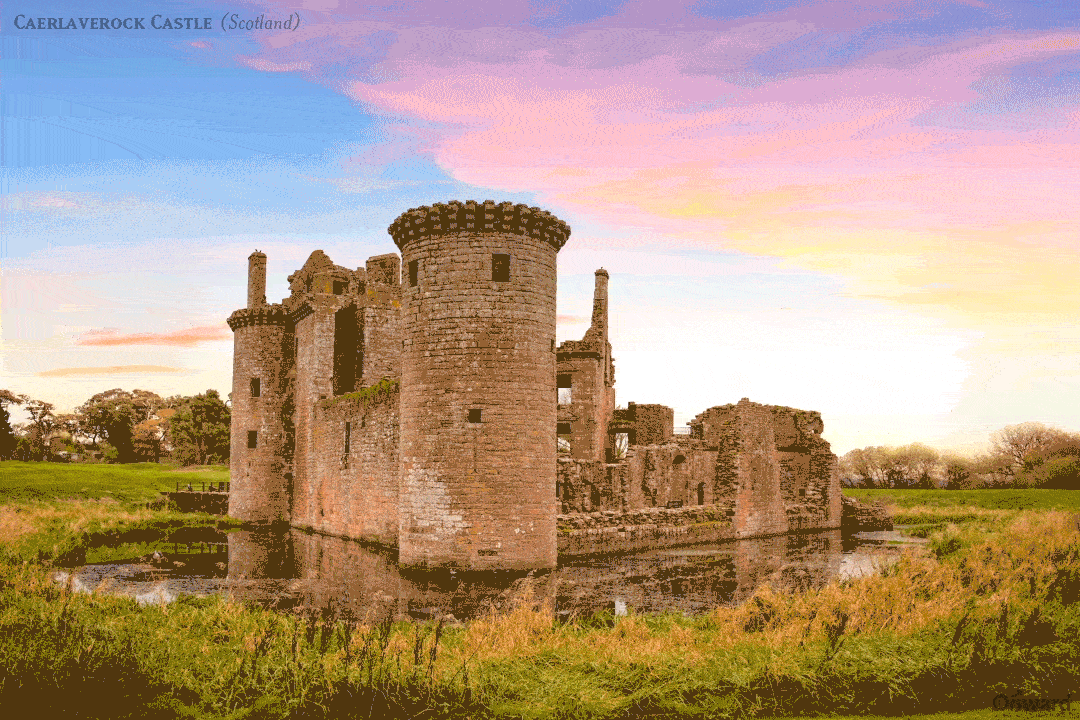 6. Kidwelly Castle (Dyfed, Wales)
Kidwelly was initially built as a wooden structure as the Normans entered southwest Wales, around 1106. Major stone fortification was added in the final decade of the 1300s, just in time to withstand a five-month siege at the outbreak of the Owain Glyn Dwr rebellion.
The following years of peace diverted the focus to residential building and the grandeur of Kidwelly's military fortress was allowed to fade. This means that although it's considered a ruin, Kidwelly is actually one of the best preserved and most awe-inspiring castles in Wales today. Catch a view of it in the morning mist to truly feel you've been transported through time.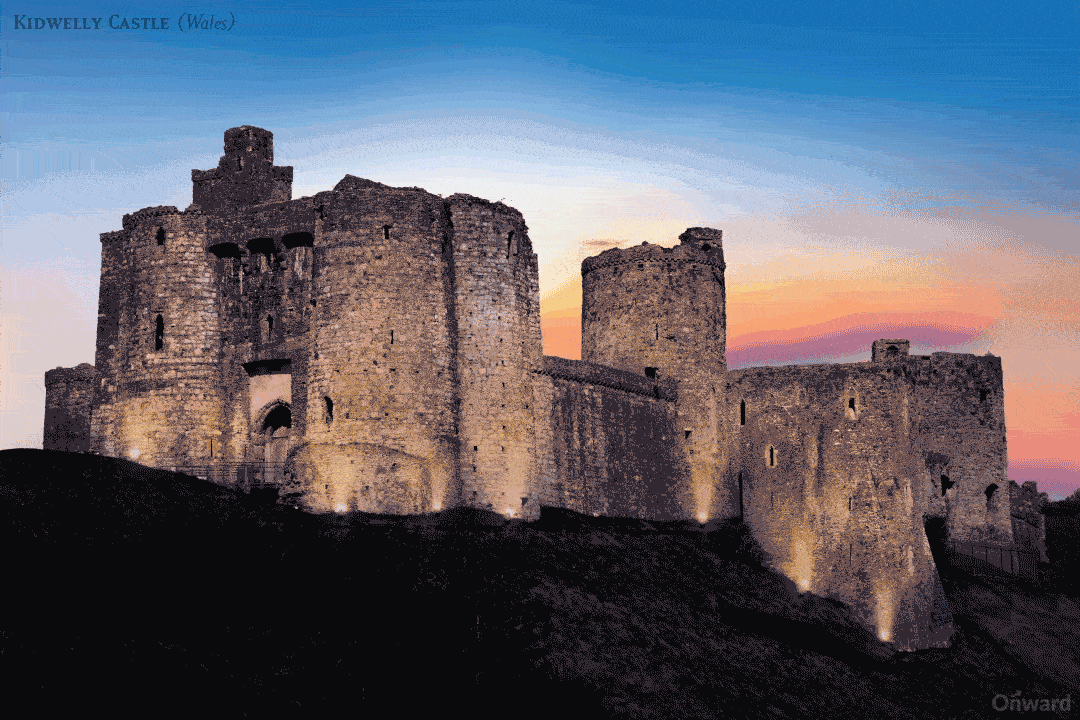 Now you know how these castles must have looked, how about visiting the real thing?
Want to share these reconstructions? Great! We just ask that you link to this page so your readers can learn more about our research.
Sources
English Heritage (2018). Dunstanburgh Castle. english-heritage.org.uk
Dennis, L. (2010). RoaringMegPlaque.jpg. commons.wikimedia.org
English Heritage (2018). Goodrich Castle. english-heritage.org.uk
Glenarm Castle (2016). Dunluce Castle. glenarmcastle.com
Castles Forts Battles (2016). Caerlaverock Castle. castlesfortsbattles.co.uk
Undiscovered Scotland. (2018). Caelaverlock Castle. undiscoveredscotland.co.uk
Historic Environment Scotland. (2018). Bothwell Castle. historicenvironment.scot
McAndrew, Bruce. (2006). Scotland's Historic heraldry. books.google.co.uk
Lancaster, James. (2018). Goodrich Castle. castlesfortsbattles.co.uk
Britain Ireland Castles. (2018). Castles of Northern Ireland-Dunluce Castle. Britainirelandcastles.com
Breen, Colin (2012). Dunluce Castle : Archaeology and History Dublin: Four Courts Press
Thomas, Jeffery. (2009). Kidwelly Castle. castlewales.com
North York Moors. (2018). Pickering Castle. northyorkmoors.org.uk