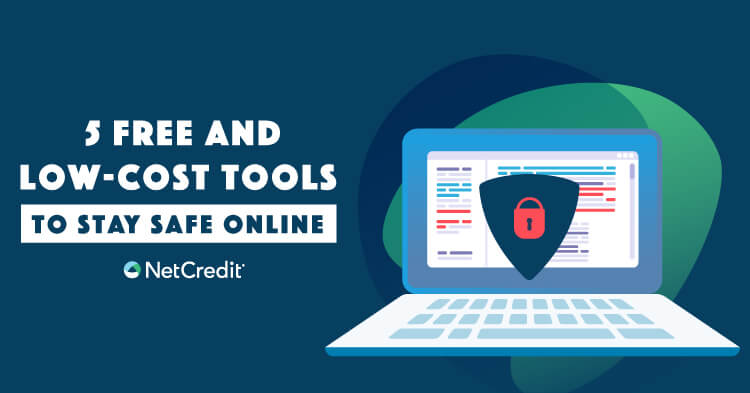 Budget-Friendly Tools to Help You Stay Safe Online
From data breaches to phishing, computer viruses and malware that can damage your computer, online security is an ever-present issue. If you use the internet for school, work or personal reasons like banking and shopping, your personal data, passwords, financial information and/or location may be stored, accessed or exposed by cybercriminals.
How can you stay safe on the internet? It's important to know the risks and take steps to safeguard your data. Read on to learn about five budget-friendly tools that can make it easier for you to stay safe online.
1. Password Managers
Passwords are the universal security measure that most sites and services use to protect your data, but they're far from perfect. If a security breach exposes your information, hackers may be able to access multiple accounts (and all of your stored data) if a password is used more than once.
That's why it's essential to set and maintain unique passwords for every account you use. Password managers take the headache out of securing your accounts by safely storing each unique password in one encrypted digital vault. Some of the leading free and paid password manager services include:
1Password
Access all of your passwords across multiple devices with one simple login using 1Password. Families can share passwords securely with the multi-user plan.
Price: Personal plans are $2.99 per month per user; family plans are $4.99 per month.
Bitwarden
Bitwarden gives you secure, end-to-end encryption and the freedom to safely access your passwords from any device.
Price: Free for the standard software; premium plans vary based on subscription. 
LastPass
This popular password manager gives you an easy-to-use interface with convenient features like two-factor authorization, digital record storage and more.
Price: Free for the basic version; premium plans are $3.00 per month and family plans are $4.00 per month.
2. Antivirus and Antimalware Scanners
Computer viruses are pieces of code that can damage your computer, whereas malware is a general term for any type of malicious software. Both types exist in many forms, and no one program may be able to find every possible threat on the internet. That's why experts suggest a multi-layered approach to be as safe as possible online, like using both antivirus and antimalware programs.
You can find, isolate and delete malware and viruses with these programs and resources:
Microsoft Defender Antivirus
This free, yet basic program comes pre-installed on certain Windows computers and hardware. While Windows Defender Antivirus may not have the most robust features, it can run alongside other security programs for enhanced protection.
Price: Free on hardware with Windows 7, 8.1 or 10 operating systems.
Bitdefender 
While some of Bitdefender's features are only available for Windows devices, the free version offers real-time protection against certain security threats.
Price: Free for the standard software; premium plan varies based on subscription.
Malwarebytes
This highly rated malware scan software helps protect you from the latest online threats. Since it's designed to target certain types of security issues, Malwarebytes should be used in tandem with antivirus software.
Price: Free for the standard software; premium plan varies based on subscription.
Additional programs: Check out this security checkup tool guide to access more online scanners.
Price: Free.
3. Virtual Private Networks (VPNs)
A VPN redirects your internet traffic to a secure private network rather than your service provider's network in order to hide your real location.
Free VPN software is available, but may have limitations, like limited data usage, advertisements or other privacy-related issues. No matter which route you choose, it's best to do your research and work with reputable companies. Here are some of today's leading paid VPN services:
NordVPN: This popular VPN service is easy-to-use and has plenty of features to help keep you safe online. Find the best plan for your needs with monthly, annual or multi-year subscriptions.
Surfshark: This top-rated VPN software can work on multiple devices simultaneously, so you and the whole family can browse securely.
Prices vary based on subscription.
4. Browser Extensions
While some popular web browsers come with built-in security settings, you can enhance your online experience even more with extensions that offer additional privacy features. The following browser extensions can help block ads, pop-ups and tracking services:
AdBlock
This multi-platform extension is compatible with all major browsers and has convenient settings to improve your browsing experience.
Price: Free.
uBlock Origin 
uBlock Origin is another popular option for simple, customizable ad-free browsing on Chrome or Firefox browsers.  
Price: Free.
CyberSec
Though CyberSec is only available with a paid NordVPN subscription, it's a highly rated ad-blocking program that can also help protect you from malicious websites.
Price: Included with NordVPN subscription.
5. Cloud Backup Services
A cloud file backup is a remote, internet-stored copy of your hard drive (or selected files) which can be used to restore your device in the event that it's lost or stolen. Cloud backups can also help you recover deleted or lost digital property.
Similar to VPN software, high-quality and secure cloud backup services typically come at a price. Check out some of today's most popular cloud storage services:
Microsoft OneDrive: This Windows-based backup service lets you conveniently store and access files securely from cloud storage.
Google Drive: Users appreciate the simplicity, file type support and multi-platform convenience of Google Drive.
iCloud: Apple users can access iCloud storage for a simple way to backup and access files remotely from any supported device.
Prices vary based on subscription.
Prices are current as of this blog's posting.