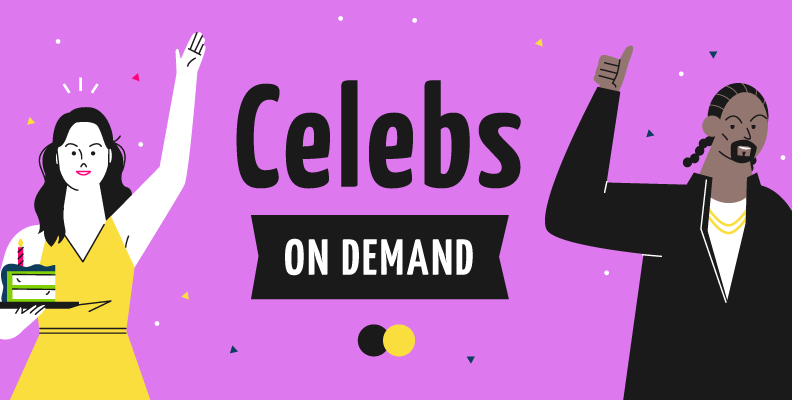 The Most Cost-Effective Celebrities for Hire on Cameo.com Right Now
Just because a celebrity is too rich to know how much a pint of milk costs doesn't mean they'd turn their nose up at making an easy dollar.
Thousands of celebrities and not-quite celebrities are willing to make a shout-out video for you via cameo.com. Commissioning a 'videograph' from cameo.com is a glamorous way to wish a friend Happy Birthday while funding a new toaster or a Disney+ subscription for, say, Al from Home Improvement (call-out charge: $100).
Just like the figures that some stars charge to appear in blockbuster movies, Cameo's prices vary according to how in-demand each celeb considers themselves to be. However, it is possible to find a bargain. A mega-celeb who wants to give back to the people, or raise a few bucks for charity.
NetCredit used two websites to figure out which celebrities give the best deal on Cameo when you balance their price against their actual fame. We compared the Cameo video price of over 5,000 celebrities with their Fame Rank on analysis website FameFlux to see who gives you more fame for fewer dollars.
Key Findings
Marla Maples is the best value celeb in our study. The actress is   the 202nd most famous person on FameFlux and will make a greeting video for $72.
The worst value celeb on Cameo is singer/songwriter Cameron Walker, who charges $995/video despite being the 360,193rd most famous person in the world.
Rapper Lil Xan is the best value musician, charging $110 and ranked #858 on FameFlux.
Ic Cube is ranked 101 positions above Marla Maples in terms of fame, and charges $500/video – making him the 5th best value celeb on FameFlux.
Which Celebrities Give the Best Value Cameo Video Greetings?
Our scatter chart compares the value given by the top 5 celebrities in each category. The vertical axis is price, and the horizontal axis shows fame rank – with the most famous people appearing to the right. The bubble colors indicate category, and by clicking on the color-key at the top you can see the category of your choice. Finally, the size of the bubble illustrates how highly-rated the celebrity's Cameo videos are.
While Marla Maples is the best value actor in the study, Ice Cube is more famous (ranked #101) and commands $500 for a video. Pretty good value for a household name, and achievable if everyone pitches in for a birthday gift!
Figure skater Nancy Kerrigan is a top value athlete and niche choice for a video. She's now best known as the victim of a sabotage assault by her rival's ex-husband. Snoop Dogg is a high-value musician, ranked #142 for fame and charging $1,200 for a video. However, for that price you could have seven and a half Meat Loafs.
How to Find a Bargain Cameo Celebrity
Are you looking for a particular category of celeb? Got money to burn, or happy to get an obscure name for a low price? Our sortable table allows you to arrange the celebs in our study by a range of variables by clicking the little arrows.
If you arrange our data by price, you can find a 'celebrity' for as little as one dollar. Dave Weasel is a comedian and the 677,039th most famous person on FameFlux. Will you buy that for a dollar? (Disclaimer: the "I'd Buy That For A Dollar" guy is sadly not on Cameo). Caitlyn Jenner is the most expensive, with a $2,500 call-out fee. She's the 90th most famous person we got, however, and the most famous person on Cameo, so she's still pretty good value.
Other super-famous celebrities for hire include Priscilla Presley, actress and former Mrs. Elvis, who gives pretty good value at $150 per video. Another high-ranking duo are Corey Feldman ($202 and Sean Astin ($295), who you could get (separately) for a Goonies special. When is someone going to write them some sequel dialogue and make the movie everyone wants to see?
A Birthday Gift that Talks
They say today's generations like two things: experiences rather than gifts and watching endless videos. Now that consumers have a direct line to some very good value celebrities, why not buy that special someone in your life a video of their favorite (or most affordable) celeb wishing them a happy birthday?
METHODOLOGY & SOURCES
In order to make this scatter plot and interactive table content we used the cost of a personalized video from 5,453 celebrities on  Cameo.com and compared that to their celebrity rating on FameFlux.com.
FamFlux uses metrics such as Wikipedia traffic, Google searches, Twitter followers, Instagram followers and career earnings to rank celebrities. Originally we collected data for 16,005 celebrities from Cameo, but many of them were removed as they didn't have a profile on Fameflux.
Cameo prices can change, as can FameFlux ratings. The current data was accurate as of January 2021 and can viewed here: bit.ly/CelebsOnDemand.