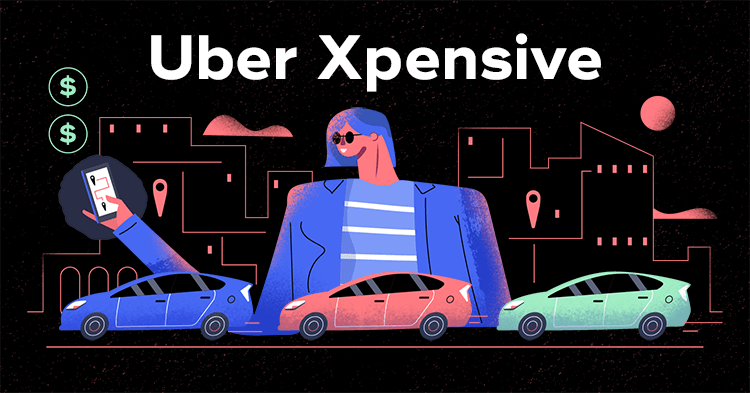 Cost of an Uber in Cities Around the World
Uber has changed the way we travel from A to B – and the service shows no signs of slowing down, even as the fuel crisis drives prices up.
The company has recently celebrated its billionth trip in Africa and announced a raft of tech developments that boost its appeal over rivals such as Lyft for both drivers and passengers (although drivers might not be so happy about Uber's planned delivery robots).
One reason Uber can weather global pressure to raise prices is that the company has deep pockets. Meanwhile, rival companies face issues such as low driver uptake or the unfortunate business of having launched as a Russian start-up (although the latter is now an American company whose founders disavow the invasion of Ukraine).
While surge pricing always feels like a kick in the teeth, traditional taxis have long embraced peak pricing in many places. Uber operates in over 10,000 world cities, and the familiarity of the brand is comforting when faced with a trip from a foreign airport. But Uber pricing differs from city to city, so it's best to set off with a decent idea of what it might cost you to open that app.
What We Did
We used the price estimate tool by Uber to calculate the average cost of a 10km (6.2 miles) Uber trip from the center of every world capital where Uber operates. Next, we repeated the process for the 30 biggest cities in the United States and United Kingdom where Uber is available.
For all cities in our study, we curated a 10km journey manually and we ran the price estimate tool three separate times to gather prices for workday morning rush hour (around 8am), workday afternoon (outside of rush hour) and weekend trip (Sunday morning).
For more details about the methodology, including exceptions and caveats, please scroll down to the bottom of the page to read the steps we followed in more detail.
Key Findings
Bern in Switzerland is the world's most expensive city to take an UberX, averaging $42.80 per 10km.
Islamabad in Pakistan has the world's cheapest UberX equivalent, offering an UberMini at $1.39 per 10km.
New York City has the most expensive Ubers in the U.S., at $34.74 per 10km.
London is the most expensive city in the UK, at £20.50 ($25.89) per 10km.
Swiss Capital is Uber's Most Expensive Territory
A ride in Uber's most expensive city costs more than 30 times as much as it does in the cheapest and nearly four times the average cost across major world cities. The price of a 10km taxi ride from the center of Bern in Switzerland averages $42.80. Uber has been slow to expand in Switzerland due to tough regulations in some cities. And in cities such as Sion and Fribourg, users can only use the app to book regular taxis rather than Uber cars. But the service operates freely in the capital, Bern, where the high cost of living pushes the cost to $4.28 per km.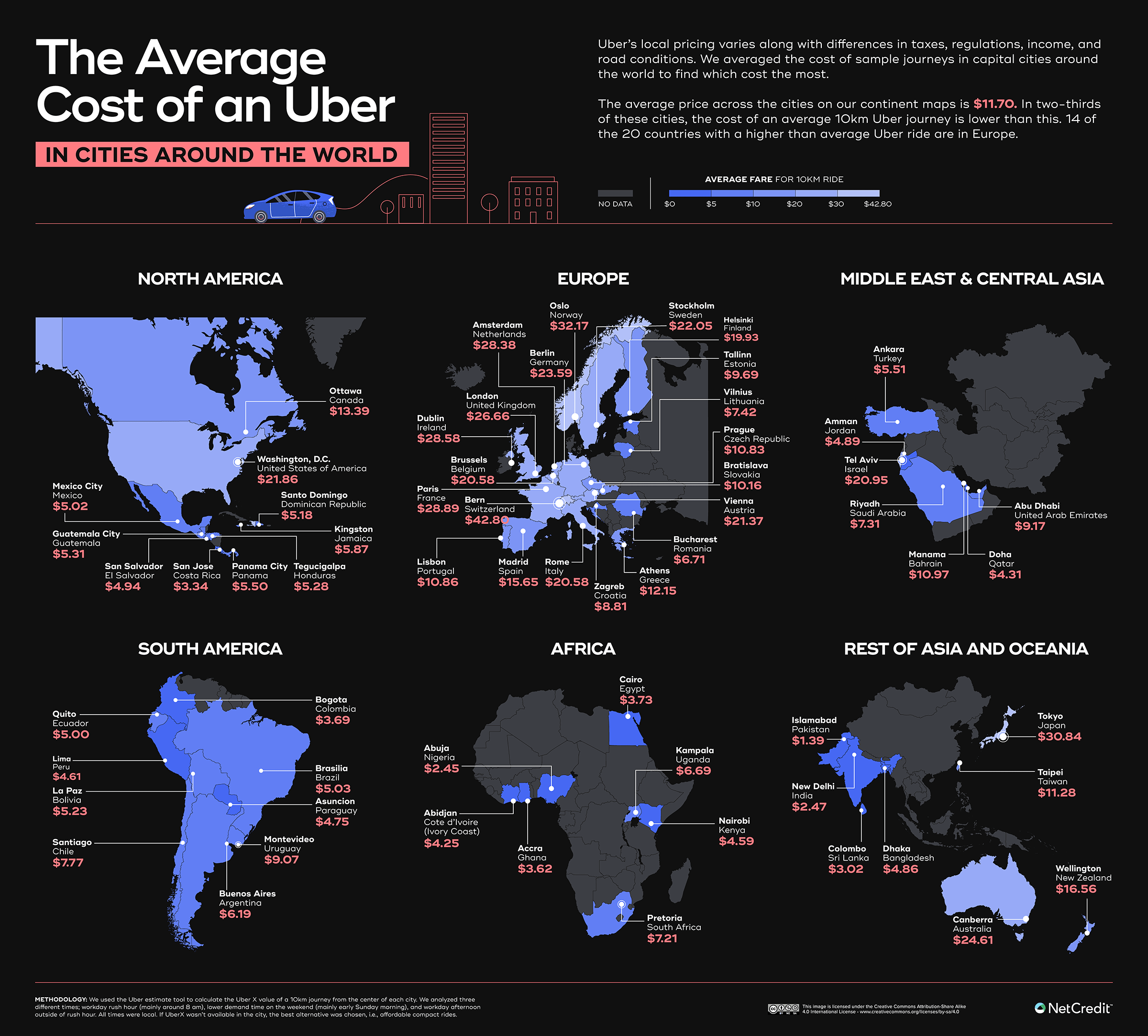 Click here to see the image in full size
You can use Uber to flag a rickshaw in Pakistan – although our data refers to the UberMini service as the closest Islamabad alternative to the UberX, which costs $1.39 per 10km on average. Pakistan's Uber users can also pay in cash, one of several incentives for customers to embrace the app in a country with one of Asia's lowest internet usage rates.
Bogotá Stands Out Among Uber's Cheapest Locations
Uber has had to fight – sometimes literally – to secure some of its most lucrative territories. High cost of living cities such as Oslo and London have, at times, restricted or banned Uber's services. In Paris, where a $28.89 per 10km rate makes it the fourth most expensive city for Uber globally, anti-Uber protests brought flames and riot police to the streets.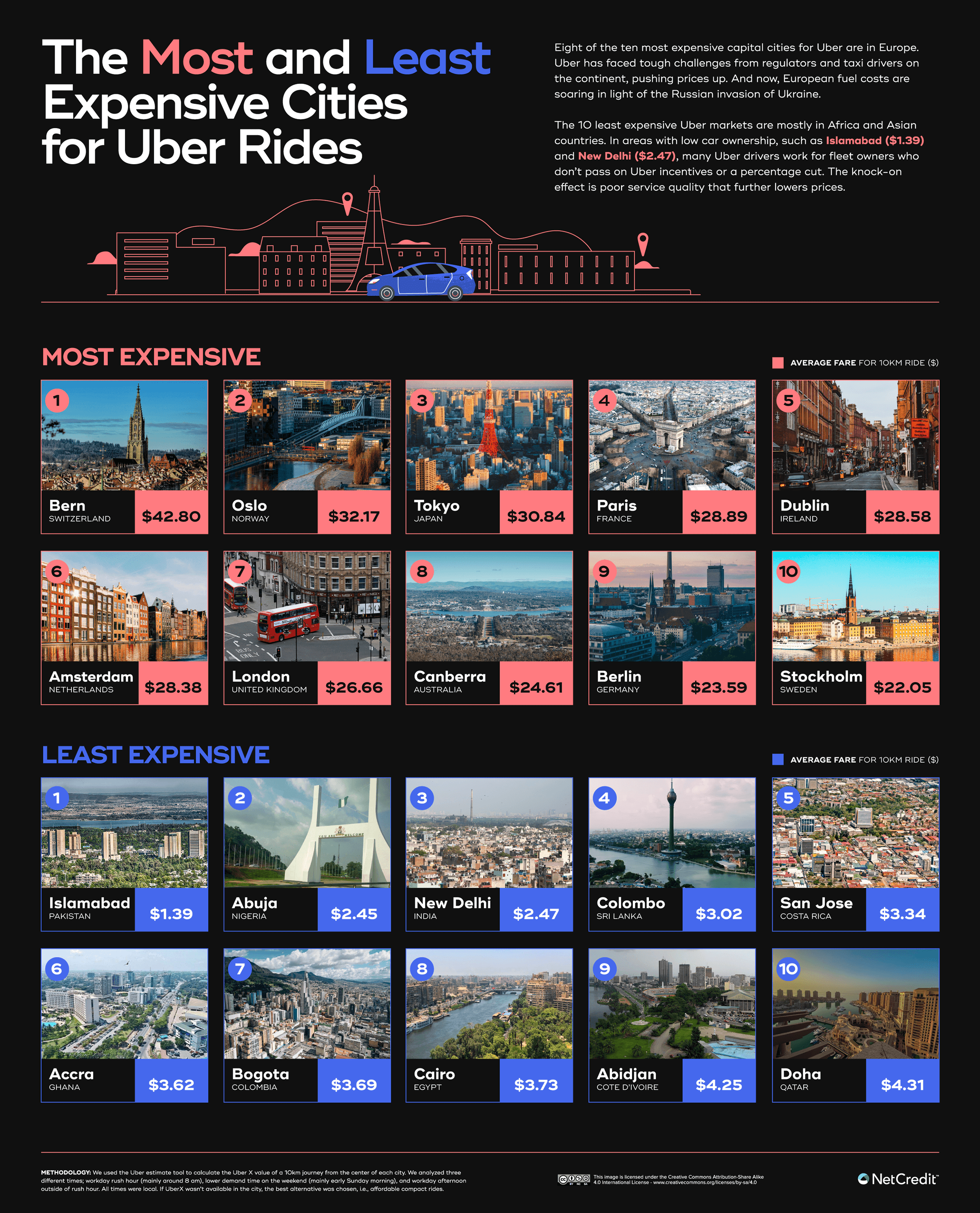 Click here to see the image in full size
Bogotá is an exception to the Asian and African cities that make up the bulk of the ten cheapest cities for Uber. The Colombian capital is the least expensive Uber territory in South America while the company tries to figure out the market. Uber has had a mixed start in Colombia, facing bans and then returning by exploiting a legal loophole. Technically, when you flag an Uber in Bogotá, you're not hiring a taxi but renting a car with a driver.
New York City Uber Users May as Well Take a Helicopter
What's hurting Uber customers so much in New York is not that the service is expensive but that it is so much more so than it used to be. Uber usage in the city fell by 16% in just a few months the year before the pandemic, with new congestion fees compounded by the fact that ride-sharing apps had been "artificially cheap" to establish the service. By the end of that year, it could be cheaper to take an Uber helicopter to the airport than to wait for an UberX.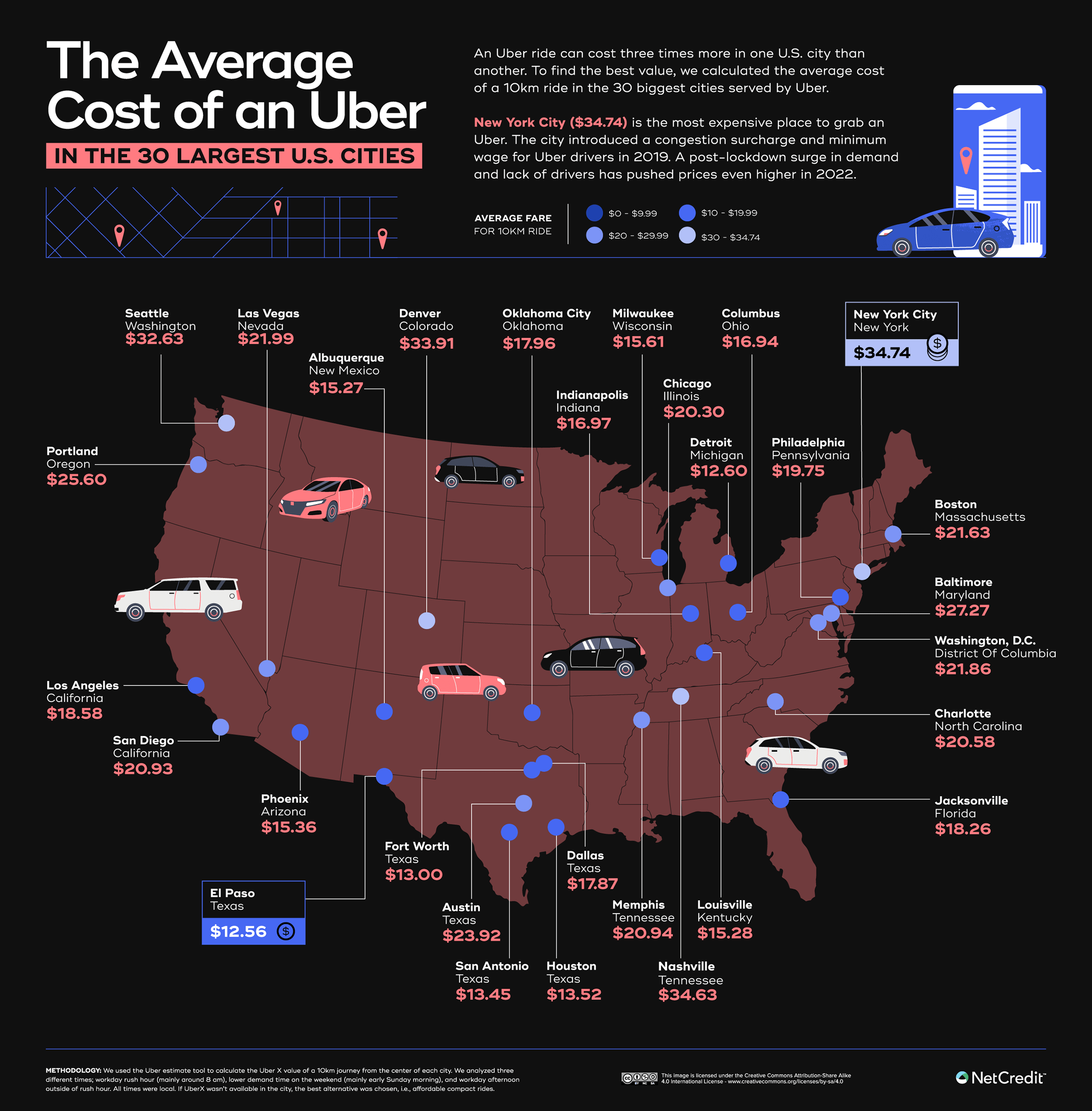 Click here to see the image in full size
Things look better in Texas, home to four of the five cheapest big U.S. cities to take an Uber. The service is so bound up in American culture that a list of recent Uber-themed Texas news stories feels like a tour of U.S. current affairs: Uber pledging legal support for any of its drivers prosecuted for helping a patient get to an abortion appointment outlawed by Texas's controversial abortion legislation, an Uber driver shooting a Black Lives Matter protester in Austin, and a failed drug crime getaway involving an Uber trip.
London, Edinburgh, and Manchester Among UK's Costliest Uber Routes
Uber pricing is a mixed bag in the UK, with significant disparity even between neighboring cities, Liverpool and Manchester. Manchester has a strong cycling culture, a range of transport options, and a comprehensive public transport network, making car travel relatively inconvenient. The city aims for 90% of city center journeys to be made on foot, by bike, or using public transport by 2040. However, due to price surging, high demand at night means Manchester's Uber users can be in for a shock – such as one partygoer's £104 ($131), 11-mile trip.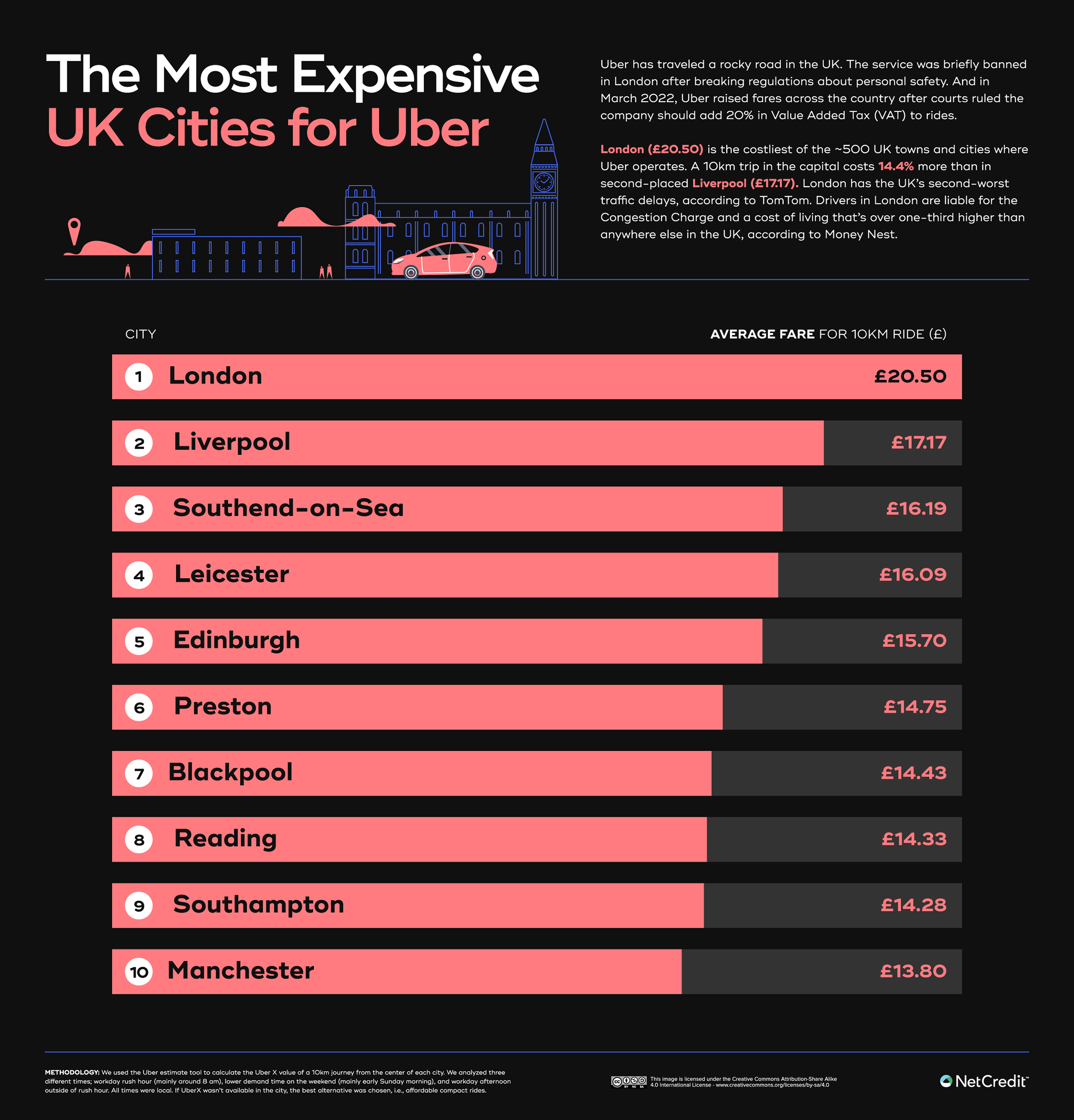 Click here to see the image in full size
As Uber's fifth most expensive UK city, Edinburgh is the only Scottish city to make the top ten. The service is so popular in Edinburgh that the company has needed to partner with a local taxi firm to meet demand.
Self-Driving Cars and Dogs on Wheels
"In many cities across Europe, we have increased Uber prices to help drivers with the recent spike in operating costs," an Uber spokesperson has said in light of recent price hikes. "As always, riders will get a trip price before booking their journey." While it's essential that Uber must look out for its drivers, the apparent transparency in the app's cost estimates may trick customers into thinking they're getting the same affordable service they always have. A glance through the full data below, long before you need a taxi in one of these global cities, may help you set out with a clearer idea of the value you'll get.


Meanwhile, in the age of convenience, Uber continues to diversify its offering – whether offering rideshare for dogs or replacing drivers with computers. The company is coasting, despite troubled waters, as the 242nd most valuable company in the world, with a market cap of $63.41 billion. Makes you think twice about whether you're getting a bargain ride, doesn't it?
METHODOLOGY AND SOURCES
For this project, World Cities are capitals in every country where Uber operates. Abidjan, Cote d'Ivoire (Ivory Coast), is an exception because it is not the capital, but it is the only city in the country where Uber operates.
U.S. Cities category is the 30 most populated cities in the U.S. where Uber operates, and UK Cities is the 30 most populated cities in the UK where Uber operates.
San Jose, CA, and San Francisco, CA, are among the most populated cities in the U.S., but they were omitted from the research because Uber does not provide cost estimates for these cities (checked on multiple occasions). Likewise, a few World Cities were excluded for the lack of estimates.
For each city, a 10km journey was manually curated. The journey was from the city center as determined by the Uber estimate tool. From this point, using Google Maps, a location 10km away from the city center by car was chosen.
For all cities, each address was analyzed 3 separate times in the Uber estimate tool, e.g., workday rush hour (mainly around 8 am), lower demand time on the weekend (mainly early Sunday morning), and workday afternoon outside of rush hour. All times were local. The values for UberX rides were recorded.
If the city did not have UberX, the best alternative was chosen, i.e., affordable compact rides. Some locations had only taxi options available.
Finally, all data was categorized into tabs.
Data sources:
https://www.uber.com/global/en/cities/
https://worldpopulationreview.com/us-cities
https://worldpopulationreview.com/countries/cities/united-kingdom
https://www.uber.com/global/en/price-estimate/