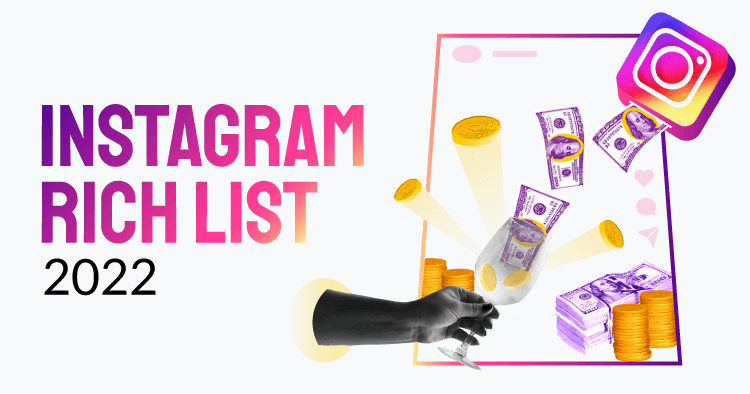 The Top Instagram Earners Globally and From Every Country
For most of us, Instagram is the ex-"square photo-sharing app" that's free to use (not counting all the swag that you're influenced into buying).
But for a select bunch of heartily-followed users, the platform offers an even better deal: a decent annual income in return for a handful of sponsored posts. Even so-called nano-influencers – those with four-figure follower numbers – can charge hundreds of dollars per sponsored post. Those with over a million followers average $15,356 per month, while top celebrities make more with one or two posts than most Americans will earn in a lifetime.
The total Instagram earnings from influencer to influencer depend not only on their follower count but on how often they're prepared to sell their name and the power of that name in their particular market. This led NetCredit to wonder how top Instagram earnings differ around the world. So, we created an algorithm to estimate who is the top Instagram earner from every country.
What We Did
To reveal the world's top Instagram earners, NetCredit first built a list of the most-followed Instagram stars from every country. List in hand, we used figures from the Instagram rich list to estimate the fee-per-ad for each country's most-followed stars. Then, we counted up the number of sponsored posts made by each star in 2021 and multiplied this by their known or estimated ad fee.
Key Findings
Cristiano Ronaldo is the world's top Instagram earner, making $85.22m in 2021 from sponsored posts.
Rival soccer player Lionel Messi is in close second place, with $71.96m.
Ellen DeGeneres is the top Instagram earner in the U.S., making $33.73m per year.
Justin Bieber is Canada's top Instagram earner, making $4.43m.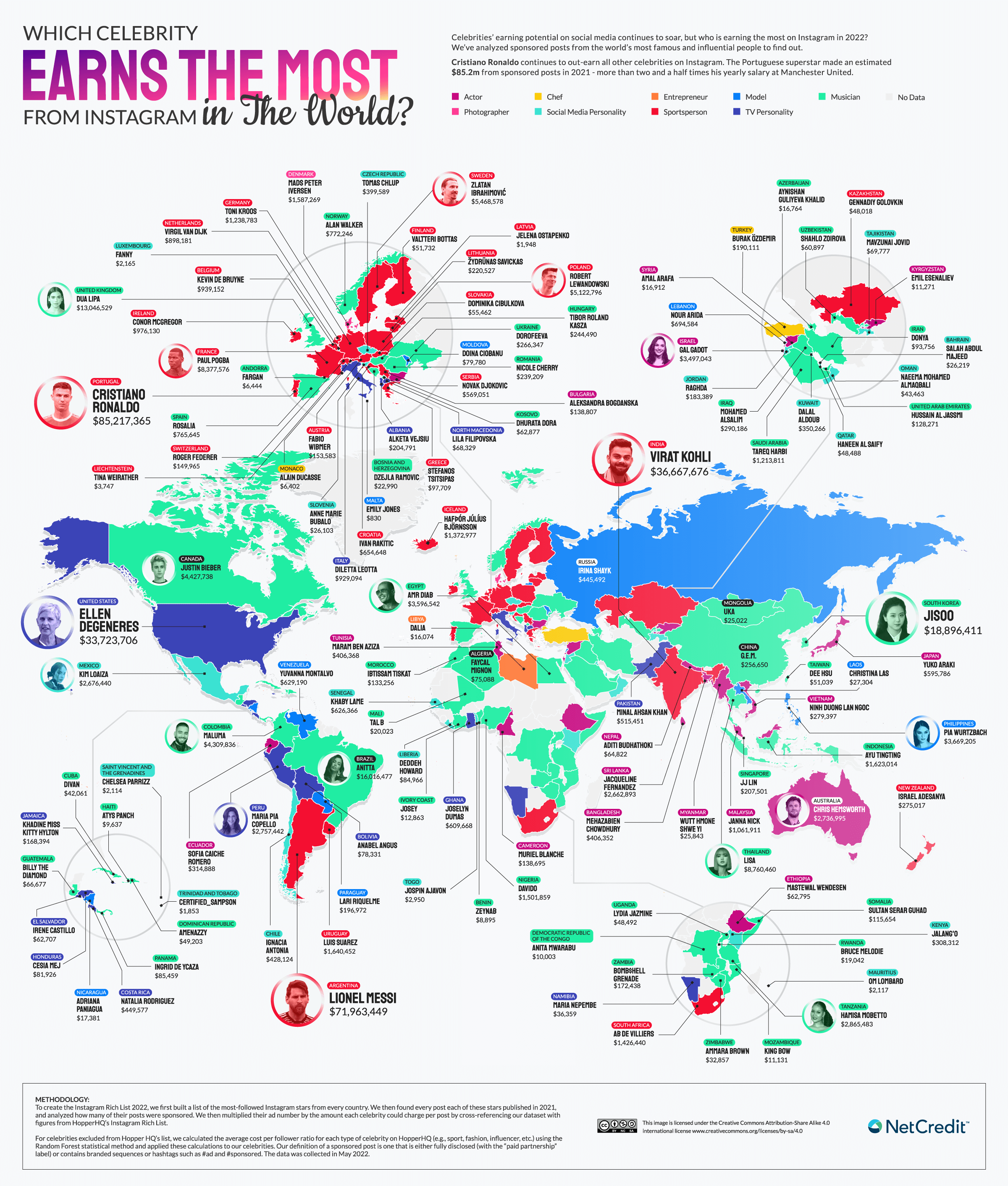 Click here to see the image in full size
North America: Deluge of Ellen Posts Makes Her Top Earner
Despite having well over 100m followers, Ellen DeGeneres' TV show Instagram account commands only (!) $750k per sponsored ad. To make ends meet, Ellen makes nearly one sponsored post per week, and thus totals up to $33.73m per year – making her the top-earning Instagram influencer in the U.S. and North America and number four in the world.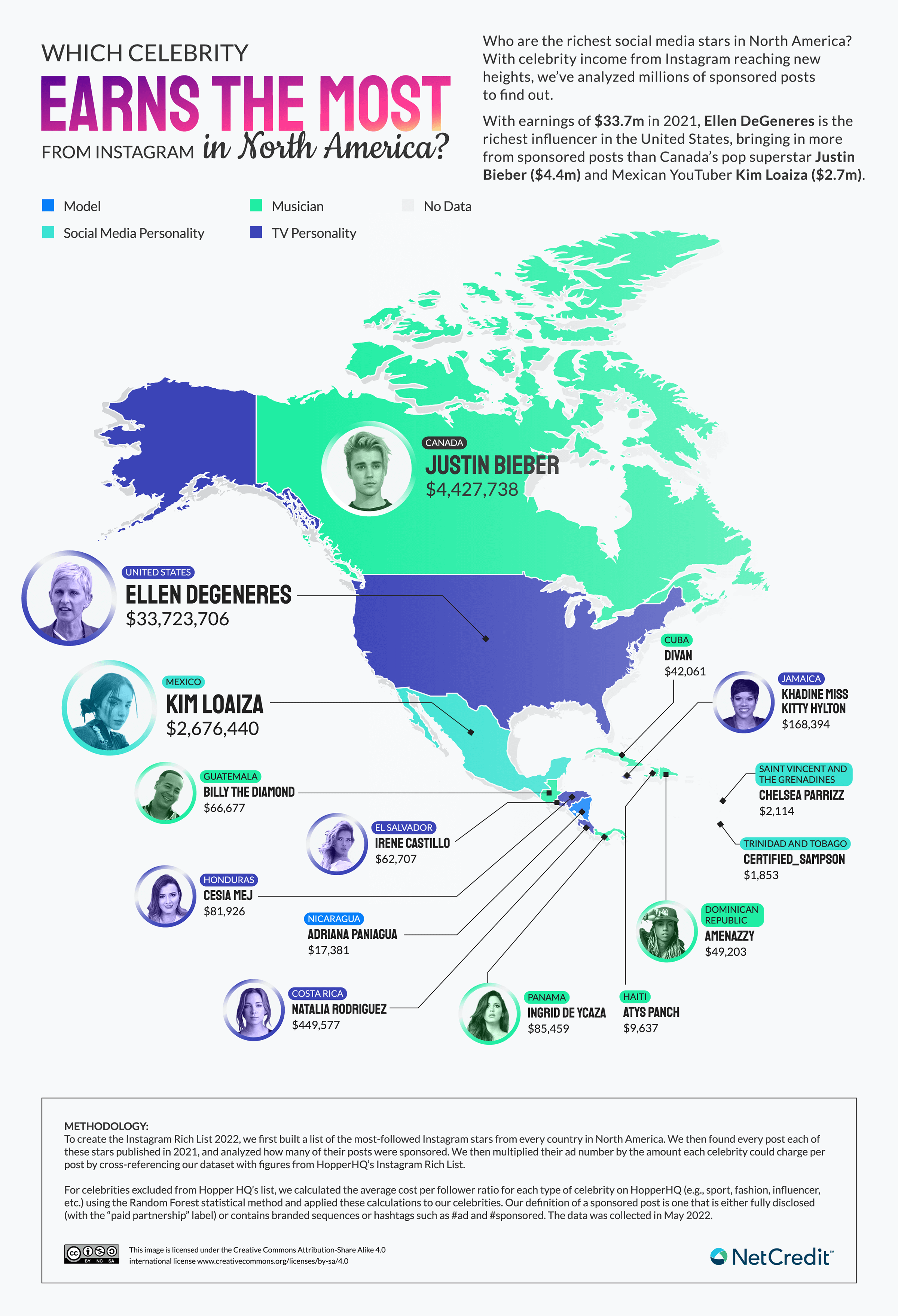 Click here to see the image in full size
Justin Bieber is a once-a-month man, raking in a paltry $4.43m per year from around 13 sponsored Instagram posts per year. This is still enough to make him Canada's number one. And he could earn even more if he billed wife and skincare entrepreneur Hailey for statements like "the most beautiful thing about you is your care to protect people with good ingredients that will help their skin to flourish like you did for me and my skin."
South America: Soccer Great Vies for World's Number One Spot
South America's top Instagram earner is second in the world only to Cristiano Ronaldo… in Instagram earnings, anyway. The Argentine soccer legend Lionel Messi and Portuguese Ronaldo are interchangeably touted as the sport's GOAT. But over $13m in annual Instagram cash separates them at the top of the influencer table.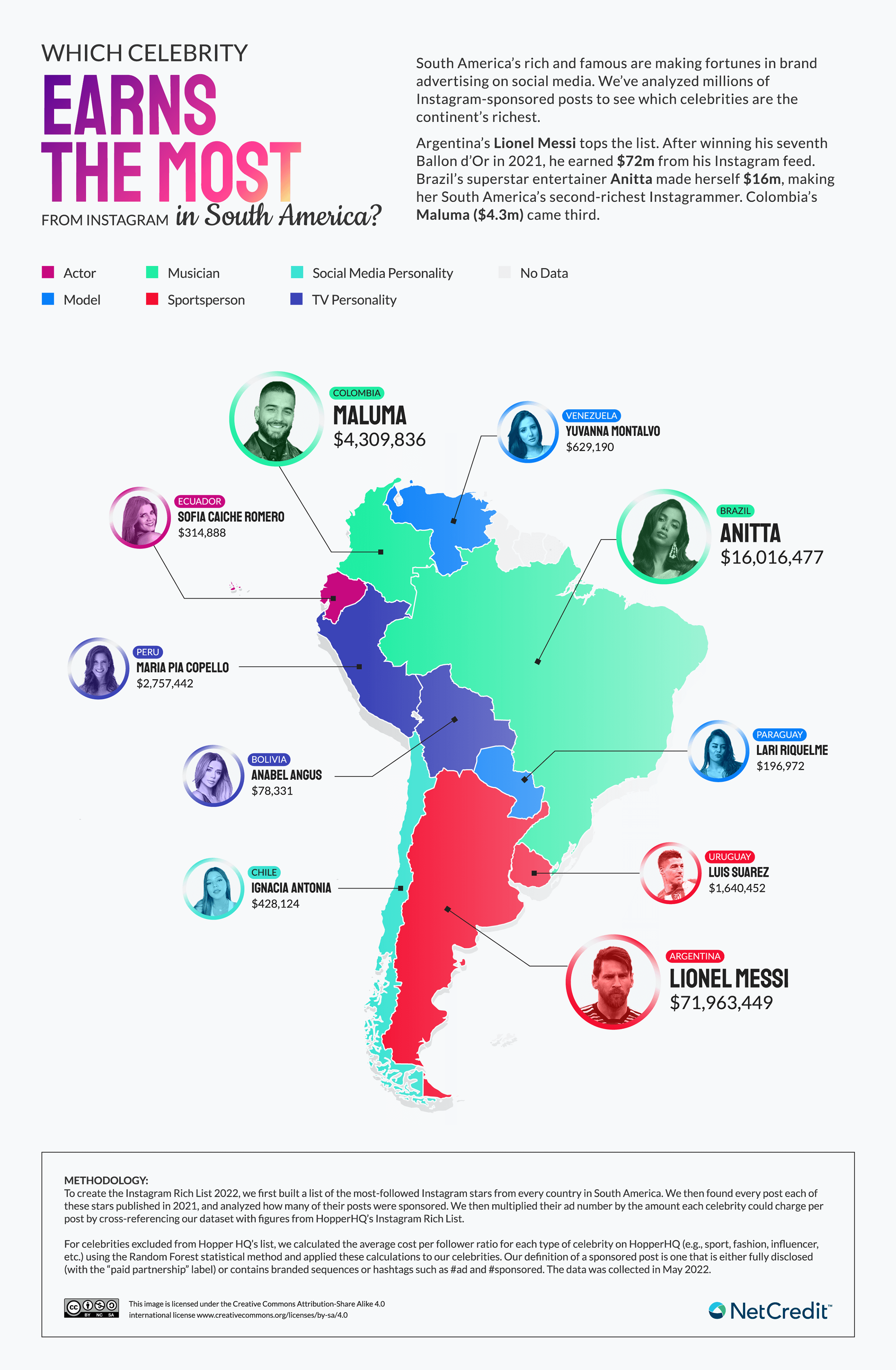 Click here to see the image in full size
Brazil's number one influencer is no slouch, either. Entertainer-entrepreneur Anitta is the seventh-highest paid Instagram user in the world. We calculated that she may earn around $390,646 a pop, delivering 41 sponsored posts per year for brands such as Burger King, Samsung Brasil and skincare company Sol de Janeiro.
Europe: Ronaldo and Dua Lipa Among Instagram's Top Earners
Europe's top three Instagrammers alone rake in a combined total of over $100m, but to be fair, most of that goes in the branded sports holdall of one man: Cristiano Ronaldo. Although some calculate that rival Messi earns more overall, Ronaldo is the most-followed athlete on Instagram, and only @Instagram itself has more followers. With a haul of $2,367,149 per post and 36 posts per year, his Instagram earnings are 18.4% higher than Messi's. Meanwhile, beyond Instagram, Ronaldo's sponsorship deal with Nike is set to make him $1 billion in lifetime earnings.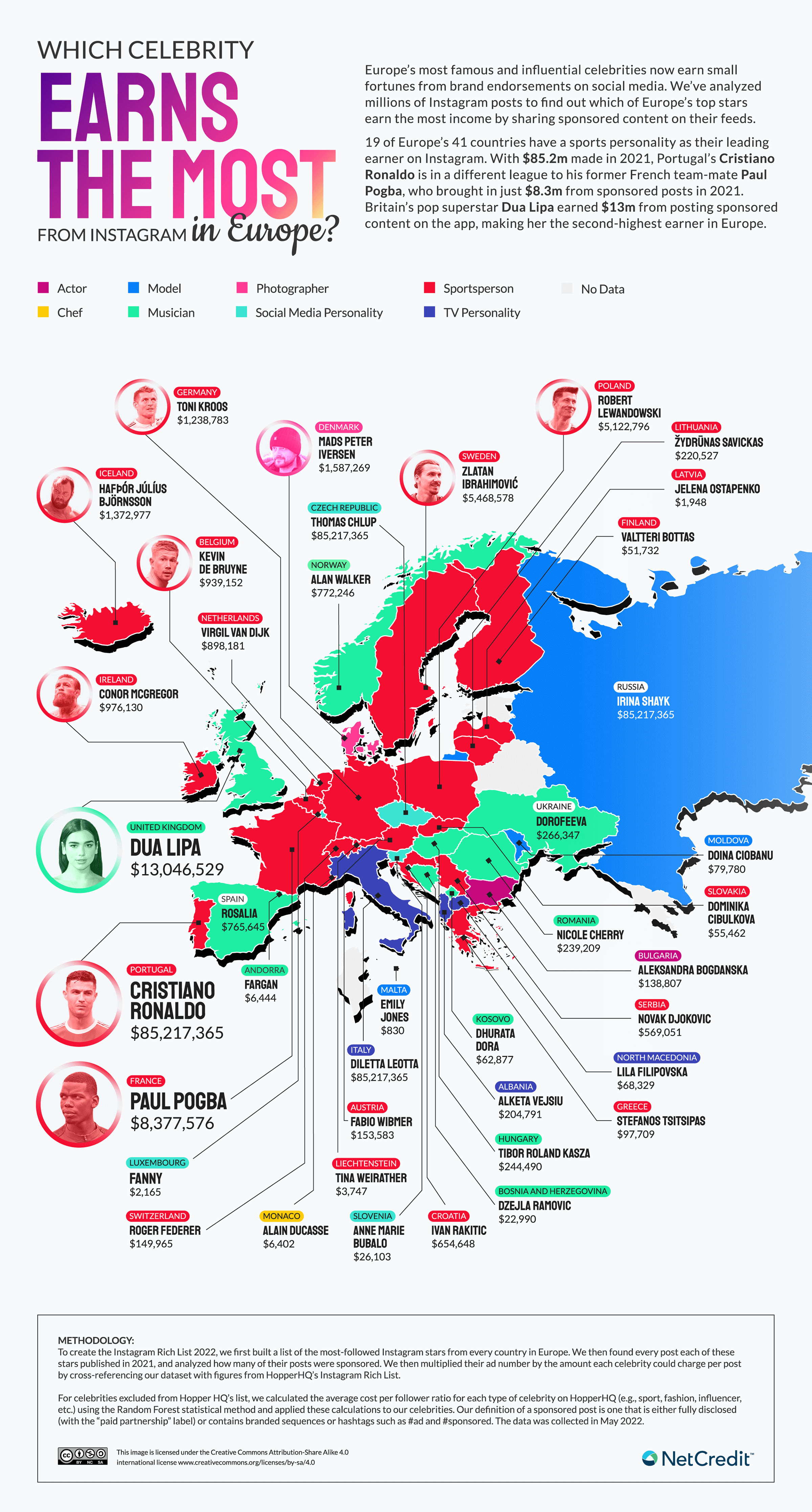 Click here to see the image in full size
Eight out of Europe's top ten national number one influencers are in sports. Then there's pop star Dua Lipa and, from Denmark, an actual photographer: Mads Peter Iversen. The philosophy graduate and former schoolteacher has a 'mere' 1m followers but uploads nearly four sponsored posts per week.
The Middle East & Central Asia: High-Earning Influencers Compete with Wonder Woman
Instagram earnings are relatively low in this region, partly due to regulations and unique socio-political challenges. Many of the top earners gained their fame through online media itself. For example, Kuwait's Dalal AlDoub emerged as a style blogger a decade ago and now commands an estimated $12,510 per post, collaborating with Guerlain, Sephora, Charlotte Tilbury and Bobbi Brown.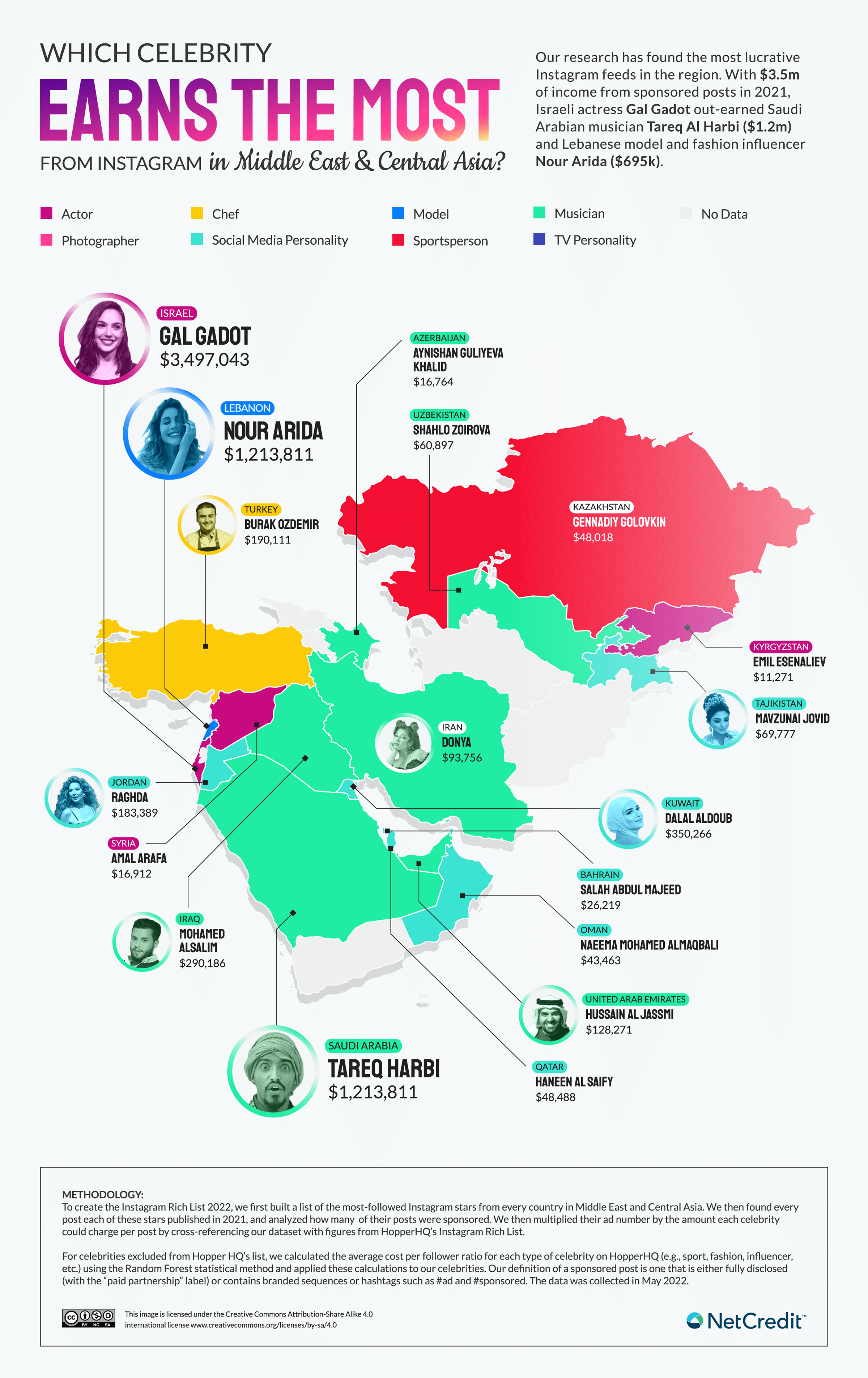 Click here to see the image in full size
But the region's number one is a former Israeli soldier now best known as a Hollywood actress: Gal Gadot. The Wonder Woman star made just seven sponsored posts last year but commands half a million dollars per ad for brands including DirecTV, Revlon, Smartwater and Tiffany & Co.
Rest of Asia & Oceania: Cricket and Pop Drive Stars to the Top
India is known for deifying its cricket stars, and South Korea does the same for its pop idols. And these are, indeed, the figures at the top of the Instagram earning charts in each location. Despite a rough year in cricket, Virat Kohli topped the tables in advertising revenue in 2021, commanding a million dollars per post to make him the third highest-paid top national influencer in our study.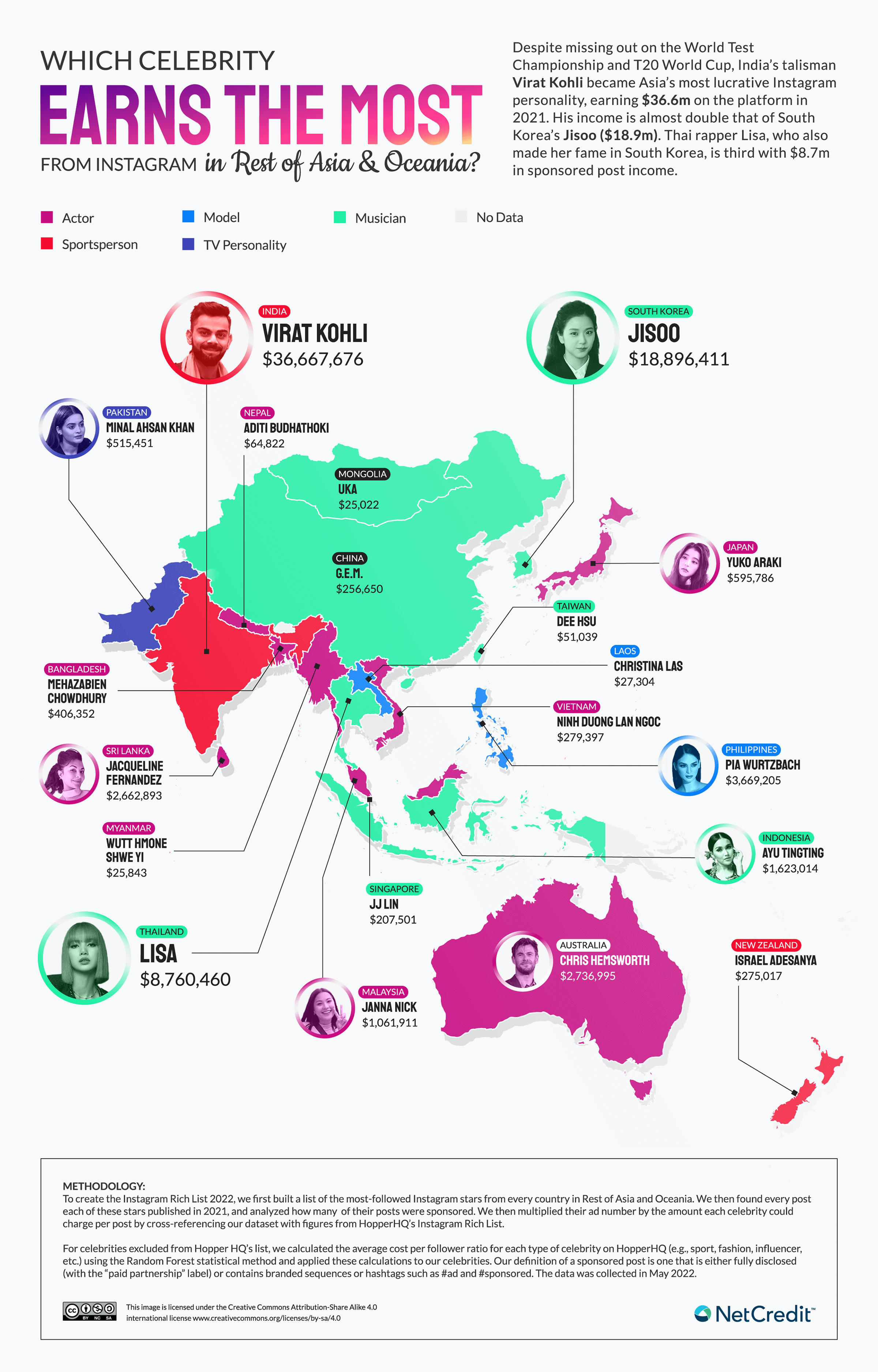 Click here to see the image in full size
Singer Jisoo is South Korea's top Instagram earner, with pop adoration supplemented by anticipation for her late-2021 acting debut. Jisoo earns around $377,928 per post and advertises around once per week. Brands such as Cartier and Adidas get regular coverage on her profile.
Africa: TikTok Star's Instagram Side-Hustle Generates $600k
Africa's top Instagram earner is Egyptian musician Amr Diab. The 60-year-old is a frequent award winner and capitalizes on his established presence in Mediterranean pop to command nearly $90k for each sponsored post. He does this 40 times a year for brands, including Amazon, Citroen, Pepsi and Vodafone.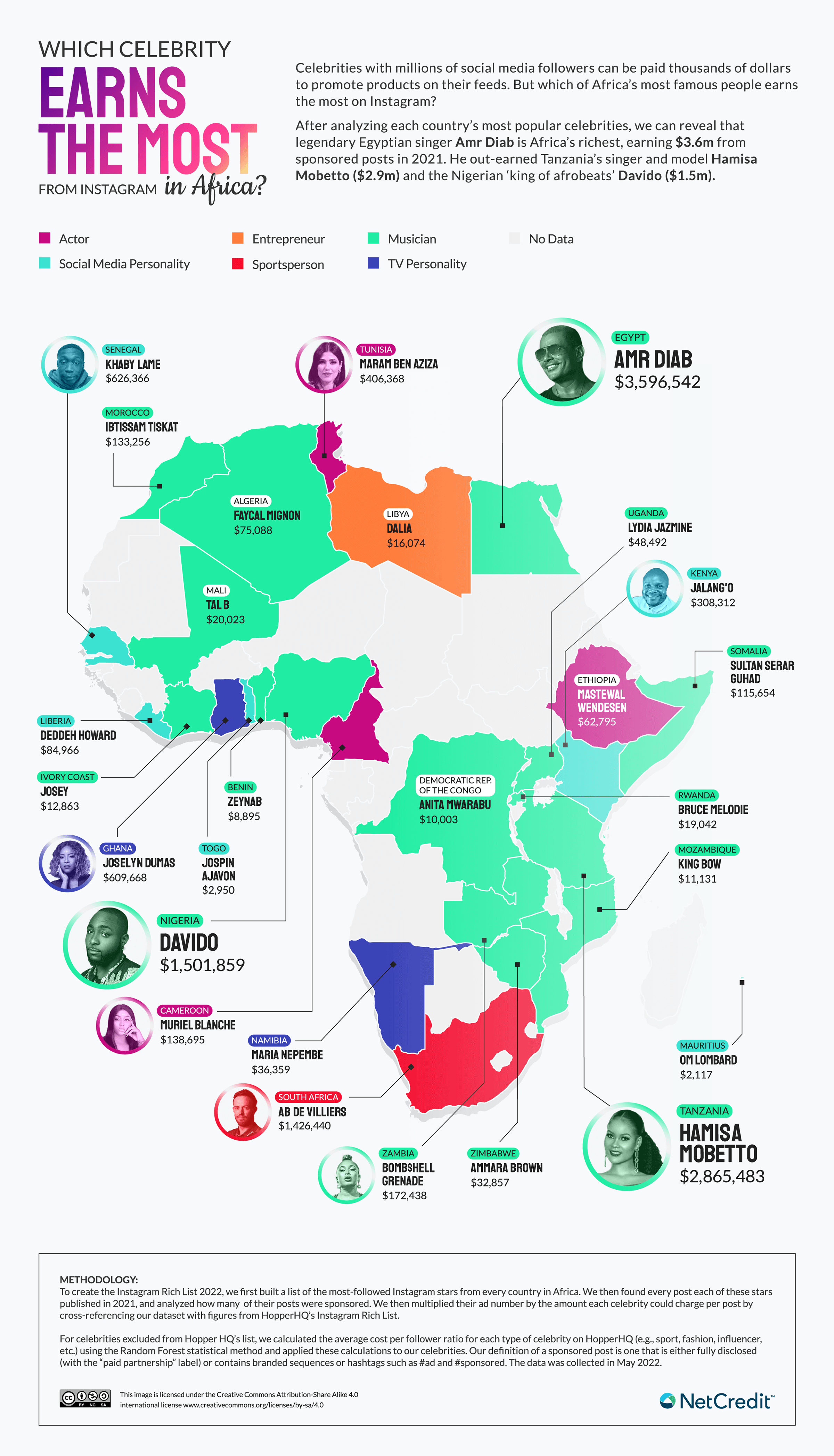 Click here to see the image in full size
Tanzania's top Instagram earner is better known for his TikTok work. In fact, Khaby Lame is (at the moment of writing) TikTok's most-followed creator. But he still has time to crank out an occasional $313k sponsored Instagram post – which he did twice in 2021. Lame is currently an 'ambassador' for Boss and Binance.
Female Musicians Dominate World Top 10 Instagram Earners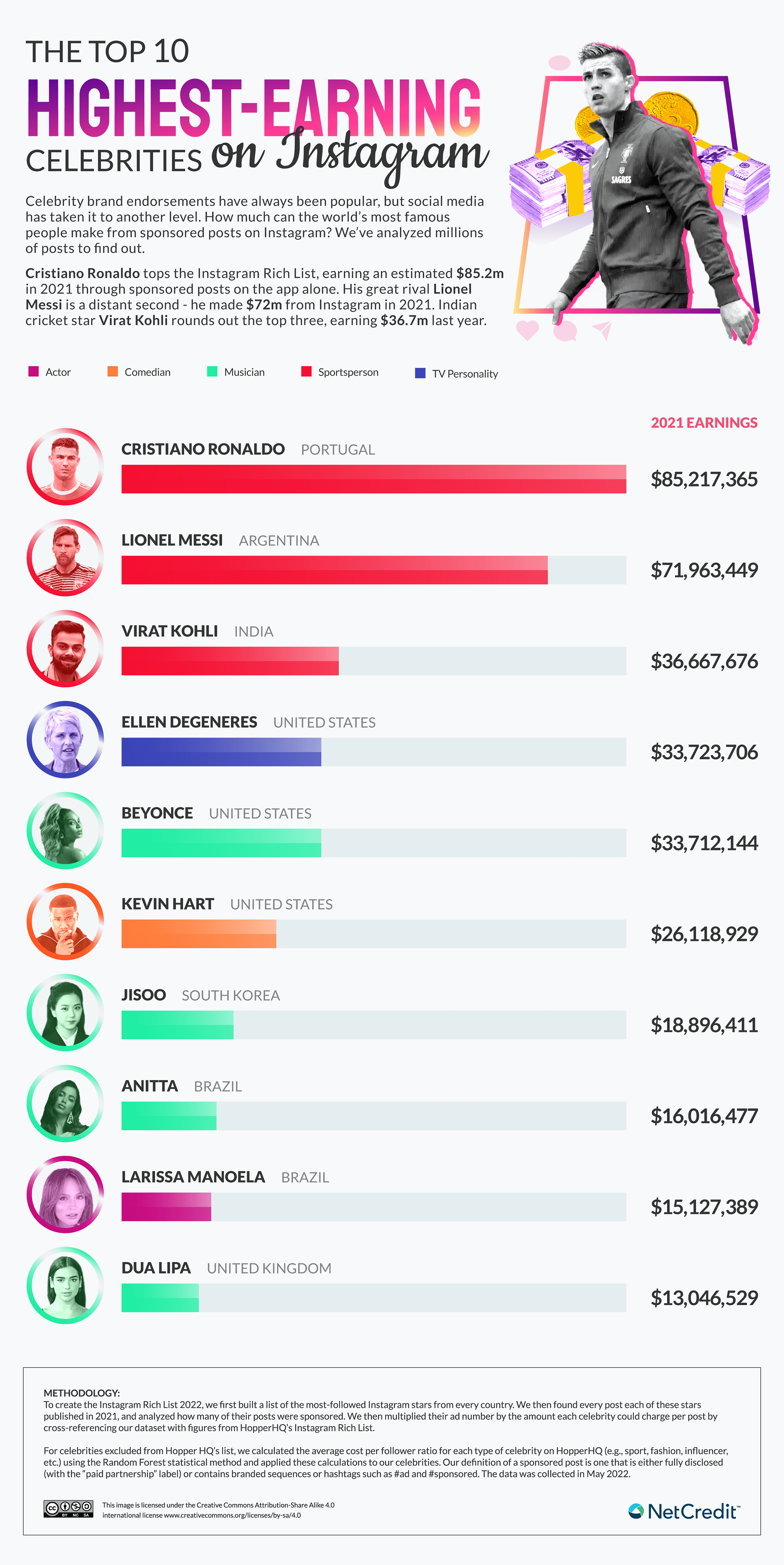 Click here to see the image in full size
Want to make millions from Instagram ads? It helps to be American or in sports, though not necessarily to be an American in sports. U.S. Instagrammers account for three of the world's top ten, and athletes account for a different three out of ten. But female musicians are the clearest 'demographic' at the top, with Beyonce, Jisoo, Anitta and Dua Lipa raking in a combined $81,671,561 per year from sponsored posts.
Instagram Pioneer Snoop Dogg Among America's Most Sponsored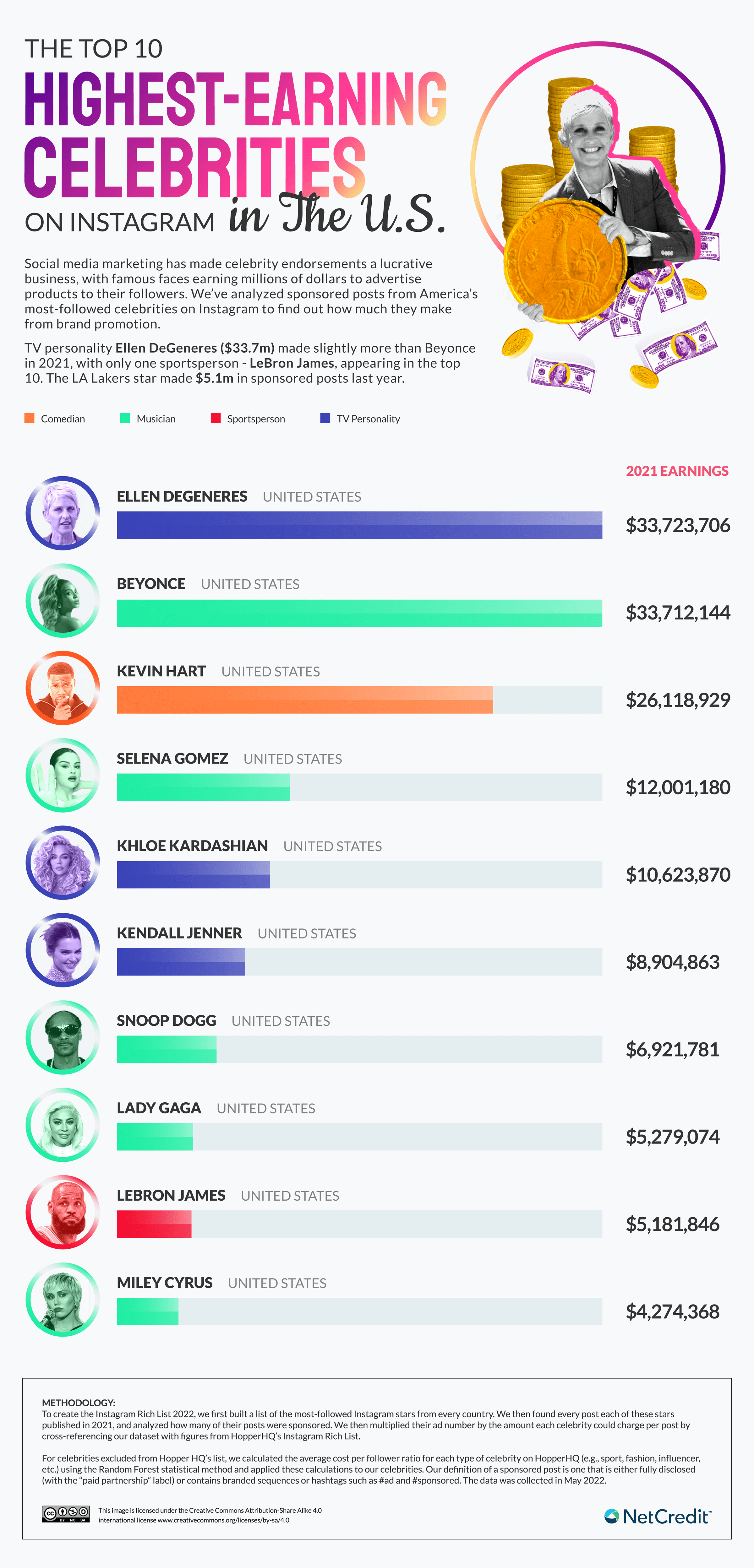 Click here to see the image in full size
There are mere thousands of dollars separating the top two Instagram earners in the U.S. But while Ellen makes it to the top with a barrage of posts, Beyonce is able to take a more leisurely, 20-a-year pace, thanks to an estimated $1,605,340 asking price. On the world stage, four female musicians dominate the national top ten; a different four dominate here, where they are joined by Snoop Dogg. Mr. Dogg was one of the first big celebrities to have a presence on Instagram and now commands more than $460k per sponsored post.
Selfie-Made Millionaires
Whether you're eager to concoct the most lucrative Instagram persona or just nosy about what your local superstar is earning, you can explore our full data in the interactive table below.
An app that started as a way to share personal moments with friends has soon become a vast supermarket with imagery curated by middle managers – of both the brands and the top influencers. While we continue to get the impression of a sneak peek into the daily lives and consumer preferences of our most beautiful and wealthy idols, it's best to remember that they might not be into that lipstick or training shoe as much as the $1m-plus deal behind it.
At the same time, nano- and micro-influencers are able to supplement or even replace their main source of income with a canny and heartfelt sponsored recommendation. If you have a decent Instagram following or the skills and interests to build one, it could be time to dust off that front-facing lens.
METHODOLOGY & SOURCES
To create the Instagram Rich List 2022, we first built a list of the most-followed Instagram stars from every country. We then found every post each of these stars published in 2021 and analyzed how many of their posts were sponsored. We then multiplied their ad number by the amount each celebrity could charge per post by cross-referencing our dataset with figures from HopperHQ's Instagram Rich List.
For celebrities excluded from Hopper HQ's list, we calculated the average cost per follower ratio for each type of celebrity on HopperHQ (e.g., sport, fashion, influencer, etc.) using the Random Forest statistical method and applied these calculations to our celebrities.
Our definition of a sponsored post is one that is either fully disclosed (with the "paid partnership" label) or contains branded sequences or hashtags such as #ad and #sponsored.
The data was collected in May 2022.