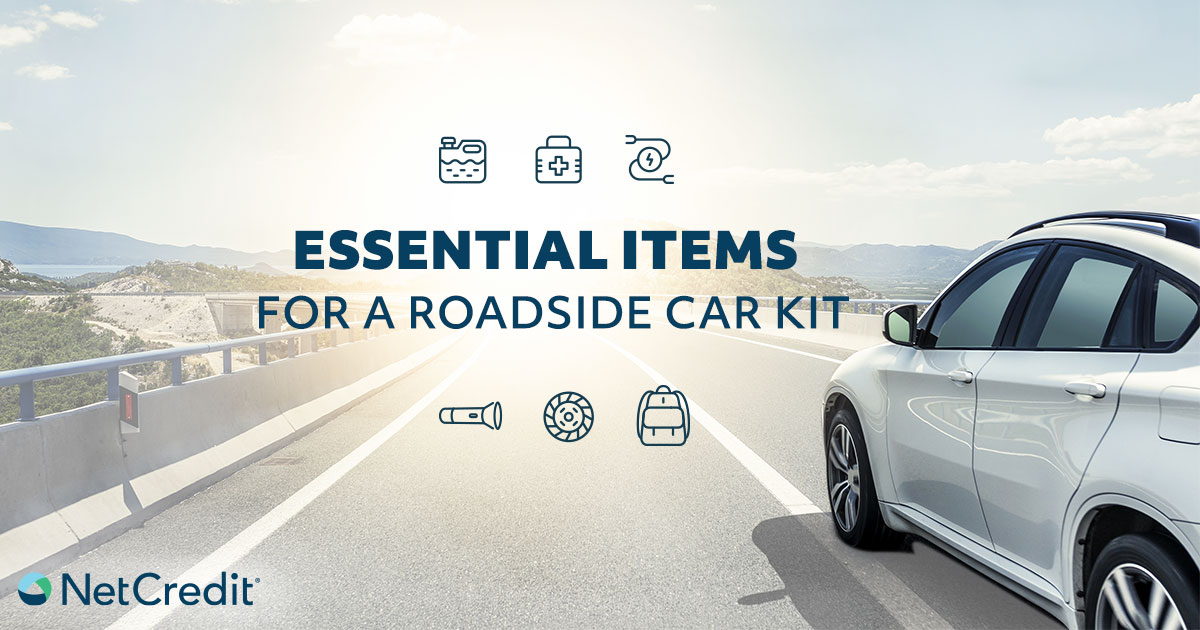 How to Prepare a Roadside Emergency Kit
Whether you're cruising the open highway on the trip of a lifetime or heading to the in-laws' place for the weekend, planning ahead can make all the difference. From lighter traffic to fair weather, a few adjustments can put you in the fast lane to a more pleasant experience. But in times of emergency or extreme conditions, checking your phone might not be an option. Having a roadside emergency kit in your car can help you when you need it most.
What is a Roadside Emergency Kit?
Also called a car emergency kit or a roadside car kit, a roadside emergency kit is a collection of supplies to aid you if your car becomes immobile. Even though help may be on the way, you could be waiting a while for assistance in inclement weather. Having the right items with you can help get you on the road quicker. Tools, a flashlight, extra clothing, a first aid kit and jumper cables are all essentials in a basic roadside kit.
Help Your Future Self
It's important to note that there's not a one-size-fits all kit, so be sure to address your household's and car's specific needs by including the appropriate gear. And even though you may already have a roadside emergency kit, you might need to double check that it's ready and matches the appropriate season. In fact, the National Safety Council recommends checking your car emergency kit every six months1. Read on for tips to prep your own roadside car kit.
Step 1:  Gather the Inventory
Consider the following items for your kit. Remember to include anything else specific to your needs; you can omit items that don't apply to your situation.
First Aid set: Think bandages, liquid stitches, wraps, shelf-stable heating and cooling pads, and any other necessary medical equipment. You should also know how to use all of the items properly.
Jumper cables: To jump-start a car, this is a must-have. Familiarize yourself with the process now with a short video.
Spare tire, tire inflator, sealant, and tire pressure gauge: If you have enough space, all of these items can come in handy when a tire needs attention. Educate yourself on how to change your car's tire and to perform quick patches.
Coolant, motor oil, and washer fluid: Having the right solution in your kit can help you get back on the road in a pinch. As with anything in your car's emergency kit, familiarize yourself with how and where to use these items.
Sand or cat litter for traction: In case your car is stuck on ice or other slippery surfaces, cat litter or sand might help you gain traction. Ensure that your car is ready for winter in cool climates and geared up for summer if you'll be in warm weather.
Clean, empty gas jug and extra cash: If you run out of gas, having the empty spare jug in your car allows you to bring fuel to your car, and cash will work to pay for it in case the power goes out.
Roadside reflectors, reflective clothing and flares: If your vehicle is hard to see from the road, these will especially come in handy to alert others that you need help.
LED flashlight: Some models do not require batteries, such as solar-powered flashlights, but you should only include these types if they can be used immediately. Similarly, ensure that you have enough of the appropriate batteries, if necessary.
Emergency blankets, extra clothes, shoes and socks: Depending on the climate where you're travelling, you might need to pack several of these items. An emergency blanket is especially helpful due to its incredibly lightweight, heat trapping properties. If your car gets stuck in snow for an extended period of time, using the heater might not be an option.
Fire extinguisher and fire blanket: These items can help immensely in the event of a fire.
Charged lithium-ion battery: Recharge cell phones, revive dead car batteries and more with one of these in your kit.
Tool set: Look for multi-use items such as a changeable head screwdriver, pocket knife, adjustable wrench and pliers.
Shelf-stable food items and water: Nutrition is key, so stay away from high sugar and fat content. Pack as many water bottles as you can; it's better to have more than to not have enough in a time of need.
Battery-free entertainment: There's no telling how long you might be waiting. Do yourself a favor by including a deck of cards, book or game to stave off boredom.
Step 2:  Add Any Special Items
Take some time to review your kit and add any missing items. For example, are there emergency medications to last a couple days or comfort items to soothe small children? Will you have enough batteries or a way to contact emergency services if disaster strikes? Make any adjustments or additions here.
Step 3:  Pack the Kit
DMV.ORG recommends using a transparent plastic bin or container with a lid neatly packed in a single layer2. Also, an itemized list secured to the lid can help you stay organized and ensure that everything is accounted for in the kit.
Step 4:  Designate a Spot
Choose a place in your vehicle to always store the kit. Ensure that your kit can be accessed from inside and outside the car, such as in the rear section commonly found in SUVs or in the back seat. Make all passengers and drivers aware of the kit's location as they enter your vehicle.
Step 5:  Update and Refresh as Necessary
If you have anything that needs to be replaced from time to time like perishable items, food or medication, it's a good idea to set up a calendar reminder every six months to update these items as needed.
Step 6:  Keep Your Cool
Try to keep a level head during any emergency. Being prepared is a great way to ease anxiety in high-pressure situations, so make sure your new roadside emergency kit is readily accessible and properly stocked for any trips in the car. A ride in the car can feel like freedom. Keep your peace of mind with a roadside car emergency kit.
References
1National Safety Council. (2018). Safety at Home. Retrieved December 21, 2018, from https://www.nsc.org/home-safety/safety-topics/emergency-preparedness/car-kit
2Department of Motor Vehicles. How to Pack an Emergency Kit. (n.d.). Retrieved January 2, 2019, from https://www.dmv.org/how-to-guides/emergency-kit.php
The information in this article is provided for education and informational purposes only, without any express or implied warranty of any kind, including warranties of accuracy, completeness or fitness for any particular purpose. The information in this article is not intended to be and does not constitute financial or any other advice. The information in this article is general in nature and is not specific to you the user or anyone else.