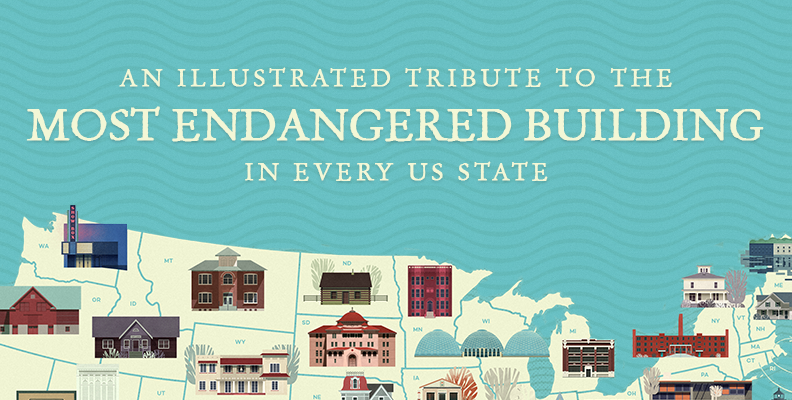 An Illustrated Tribute to the Most Endangered Building in Every US State
The U.S. boasts a rich history of migration, a wild variety of climates and a curious collection of cultures. It's no wonder the built landscape is so inspiring and diverse!
But there are so many fascinating historic buildings in America that, regrettably, end up in a state of disrepair – or find themselves under threat from greedy developers. Others are notable for their significance to indigenous, African-American, or PoC history, which may be one reason why authorities have failed to give them the protection they deserve.
The U.S. has glass domes and swimming pools, masonic lodges, schools, and even launderettes that are well-loved but face disintegration or demolition. Perhaps most touching are the houses: the former homes that illustrate so vividly that buildings aren't just structures with economic value, but spaces and designs through which we live our lives.
Every state has its own endangered buildings, and these properties often say something significant about the region itself. Following our 'Illustrated Tribute to the Most Endangered Wildlife in Every US State,' we decided to explore the look and story of fifty of the U.S.'s most vulnerable buildings.
To find these locations we searched for the most endangered buildings in each location using local preservation services and news sites as primary sources. Sadly, we found a number of contenders for the most threatened building in each state. We made our final selection based on community support (or lack thereof) for each candidate.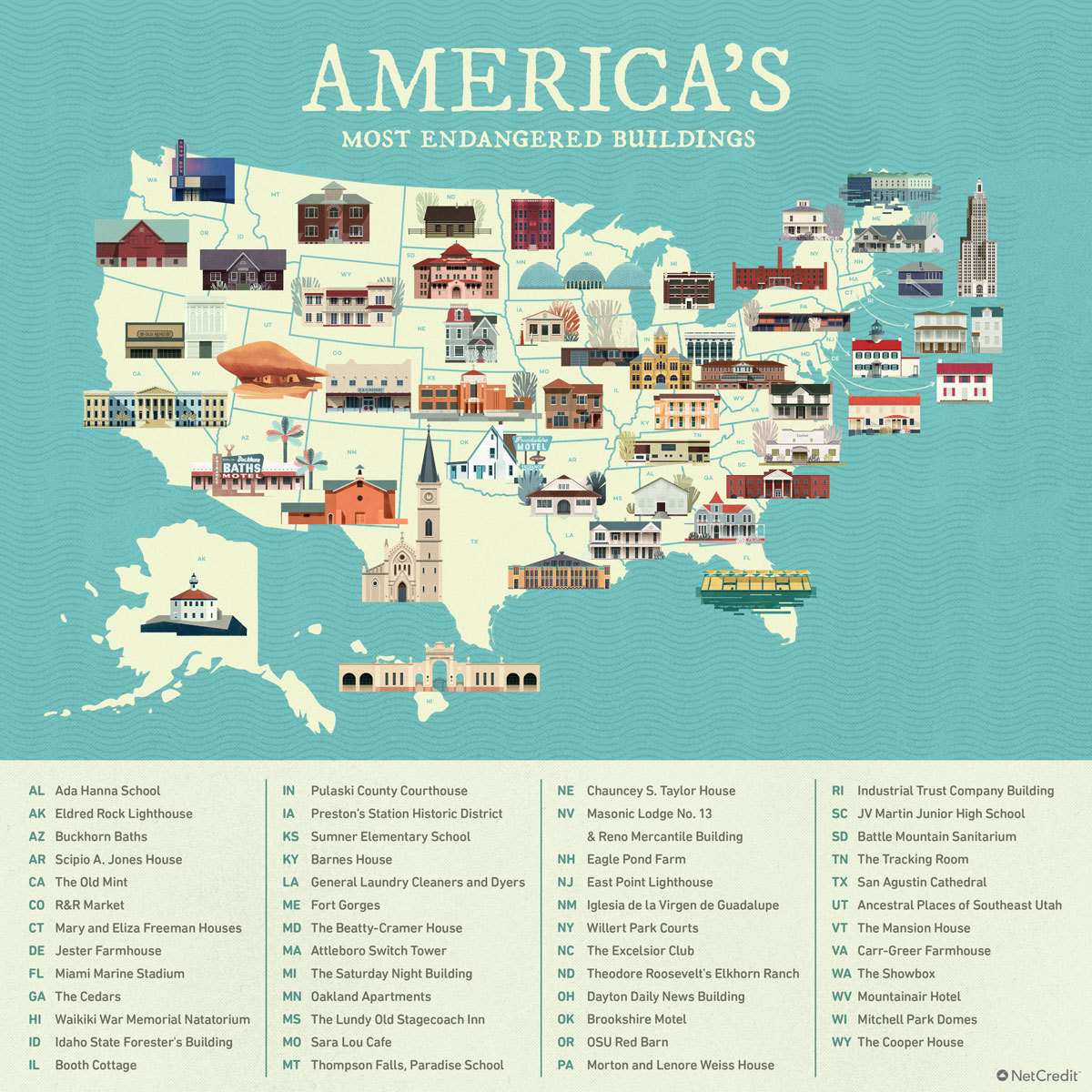 1. Alabama – Ada Hanna School
The Alabama Trust for Historic Preservation recently identified Ade Hanna School as one of six "Places in Peril" that "represent the everyday lives of everyday people." It is the only remaining part of any African-American school in Marion County and has frequently been targeted for arson. The building now requires immediate attention if it is to be saved.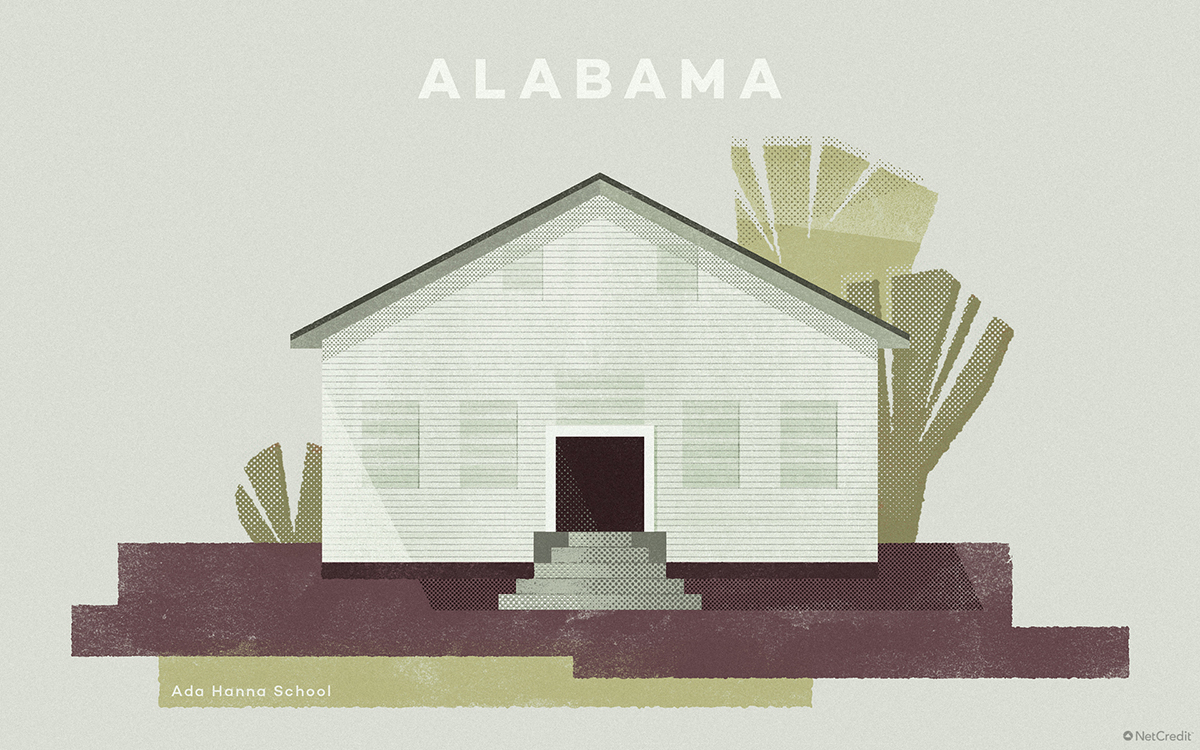 2. Alaska – Eldred Rock Lighthouse
This octagonal frame building is the oldest original lighthouse in the state. It was originally built in response to multiple shipwrecks that occurred during the 1898 gold rush. The Eldred Rock Lighthouse Preservation Association hopes to preserve the building. They plan to create a visitor's center and maritime museum in the lighthouse and its outbuildings.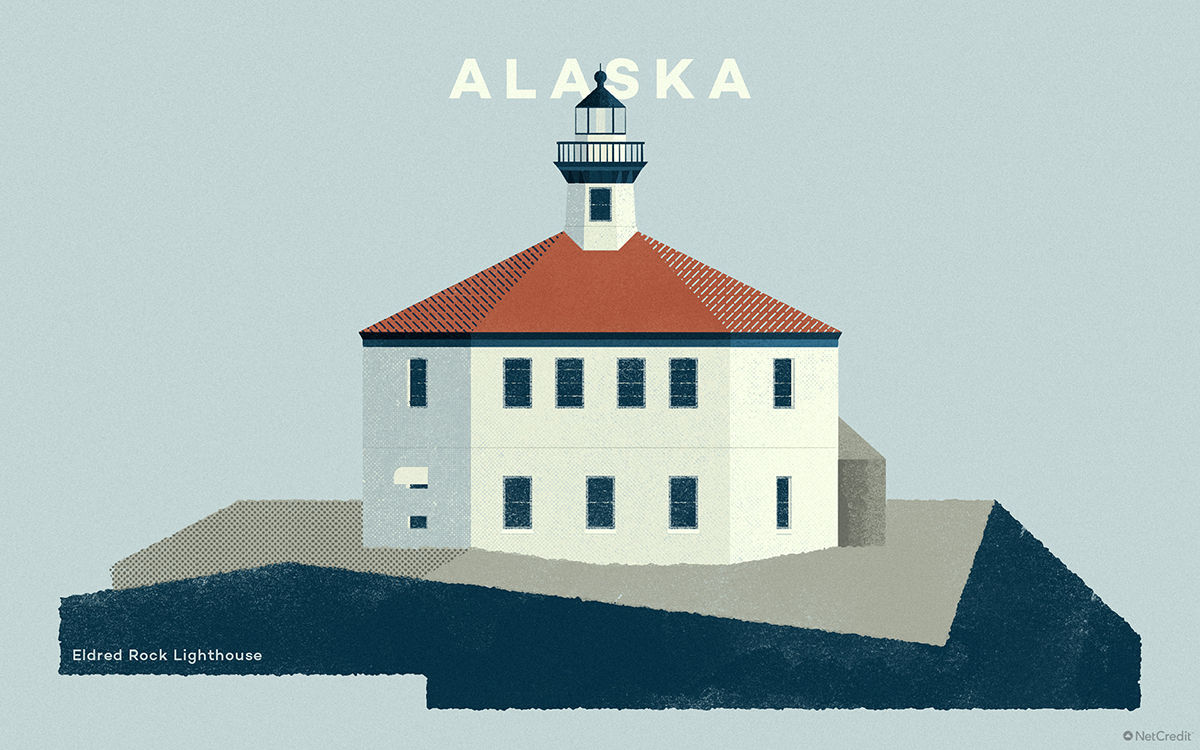 3. Arizona – Buckhorn Baths
Buckhorn Baths is an all-American piece of history. The building was opened as a trading post and gas station in the 1930s. The owners struck a warm, mineral-rich spring while drilling for water. It soon became a bustling motel and spa and even featured a private locker room for the New York Giants. Buckhorn Baths has been in decline for decades, and a deal to buy and restore the building fell through in 2015.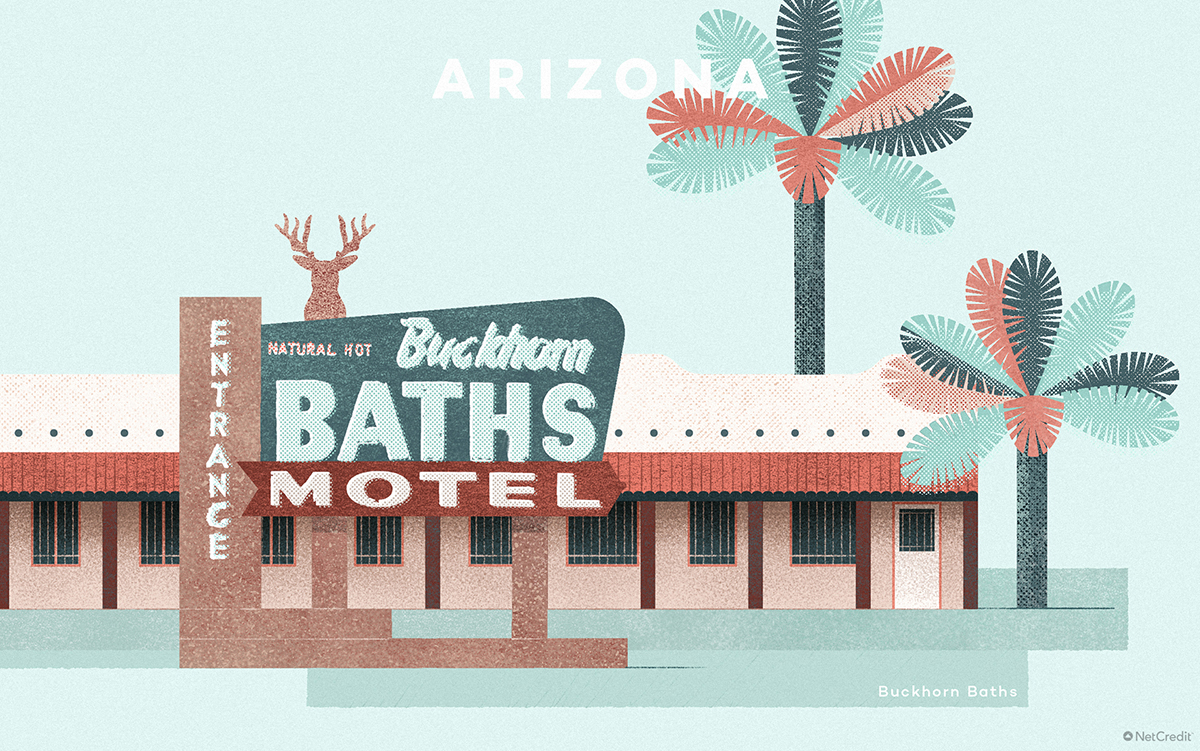 4. Arkansas – Scipio A. Jones House
Scipio Africanus Jones was an early-20th-century African American attorney who is celebrated for his pro bono work defending impoverished African Americans. This Craftsman-style house on South Cross Street in Little Rock was built for Jones in 1928. It is on the National Register of Historic Places but has fallen into disrepair and is currently for sale.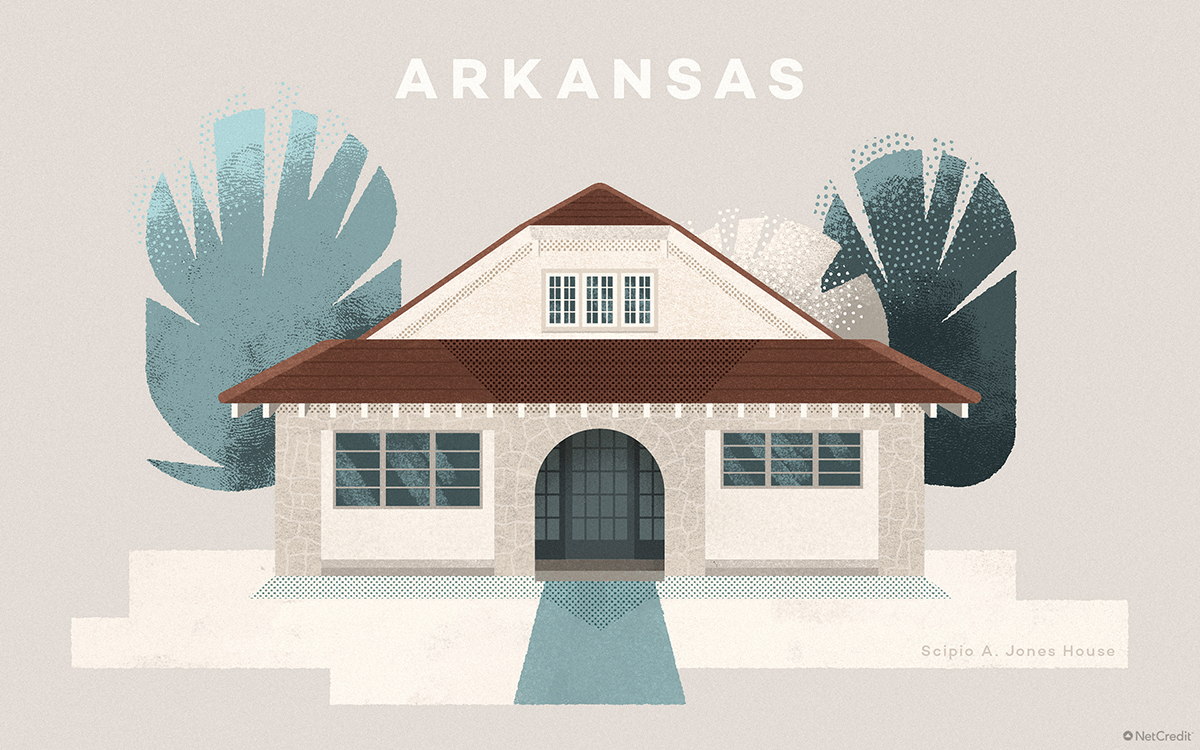 5. California – The Old Mint
The Old Mint survived the 1906 San Francisco earthquake and fire, but can it survive 21st-century market forces? The San Francisco Museum and Historical Society planned a museum here but eventually lost the lease after a series of missed deadlines. Now the city is working with the California Historical Society to renovate and transform the building into a cultural facility. In the meantime, it is available to rent for corporate events.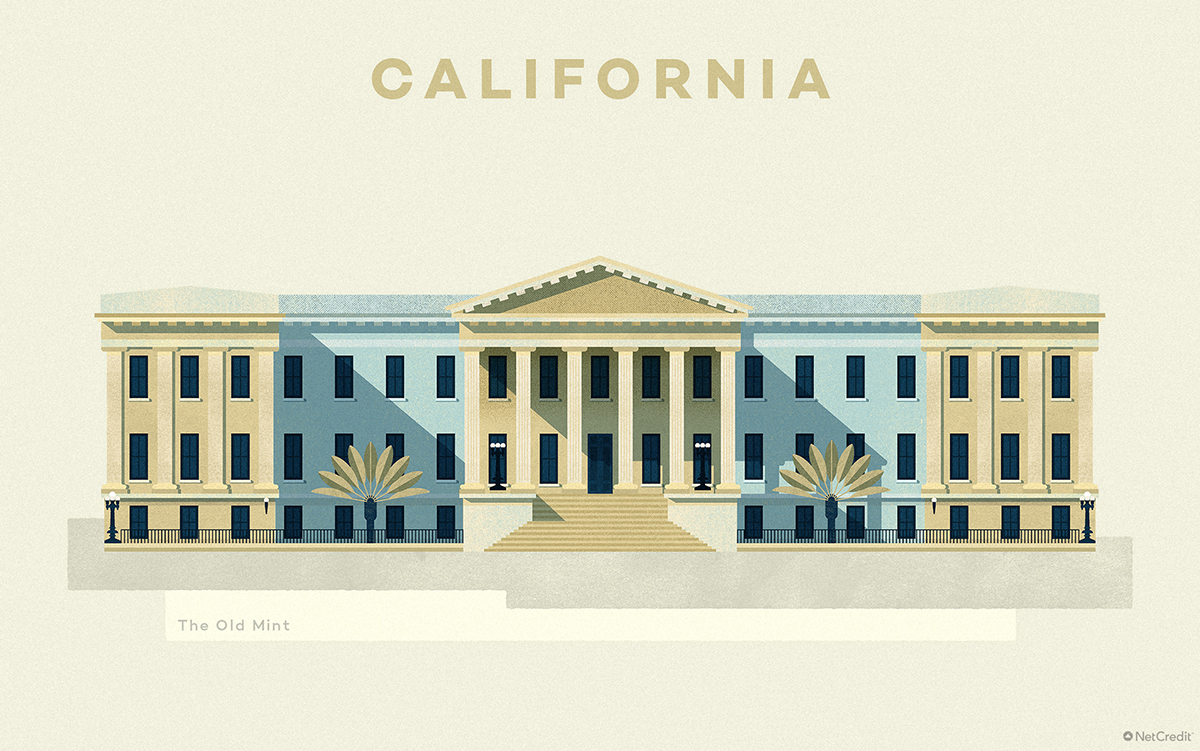 6. Colorado – R&R Market
The longest-running business in Colorado's oldest town is a social hub and an important trading place for the local community. St Luis' R&R Market was established by pioneer Dario Gallegos in 1857, and for the past half-century, has been operated by his descendants, Felix and Claudia Romero. But now they are ready to retire. Maintaining the structure, spirit and legacy of the market (and the apartments upstairs) requires investment and sensitive handling.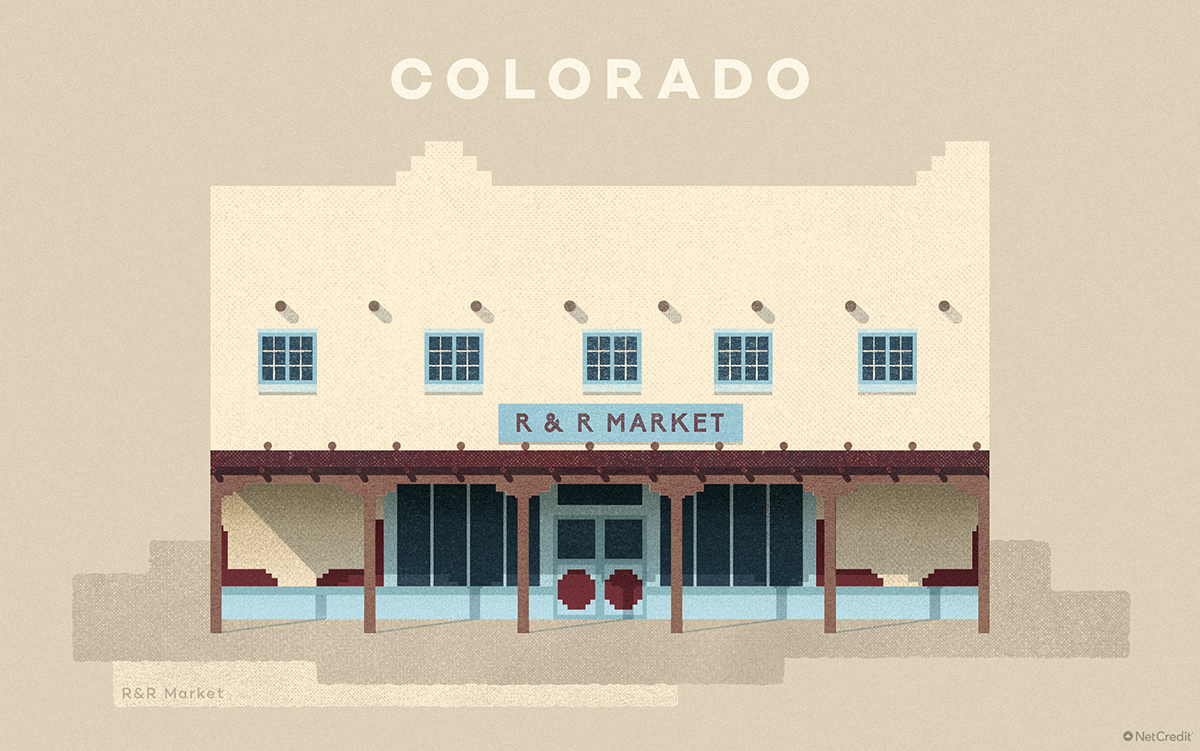 7. Connecticut – Mary and Eliza Freeman Houses
Mary and Eliza Freeman were free African Americans born at the start of the 19th century. Against the odds, they raised a vast fortune through years of wise property investment and letting. The sisters' respective houses are the oldest Black-built homes in the state, and the last remaining structures of a 33-property neighborhood known as "Little Liberia." Mary's house is an Italianate-styled duplex with a piazza, while Eliza's is a Greek Revival "half-house" and features a walnut stair rail and simple Grecians-style mantelpieces.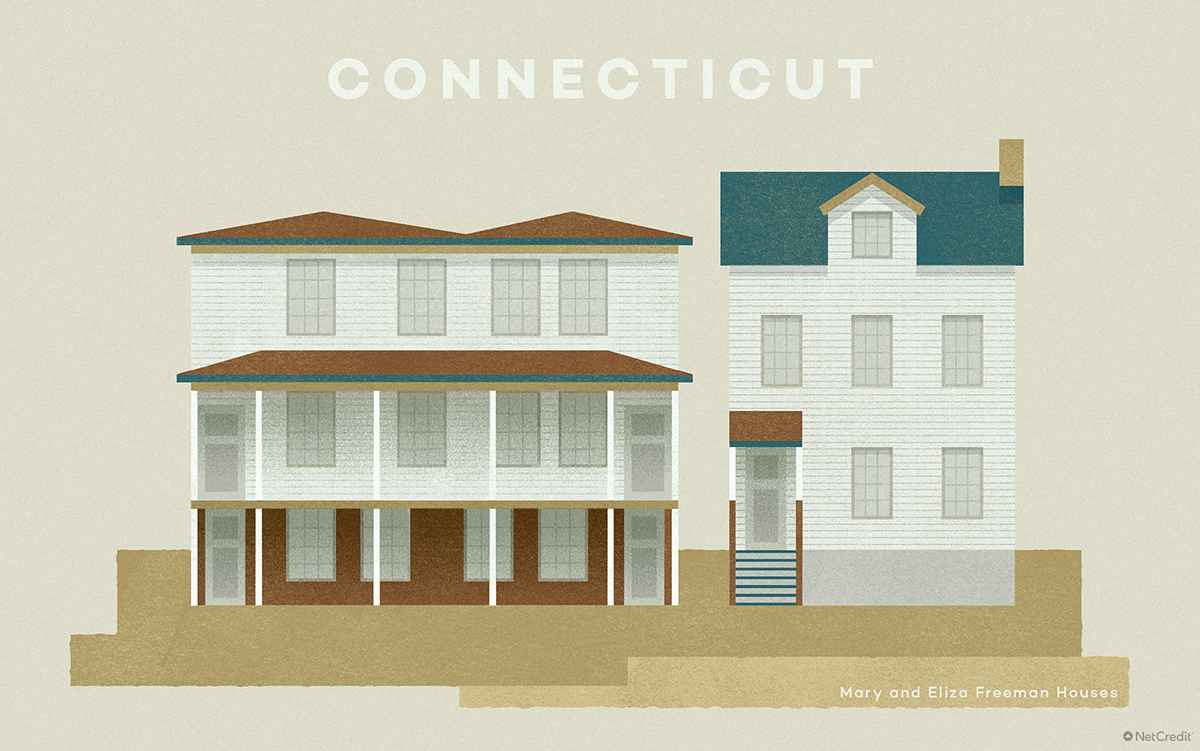 8. Delaware – Jester Farmhouse
Jester Farmhouse was built in the early 1800s. The structure is one of the last pre-Civil War farmsteads to survive in the area. It is currently operated under a 'resident curatorship' system, whereby residents are expected to look after a historic building while living in it. A group of potential residents for the Jester house hopes to transform it into the Jester Artspace but remains short of funds.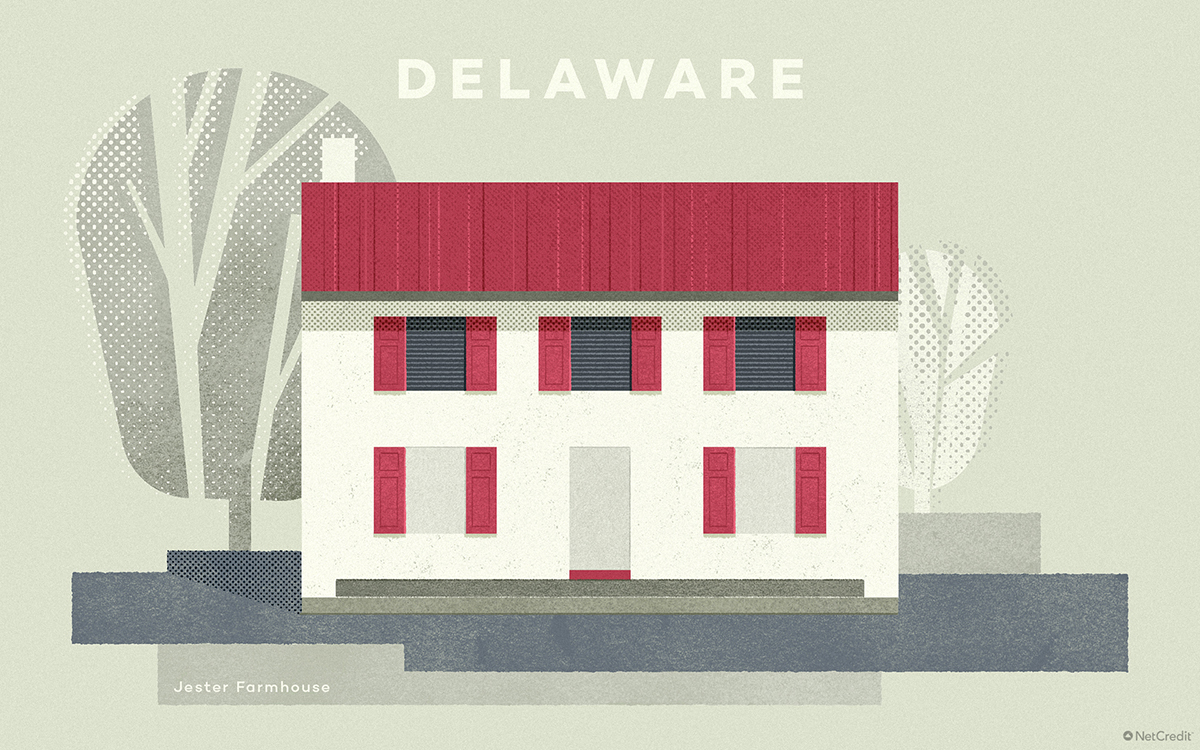 9. Florida – Miami Marine Stadium
This 1963 multi-use waterside stadium was both very much of its age and ahead of its time. The architect was a 27-year-old Cuban named Hilario Candela. The stadium's 326-foot roof was the longest span of cantilevered concrete on earth. It shielded audiences from the sun as they watched powerboat races, attended services and enjoyed concerts on the floating stage. The stadium has fallen into grave disrepair, but the Friends of Miami Marine Stadium are working hard to revitalize it for use, closely supported by local superstar Gloria Estefan.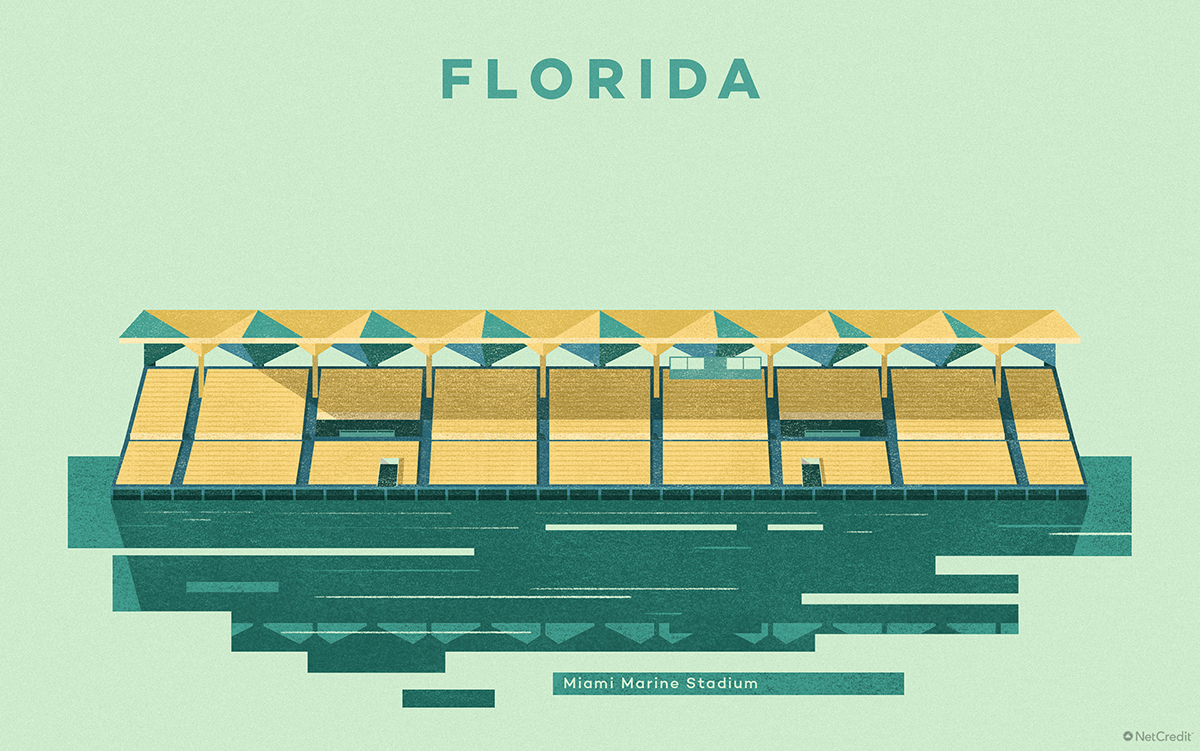 10. Georgia – The Cedars
Several famous Washingtonians have lived at the Cedars, and its first owner was George Walton, a signer of the Declaration of Independence. Work on the house first began in 1793, but the big two-story extension was added in 1885, giving the house a Victorian character. This renovation added 11 rooms – handy for the owner's 10 children! With 18 rooms in total and asymmetrical in design, it is a real maze of a building.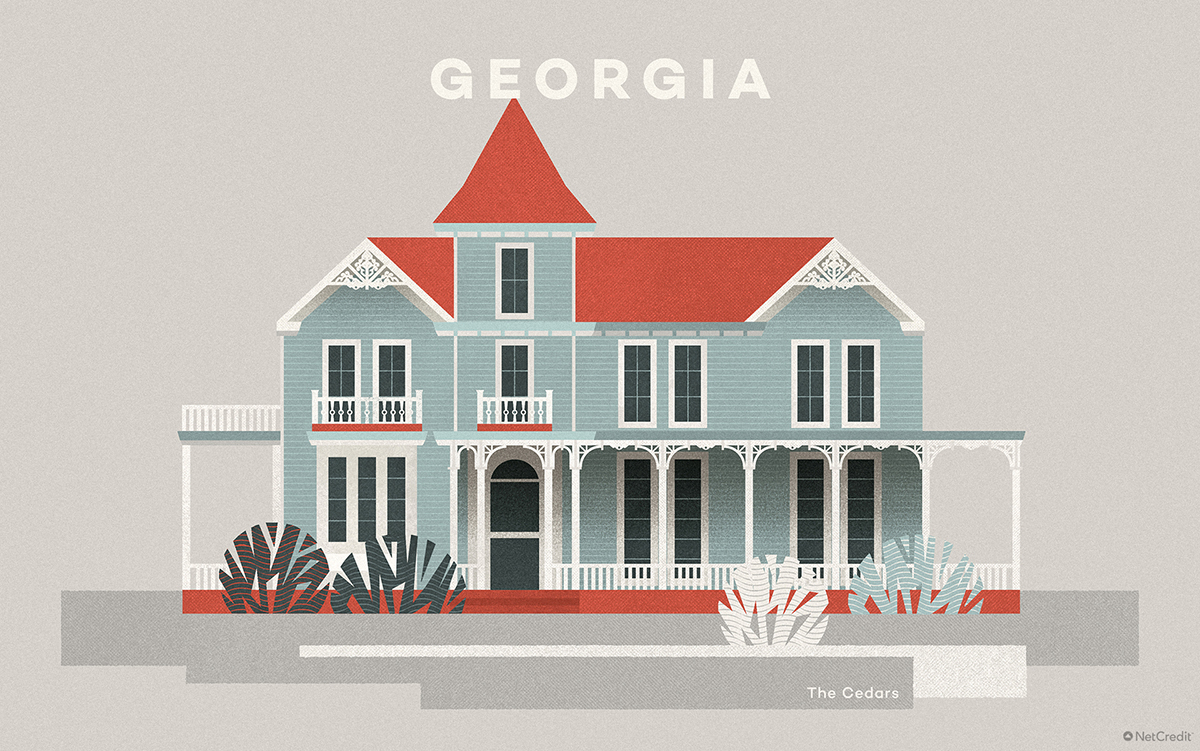 11. Hawaii – Waikīkī War Memorial Natatorium 
This 1927 memorial to Hawaii's World War I casualties is an ocean-water swimming pool (natatorium). It has served not just as a monument but as a community resource. "It was designed to be a living memorial where people would gather for recreation but also to remember those who sacrificed their lives for freedom," according to Historic Hawaii Foundation's executive director, Kiersten Faulkner. Unfortunately, design flaws meant it was only usable for half a century. Since then, the condition of the Waikīkī War Memorial Natatorium has deteriorated, despite the efforts of conservationists.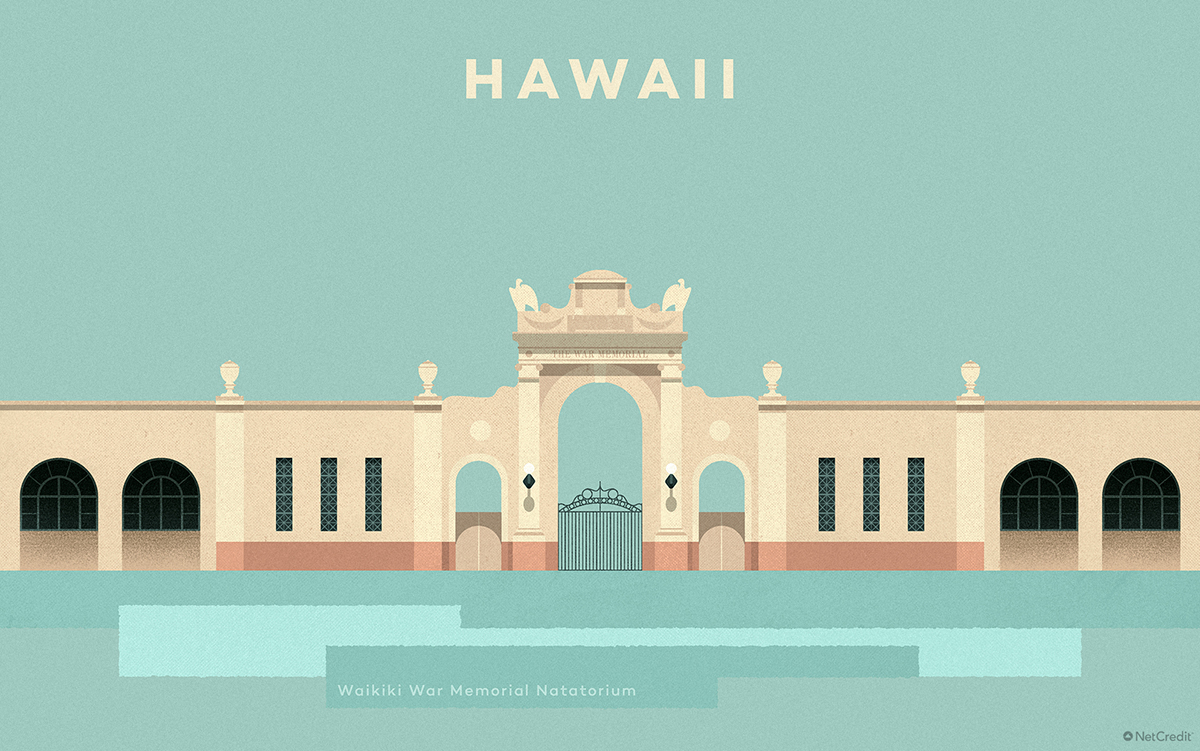 12. Idaho – Idaho State Forester's Building
This Civilian Conservation Corp-built log cabin was constructed to celebrate Idaho's 50th anniversary and to provide a permanent home for the state forester's office. The structure is made from 44 locally-sourced, peeled Engelmann spruce logs, with interior paneling in yellow and white pine and western red cedar. Another 50 years later, the office moved on, and the building eventually became a center for writers and readers. However, a proposal to expand the Boise Public Library may mean relocating the entire Forester's Building away from its significant original position on the Boise River.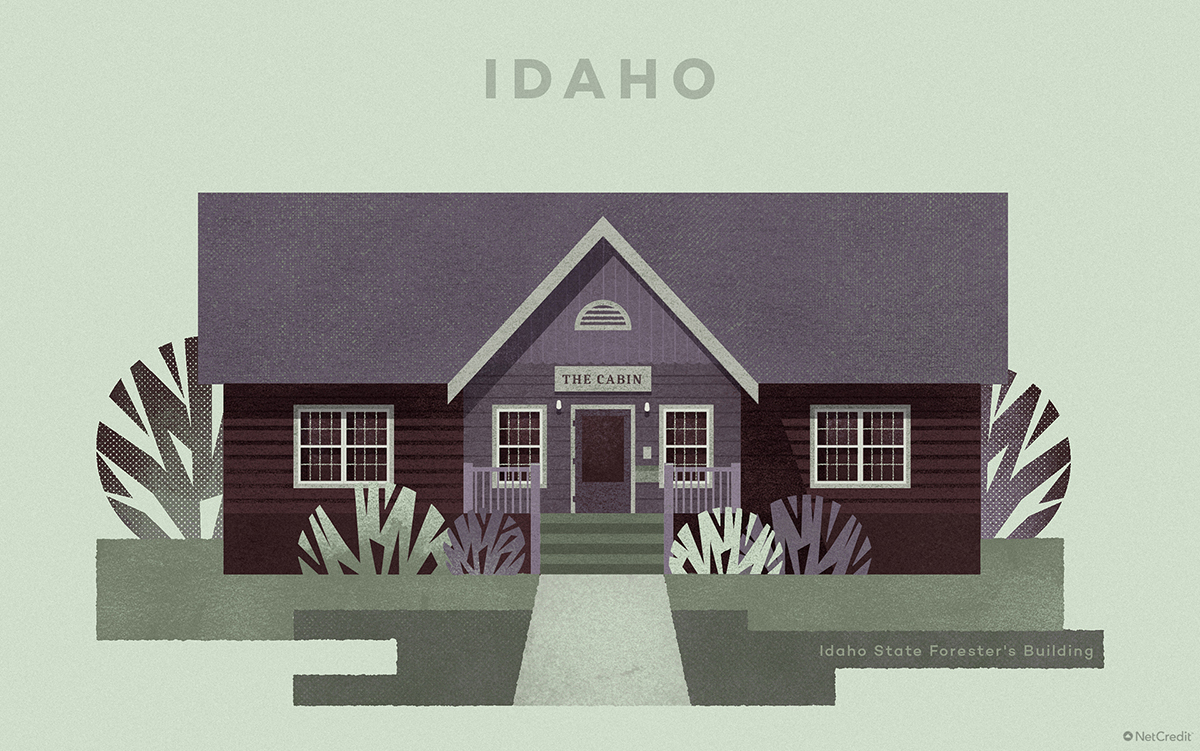 13. Illinois – Booth Cottage
The Booth Cottage is a small, obscure Frank Lloyd Wright building, and was designed in 1913 for Sherman and Elizabeth Booth to inhabit while they waited for their permanent home to be built. Since then, the area has blossomed with much bigger houses. Booth Cottage does not have protected status, which means that economic forces are likely to see it bought up and torn down to make way for a larger property. The Frank Lloyd Wright Building Conservancy is working with the current owners to design an extension of the existing structure that is sympathetic to Wright's work, or to completely relocate the building.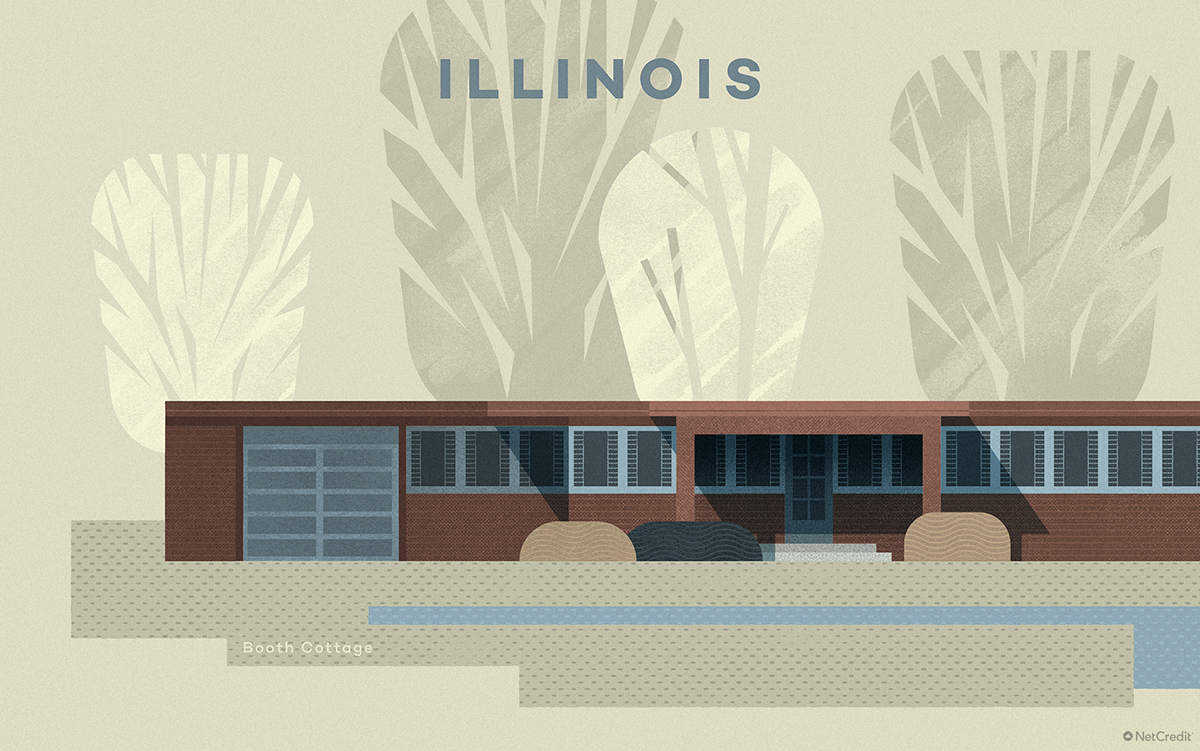 14. Indiana – Pulaski County Courthouse
The cathedral-like Pulaski County Courthouse in Winamac was built in 1895 in the Romanesque Revival-style. The three-story, limestone structure is characterized by its a 106-foot, pyramid-topped clock tower and newer features such as the 1940 drinking fountain. The building has become inadequate for its intended use and has been penciled in for demolition – with a parking lot put in its place. The campaign to save the Courthouse continues.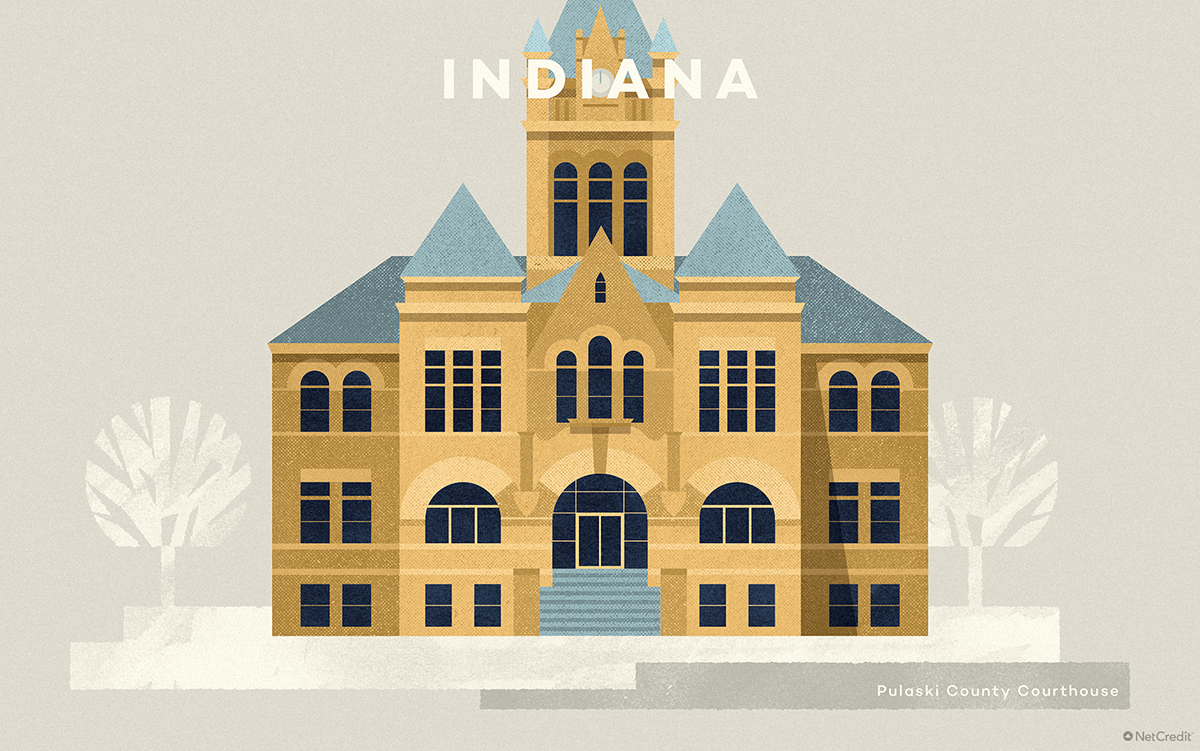 15. Iowa – Preston's Station Historic District
The United States' short history makes particularly modern-seeming landmarks all the more significant. Preston's Station Historic District features a gas station that was built in 1912, a garage and a motel. They sit on the Lincoln Highway, America's first transcontinental automobile route. Together, these buildings capture the start of the US's love affair with the car and the open road. The property is still owned by the family of G. W. Preston, who bought it in 1923, but urgently requires substantial maintenance and redevelopment work.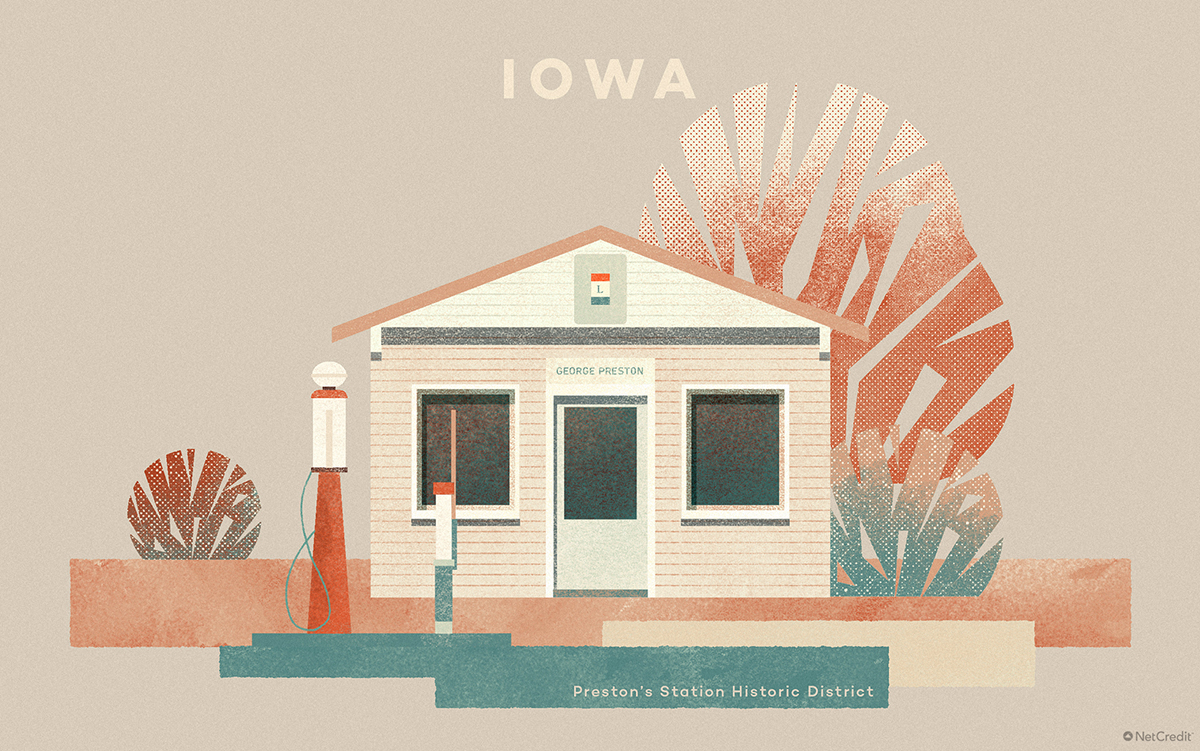 16. Kansas – Sumner Elementary School
This beautiful Art Deco style school was constructed in 1936, and it went on to play a big role in American history. When black minister Oliver Brown tried, and failed, to enroll his daughter Linda in this all-white school, it helped bring about the 1954 Brown v. Board of Education Supreme Court ruling that banned racial segregation in schools. The school was closed in 1996 and purchased by the Los Angeles-based Southside Christian Palace in 2009, with the idea of repurposing it as a community center and human rights memorial. Unfortunately the buyers have been unable to afford the renovations, so the building is quickly falling into disrepair.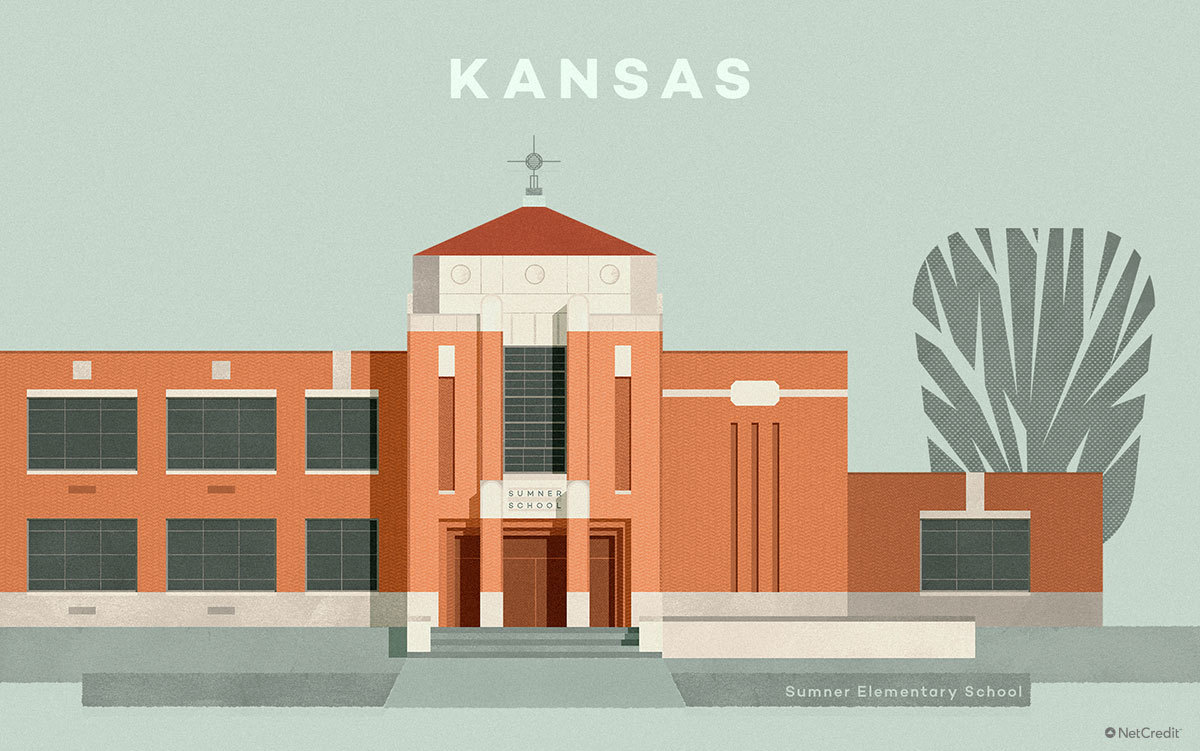 17. Kentucky – Barnes House
The 1885 Henry J. Barnes House is "a two-story, four-bay, double-pile weatherboarded Cumberland form building with a two-tiered front porch," according to its National Register of Historic Places file. It became a funeral home after being passed to the family of Barnes' wife upon his death. There was no 19th-century building boom in the home's Mt. Washington neighborhood, so the Barnes House is a rare example of its kind.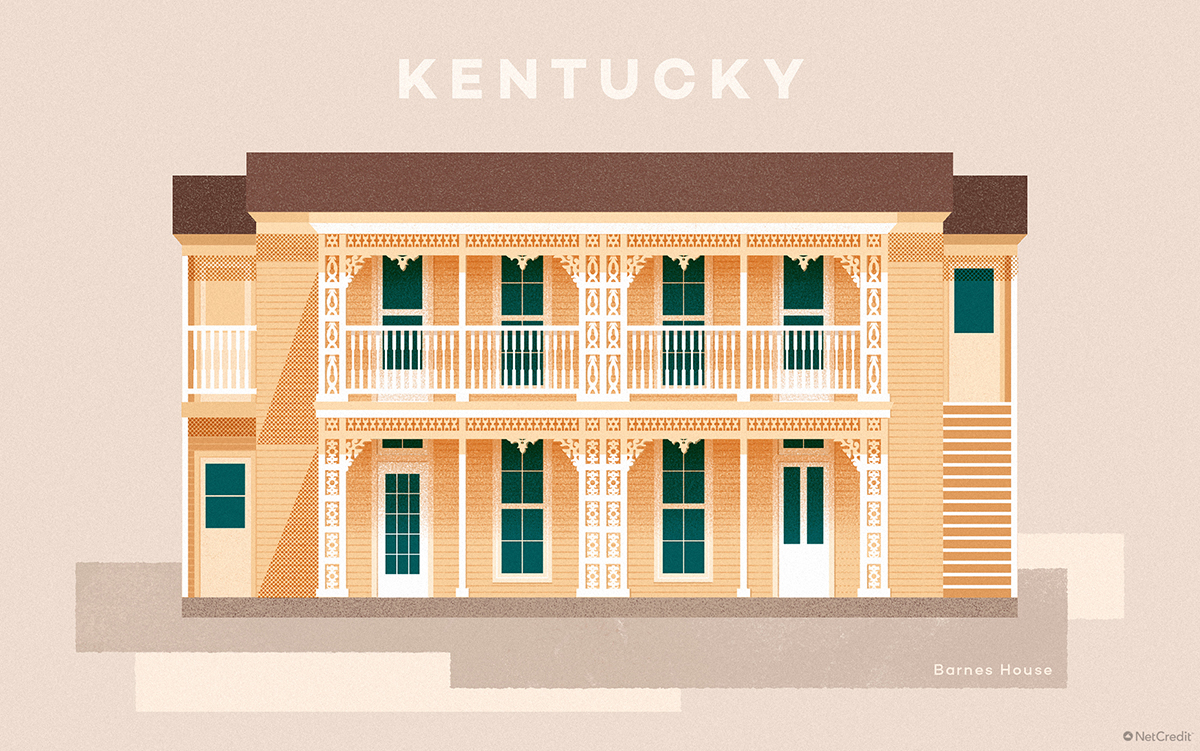 18. Louisiana – General Laundry Cleaners and Dyers
There may not be many laundromats on this list. Still, the General Laundry Building on St. Peter Street in New Orleans is something special: "brilliant colors of blue, yellow, magenta, and green in a composition of zigzags, undulating waves, fluted panels and flora… culminate in bizarre capitals and entablature," according to local architect R. Stephen Chauvin. The laundromat was specially designed by Paris-educated architect Samuel G. Wiener in the Art Deco style at the cost of $250,000, and opened in May 1930 with a 5000-guest party! The laundry continued in this fabulous manner until 1945, when the arrival of affordable domestic washing machines drove Robert Chapoit to sell-up. It has since narrowly missed demolition on several occasions.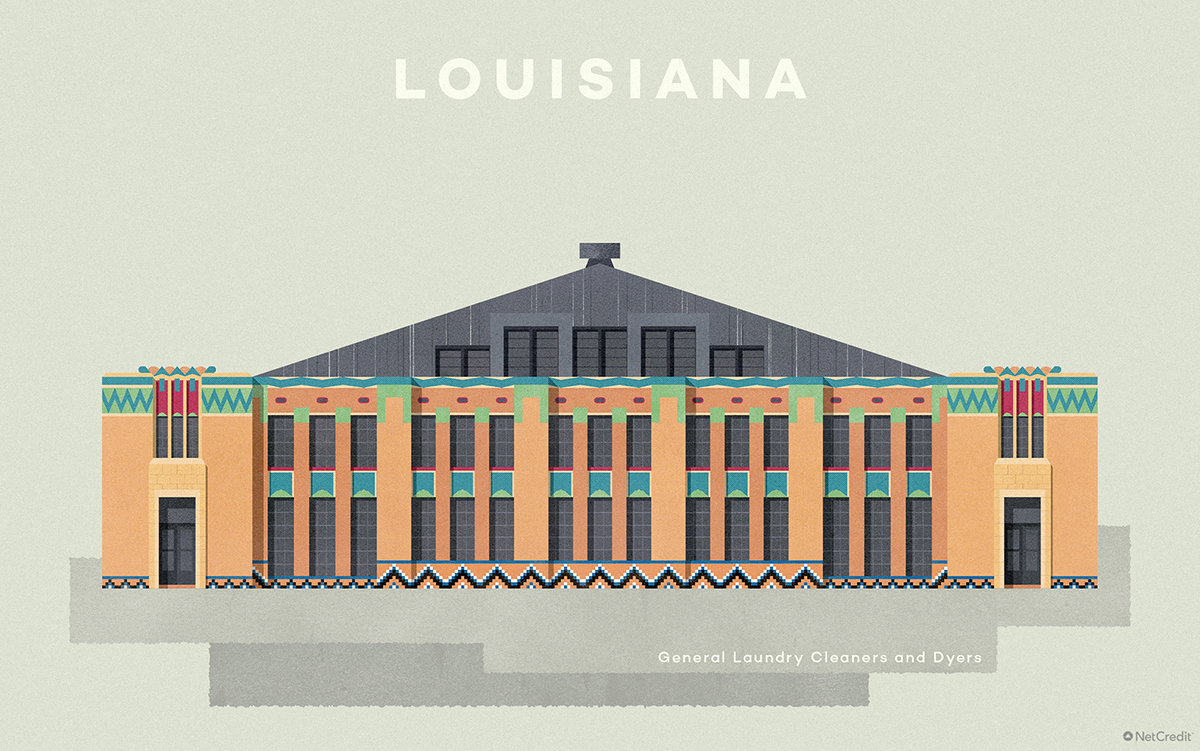 19. Maine – Fort Gorges
This Civil War-era fort can only be reached by kayak or small boat. It was built on Hog Island Ledge in Casco Bay and has been pelted by extreme weather over its century-and-a-half existence. It now requires stabilization and other repairs to keep it safe for visitors. One developer has proposed opening a restaurant in the fort, but the building's supporters are keen to find a way to preserve it that doesn't involve commercial interests.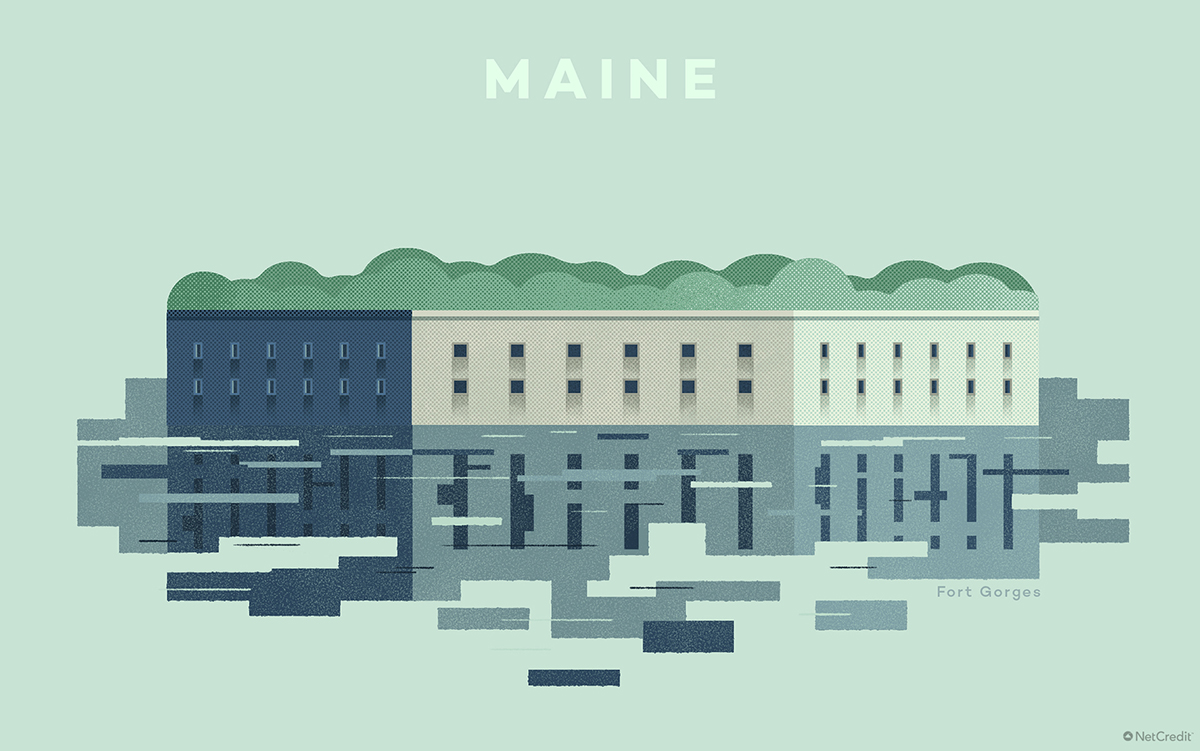 20. Maryland – The Beatty-Cramer House
The Beatty-Cramer House is an early colonial vernacular building. Its oldest part is the longest-standing house in Frederick County and one of the oldest in the state of Maryland. Here you can find rare examples of Dutch, English and colonial American carpentry techniques working in harmony together. Today, the building has become unstable. It requires a new use-purpose to make its ongoing maintenance and renovation sustainable.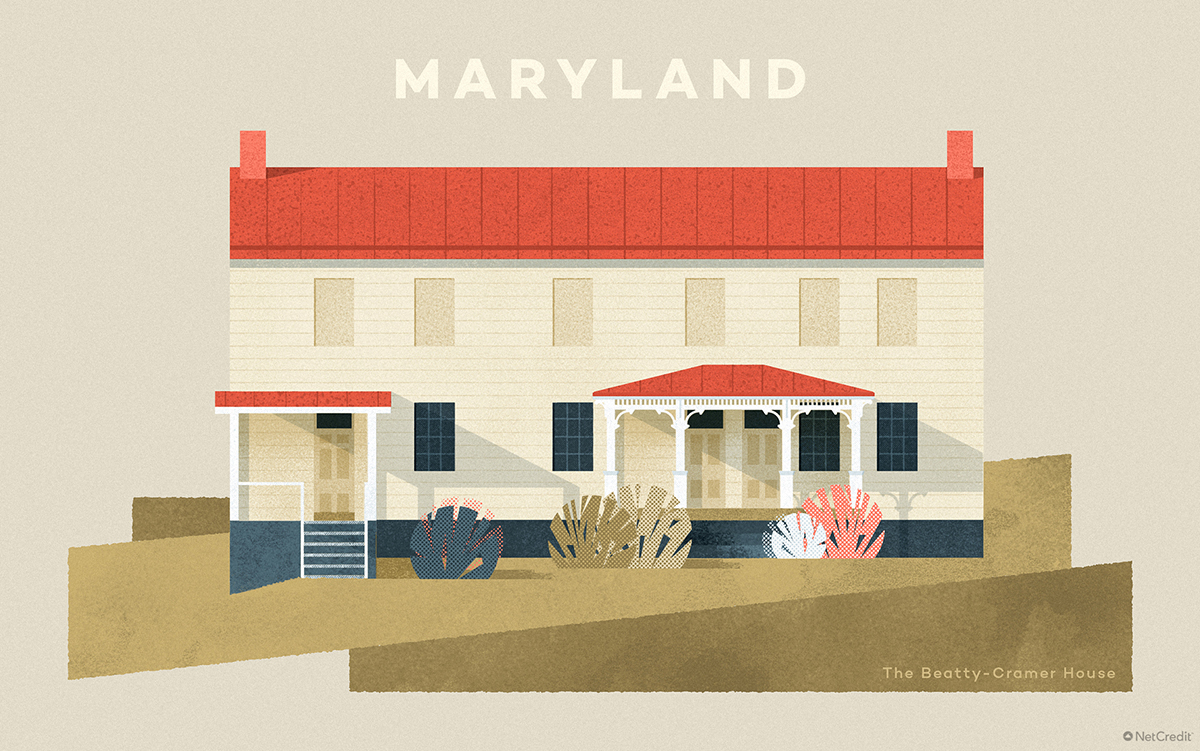 21. Massachusetts – Attleboro Switch Tower
The Attleboro Switch Tower is a rare remaining example of a wooden railway tower. It still features noteworthy electro-mechanical equipment but has fallen out of use and into disrepair – not least due to weather conditions and vandalism. The best bet for the Attleboro Switch Tower is if it can be moved elsewhere in its entirety and repurposed, perhaps as part of an exhibition site.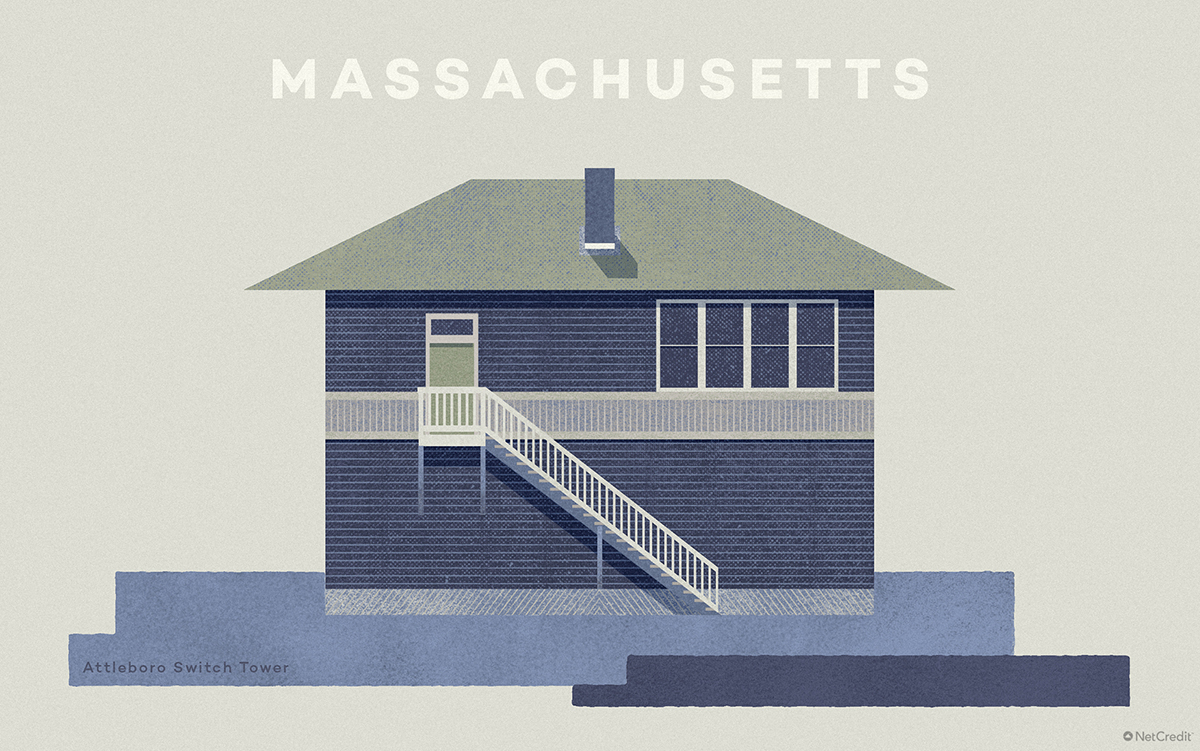 22. Michigan – Historic Fort Wayne
Construction on Fort Wayne first began in 1842. It was designed to defend America's northern border against British-controlled Canada. The city of Detroit now owns the majority of the fort, which is open to the public. Unfortunately, in recent times the fort has been steadily deteriorating and has received little funding for preservation. But renewed pressure from the city to redevelop the historic site may soon change that.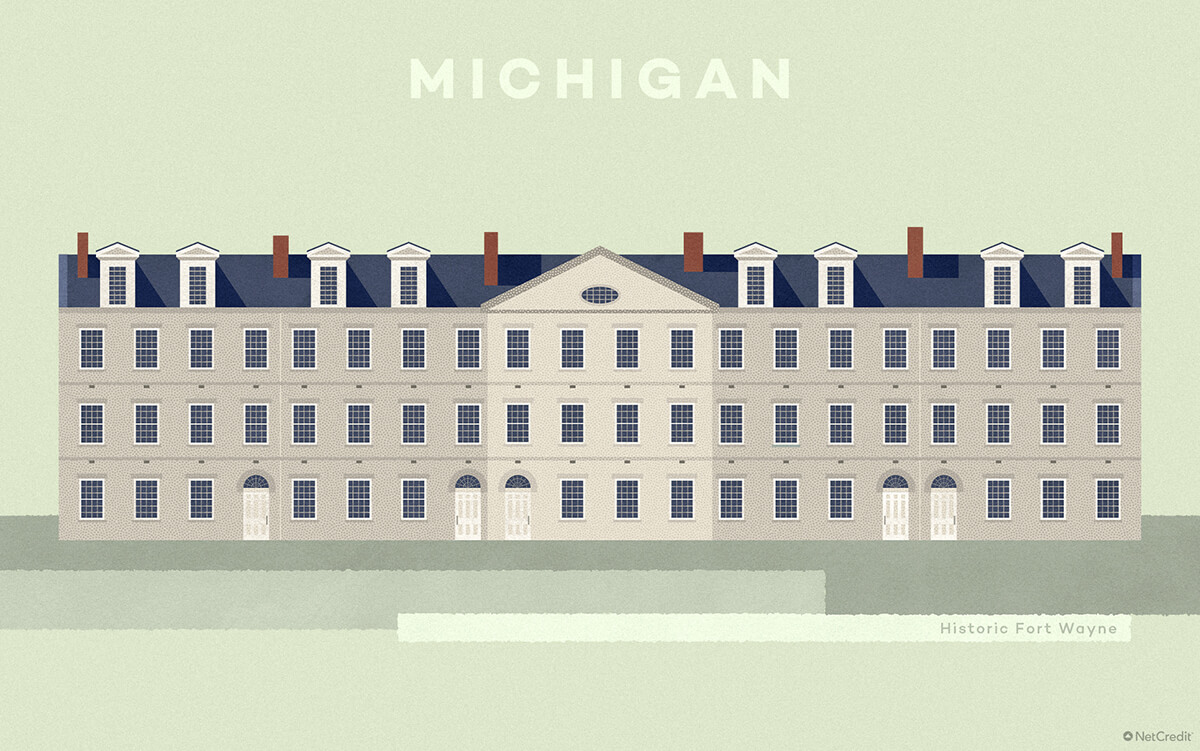 23. Minnesota – Oakland Apartments
Downtown Oakland's (probably) longest-standing apartment building was designed by Harry Wild Jones, the architect behind Butler Square building and Lakewood Cemetery chapel. The building suffered a serious fire in 2016. However, it has recently been bought by John Kistler and partners, who intend to do their best to save the building. "Everybody has looked at it to not make a [financial] loss. But the loss is going to be if we lose the building," according to Kistler.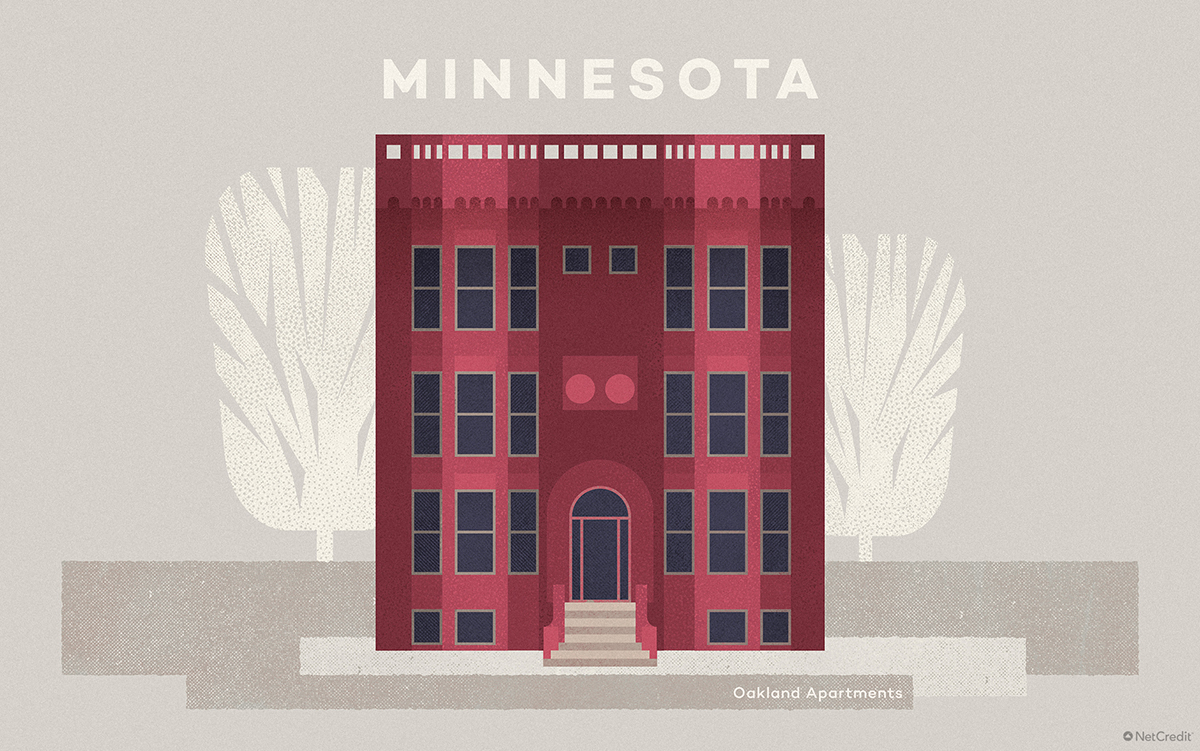 24. Mississippi – The Lundy Old Stagecoach Inn
Lundy House is Lexington's oldest existing property, but it narrowly missed demolition this summer after a petition to save it resulted in a stay of execution. The 1860s-built stagecoach stop and hotel is one of the first things you see when you arrive in Lexington. It became a florist and later a boutique once its use as a resting point was over. Since then, Holmes County Bank has owned it, and they now plan to demolish it due to structural and safety issues. "Once that wrecking ball hits the home, it is gone forever," says Mayor Robin McCrory.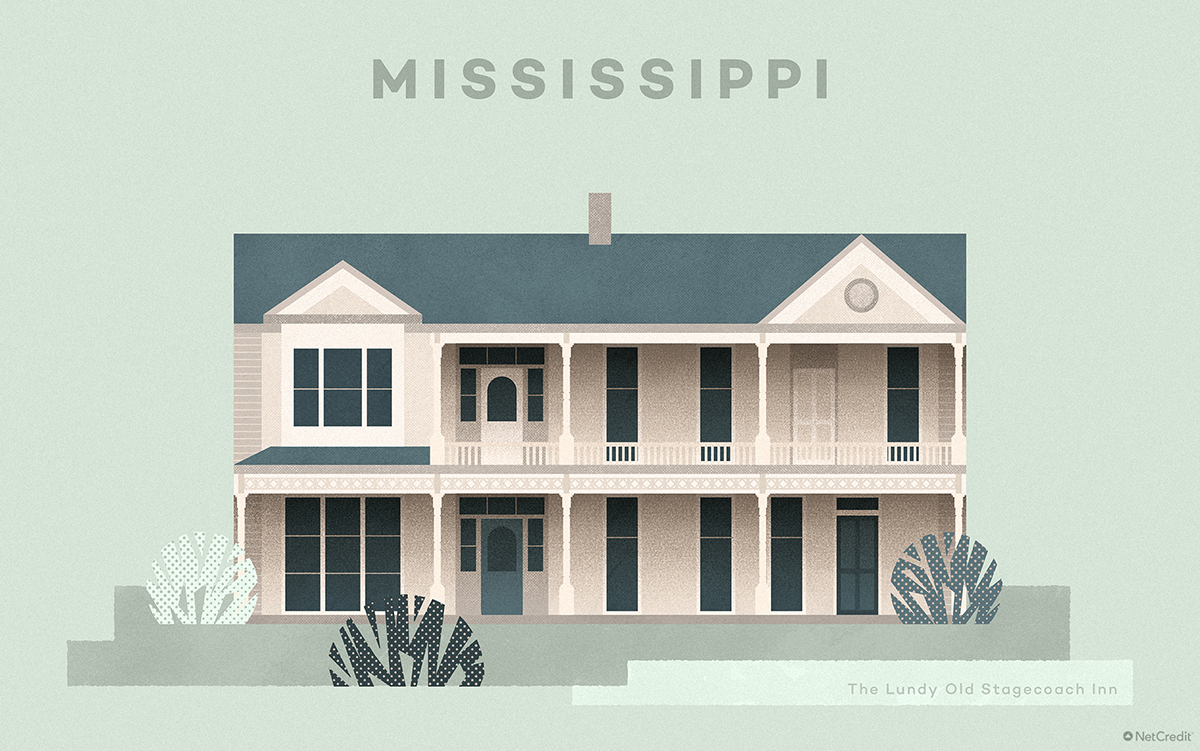 25. Missouri – Sara Lou Café
The Sara Lou Café was built in 1906. It was a significant meeting place at the heart of Greater Ville, a thriving African American community where business and education prospered despite the adversity Black people faced across the state. The façade, terra cotta roof and interior floors are in okay condition. However, deteriorating masonry walls and bare windows pose a safety danger, as well as making the structure vulnerable to further decline.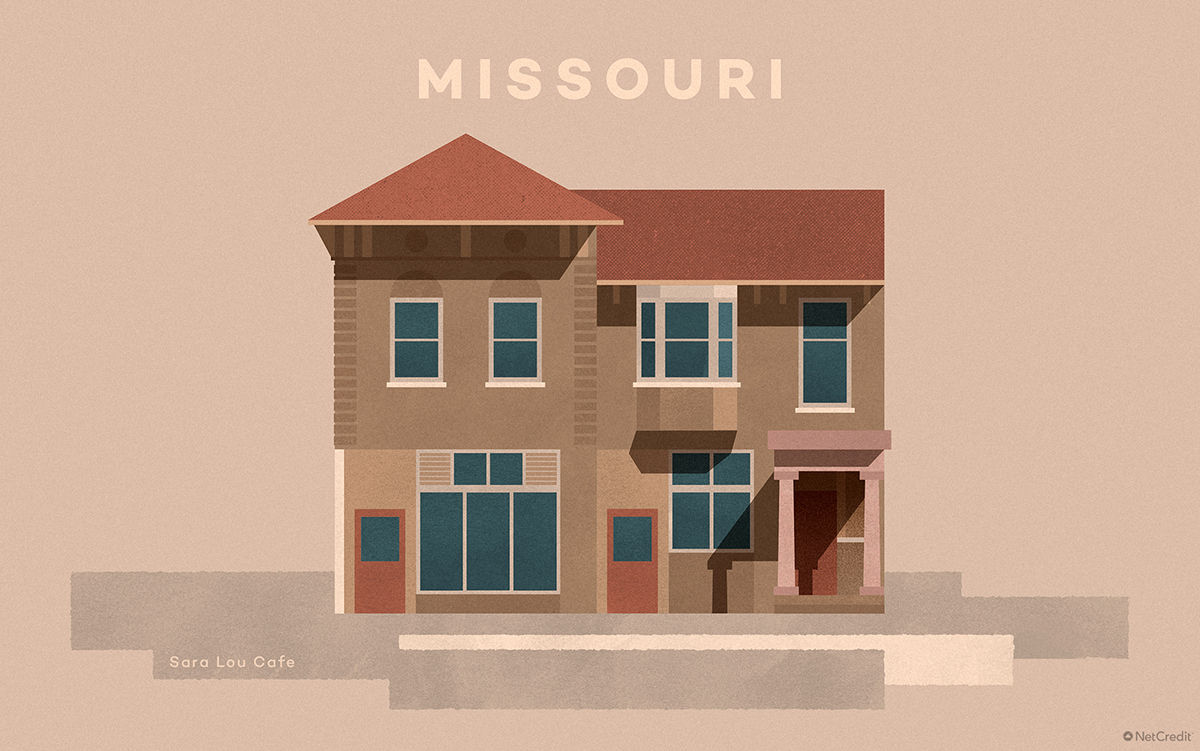 26. Montana – Thompson Falls, Paradise School
Paradise Elementary School served students for over a century before closing down in 2013. Since then, Paradise School Preservation Committee and the Sanders County Community Development Corp. have battled to save the structure from falling into complete disrepair. However, this endangered building seems to be a case of happily ever after: its supporters have received planning funding to transform the school into a visitor, arts and community center.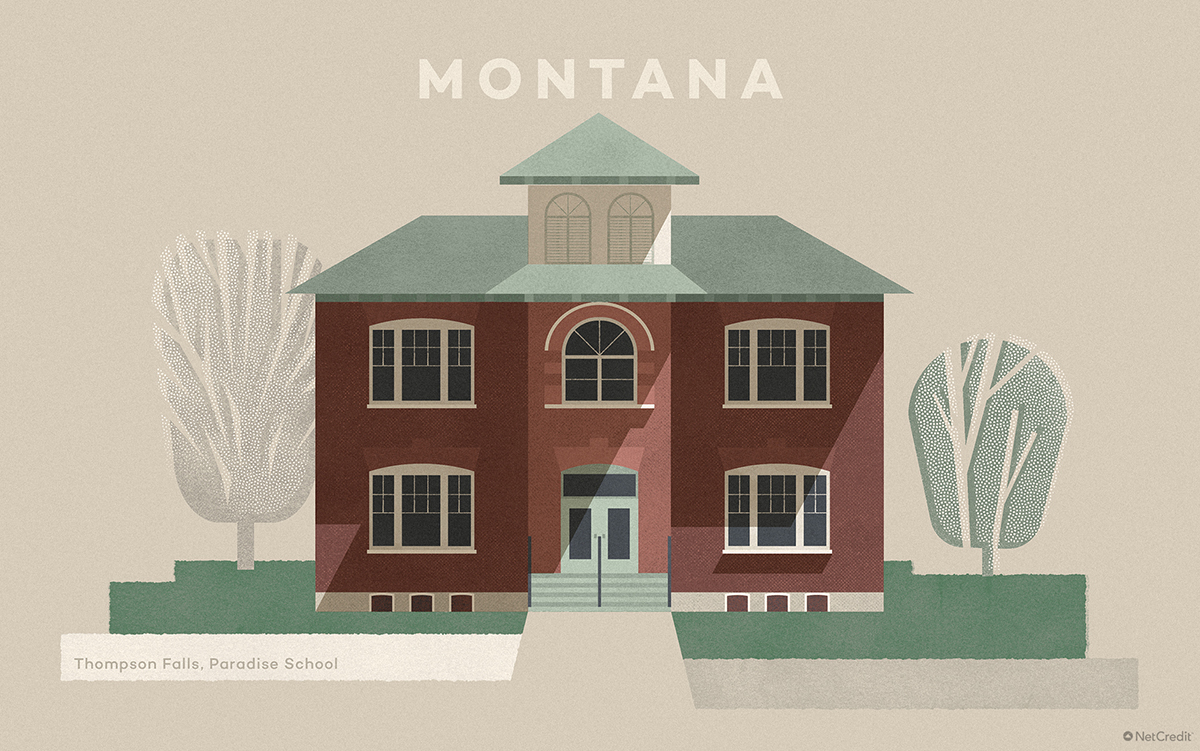 27. Nebraska – Chauncey S. Taylor House
The Victorian-style Chauncey Taylor house on Fourth Street, David City, was built in 1888. It has had only four owners over the years, and the penultimate buyer took great care to repair and maintain the house for the future. However, since then, the house has suffered a great deal of cosmetic damage, and City Hall now considers it an eyesore. In September 2018, the building was condemned to be demolished. It is now up to owners Kathy and Roger Treat to bring the house back into compliance, but it appears that they have missed all deadlines, and the house is doomed.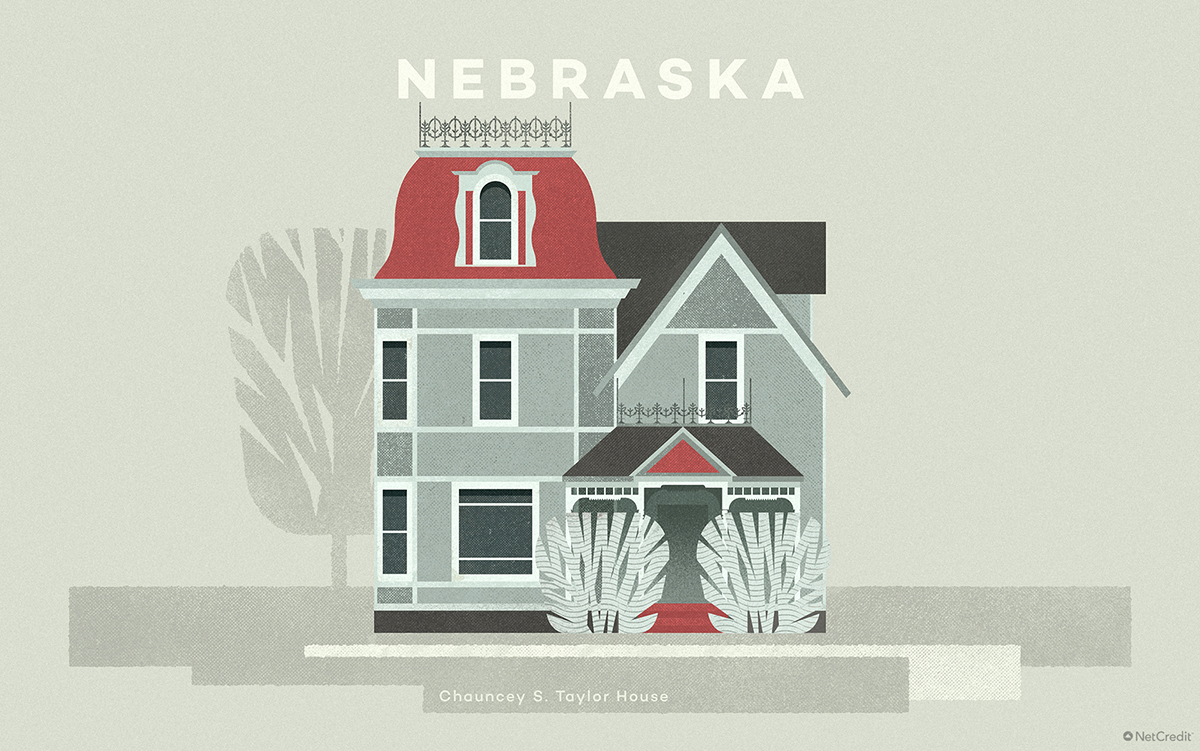 28. Nevada – Goldfield High School
Built in 1907, this school is one of the few buildings to survive the great fires of 1923-24. It's an important example of Goldfield life, from its time as the last great gold mining boom in the West. Built at a cost of $100,000, the 3-story Romanesque-style masonry structure has 12 classrooms, an auditorium and a capacity of 450. A lack of maintenance has rendered the high school's exterior walls unstable and consequently the building is at ongoing risk of collapse.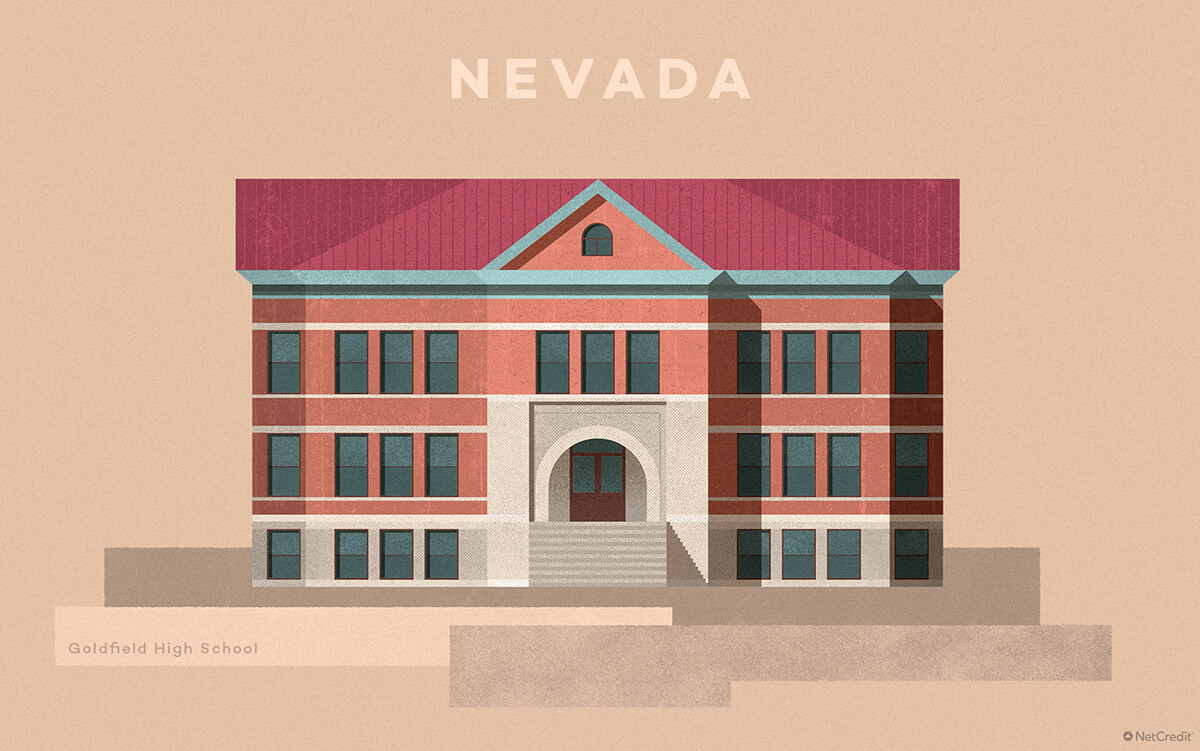 29. New Hampshire – Eagle Pond Farm
The ancestors of poet Donald Hall bought this farmhouse in 1865, by which point it was already half a century old. Don lived there with his poet wife, Jane Kenyon, from 1975 until Kenyon's death twenty years later. Much of their work was written on-site, inspired by the beauty and history of the place. The house features a porch and dormers (probably added by Don's ancestors), and the barn is in the Yankee Barn style. The house was put up for sale after Don's death in 2018. A group of friends and supporters are trying to buy the property and its auctioned-off contents. They plan to transform Eagle Pond Farm into a writing studio and tribute to its famous inhabitants.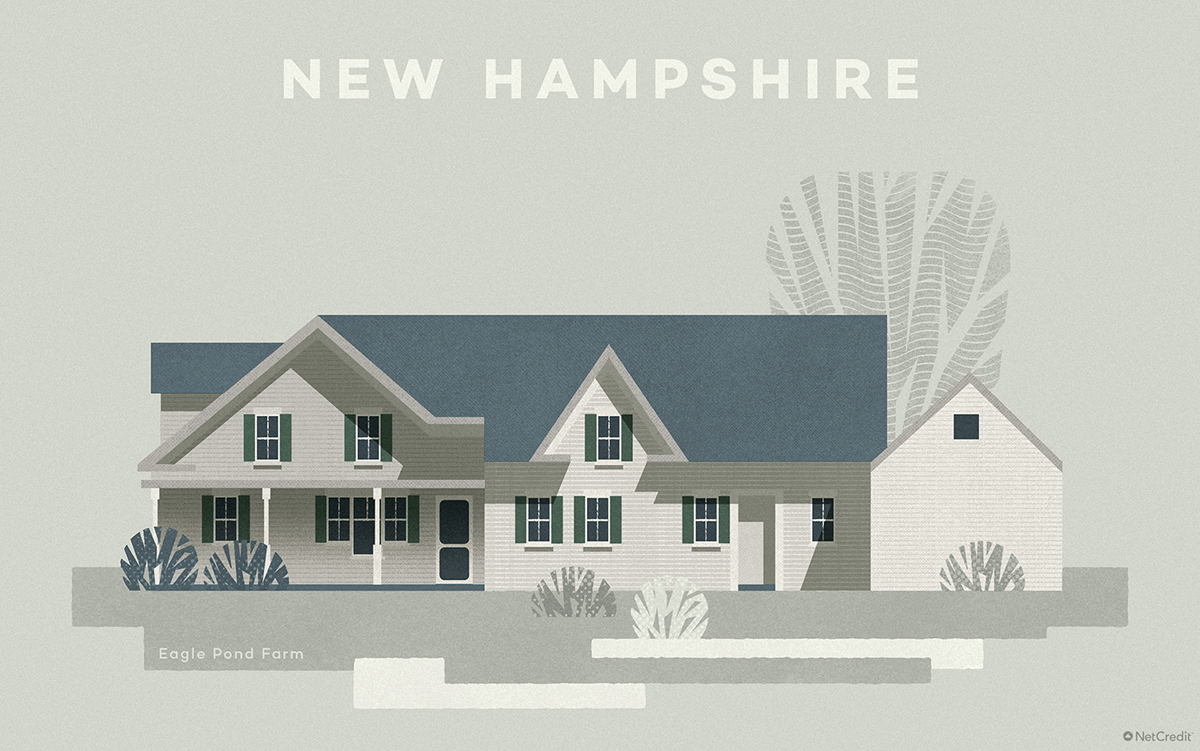 30. New Jersey – East Point Lighthouse
New Jersey's second-oldest surviving lighthouse was built in 1849 and can be found where Maurice River reaches the Delaware Bay in Cumberland County. Although it was recently renovated, the lighthouse now faces the twin threats of an eroding shore and tidal waters that are rising due to the climate crisis.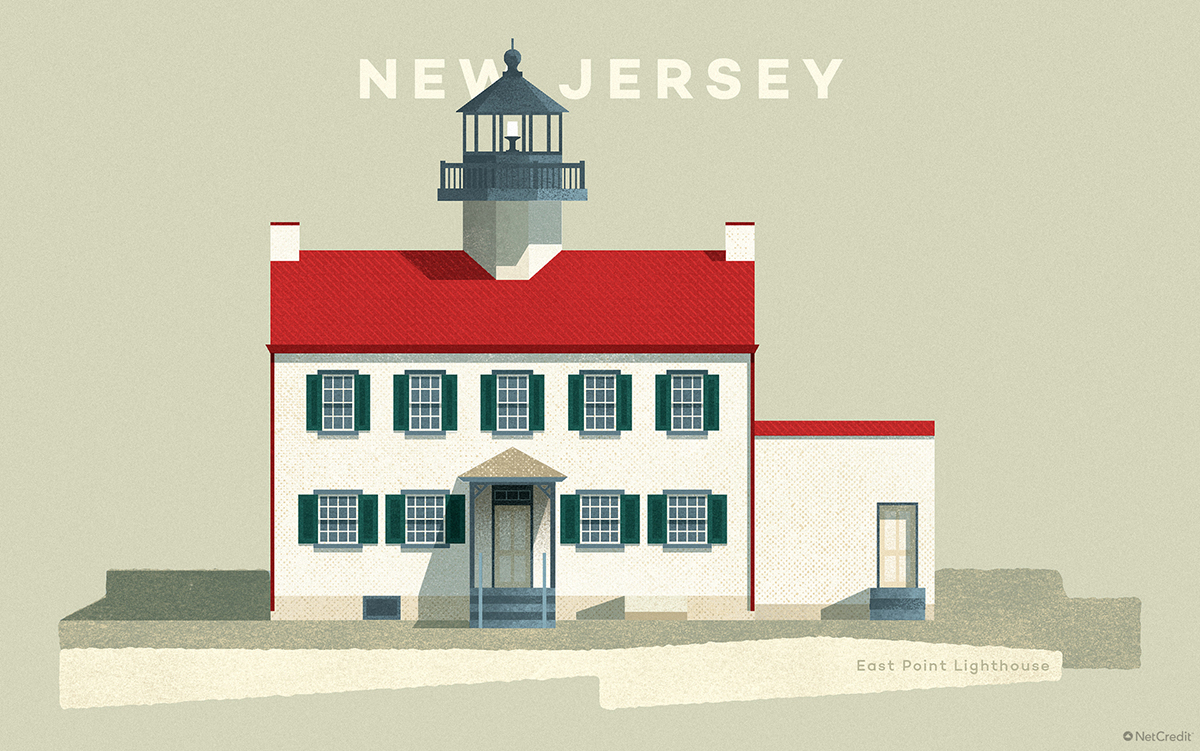 31. New Mexico – Iglesia de la Virgen de Guadalupe
Iglesia de la Virgen de Guadalupe is a historic church in Velarde, Rio Arriba County. It is now disused due to the town's dwindling population and faces deterioration, like many churches in the state. "What you're seeing is that [local fundraising groups] are being more and more burdened with obligations, which eventually causes some of them to give up, and the responsibility for the church doesn't go to the parish or the Archdiocese," says Frank Graziano, author of Historic Churches of New Mexico. "It just gets kind of closed up, abandoned, and begins the process of disintegration."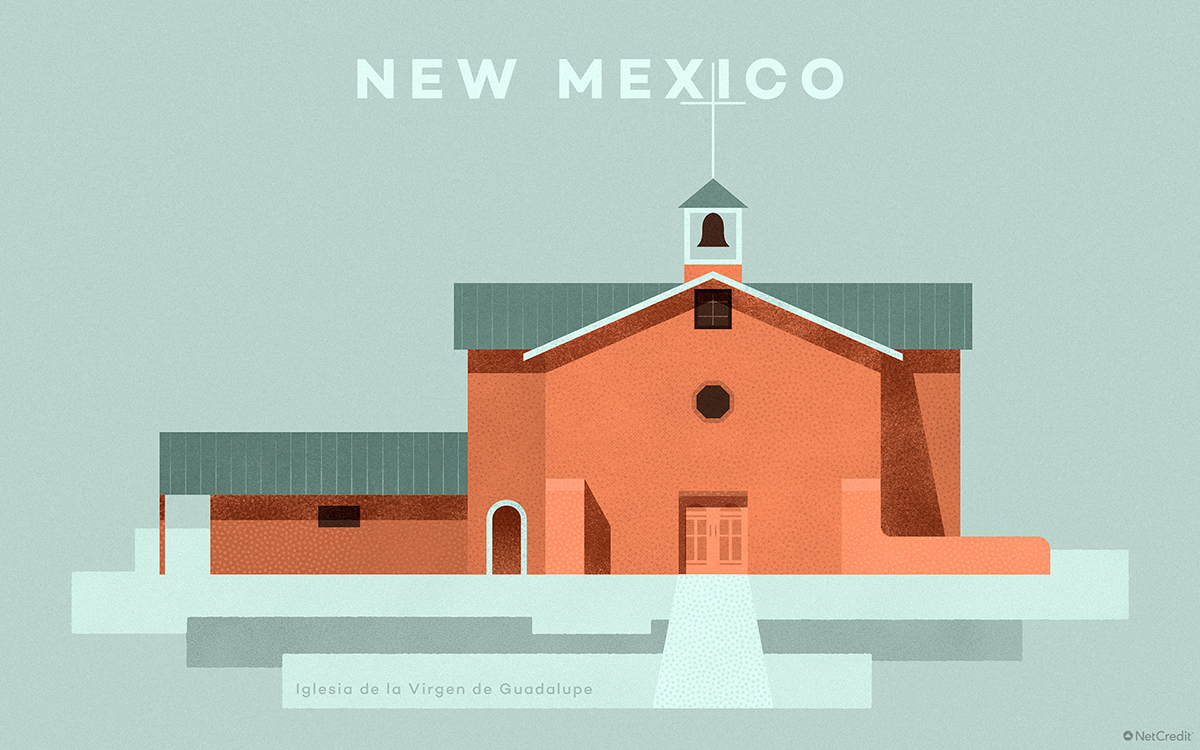 32. New York – Willert Park Courts
New York State's first housing project for African Americans is an early Modernist design. The building itself is unspectacular save for the bas-reliefs of everyday life that adorn the façade. The complex is more important for the collective history of this once vibrant community hub – and its potential renovation and future as a place of significance. "The thoughtful Modern architecture of Buffalo's Willert Park Courts are testament to an earlier era of government-funded affordable housing," says Katherine Malone-France, of the National Trust for Historic Preservation. "Willert Park Courts were public housing that provided a sense of dignity and pride-of-place to its residents."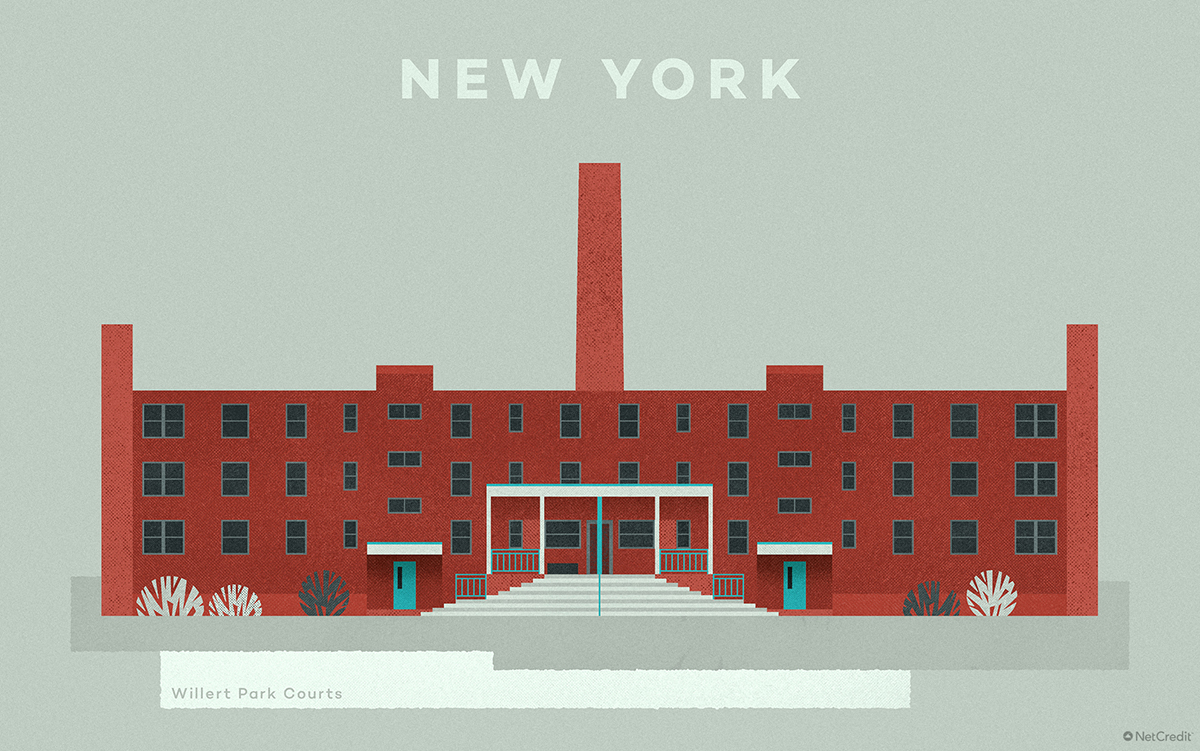 33. North Carolina – The Excelsior Club
The Excelsior Club was the region's top private African American social club through the mid-twentieth century. Mailman and bartender Jimmie McKee built the club around a two-story wood-frame house he bought in Charlotte in 1944. McKee added the flat, smooth Art Moderne-style elements and two banquet rooms, and it became an important musical and political venue (white politicians eager to court the Black vote have been eager to address Excelsior's patrons). However, it is now for sale, and whoever buys it will need to prove their intention and capacity to demolish or renovate the structure.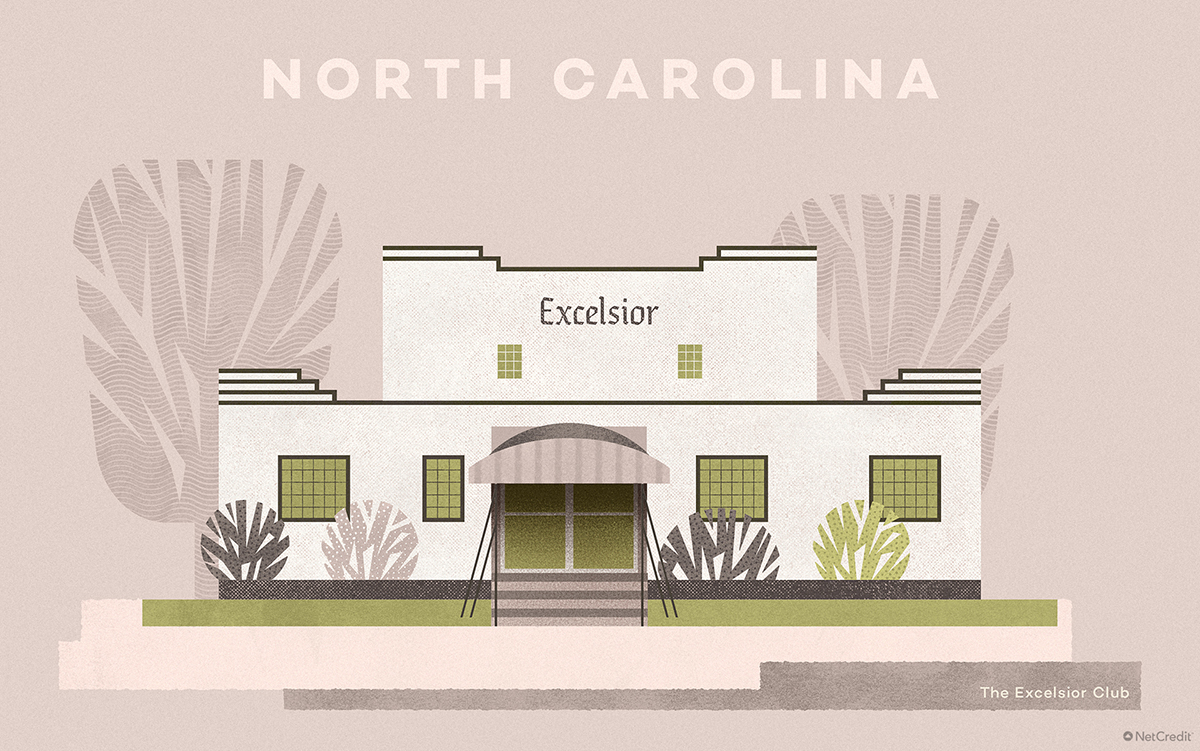 34. North Dakota – Bismarck-Mandan Rail Bridge
This bridge, constructed in 1883, has been recognized as an International Site of Conscience for the role it played in opening the western United States to white settlement, profoundly impacting Native American communities. No wonder then that it's also been recognized by the National Trust for Historic Preservation as one of 2019's 11 most endangered historic properties. Sadly that hasn't stopped it being proposed for demolition by railway company BNSF. Yes we know it's not technically a building, but we had to include it in our list due to its significance.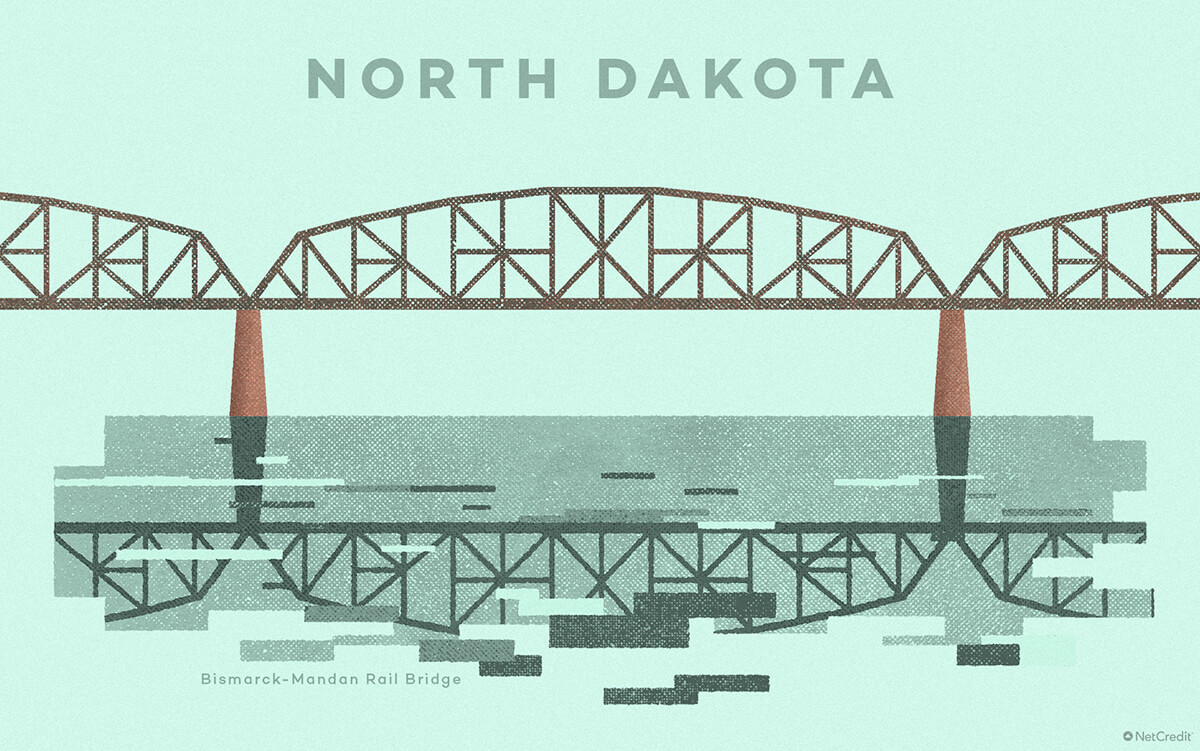 35. Ohio – Dayton Daily News Building
Albert Pretzinger designed this Montgomery County building to echo New York City's Knickerbocker Trust bank building – apparently because the newspaper's founder was turned down for a bank loan. The Dayton Daily News Building is in the Beaux-Arts style. It features Corinthian columns, Doric fluted columns around the frontispiece around the entrance and a partial pediment. Work began on the redevelopment of the site into student housing a few years back, but the building remains in limbo after the developers abandoned the project.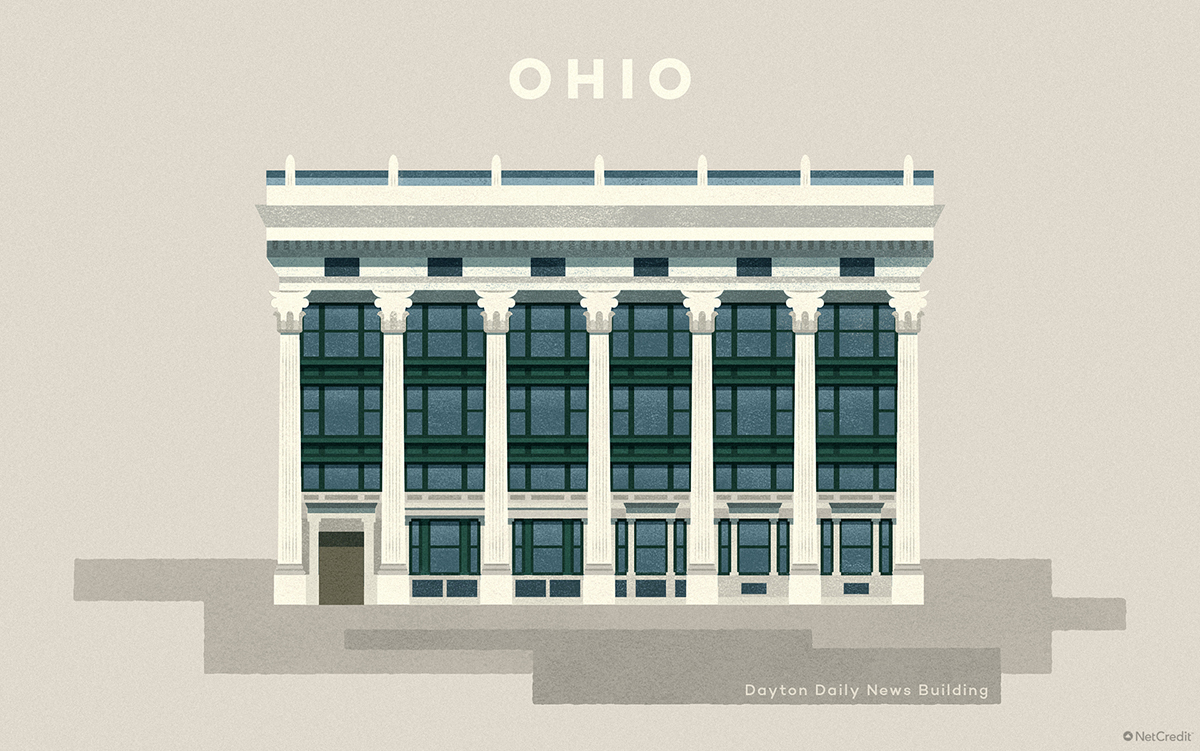 36. Oklahoma – Brookshire Motel
The Brookshire Motel on the Tulsa segment of Route 66 is a classic 1940s roadside stop. Many such culturally-significant buildings have perished due to neglect, but the Brookshire Motel faces demolition due to fire damage sustained in February 2019. Thankfully, the property's celebrated cottages and neon sign were spared.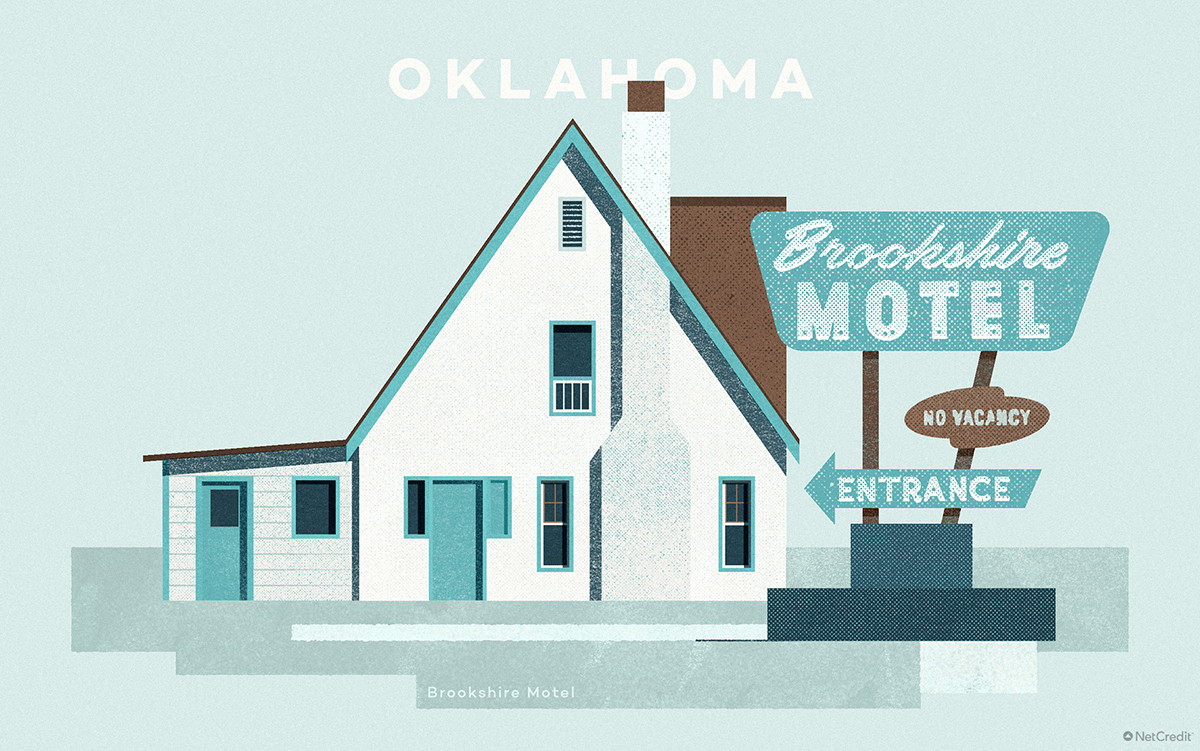 37. Oregon – OSU Red Barn
The Red Barn is an unofficial symbol of Union County's proud farming history. It was built in 1914 and made particularly strong to resist the county's famously harsh winter winds. The first-floor walls are made from local rock, and the barn still boasts its original 1914 plank-framed bearing trusses, timber beams and hand-chipped fieldstone foundation. However, it is not suitable for today's farming techniques, and may soon become a safety hazard. Lacking the funds to repair the building, its owners may need to tear it down.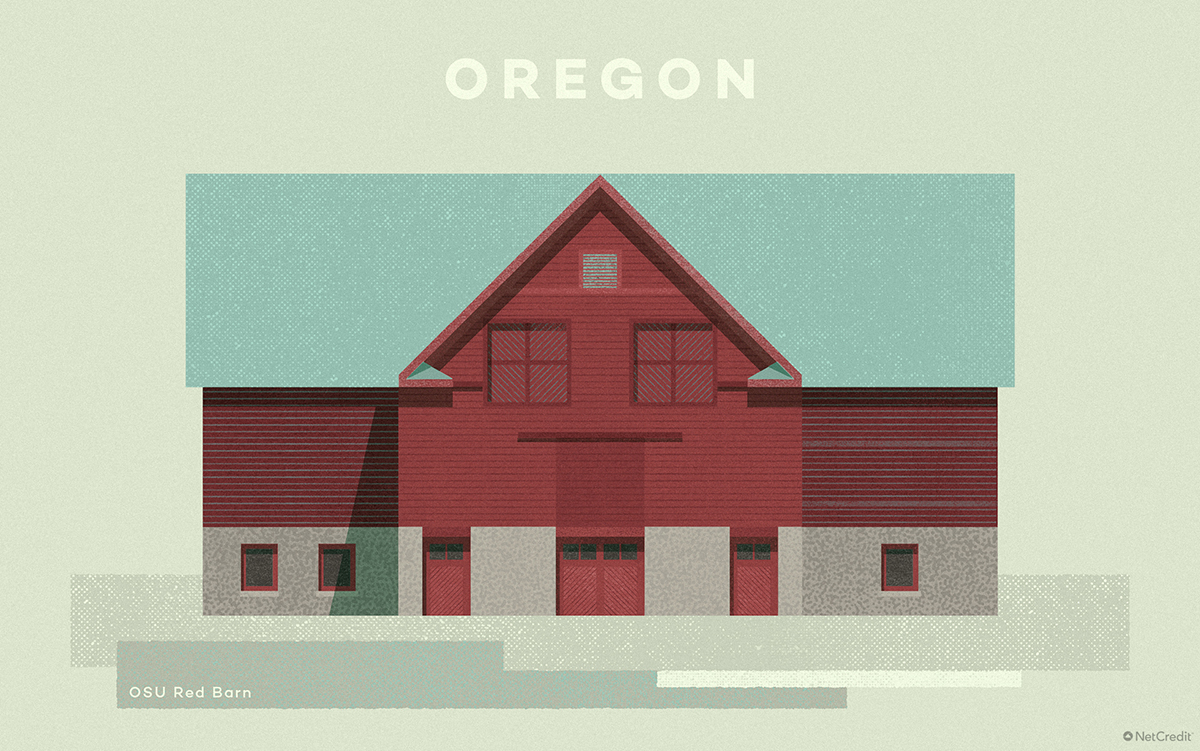 38. Pennsylvania – Morton and Lenore Weiss House
The Weiss House is an early work of acclaimed architect, critic and Yale professor of architecture Louis Kahn. He and partner Anne G. Tyng built it from stone in 1950, winning the American Institute of Architecture Gold Medal for their work. Kahn is better known for his large works, but this three-bed home was a chance for him to try different things with light, such as his innovative use of moveable glass panels to regulate light and privacy. In recent years it has been rented out at an apparently low standard, and is at risk of being subdivided for further exploitation.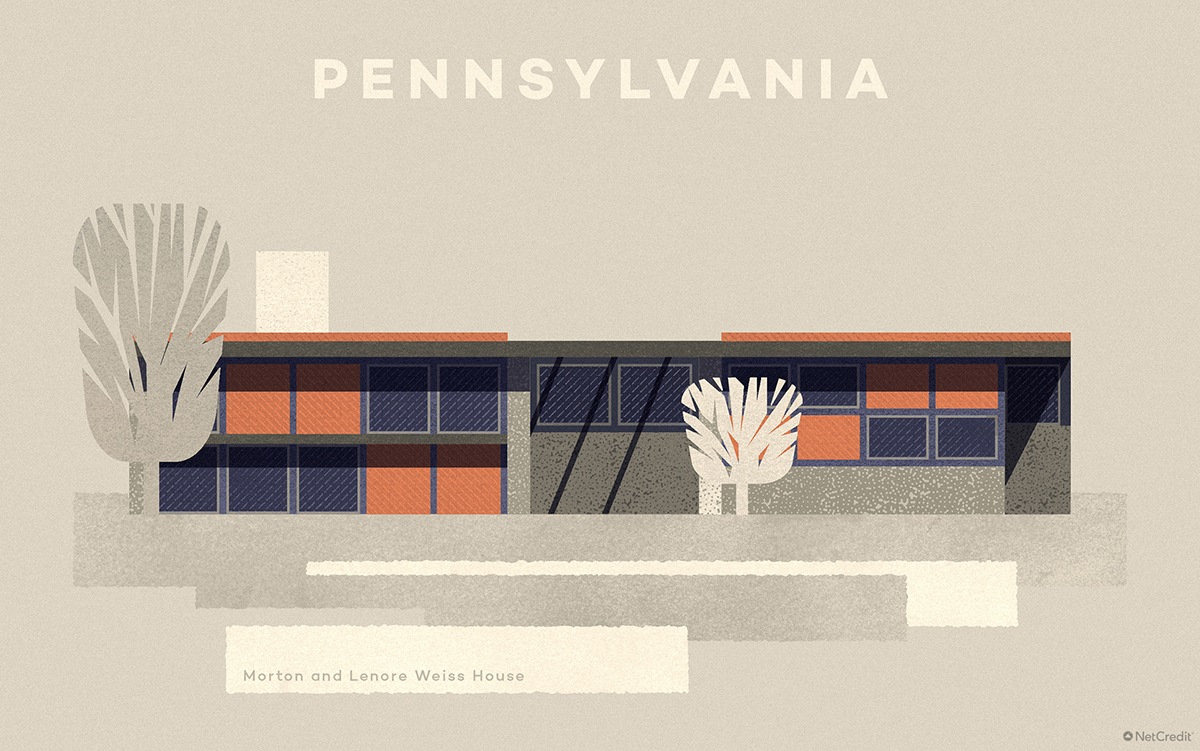 39. Rhode Island – Industrial Trust Company Building
The 1928 Industrial Trust Company Building is an Art Deco monolith, featuring huge bronze doors, a green lantern at the top and (originally) two stone eagles at the dome (they were removed after one plummeted to the street). It is known by locals as the "Superman Building" because of its resemblance to the Daily Planet offices. The building survived the Great Depression that hit the same month that the building opened, but was sold off as the 2008 Great Recession loomed. The Industrial Trust Company Building has been vacant since 2013, and although it is structurally sound, it is sorely wanting for some TLC.
40.  South Carolina – JV Martin Junior High School
When Sen. Barack Obama visited Dillon County during his 2008 election campaign, the old J.V. Martin Middle School was still heated by coal. As president, Obama helped the town replace the 1896 building, which was great news for the kids – but the building itself, a former church, has been left to rot. The Dillon Historic School Foundation has been formed to try to save the complex, but in September 2019, a suspicious fire caused further damage.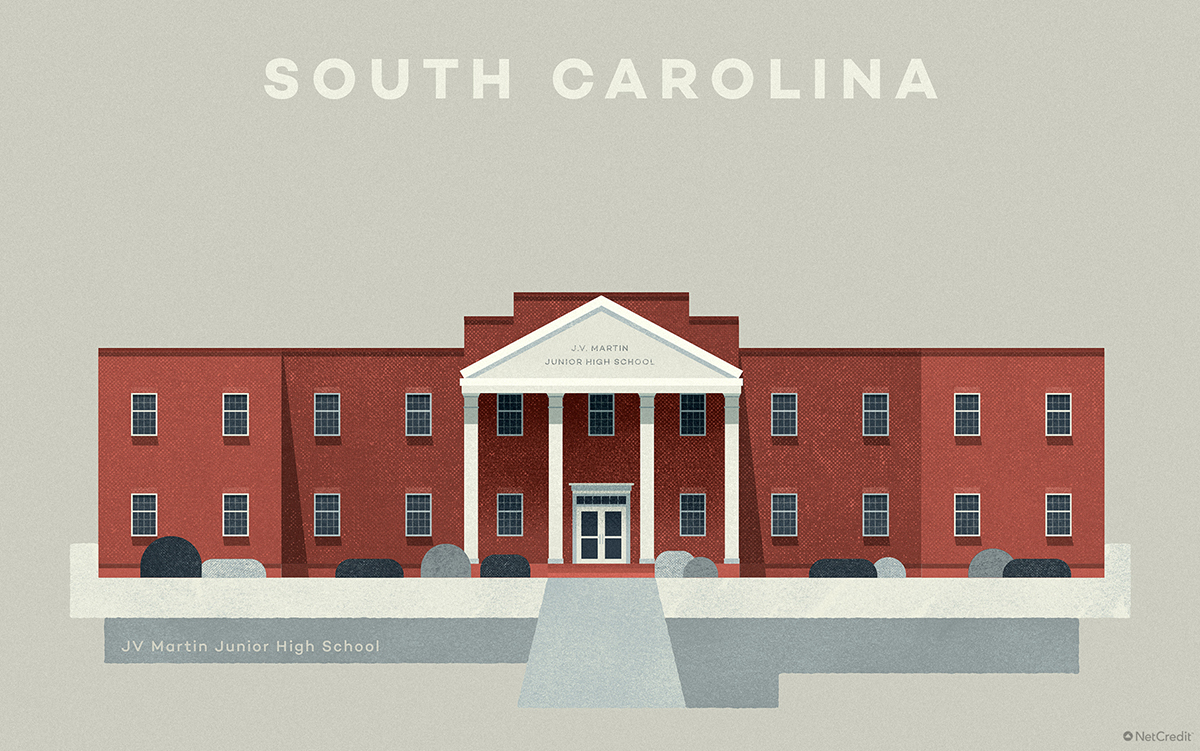 41. South Dakota – Battle Mountain Sanitarium
The Battle Mountain Sanitarium opened to patients in 1907 as one of the original hubs of the National Home for Disabled Volunteer Soldiers. The facility continues to provide services to veterans over a century later but is at risk of closure – which would likely lead to the Thomas Rogers Kimball-designed building falling into disrepair and fast deteriorating beyond rescue.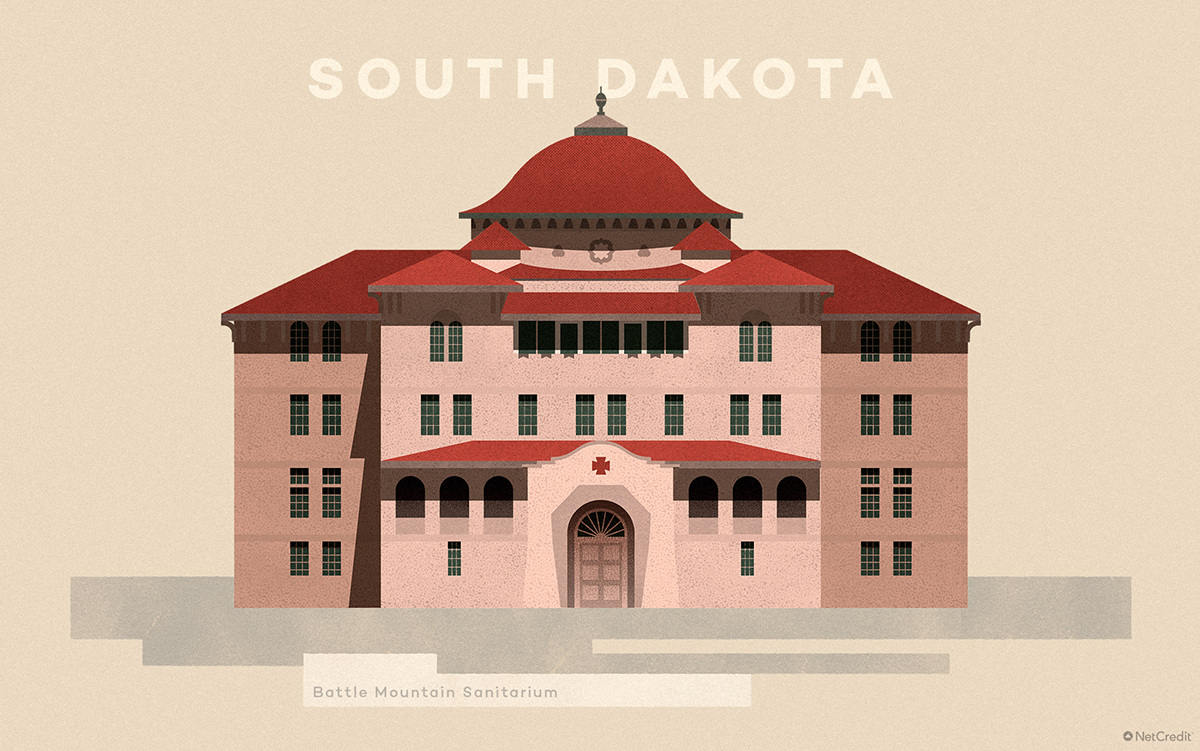 42. Tennessee – The Tracking Room
The studio where Chet Atkins, Carole King and Donna Summer recorded some of their finest works is housed in a midtown Nashville property on Music Row. In addition to its relevance to the city and music in general, the 9,300-square-foot building is a spectacular recording space, featuring five isolation booths, a reverb chamber known as the "Stone Room" and sound-proof doors designed by NASA. The property is currently for sale and could be demolished and redeveloped into offices.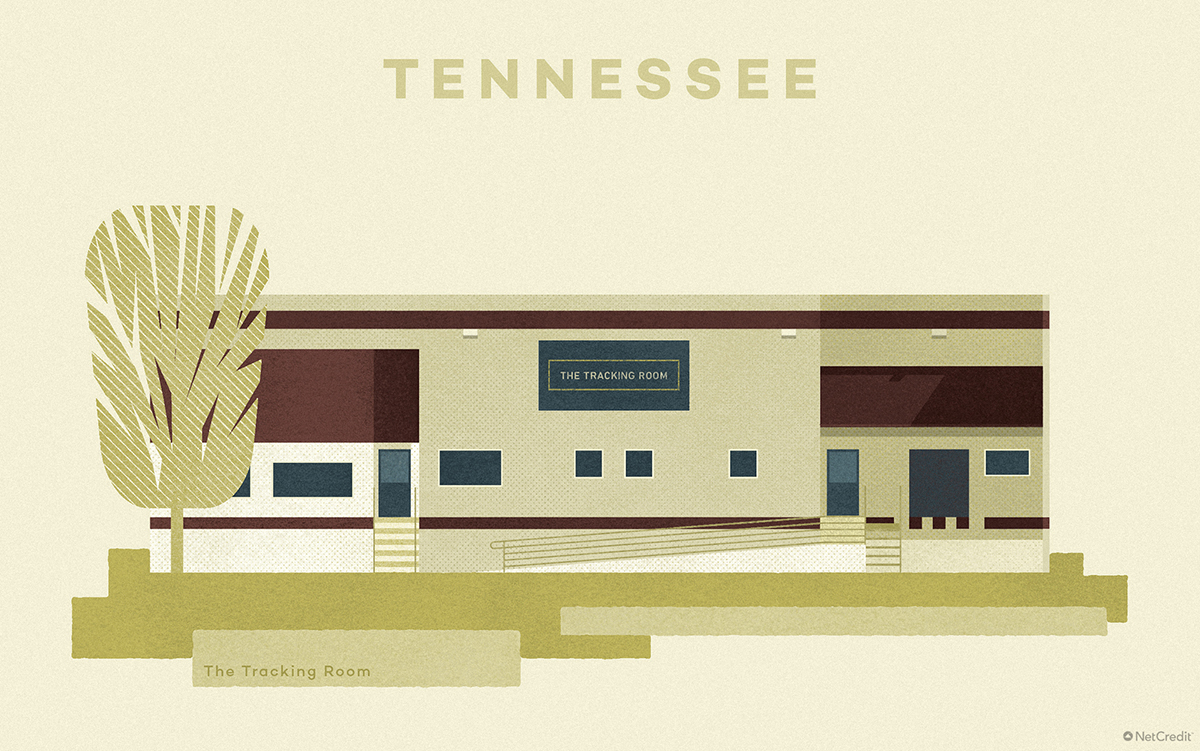 43. Texas – San Agustin Cathedral
French priest Pierre Yves Keralum designed San Agustin Cathedral and had it built in Laredo in 1872. The cathedral's façade was weakened by the hurricane of 1905, and the bell tower is now leaning, with cracks threading through the building and destabilizing other parts of the structure. Campaigners are now trying to raise $11m to keep the church erect.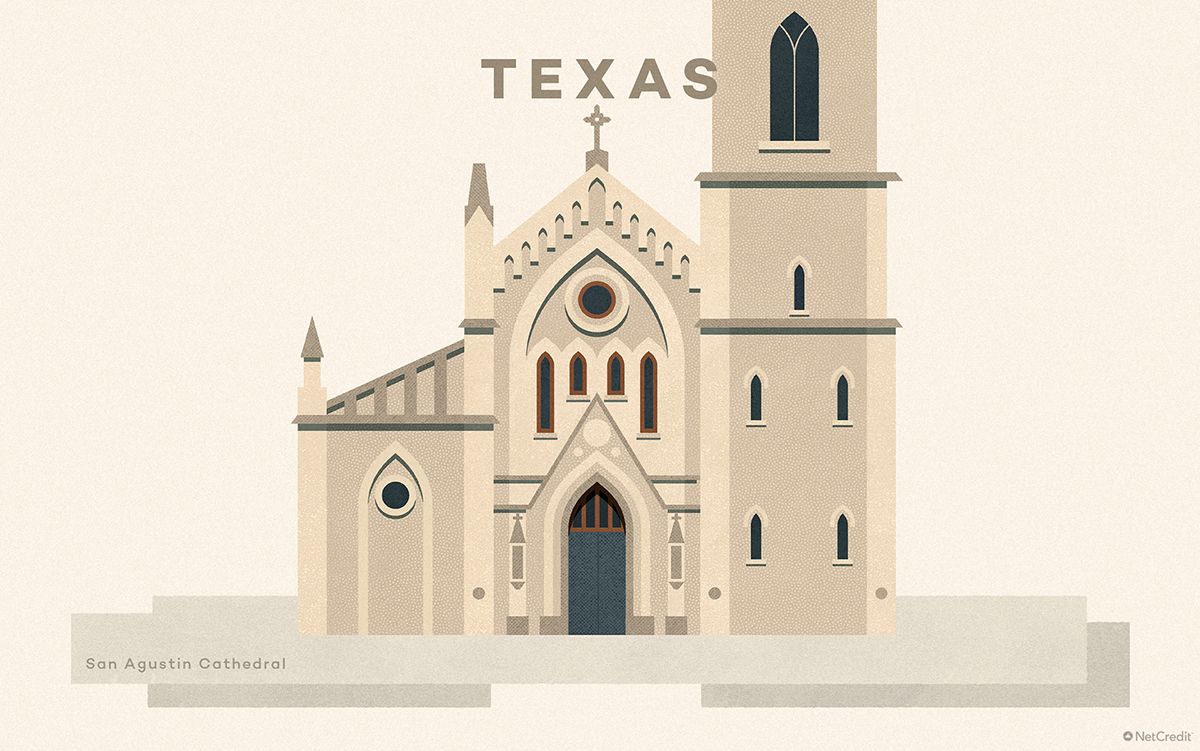 44. Utah – Ancestral Places of Southeast Utah
Situated between Bears Ears and Canyon of the Ancients, the Ancestral Places of Southeast Utah is a complex of structures, trails and artifacts of great significance to America's indigenous people. As prospectors continue to ransack the continent's land, the Ancestral Places remain unprotected against oil and gas extraction. The Bureau of Land Management has increased its leasing activity in the past two years, so further destabilization of the land and all that's on it seems inevitable.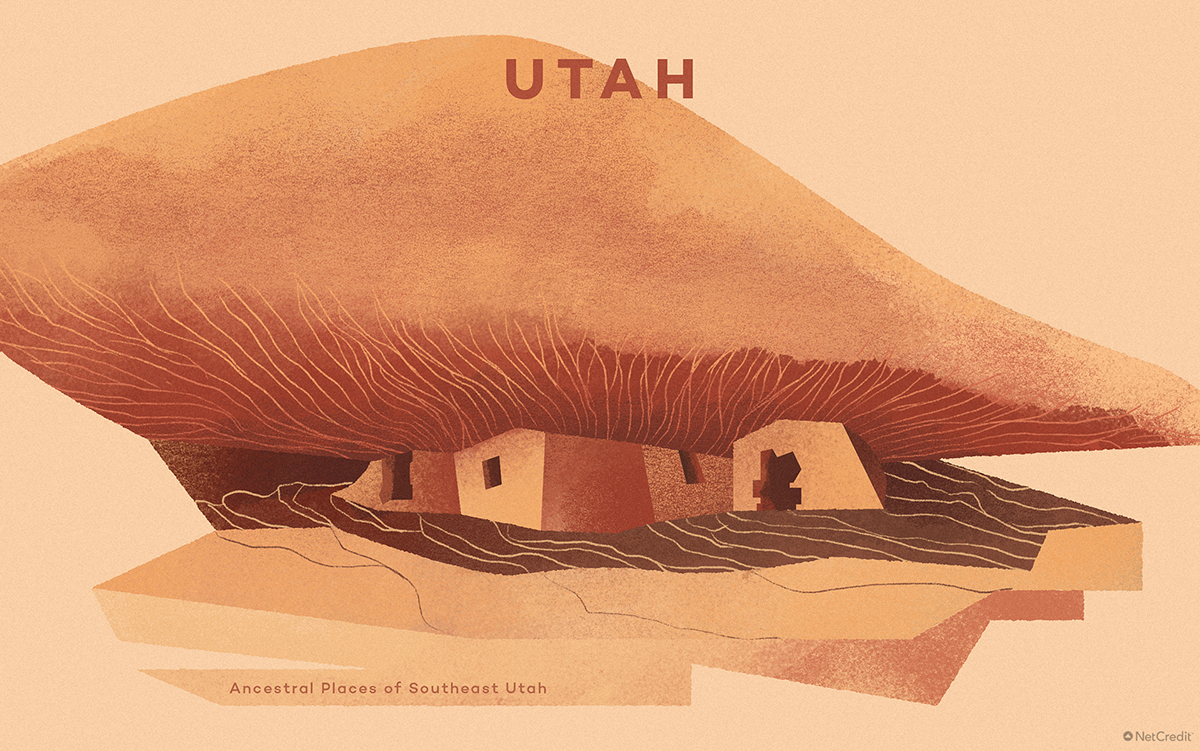 45. Vermont – The Mansion House
Winooski's early-19th-century Mansion House is under threat of being knocked down and developed into an apartment building with commercial space – to the outrage of historians and neighbors alike. "The question remains; if 200-year-old structures like (the Mansion) are expendable, what is regarded as worthy of preservation in our City?" says Joseph Perron, president of the Winooski Historical Society. "We should not repeat the mistakes of the recent past, and good development should not require us to sacrifice what truly makes this place unique."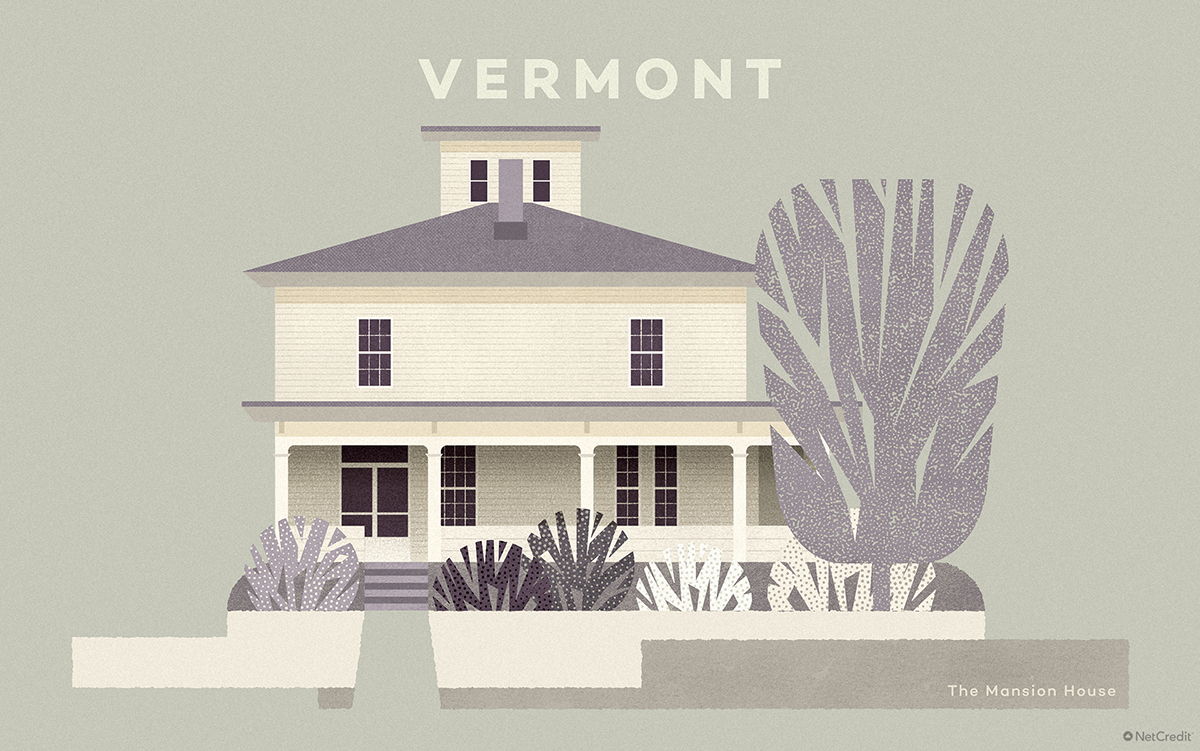 46. Virginia – Carr-Greer Farmhouse
Emancipated slave Hugh built this Ivy Creek farmhouse in the 1880s and raised his seven-child family in it. The Carr-Greer Farmhouse is now Albemarle County's responsibility, having been occupied by a live-in caretaker for several years. The building is of architectural note but is especially valuable for its part in local African American history. The municipality has now offered funds to assess and plan the renovation of the building. But while emergency work will be carried out, more substantial investment remains elusive.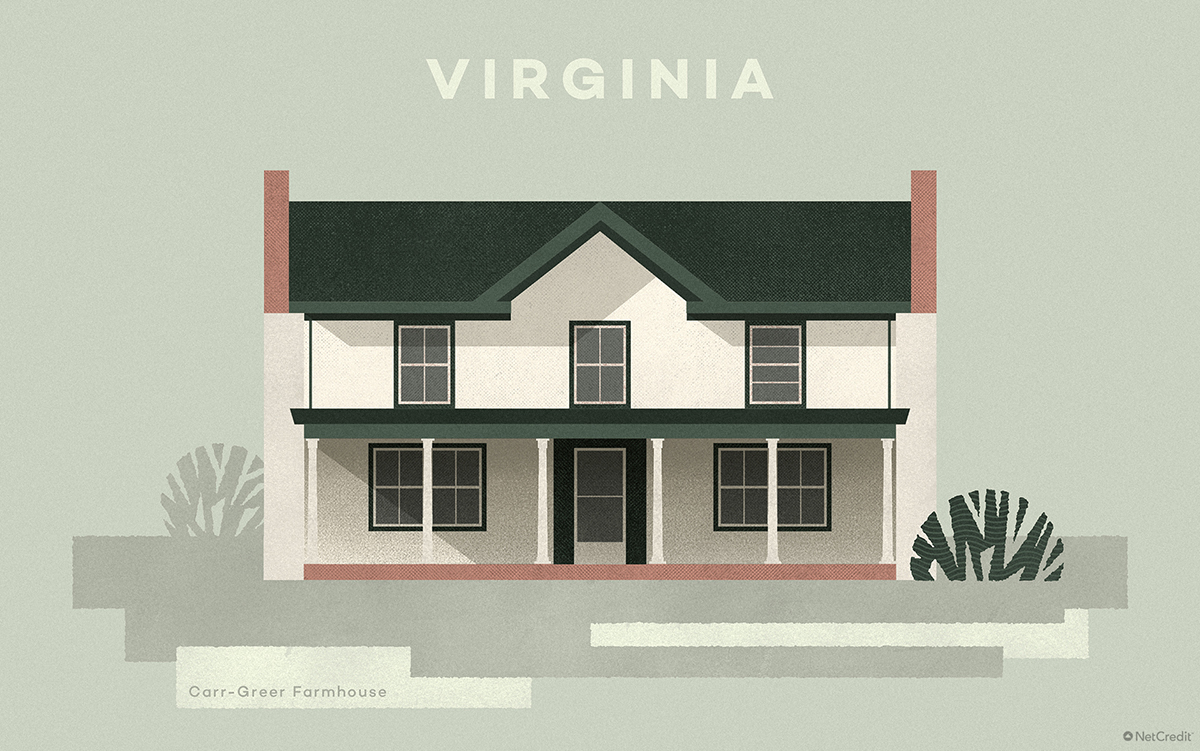 47. Washington – The Showbox
The 1917-built Showbox started out as Seattle's Central Public Market. The building was remodeled in the Art Moderne style in 1939 and reopened as a showbiz venue, hosting the bands and styles of different eras and becoming noted in the 1970s-1990s as punk, and then grunge emerged. In 2018, the current owner revealed plans to sell the property to a developer with the intention to demolish it and erect a 44-story apartment building. The Showbox's fate is now tied-up in ongoing legal wrangles.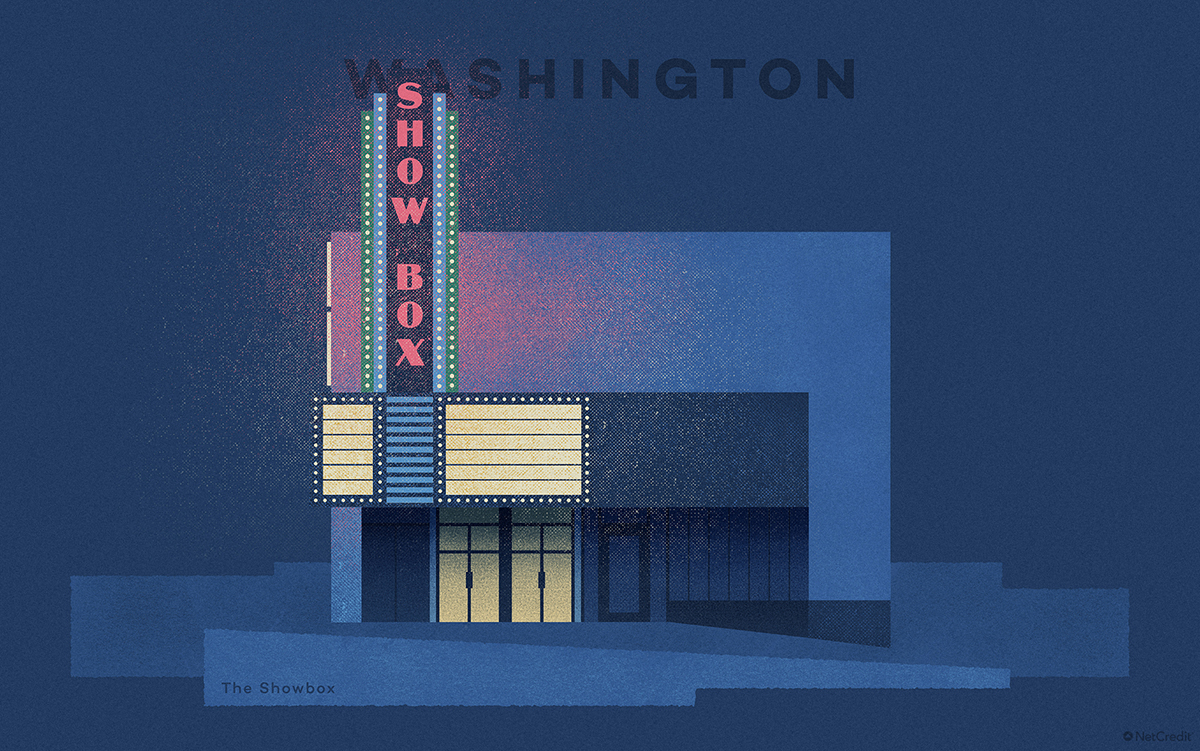 48. West Virginia – Tyler County Poor Farm
Unfortunately, we didn't make it in time to save to save this one. Just 2 weeks after we originally published this article, the building was destroyed. Which just goes to show how important it is to act now if we want to save our most endangered buildings. The 103-year-old Tyler County Home, also known as the "Poor Farm," was built in 1915 and was operational until 1951. The building had been deteriorating since the 1960's due to neglect, insufficient funding, water damage and vandalism. For decades it provided food and shelter to the county's impoverished, homeless and infirm.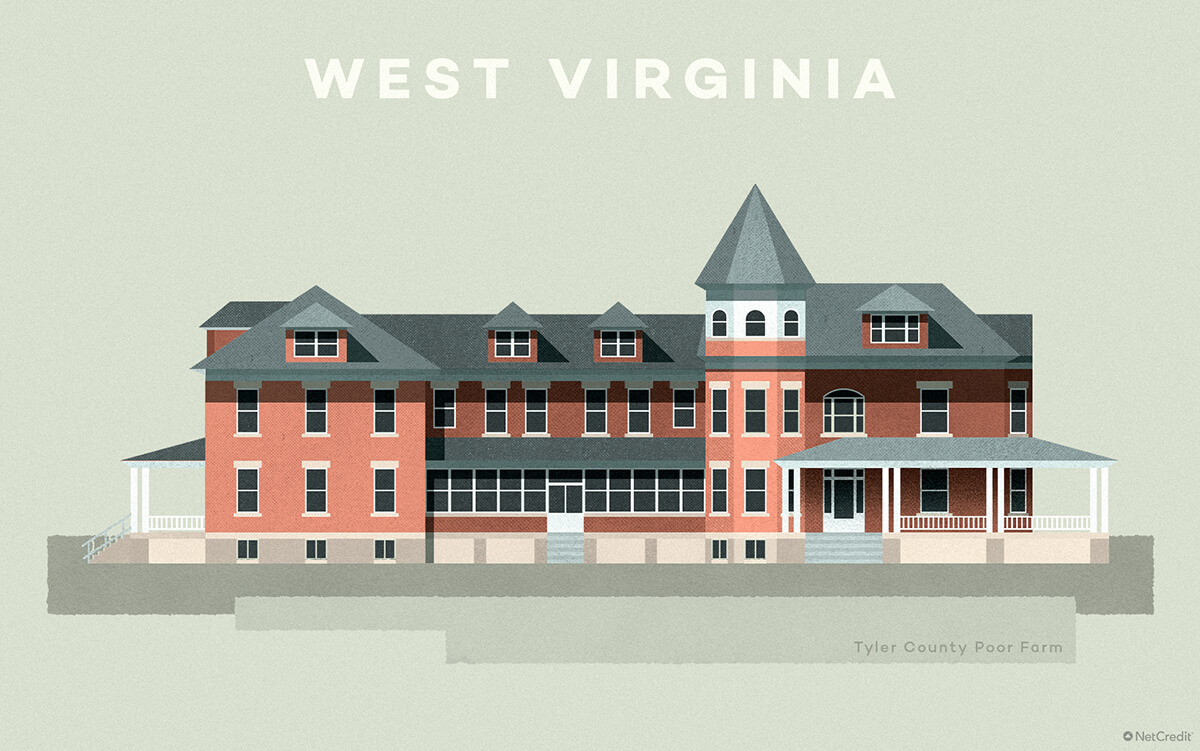 49. Wisconsin – Mitchell Park Domes
Milwaukee architect Donald L. Grieb designed Milwaukee's Show Dome, Tropical Dome and Desert Dome in 1958, and they were to become the first "conoidal" (or cone-shaped) domes in the world. This 'zoo for plants' continues to inspire a quarter of a million visitors each year. However, the structures are now deteriorating, and renovation is claimed to be prohibitively expensive. Consultants have instead recommended demolition – at the cost of $300m.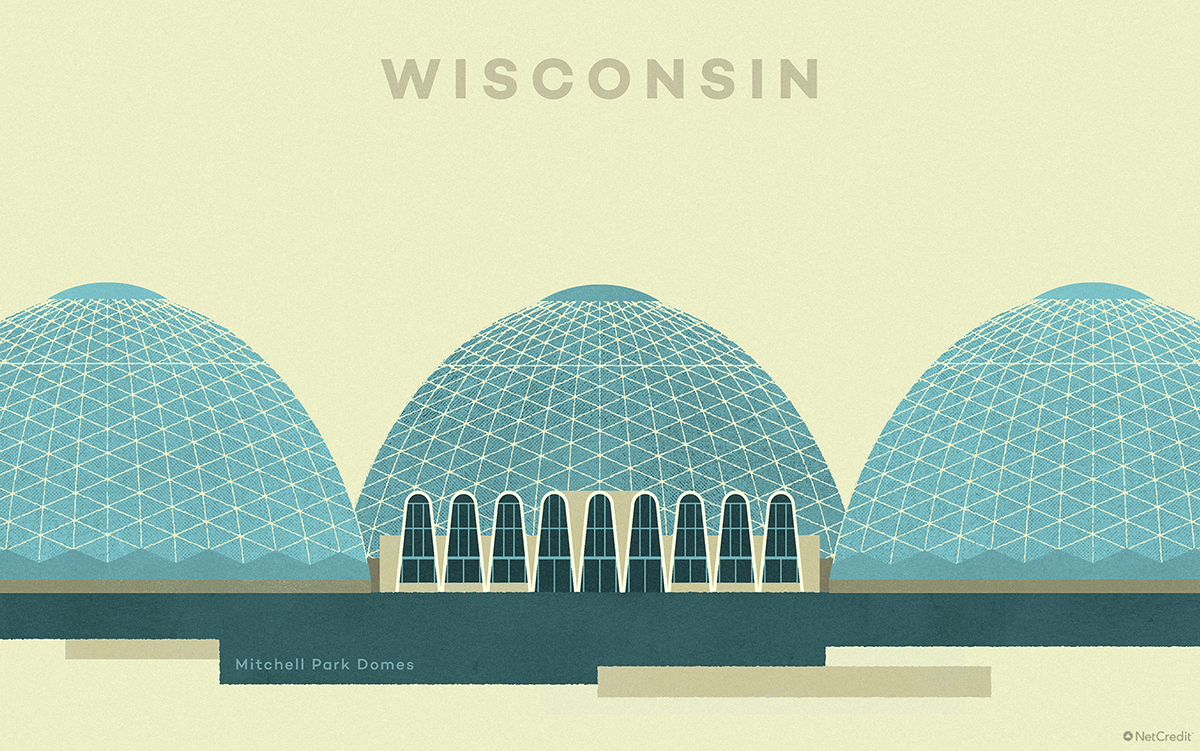 50. Wyoming – The Cooper House
The Cooper Mansion is a unique combination of Californian-style Mission Revival architecture and New Mexico-style Pueblo Revival design. In the 1980s, the University of Wyoming cooked up a plan to turn the house into a parking lot, eventually backing down after pressure from several preservation groups. The house next became classrooms and offices for the university's American Studies program. But in June 2019, plans to transform the house into dorms and a car park surfaced. The campaign to save the Cooper House is back on.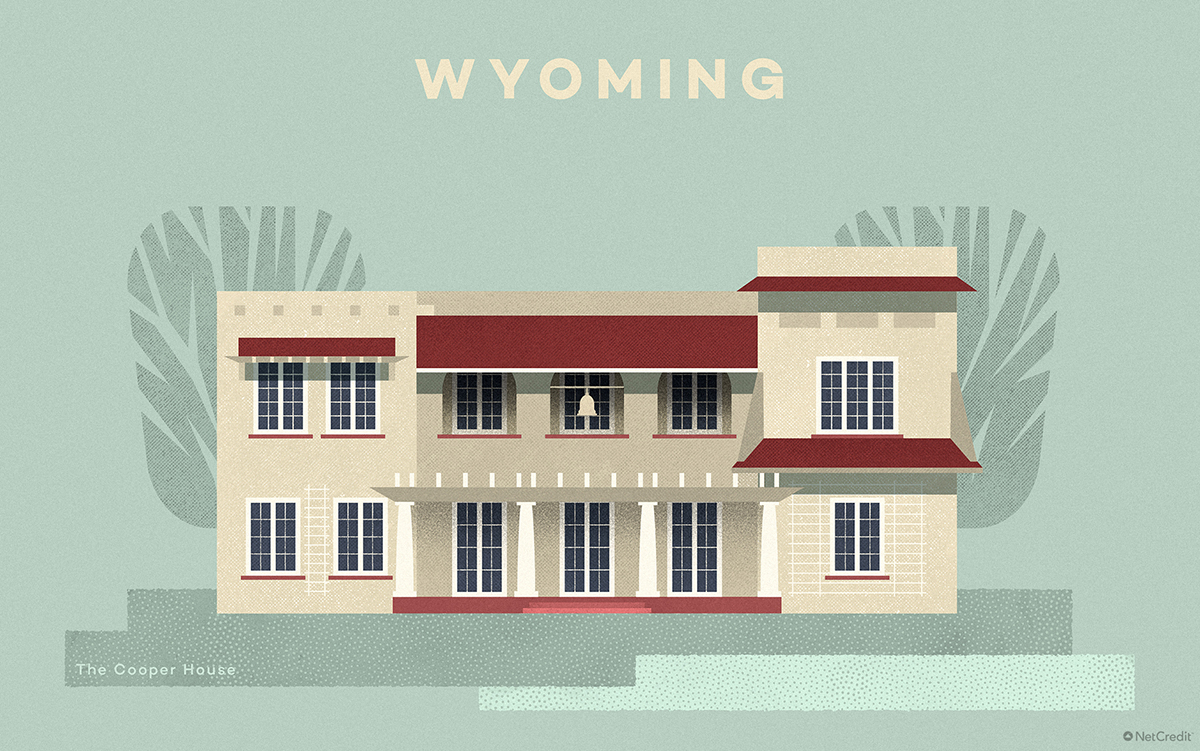 Considered together, America's most endangered buildings are a virtual city of architecturally and culturally significant structures. But they are also beautiful and touch the hearts of citizens in every state in the land. Spread the word about these buildings' plight to give hope that they might evade the wrecking ball.
SOURCES 
For the full research behind this project, please visit http://bit.ly/EndangeredBuildingsUS