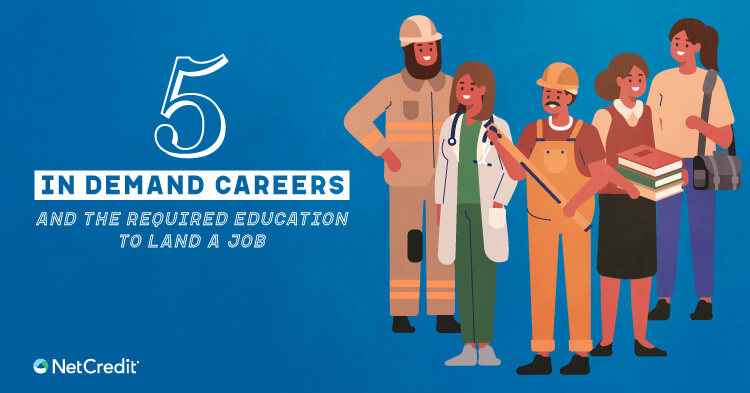 In-Demand Jobs That Can Survive in a Slow Economy
From your personal financial literacy and credit health to your long-term career outlook, are you prepared for an economic slowdown? Protecting your finances means more than simply building up your emergency fund or following a budget.
Consider your income — if you lost your job, would you be able to find something else quickly? While it's never easy to deal with the stress or uncertainty of losing a job, some positions and fields are always likely to be in demand.
Now is the perfect time to make a positive change that can improve your long-term outlook. We looked at recent statistics and occupational projections to find five of today's most in-demand careers, and the required education or training to get there.
1. Home Health/Personal Care Aide
Home health and/or personal care aides are responsible for providing a variety of services for people with disabilities, chronic illnesses or other special needs. Their day-to-day responsibilities vary, but can involve collecting vitals, dispensing medication, cleaning and other personal care-related tasks. They may travel to patients' individual homes or work from a residential care facility.
Home health aide employment is expected to grow 37 percent between 2018 and 2028, while personal care aide employment is projected to rise 36 percent. Both growth rates are much faster than the average of all occupations in the same period (roughly 5 percent overall projected growth).
Education: High school degree or equivalent.
Training/Requirements: Required training depends on the specific facility or state in which you work. While some positions don't require specific post-high school training, you can pursue related programs at some two-year or technical schools. Additionally, some companies provide on-the-job training and education.1
2. Truck Driver
Truck drivers work in practically every industry, from food service and grocery to raw materials and consumer goods. They're responsible for safe transportation and prompt deliveries across long distances, so drivers are generally required to pass safety-related tests and/or perform vehicle inspections for mechanical issues. U.S. Bureau of Labor Statistics projections point to average career growth from 2018 to 2028, or around 5 percent.2 However, an increasing demand for essential workers that help our economy keep moving point to growing opportunities in this field.
Education: High school degree or equivalent.
Training/Requirements: Commercial driver's license, clean driving record and possible job-specific, safety-related tests or licensure.
3. Construction Worker/Helper
Opportunities in the construction industry vary widely, but typically require a good deal of physical stamina and strength. These positions may also involve working in hazardous environments, like active construction sites or busy streets and highways. Overall, this occupation is expected to grow faster than average of all occupations from 2018 to 2028.3
Education: High school degree or equivalent.
Training/Requirements: Job- or industry-specific licensure may be required for some positions, such as those working with hazardous materials.
4. Registered Nurse
Some registered nurse positions are more in demand than others, such as those in frontline or emergency settings. Nurses typically collaborate with a doctor to provide coordinated care to patients. Their duties may include performing testing, monitoring vitals, dispensing medication and other patient care. This occupation is expected to grow 12 percent through 2028.4
Education: Bachelor of Science in Nursing.
Training/Requirements: State and national licensure.
5. Software Developer/Engineer
Software developers and engineers remain some of the most in-demand careers, with expected overall growth of 21 percent through 2028. They're also high earners with a median salary over six figures — the highest on this list.5 In general, they design, develop, manage and upgrade computer applications, software or systems.
Education: Bachelor's degree in a related field, like computer science, or technical training programs.
Training/Requirements: Specific jobs may require proficiency in particular coding languages or programs.
References
1U.S. Bureau of Labor Statistics. (2019). Home Health Aides and Personal Care Aides.
2U.S. Bureau of Labor Statistics. (2020). Heavy and Tractor-trailer Truck Drivers.
3U.S. Bureau of Labor Statistics. (2020). Construction Laborers and Helpers.
4U.S. Bureau of Labor Statistics. (2020). Registered Nurses.
5U.S. Bureau of Labor Statistics. (2019). Software Developers.
The information in this article is provided for education and informational purposes only, without any express or implied warranty of any kind, including warranties of accuracy, completeness or fitness for any particular purpose. The information in this article is not intended to be and does not constitute financial or any other advice. The information in this article is general in nature and is not specific to you the user or anyone else.