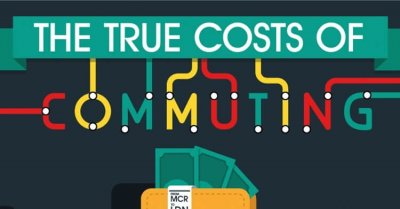 The True Cost of Commuting
Disclaimer: This post was originally published on our UK partner's site.
It's raining, the bus is late, the traffic's stuck and you're struggling to locate a few stray coins mixed in among the receipts in your pocket. Chances are, you're not even particularly keen to get to where you're going1: the office, the shop floor, the coalface. In such circumstances, it's difficult to make an objective assessment of the true toll your commute is taking, but when you make a journey 253 times a year (not to mention the return trips) it's worth weighing up the cumulative effect of your everyday habits on your health, wealth and the environment. Is there a better way to work?
A cursory glance at the options might give the impression that driving is the most comfortable and convenient way to commute, but sitting in a jam totting up the fuel bills, insurance and taxes – on top of the cost of buying a car in the first place – one tends to come to a different conclusion. When parking costs upwards of £1000/season, those precious moments of solitude (and booming bass box) begin to look like a feeble return for dragging that smoking hulk of metal to town each day.
Whether driving, tubing it or taking the bus, it is not just the commuter but the environment that pays. Over a 15km journey (the average UK commute2), even the relatively eco-friendly Ford Fiesta Zetec pumps out a whopping 146.5kg of C023. Public transport users can reassure themselves that the carbon output of their chosen steed is relatively low when divided among the total number of passengers – but the environmental cost of setting up and maintaining the infrastructure4 should not be overlooked.
Reminding yourself how good cycling is for your mental health may feel counter-intuitive as you strap on your helmet under a torrent of hailstones, but it has been shown that pushing the pedals for more than thirty minutes creates an increase in well-being. Biking to work couples fresh air and exercise with a sense of self-determination that even the mighty car commuter cannot muster. Slicing through traffic jams, locking the wheels up just yards away from your place of work, and hopping off to dash into the off license on the way home are just some of the practical advantages to travelling on two wheels.
Perhaps, all things given, it is unsurprising that those who work from home have been shown to enjoy greater job satisfaction5, lower anxiety, and more of a sense that their daily activities are worthwhile. However, if making a better living or benefitting from job security means trekking into the city each morning, many of us choose to make that sacrifice for the good of our loved ones and our long-term goals. For an objective look on whether you're making that trip in the best way for you, take a look at the figures and insights we've laid out below – it could be time for a new direction.

Sources
1 McGregor, J. (2013). Only 13 percent of people worldwide actually like going to work. washingtonpost.com
2 Office for National Statistics (2014). 2011 Census Analysis, Distance Travelled to Work. ons.gov.uk
3 Robbins, A. (2015). Ford Fiesta review. telegraph.co.uk
4 Leibenluft, J. (2008). Trains vs. Planes vs. Automobiles. slate.com
5 Cooper, S. (2012). Boost Productivity By Working From Home, Really! forbes.com
Confused.com. (2016). Car insurance price index. confused.com
Midland Metro. (2016). Metro card prices. nxbus.co.uk
MoneySavingExpert. (2016). Cheap council MOTs. moneysavingexpert.com
Ruddick, G. (2015). UK's record car sales driven by rising consumer confidence. theguardian.com
Strathclyde Partnership for Transport. (2016). Subway ticket prices. spt.co.uk
Trade Union Congress. (2015). Number of commuters spending more than two hours travelling to and from work up by 72% in last decade, says TUC. tuc.org.uk
Transport for Greater Manchester. (2016). Metrolink prices. metrolink.co.uk
Transport for London. (2016). Adult ticket prices. tfl.gov.uk
Gornitzki, J. (2013). 'Cycling everyday has saved me a lot of money': Get cycling on the cheap with the taxman's help. thisismoney.co.uk
Embed This Image On Your Site (copy code below):