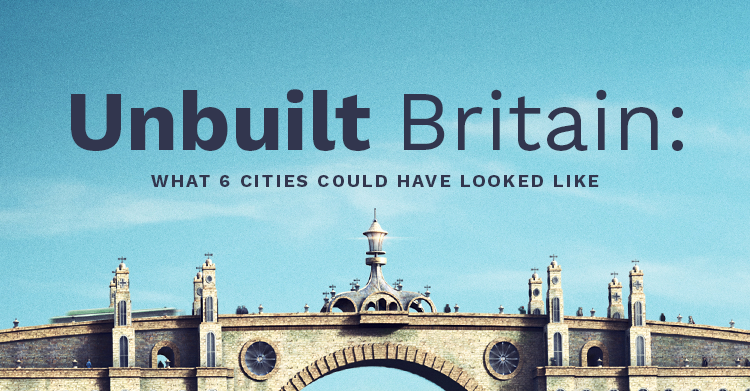 Unbuilt Britain: What 6 Cities Could Have Looked Like
Disclaimer: This post was originally published on our UK partner's site.
The city is an inspiring playground for ambitious architects. A single great idea or astonishing building can change how way people perceive and navigate the city overnight.
But ambitious ideas come with hefty price-tags. And in the city, there's always a political story to negotiate, too. Often, the most exciting ideas for buildings, bridges, and towers make it no further than the blueprint stage.
We wanted to resurrect some of Britain's most surprising unbuilt structures, so we trawled the archives for forgotten 'might-have-beens' and used lost plans and schematics to bring them to life in this new series of digital renderings.
What Bristol could have looked like
In 1864, Brunel's Clifton Suspension Bridge finally opened after 110 years of struggle. Bristol's famous landmark could have looked very different.
The idea for a bridge first came about after the 1754 death of a local wine merchant, who bequeathed a small sum towards its construction. After violent riots against a toll on Bristol's existing bridge in 1793, architect William Bridges unveiled a proposal for an overpass that would pay for itself.
Bridges' bridge would have almost been a small town. The arch was to be flanked by six 40-ft storeys of rooms and galleries, containing homes, a granary, corn exchange, chapel and tavern, museums, general market, a library, a marine school, offices, and stables.
But the social and economic impact of the riots and the French revolution made William Bridges's proto-steampunk construction impossible, and Brunel would have his day instead.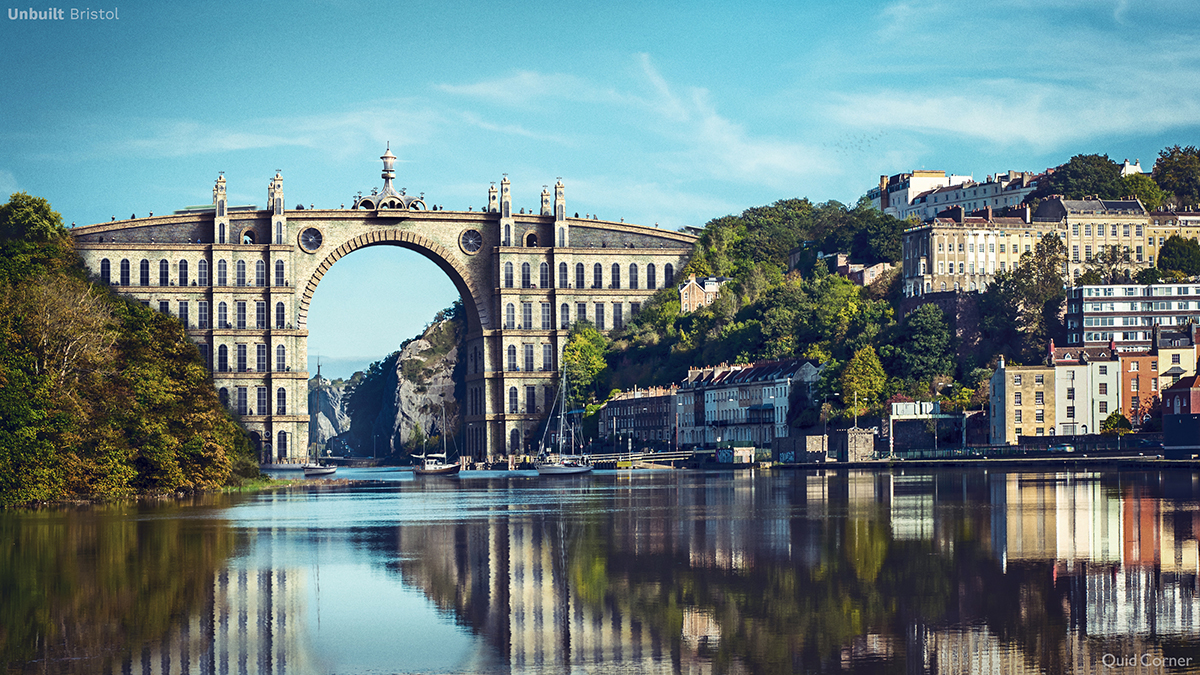 What London could have looked like
London's Southbank is a thriving area for art centres and cultural interventions, from the British Film Institute to David Blaine's 44-day stay in a temporary plexiglass box.
The Royal Festival Hall is a relatively conservative construction, but only because the chosen design pipped a more imposing Brutalist blueprint in a competition to commemorate the 1951 Festival of Britain.
Sir Misha Black and Hilton Wright's design would have dominated both the riverbank and the skyline, its imposing glazed spiral ramp leading to a 1500-ft high viewing platform across the city.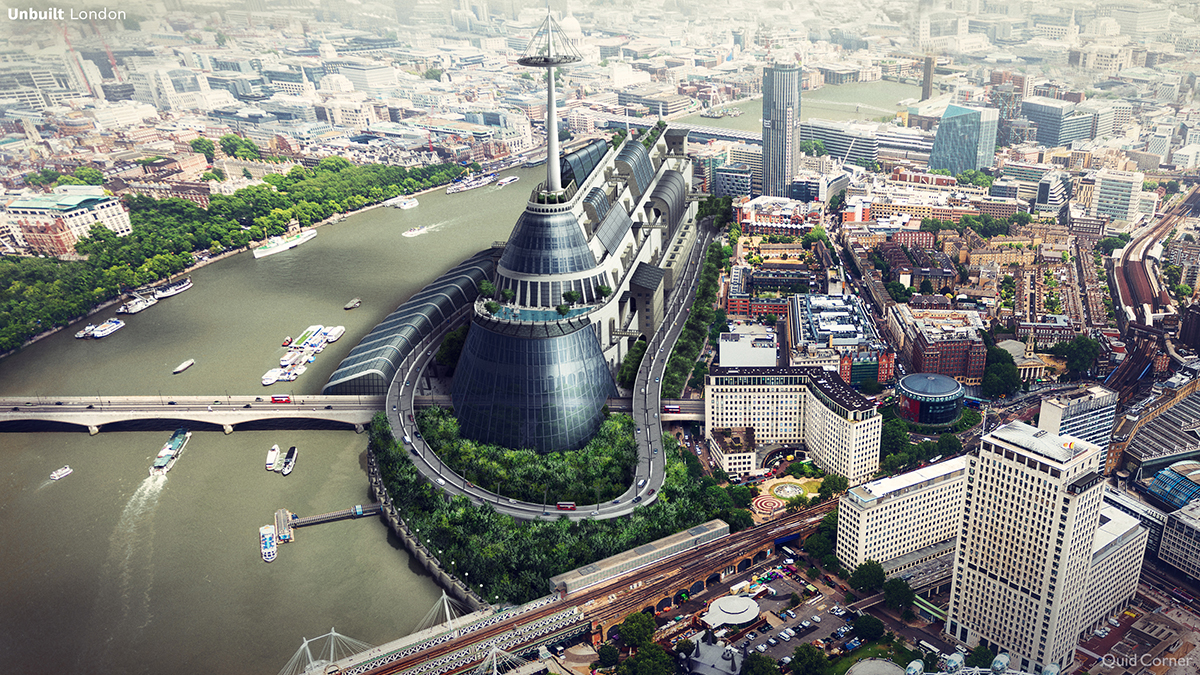 What Liverpool could have looked like
Visitors to Liverpool today can't fail to notice "Paddy's Wigwam," the tent shaped Catholic Cathedral at the opposite end of Hope Street from the giant Church of England Cathedral.
But believe it or not, the design could have been even more bizarre. C.H.R. Bailey's entry to the 1959 competition for Liverpool's new cathedral looks like it was ripped from the film set of sci-fi classic Forbidden Planet, released just three years previously.
The design is centred on a rocket-ship or "icing-bag nozzle" of a tower wedged in the grip of a circle of giant bird beaks that echo the curves of Sydney Opera House. The judges favoured the humanity of Paddy's Wigwam's democratic, centrally-placed alter over Bailey's space-age ode to science, which took second place in the competition all the same.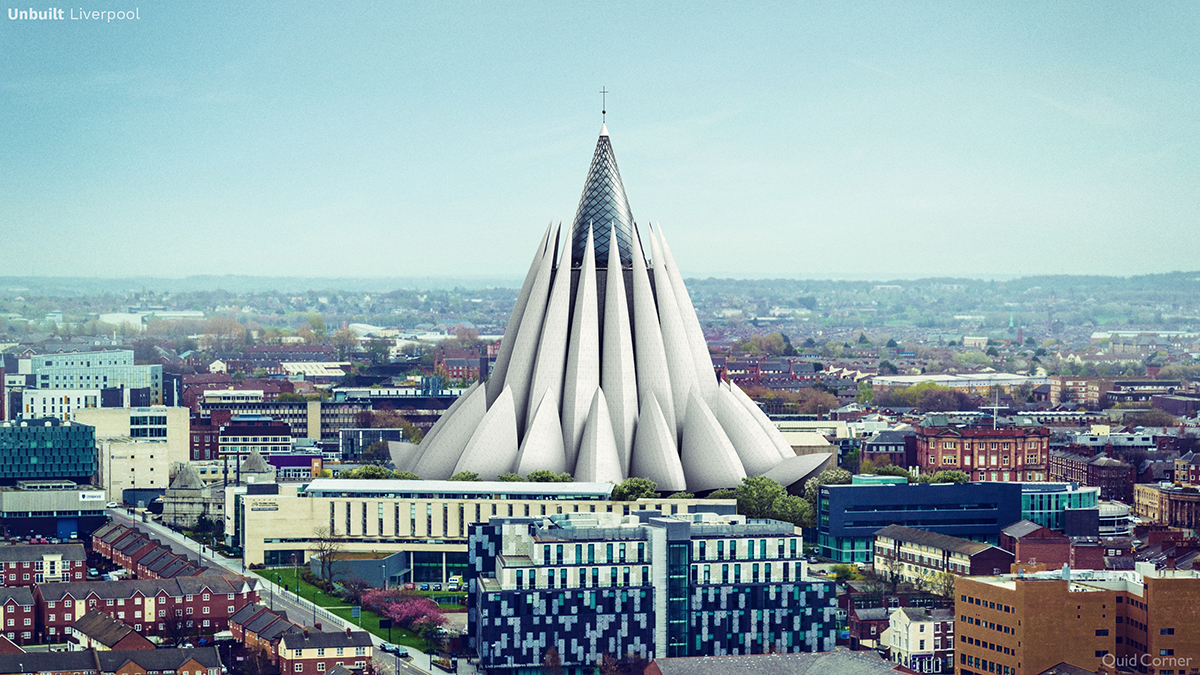 What Manchester could have looked like
The architecture of Piccadilly Gardens has long been a site of controversy for the people of Manchester. But few realize it could have been settled once and for all with the construction of an art gallery on the spot back in the 1930s.
After the First World War, the council voted for the area – which had been a temporary infirmary for returning soldiers – to be partially put aside for a new gallery and library. While the gardens were re-landscaped, a competition was held, with the forerunning gallery design provided by 29-year-old E. Berry Webber.
His was a dignified, austere vision which would double as a memorial to the fallen soldiers, and the columns of which would have echoed Manchester Art Gallery around the corner on Mosley Street.
In fact, if the harsh interwar economic climate hadn't brought an end to the plan, perhaps Webber's gallery would have supplanted the Mosley Street exhibition space, which would have been a shame – but at least it would have stood in the way of the dreaded One Piccadilly Gardens!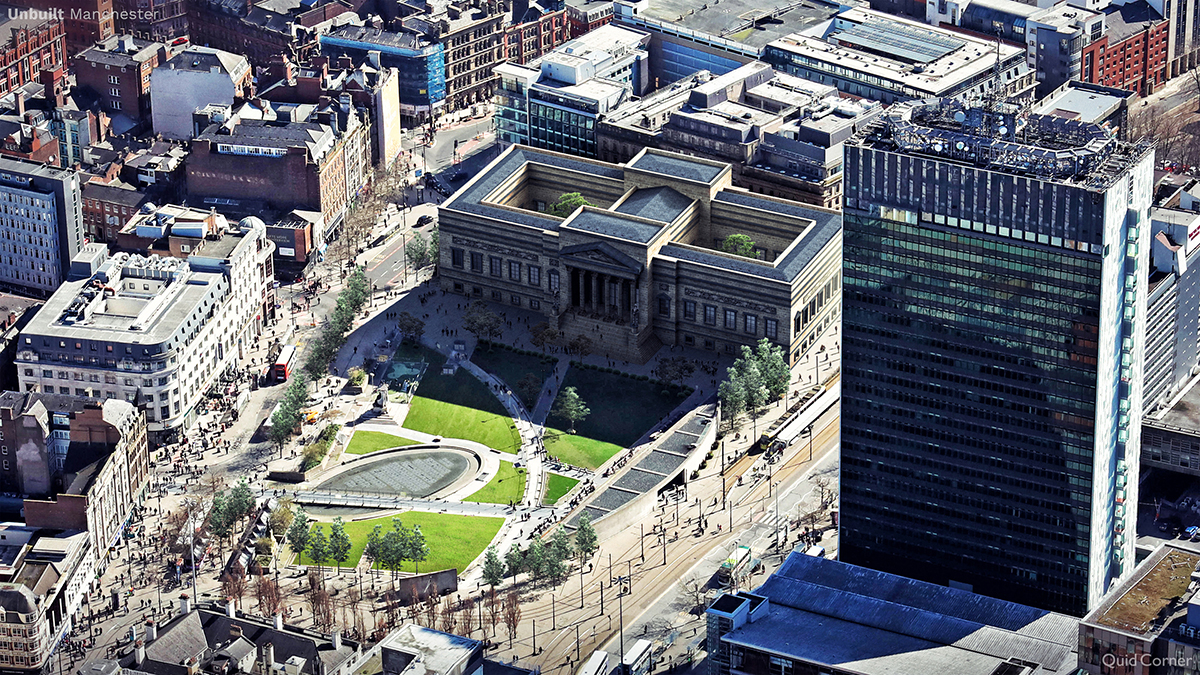 What Newcastle could have looked like
The 1960s was a swinging period for architecture, with new ideas, materials, and economic confidence rejuvenating the industry. All the same, Newcastle may seem an odd place to have become a 'city in the sky' – but it nearly happened.
In an effort to separate pedestrians from the modern blight of ubiquitous automobiles, Newcastle's city planners looked up. Designs were drawn and work began on a system of overhead walkways between raised buildings. Searching for a modern equivalent, expert Professor Stephen Graham suggests that Hong Kong is one of the closest real-life '3D' cities to use every dimension as Newcastle nearly did.
"There was this vision of an inspiring, modern, green and airy cityscape," says Graham of the sci-fi Toon that never was. "It was a brave new world."
Sadly, while glimpses of semi-realized walkways can be spotted around town, the overall vision became lost as construction was delayed by corruption and the city's economic woes.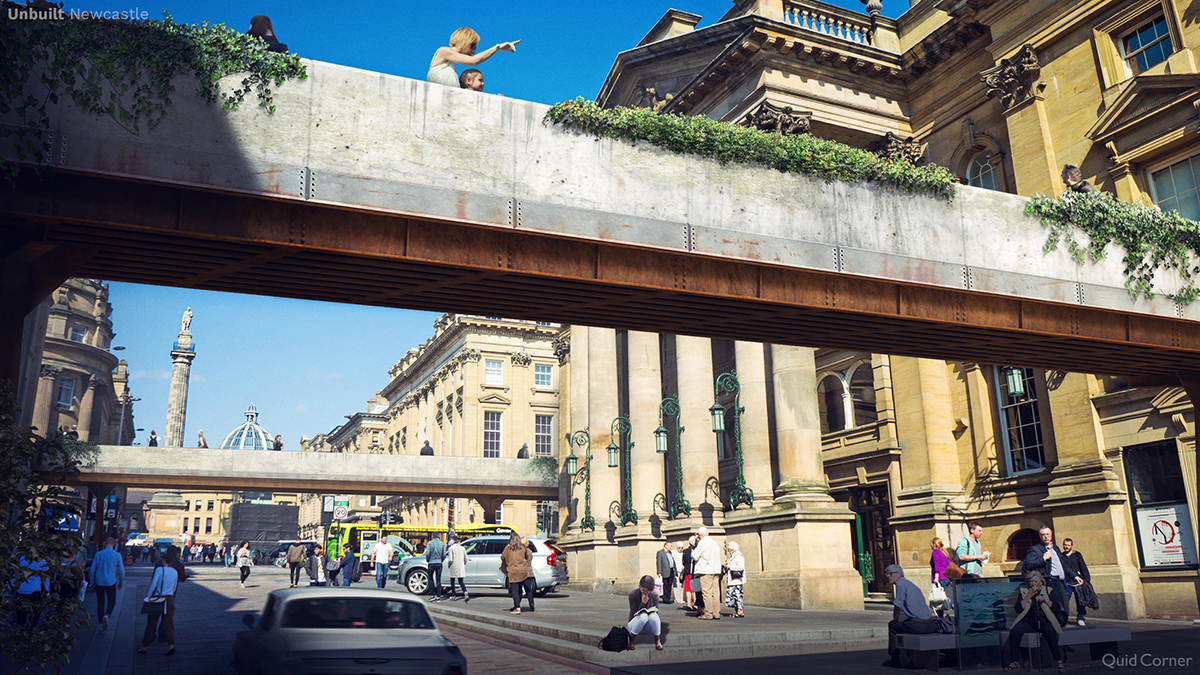 What Edinburgh could have looked like
Everyone is familiar with the way Edinburgh Castle peers down on the majestic city as it has, in many forms, for over 1,000 years.
But if its modern incarnation is 'set in stone,' with few changes to the castle's outline since the 18th century, occasional proposals for new features do pop up. For example, following the First World War, Frank Charles Mears suggested a Scottish National War Memorial route lined with monuments,
David Bryce's 1862 sketch for a Memorial Keep in honour of Prince Albert would have been a major change to the city's skyline. But Queen Victoria, Albert's widow, disapproved of the construction, and the tower was never erected.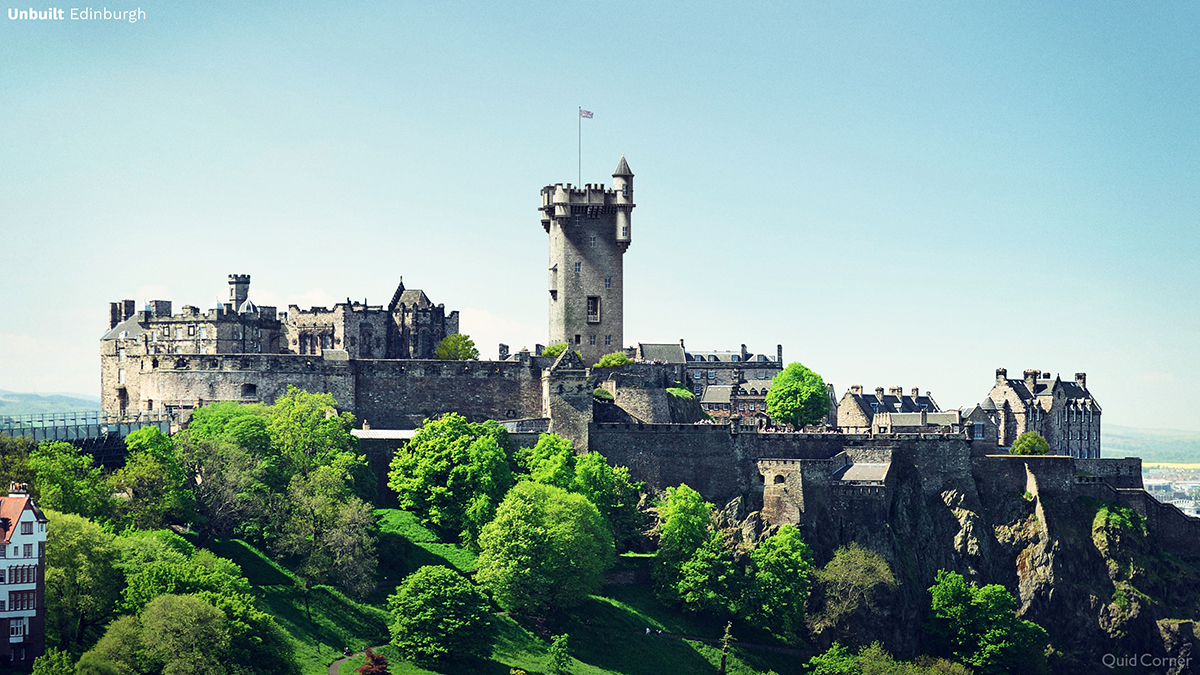 So, what do you think of these alternative-history cities? Outlandish ideas that should never have seen the light of day, or missed opportunities?
Sources
1. Body, G. 1976. Clifton Suspension Bridge: An Illustrated History. Bradford-on-Avon: Moonraker Press.
2. Brunel 200. The Clifton Suspension Bridge. brunel200.com
3. Arlonofini. 01 William Bridges Design. arnolfini.org.uk
4. Royal Institute of British Architects. Unexecuted design for the Festival of Britain exhibition complex, South Bank, London: aerial perspective showing a large proposed riverside structure in the form of a giant glazed spiral ramp. architecture.com
5. The I.B. Tauris blogs. Misha Black Proposal for 1951 Exhibition – 1946. theibtaurisblog.com
6. Atkinson, H. (2012) The Festival of Britain: A Land and Its People. London, United Kingdom: I.B. Tauris
7. Fairclough, D. (2017) Radical visions were more lemon squeezer than Lutyens. Did they get it right? confidentials.com
8. Wilkinson, D. 2017. A new cathedral, 1960: Designs from the architectural competition for liverpool metropolitan cathedral. Exhibit: A New Cathedral, 1960
9. Manchester City Council. How Manchester is Managed, 1935-1937. Manchester, England: Manchester.
10. Newcastle Historian. 2006. The City and Its Plan. Skyscrapercity.com
11. Newcastle Historian. 2006. A Five-Year Partnership. Skyscrapercity.com
12. Historic Environment Scotland. (2016) Exhibition explores Edinburgh's unrealised grand designs. historicenvironment.scot
13. Christinson, G. (2016) Unbuilt Edinburgh: Exhibition of grand designs the capital never saw.
express.co.uk