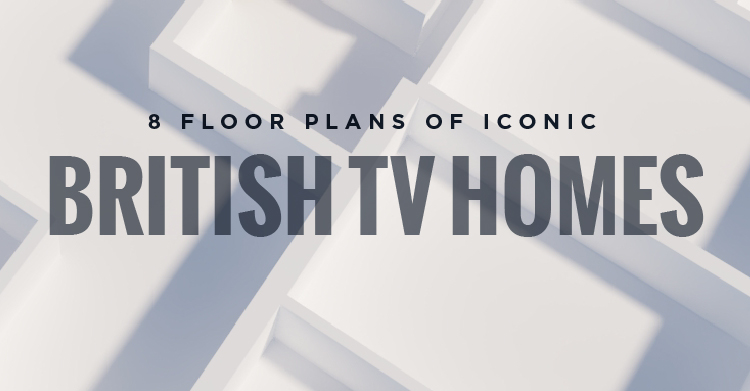 8 Floor Plans of Iconic British TV Homes
Every week, your favourite TV characters invite you into their homes for a chat, a laugh, and probably a bit of high drama, too. Over the months and years, those TV homes become so familiar that you're sure you could find your way around if you ever managed to pop in for a real-life cuppa.
But in the meantime, you're at the mercy of the camera operator. It would be great to explore the homes of classic TV shows, but you'll never have the chance to see what's hanging on that mysterious 'fourth wall.'
Until now. Eager to capture the dynamic family feeling of our favourite shows, we decided to create floor plans of British telly's most iconic homes. Now, who would live in a house like this…?
1. Only Fools and Horses (The Trotter Family)
For 22 years, Del Boy and Rodney welcomed us up to the 12th floor of Nelson Mandela House, the fictional Peckham high rise played by Harlech Tower across seven series and sixteen Christmas specials.
Exterior Location: Harlech Tower, Hope Gardens, London W3 8SF
2. Peep Show (Mark and Jez's flat)
Nothing captures the flat-pack atmosphere of the early noughties quite like the Peep Show flat. But a two-seater sofa that could easily seat six makes the place a bit more welcoming.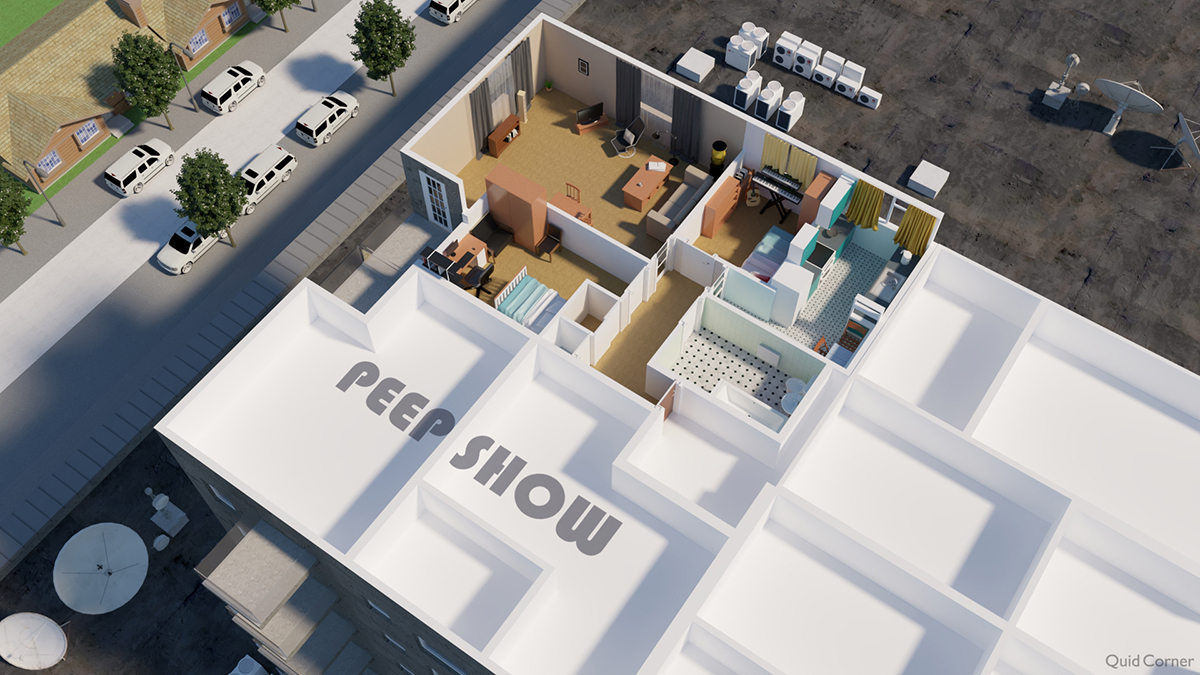 To get the 21st century prototypical bachelor's flat look, you'll need plenty of beige and blue tones. Add a hanging rug to the wall and don't forget the flat screen TV in the corner. Why not add some unexpected zest with an aquatic-green trim in the kitchen.
Exterior Location: Zodiac Court, 165 London Rd, Croydon CR0 2RJ
3. Father Ted (Home of Father Ted, Father Dougal, and Father Jack)
Perhaps we can call Father Ted's interior design 'ecumenical gothic.' All the comfort of a place that hasn't been decorated since furniture was really furniture, with the added gloom of parochial life!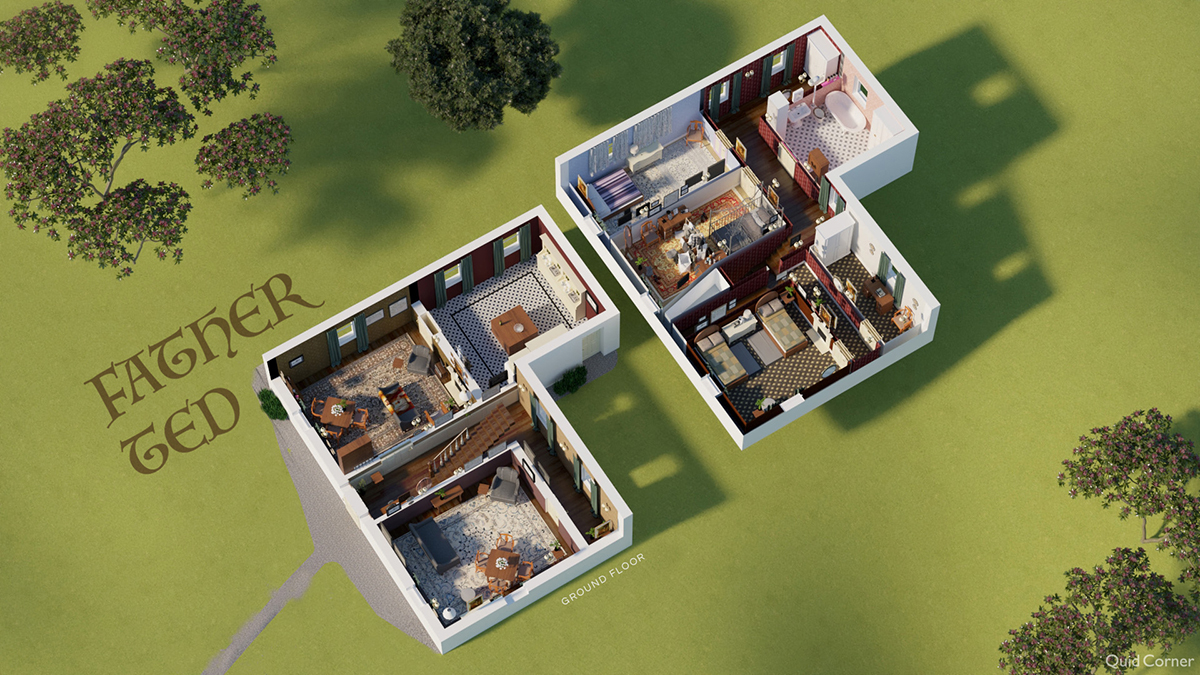 Pump up the kitsch with some shiny ornaments and add warm colour with huge rugs. For the kitchen, try and get hold of a huge sixties style fridge. For the full Mrs Doyle look, overstock it with milk for those endless cups of tea.
Exterior Location: Glenquin House Glenquin Kilnaboy, Ennis, Co. Clare, V95 VY2F, Ireland
4. Eastenders (The Carters' home above the Queen Vic pub)
Tapping into the Trotters' legacy, Mick Carter has never been afraid to add just a touch more colour to his Albert Square suite, which is shot on a BBC set.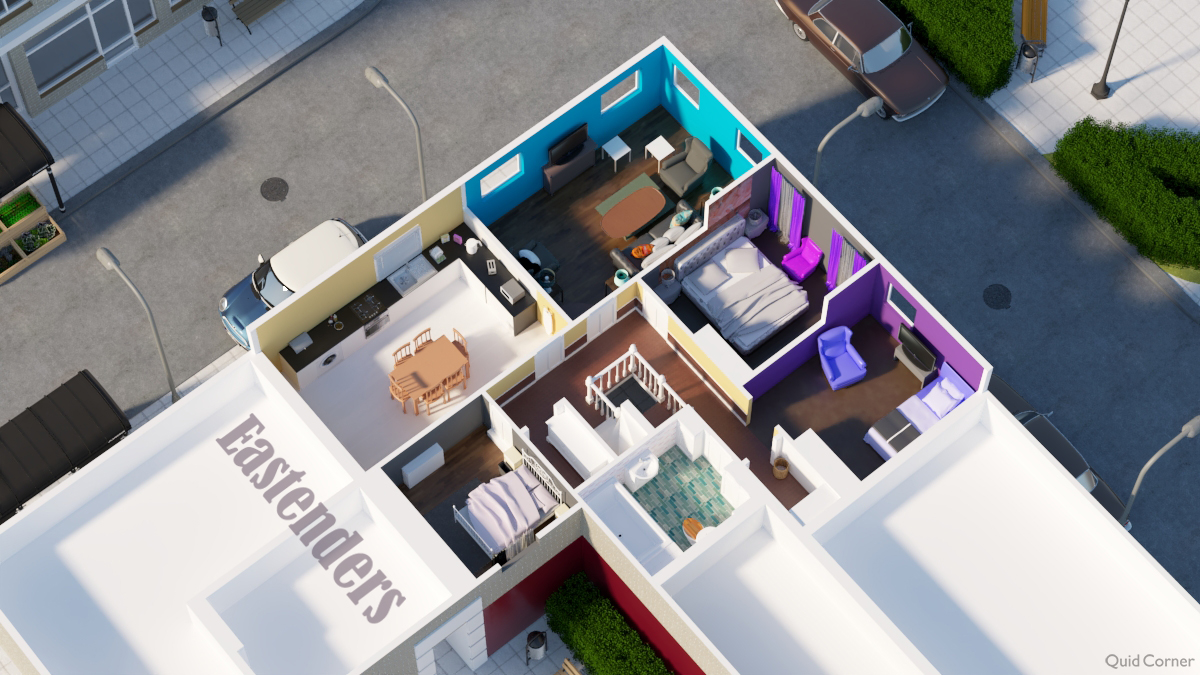 To achieve this look you'll need a wall of tropical bird wallpaper, coupled with some bright walls of unbroken turquoise. The vibrant colour will brighten any gloomy apartment. Silver-trimmed furniture means that like Danny Dyer, you never need not feel like royalty.
Exterior Location: BBC Elstree HD TV Studios, Clarendon Rd, Borehamwood WD6 1JF
Note: Scenes at the Queen Vic are shot on set at BBC Elstree Studios.
5. Broadchurch (Alec Hardy's house)
Nobody does 'small town murder-mystery' quite like the British. And now you can get that small town murder-mystery feel in your home, too! D.I. Hardy's little blue chalet on the banks of the River Brit is Dorset in a nutshell.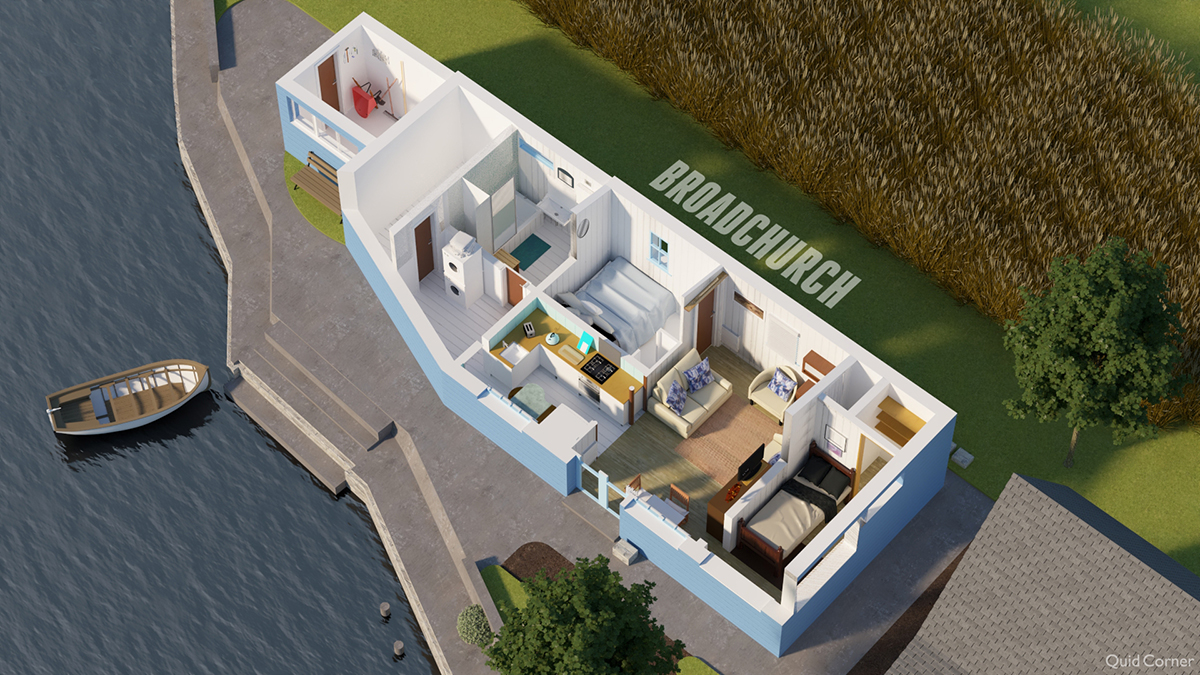 Sadly, ladies and gents, while the real-life chalet crops up on the market from time, it doesn't come with David Tennant included. The good news is that to get the look you can get pretty close with a big tin of turquoise or sky blue paint and some wooden panelling.
Exterior Location: Britbank, Riverside, West Bay, Dorset, DT6 4GZ
Note: Chalet view only available from above.
6. Peaky Blinders (the Shelby Family's home)
We reckon The Shelbys' Watery Lane home and betting shop is three terraced homes knocked into one.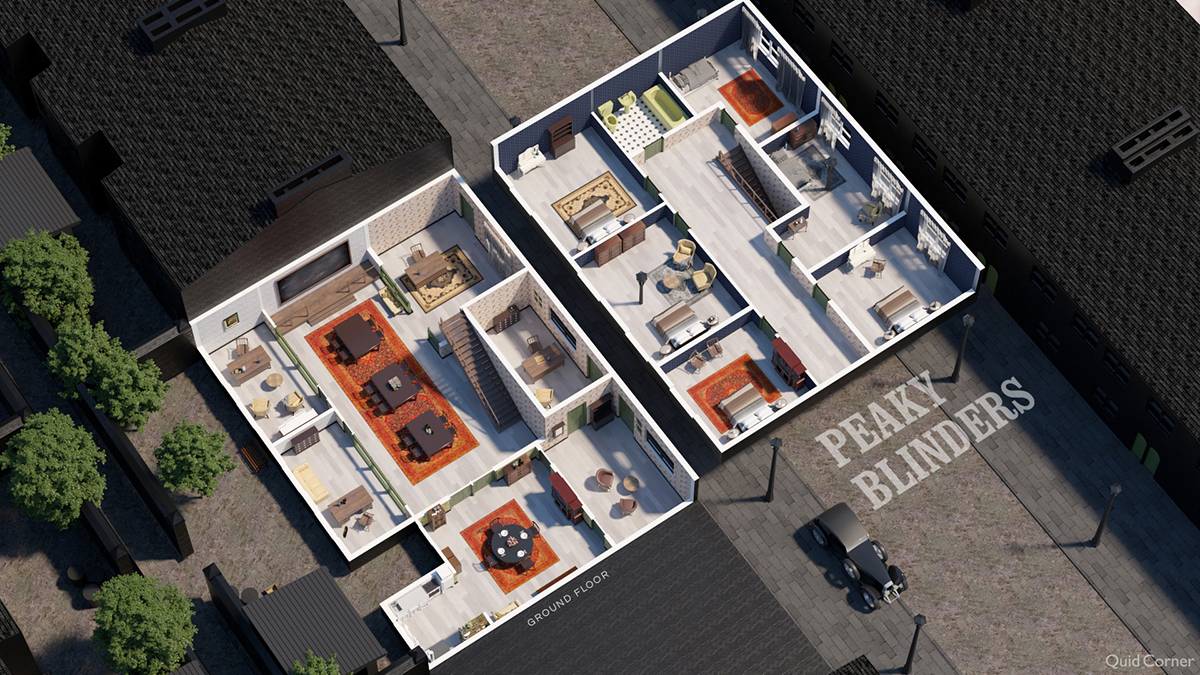 It may not be an obvious source of inspiration when decorating your home. But if nothing else, take from them a lesson or two about lighting. Basically, keep it very low. Candles or low wattage bulbs will do the trick. Furniture wise, be on the lookout for Victorian era pieces.
Exterior Location: Powis Street, Liverpool, L8 3TU
7. Royle Family (Jim and Barbara Royle's house)
Well, it's hardly Buckingham Palace, is it? All the same, the Royles' Manchester gaff, shot on set at Granada Studios in Manchester, saw more life than Her Maj's place ever did.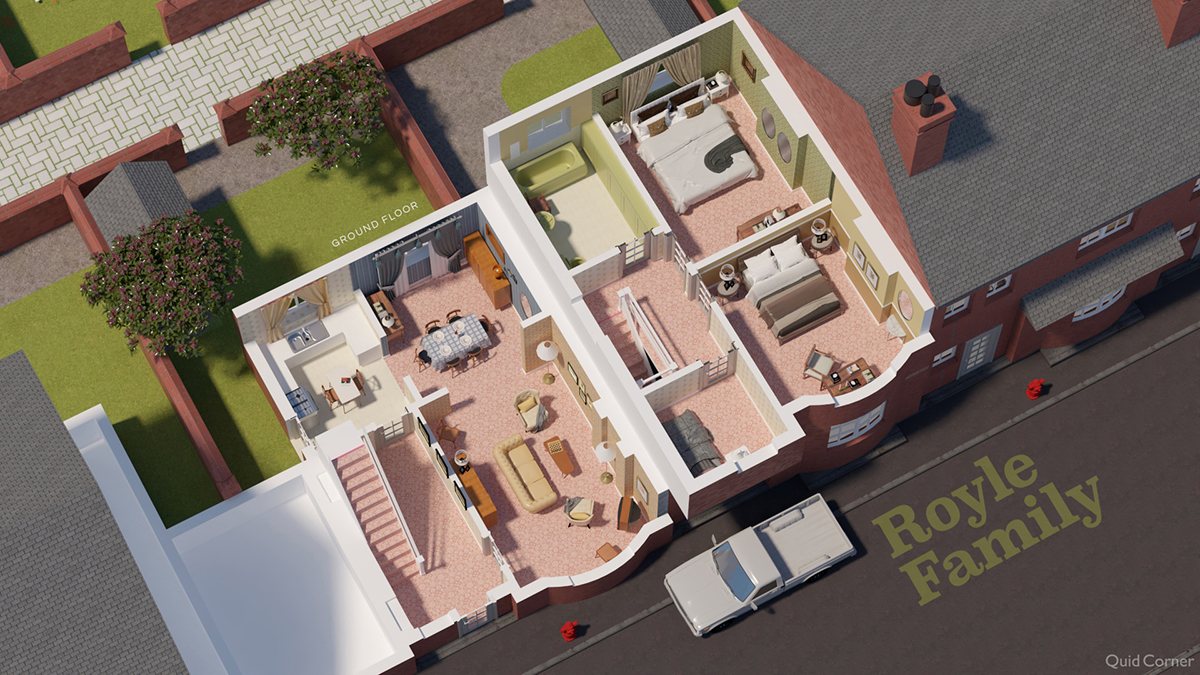 Limited space doesn't have to be a problem, interior doors with their own windows can help light flow through the space and make it feel more roomy. To create a cozy living room, pick up some bohemian style furniture and enjoy some long nights in front of the telly.
Exterior Location: Quay St, Manchester M3 3GS, UK
Note: The Royle Family was shot on set at Granada Studios.
8. Luther (Luther's flat in season 2)
Idris Elba's maverick detective puts a bit more passion into his cases than into his DIY game. But if the show's producers lit his flat in seven shades of gloom, it's possible to pick out the highlights from underneath.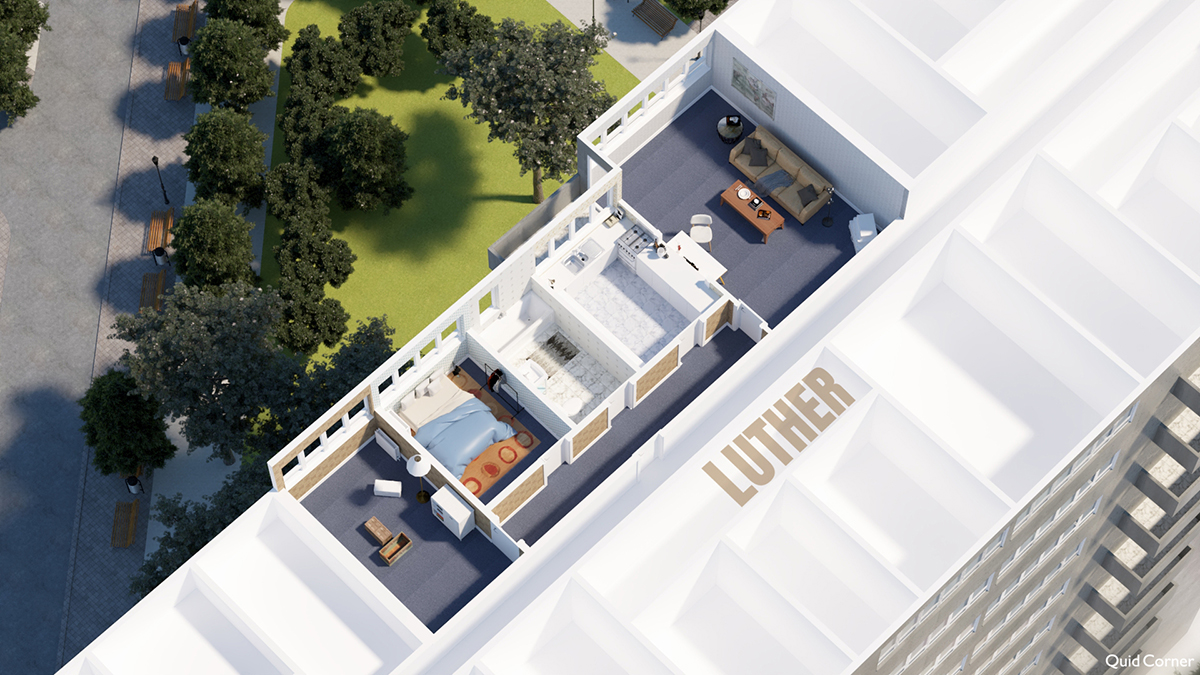 It may look a little scruffy, but that red-brown leather sofa and vintage formica table are retro classics. Patrol your local vintage furniture spots if you want to get the Luther look. We just advise you keep things a little tidier than he did.
Exterior Location: Lund Point, Stratford, London E15 2JP
Which design inspires you? Are you more gritty inner-city detective or regular Joe on a budget?
Sources
Eames, T. (2018). How the apartments from Friends, Big Bang Theory, Sherlock, Stranger Things and other shows are really laid out. digitalspy.com
OFAH. (2010). Nelson Mandela House. ofah.net
Reddit. (2016). 2 bed flat for sale in Zodiac Court. reddit.com
Totally Money. (2018). Compare TV show house prices – then and now! totallymoney.com
Fandom. (2018). Royle Family Wiki. roylefamily.wikia.com
Father Ted House. (2018). Father Ted House. fathertedshouse.com
Fandom. (2018). The Queen Victoria. eastenders.wikia.com
Keay, L. (2017). Someone's looking to make a killing on this chalet! Wooden bungalow which was home to David Tennant in Broadchurch is on market for £300,000. dailymail.co.uk
Stags. (2018). Brit Bank. media.onthemarket.com
Fandom. (2018). Shelby Home & Betting Shop. peaky-blinders.wikia.com
IMDb. (2018). Episode #2.1 Filming & Production. imdb.com