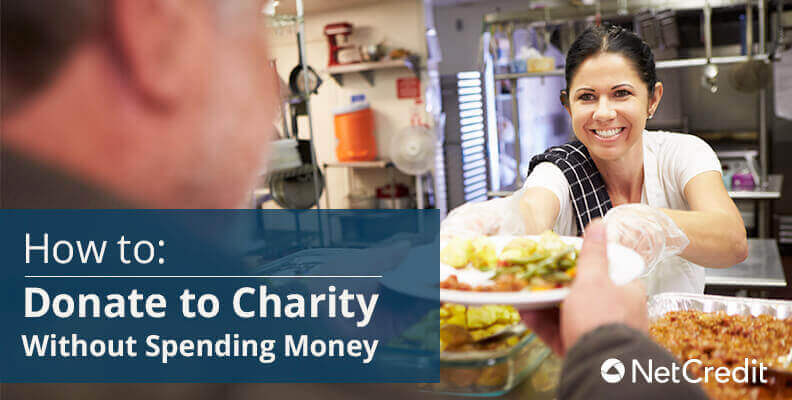 5 Ways To Be Charitable Without Spending Money
Unfortunately, there are many people who would like to donate money to charity but just aren't in the position to do so. You don't have to feel like a miserly curmudgeon (or just plain down about your finances) when you ignore fundraising solicitations. If you use the things you can give freely to be charitable, you'll keep both your heart and your wallet full. There is one thing you have that is priceless: your time.
We've compiled a list of things most anyone can do to help contribute to their community or a charity in non-monetary based ways. Read on to find out how donating your skills, time and other things can really make a difference beyond a basic donation.
1. Learn to Knit
If you can knit or sew, there are a number of charities that can use your homemade items. Reach out to charities like Leggings for Life, The Snuggles Project and Afghans for Afghans. While some of these charities give to animals and some give to humans, they all give to good causes, and many of them have free patterns you can use to get started.
2. Volunteer Your Time
People who are free to give their time can contact their local children's hospital, hospice, homeless shelter, senior center, animal shelter or any other group that's directly involved in charity work (as opposed to just fundraising). All of these groups have various needs that only volunteers can fill. If you'd like to find volunteering opportunities that match your interests, search for them online. A website like Volunteer Match can help! 
3. Donate Things You Don't Need 
Whether it's clothing, household items or even your own hair, there are many charities that can put unused and unwanted donations to use. Or, if you're so inclined, you can regularly donate blood or plasma. Plasma donations can be made more frequently than blood donations, and donors with type O blood are prime candidates for donation since their blood is universally compatible with all blood types. First, check here to see if you qualify for blood or plasma donation. Then, find a donation center near you.
4. Use a Charity Credit Card
 Using a credit card to pay for things you already buy can earn rewards that go directly to a charity of your choice. As with anything involving credit cards, you should closely review the rates and terms involved to make sure it is worthwhile and that you are able to pay the balance rather than rolling it over and accumulating fees. You can also just use cash back rewards cards and donate the cash back. Sometimes the amount of money you receive back will exceed the amount a charity credit card will donate for you.
5. Utilize Online Tools 
There are a variety of online opportunities for you to be charitable. You can search the web using the search engine SearchKindly, which will then donate on your behalf to create libraries for under-served schools. You can play educational games on Free Rice, which donates ten grains of rice to the United Nations World Food Program for each question you answer correctly. You can shop with Good Shop, which will give a percentage of your sale to a charity of your choosing. And you can read public domain books out loud while recording your voice for LibriVox, which will make your recording available to the public as a free audio book.
If you have the heart to give to charity, you shouldn't be held back by your financial situation. Give freely by sharing the most valuable thing that cannot be gained or traded! Your time is a precious thing — do not undervalue how impactful that type of donation can be for a charity.