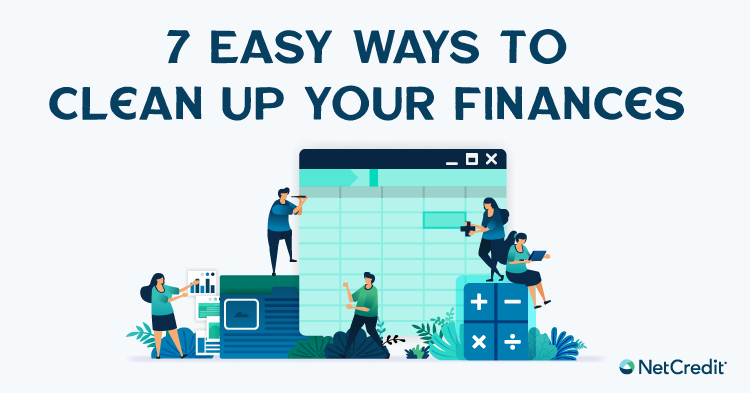 Spring Cleaning for Your Finances
Spring is a time to refresh and to set goals that better your future. While you might be ready to clean and update your home, now is also a great time to spring clean your finances to set yourself up for financial security. Last spring was a challenging time for many with the pandemic shifting most aspects of everyday life. As society progresses into a post-pandemic landscape, it can be beneficial to look into the ways to clean up your finances and set new goals this spring season.
Reevaluate your budget
One of the most important ways to clean up your finances is to reevaluate your budget. It is always best practice to reassess your budget each year, but this becomes particularly necessary after the pandemic, which caused significant change. For example, if you now work remotely and are spending less on gas and parking, you can account for that in your new budget. However, you may be spending more on high-speed internet or financed new office furniture so remember to update these new costs into your overall budget for accuracy. It can also be helpful to comb through your subscriptions and cancel existing services you may not need. Even though sometimes subscription services can be a low cost per month, having multiple services that are either redundant or not used can add up.
Set up a financial safety net
Now more than ever, having a financial safety net is important in protecting your future while providing an overall sense of security. When reassessing your finances, make sure that you have adequate protections set up to protect your financial wellbeing.
Look into insurance policies
While securing insurance policies can sometimes be a daunting task, having proper coverage can protect you from a large financial burden in an accident or unexpected event. This spring, take some time to reevaluate current policies to see if there are any ways to cut down on premiums and costs. For example, if you have a renter's and an automotive insurance policy through two different carriers, see if you can save by bundling these policies together. Moreover, check with your automotive insurance company to see if there is a safe driving course you could take to lower your premium or if there is a discount for driving less (if you aren't commuting for work).
Furthermore, a way to protect those that depend on your income is to secure a life insurance policy. If you don't have a policy or have a small policy through an employer, consider looking into the best life insurance companies for your particular situation. When securing a policy, the insurance carrier will take into consideration various factors and the amount of coverage needed to determine your rate. A good measurement when determining the amount of coverage needed is to find a policy about ten times your annual income. This provides enough coverage for your dependents to continue meeting monthly obligations while accounting for future needs.
Set up or replenish your emergency fund
Building up an emergency fund is always a smart financial practice, but is especially important during times of uncertainty. If you dipped into your emergency fund or don't have one yet, consider making this a priority, especially considering the current landscape. The amount of funds to have set aside isn't a one size fits all model so take some time to review different perspectives on the amount of savings needed. Having an emergency fund that is "out of sight and out of mind" is an important safety net to have to protect you from any unforeseen events. If you are receiving stimulus payments or a large tax return, consider putting some of these funds into an emergency fund or replenishing an existing account that you may have tapped into last year.
Discover additional income streams
When finding ways to create a financial safety net, sometimes it pays to get creative. While receiving a pay increase from a current job is a way to further promote financial goals you may have, this is not always possible. Since you cannot always control the timing of your promotions and raises, it can be helpful to look into other ways to earn additional income on the side. Think about your interests and see if there are any ways to capitalize on your hobbies or passions to bring in more money. For example, if you enjoy arts and crafts, consider setting up an Etsy shop or selling your homemade items on your local online marketplace. You can then reinvest these funds into building upon this initiative, contributing to a savings account, or paying off debt.
Address credit concerns
After a tumultuous year, you may have delayed making payments on monthly obligations, which can affect your credit score if you don't have a plan in place. Because having good credit is fundamental in promoting a healthy financial future, try to find ways to "clean up" any issues you may have with your report. Sometimes, there are errors on your report that you might not be aware of if you don't monitor your credit account from time to time. Checking for inaccuracies and finding ways to work with lenders to dispute errors or derogatory remarks can improve your overall financial standing.
Furthermore, if you used credit cards during the pandemic and are in a better position this spring, look back into your accounts to see if there are ways to improve your financial standing moving forward. Due to the economic landscape of this last year, there might be grace periods where you can make payments and get yourself back on track with little to no interest or additional fees. If you are behind on any payments, see if there is a way to be put on a payment plan without affecting your credit score. Moreover, consider looking into a personal loan to combine high-interest credit cards into a lower monthly payment. Depending on your loan,  you may be able to pay down debt faster than you would have by making minimum credit card payments, and you may also have the opportunity to boost your credit score by making on time payments on your loan.
Revisit financial goals
Last year, you may have needed to put financial goals on the backburner to account for major changes caused by the pandemic. If you find that your situation is improving, this spring is a good time to revisit goals you may have made last year or in the winter. Remember that your financial goals don't have to be static and can change depending on what works best for you at that given time. If you find that one of the goals you set for yourself seems more difficult to achieve, revisit this objective to determine if there are smaller and more attainable goals you can set first to help you achieve this bigger picture ambition. For example, rather than setting a goal to pay off all of your credit card debt, start by making it a point to pay off your credit card that carries the highest interest rate first. By refreshing and setting new and relevant goals, you put yourself in a better position and continue to stay motivated in your financial journey.
After an unpredictable year, you might be in a different financial situation than you were planning for. Even if your situation has not drastically changed, consider the ways that you can "spring clean your finances" by making intentional changes to lay a solid financial foundation to build upon. Financial planning doesn't always have to be stressful and overwhelming. Take small steps first to promote long-term financial stability.
The information in this article is provided for educational and informational purposes only, without any express or implied warranty of any kind, including warranties of accuracy, completeness or fitness for any particular purpose. The information in this article is not intended to be and does not constitute financial, legal or any other advice. The information in this article is general in nature and is not specific to you the user or anyone else.