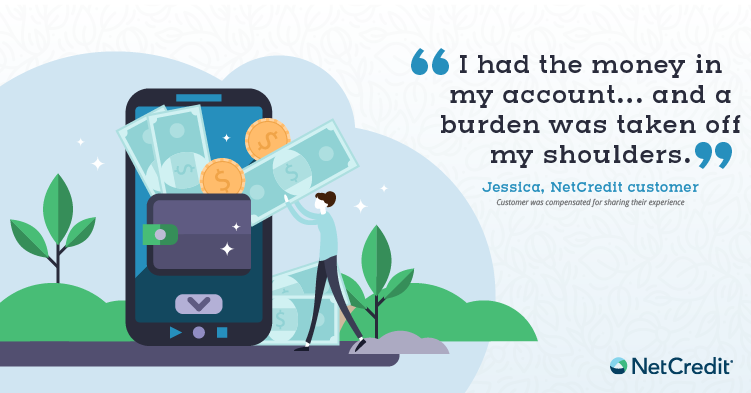 Finding the Path Through Financial Hardship: A NetCredit Success Story
Disclaimer: Customer was compensated for sharing their experience
Jessica is a single mom, working in the medical field. She loves her job and volunteering at the local cat shelter, but above all, she loves her daughter. Jessica is a hard worker doing the best she can to support herself and her daughter, including working two jobs to cover their expenses.
A recent move and a last-minute change in travel put a strain on Jessica's budget. The cost — compounded by losing one of her jobs — led Jessica to search for a financial partner to help her through these trying times. Thankfully, she had already worked with a trusted lender and knew exactly who to turn to when she needed funds to get by.
Jessica Faced Unavoidable Car Repairs
"I was having some mechanical issues and for probably about a year, my car kept dying while I was driving either on the highway, just driving down the road and I didn't know what was going on. I was on my way to work and my car died five times on the highway. So you can imagine going 60- to 70-miles per hour, your car dying, and people just flying past you or behind you, and you have to pull over. And it was, it was a nightmare.
So I didn't know how much [car repairs] were going to cost… my car wasn't under warranty anymore. And car repairs are always out of this world and you're always scared, like, Oh my gosh, they're going to find one thing. What else are they going to find? But at that time I knew I needed my vehicle to get to work. So that's why I ended up reaching out to NetCredit so I can get a loan and get my car repaired."
Jessica was in a bind, but in no space to compromise. She needed her car for work. Without a paycheck, she wouldn't be able to support her and her daughter. NetCredit understands that things happen that are out of your control and offers fast and easy solutions to help you get by.
Past Experience Gave Jessica Confidence in Her Future
"My daughter had moved to another state, which put me in a little bit of a financial crunch and she wasn't working… she had come home with her friends, and then she didn't leave when she was supposed to, so I had to pay for a plane ticket for her to go back out there. And then a week later, she decided to come back home and that cost… Within a week's time, it cost me over $500.
 Yeah, [the travel] was an unexpected expense that I wasn't planning on paying for, so that really put me in a situation where I was like, "Okay, what am I going to do?" And I was like, "Well, I know one place that I could turn to," and that was you guys. So, of course, there were other things that I had to pay for, but, of course, I wasn't gonna leave my daughter high and dry because it's my daughter. I can't say no to my daughter. This is my baby."
When it comes to supporting her daughter, Jessica does not hesitate. This devoted mom knew what she needed to do to help, even if it meant incurring this extra financial strain. Her past car trouble was resolved smoothly with NetCredit. This time around, she knew exactly who to turn to for the reliable support she needed.

Jessica Found the Relief She Needed When She Needed It Most
"Sure enough, the process was easy, and it took a finger snap of time to get everything processed and that was it. You guys were just wonderful with getting everything done for me, so you guys are reliable, and I'm glad that I could count on you guys to come through for me."
It's like, 'Well, I really hope they're able to give me the funding because I got to get my car fixed. I got to be able to make it to work. And like I said, the process was really easy. I was able to fax you guys the information, and I believe within 24 – 48 hours, everything had been completed and I had the money in my account, and after that, I was just relieved. I was just like, 'A burden was taken off my shoulders,' and I was like, 'Oh, thank the Lord.'"
Jessica's installment loan through NetCredit wasn't just a relief from this one unexpected expense. She now had the confidence of a financial safety net that didn't cause her stress or frustration when she was faced with another financial challenge shortly after her necessary car repairs. The process was quick and easy.
Jessica's Approach to Personal Finance
"I think I have been better with it just recently, but sometimes things happen and circumstances arise that you just don't have any control over. Thankfully, there's companies like you guys that are out there that swoop in and help out, and I'm grateful for that. So I'm thankful that I was able to get a loan with you guys the first time and pay it off. And now you guys were able to help out again when I had something that popped up. So, you know, I'm human and things happen, and that's how I look at things. It's not the end of the world.
 You guys will be the first one that I'll recommend to anyone. So, I appreciate you guys being there for me again, a second time, so I'm glad you were able to help me out in my time of need. It's… Especially in this crazy 2020 that we're in right now."
It's hard to be prepared for unexpected expenses, especially when they come at a time of economic turmoil. As society works toward a return to normalcy, there's one thing Jessica knew she could count on: NetCredit. Her access to credit not only gives her the funds she needs — it gives her peace of mind.
Thank you to Jessica for sharing your journey with us and showing how a personal loan through NetCredit can help bridge the gap during trying financial times. If you'd like to read more customer experiences, visit our success story page