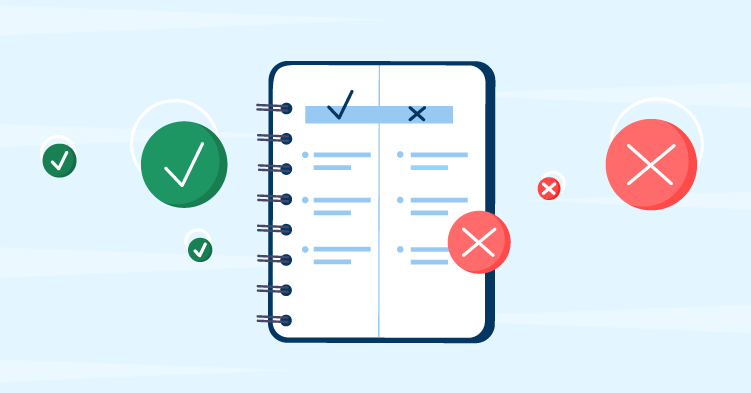 What Are the Pros and Cons of Online Loans?
Thanks to online loans, you can access a variety of funding options with a few clicks. Depending on the lender, online loans can offer a few potential advantages: a streamlined application process, fast funding and broader eligibility requirements. However, they lack the in-person services that brick-and-mortar lenders can offer.
In this blog post, we'll explore some pros and cons of online loans and what to consider before applying.
What Are Online Loans?
An online loan is a type of loan obtained through an online lending platform. It may come in the form of a personal loan, which is meant to address consumer needs. Or it may take the form of a business loan, which is meant for small business needs.
You can apply for both secured and unsecured loans online, including:
Unlike traditional loans, the entire process for online loans — application, approval and fund disbursement — happens online. This eliminates the need for in-person visits to banks or credit unions.
Pros of Online Loans
It may be easier to apply. One of the clearest advantages of online loans is their simple application process. Instead of going to their local bank or credit union, borrowers can complete their entire loan application online. The streamlined process makes online borrowing a convenient option for those with busy schedules.
You could get funds faster. In urgent financial situations, it could be critical to receive funds quickly. Usually, online lenders offer faster approval and funding than traditional banks. You can get funds in your bank account within a few hours or business days (depending on your lender and loan type).
It's easier to compare offers. Online loan comparison websites make it easy to review interest rates, repayment terms and other conditions side by side. This can empower you to make an informed decision and find the best loan for your financial needs.
Additionally, many online lenders allow you to seek preapproval or prequalification. This way, you can get a sense of the loan amount, rates and terms you may be eligible for. Once you enter some basic information, certain lenders make a soft credit inquiry — also called a soft credit check — which doesn't impact your credit score. Be sure to confirm that the lender uses a soft credit check, rather than a hard check, which could affect your FICO score.
You have many options. Since you're not limited to lenders with locations nearby, online loans can offer a broader range of lender options. Online lenders are sometimes more willing to consider a wide range of credit histories. If you have bad credit, you may find a greater likelihood of approval with online loans.
Cons of Online Loans
There's no in-person service. One of the downsides of online loans is the absence of face-to-face interaction. Online lenders, however, may offer chat, email and over-the-phone customer support.
You may get better terms at a bank or credit union. Online loans are convenient, but may have higher interest rates than traditional lenders. Banks may offer lower interest rates or longer repayment periods.
You'll need to make sure security is a priority for the lender. Applying for an online loan through a reputable lender is typically safe, but be sure to pay attention to the security measures in place. These include encryption, secure servers and data protection policies. To avoid falling for a scam, research each lender before giving them any information.
You may not be able to borrow as much money. Online lenders are convenient for smaller loans, but they may have lower borrowing limits. If you need a larger loan amount, exploring traditional options may be necessary.
How Do You Know if an Online Loan is Right for You?
Before you dive into online loans, think through what you need and what you can afford.
Evaluate urgency. If you need immediate funds or have time-sensitive expenses, the speedy online loan process may be your best option.
Assess your creditworthiness. Request your free credit report from the three major credit bureaus — Equifax, Experian and TransUnion. If you have a sufficient credit score, you can explore competitive interest rates from online lenders. For those with poor credit or no credit history, online lenders specializing in "bad credit loans" may be more accommodating than traditional banks.
Compare loan terms. Examine your personal finances and be realistic. Consider how much — including interest — you can afford to make in monthly payments. Review the terms, interest rates and fees offered by online lenders. Then, compare all of your options to ensure you get the best loan rates and terms for your situation.
Consider the loan amount. If you need a significant amount of funds, your online loan offers and options may be narrowed. However, it is still worth exploring online lending in addition to traditional banks and financial institutions.