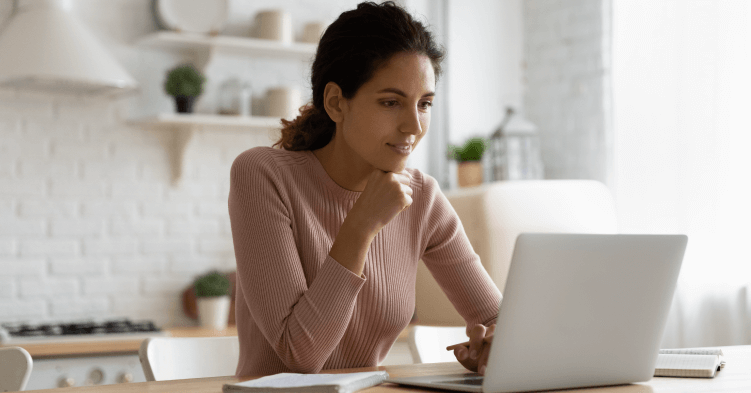 Are Online Loans Safe? What To Look For in an Online Lender
If you need fast, convenient funding, online loans are one solution many borrowers consider. And if you have a less-than-perfect credit, you might have better luck with online loans than traditional bank loans.
But are online loans safe? How do you choose an online lender?
A legitimate online lender is just as safe as using a brick-and-mortar lender. Here's how to find a trustworthy lender and get started with online loans.
Is It Safe To Take Out a Loan Online?
Generally, it is safe to take out an online loan. Just be sure to borrow from a legitimate online lender and steer clear of scams. Before you provide information to an online lending website, conduct some research and look for signs of credibility.
How Do You Know if an Online Lender Is Legit?
Signs of a reputable lender include:
Proper registration. Registration in your state is a basic qualification — contact your state's banking regulator to check the lender's legitimacy.
A secure website. Look for the padlock symbol next to the website's URL, which is a sign of data encryption. Additionally, check if the URL includes the "s" in "https," which stands for "secure."
Positive reviews. Reputable lenders should have a presence on review websites, such as Trustpilot. Look for a high number of reviews and positive overall ratings.
What Are the Signs of a Lending Scam?
If a lender raises the following red flags, they may be a scam operation.
Asking for upfront payment. You should never have to pay a company before you receive a loan from them. This includes loan application fees, too.
Approaching you first. It's typical for any company to advertise their services, but if you are contacted first with loan offers (rather than preapproved invitations to apply), that's usually not a good sign.
Pressuring you. Rushing through the loan process is a tactic to prevent you from thinking critically. Legitimate lenders should provide patient support and thorough explanations.
Overwhelmingly negative reviews. If the majority of online reviews about a company are negative, or you can't find reviews about them at all, stay away.
They're too good to be true. "No credit check," "bad credit" and "guaranteed" loans can be legitimate. However, if a lender offers you credit without examining your credit history, identity or income, you may be dealing with scammers.
What Is an Online Loan?
With an online loan, every step of the loan process — pre-qualification, application, funding and repayment — is completed over the internet. You can apply for an online loan with an online-only lender, or with a traditional bank's online loan services.
Instead of going in-person to a traditional bank or credit union, borrowers can simply use their computer or mobile device to apply for and receive funding. Online lenders typically serve a wider customer base than traditional financial institutions.
Benefits of Taking Out an Online Loan
You may prequalify. Some online lenders offer pre-qualification with only a soft credit check. This way, you can see how much funding you can get before you apply.
Faster approval process. While a traditional financial institution may take weeks to give you a decision, most online lenders can provide pre-approval and loan approval within a few business days.
Lower interest rates. Because online-only operations have fewer overhead costs, many are able to offer lower loan rates for certain borrowers.
Increased eligibility. You may get turned away from traditional lenders based on your credit score, credit history or income. Many online lenders accept and even cater to customers that traditional banks view as risky.
Convenience. Online lending is typically faster and more convenient than in-person lending. Instead of going to a bank branch to fill out paperwork, you can apply at home or on the go with your mobile device. Once you're approved, you'll receive funds and make your monthly payments entirely online as well. If you can't physically get to a bank during their business hours or otherwise, that flexibility is especially helpful.
Should I Take Out a Loan Online or In-Person?
Whether an online loan or a bank loan is a better fit depends on your unique needs as a borrower. Traditional banks offer hands-on, face-to-face guidance. Online lending is generally faster and more convenient.
If you already participate in online banking, you've probably grown accustomed to its convenience. You would most likely value the benefits of an online loan.
If you're uncomfortable with managing personal finances online, and you have some time, you would probably value the benefits of in-person lending.
The Difference Between Online Lenders and Traditional Lenders
The main difference between online and traditional lenders is where they conduct business — online versus in-person. If you choose the traditional option, you'll have to walk into a bank, meet with a loan officer, and fill out forms during business hours. Online lenders operate entirely over the internet. Because they don't have physical limitations, including overhead costs, online lenders are generally more flexible throughout the lending process.
How Do You Get an Online Loan?
Once you've selected an online loan lender, the online application process is fairly straightforward.
Fill out the application. You'll provide personal information, including your name, address, phone number, Social Security number, and date of birth. You'll also provide your desired loan amount and purpose (plus additional financial information) if necessary.
Review the loan terms and accept the offer.
Wait for verification and approval. This waiting period is typically much shorter with online lenders than brick-and-mortar locations.
Receive funds.
Types of Loans You Can Get Online
There are just as many loan options available online as there are in-person. Examples of financial products you can apply for online include:
Short-term loans (such as payday loans, lines of credit, merchant cash advances and installment loans).
Unsecured loans (such as student loans, personal loans and credit cards).
Auto loans.
Mortgage loans.
Debt consolidation loans.