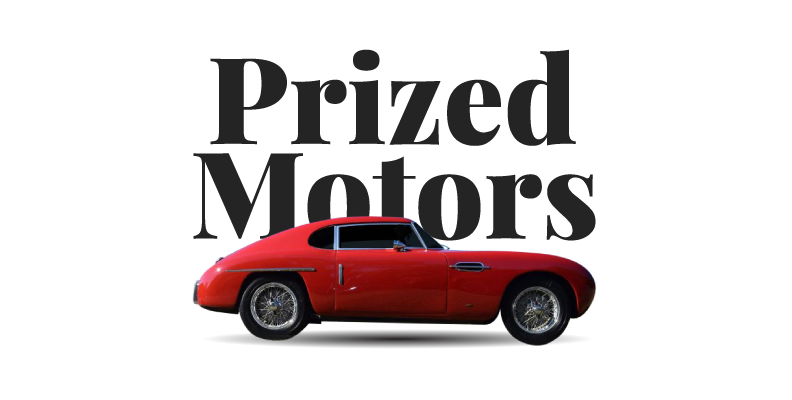 Classic Cars Worth a Fortune
Classic car prices have risen steadily over the years, and some are worth a sizable fortune. However, determining a vintage car's worth or fair market value (FMV) goes beyond assessing the body condition, mechanical integrity and the level of restoration undertaken to bring the vehicle to life. In the case of the most expensive cars sold at auction, wealthy car collectors look for two things: limited production numbers and racing provenance.
Those two key factors play essential roles in determining a future classic's value, but you should also consider market demand. Performance imports from the early 1990s to mid-2000s like the A80 Toyota Supra, Nissan Skyline R32/R33/R34, Subaru Impreza WRX STI and Mitsubishi Lancer Evolution series may not cost as much as a 1962 Ferrari 250 GTO now. But if valuation trends for 1960's classics apply to more recent performance imports, we would expect import prices to skyrocket further as collectors from that era gain more disposable income.
We created this interactive chart to highlight classic cars worth $100,000+ with the biggest value growth, the classic cars worth under $100,000 that gained the most value and the top 10 classic supercars that are now worth a small island in the Bahamas.
Click on the left tab to sort the cars by their respective percentage (%) increases or total value increase. Then, click on the right tab to filter all vehicles worth over $100k and under $100k.
The $100,000+ Classic Car with the Biggest Value Growth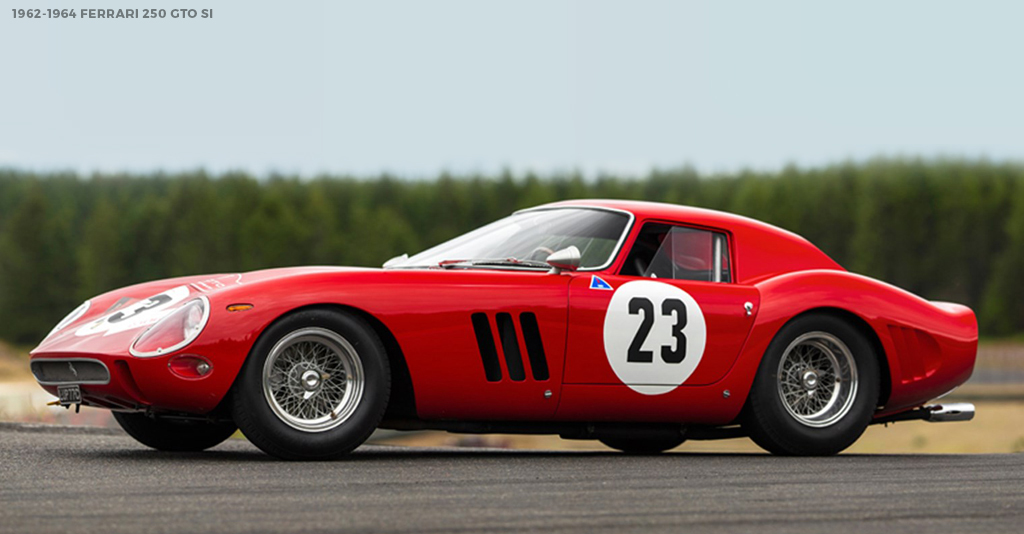 The 1962-1964 Ferrari 250 GTO SI – The classic car with the greatest total increase in value.
The Ferrari 250 GTO built from 1962 to 1964 ticks all the boxes of an expensive future classic. Ferrari only made 36 examples of the street-legal GTO (Gran Turismo Omologato) for around $18,000 each, and each buyer was approved personally by Enzo Ferrari.
The Ferrari 250 GTO also earns bragging rights for being the most expensive car sold at auction. In 2018, a pristine 1962 model (chassis# 3413 GT) dropped the hammer to a staggering $48.4 million. Four years earlier, a similar Ferrari 250 GTO that won the 1963 FIA World GT Championship sold for a record-breaking $38.1 million.
If you think that's crazy, get this: A well-heeled American collector paid $70 million for a 1963 Ferrari 250 GTO (chassis #4153 GT) in a private sale, also in 2018.
The Classic Car Under $100,000 that Gained the Most Value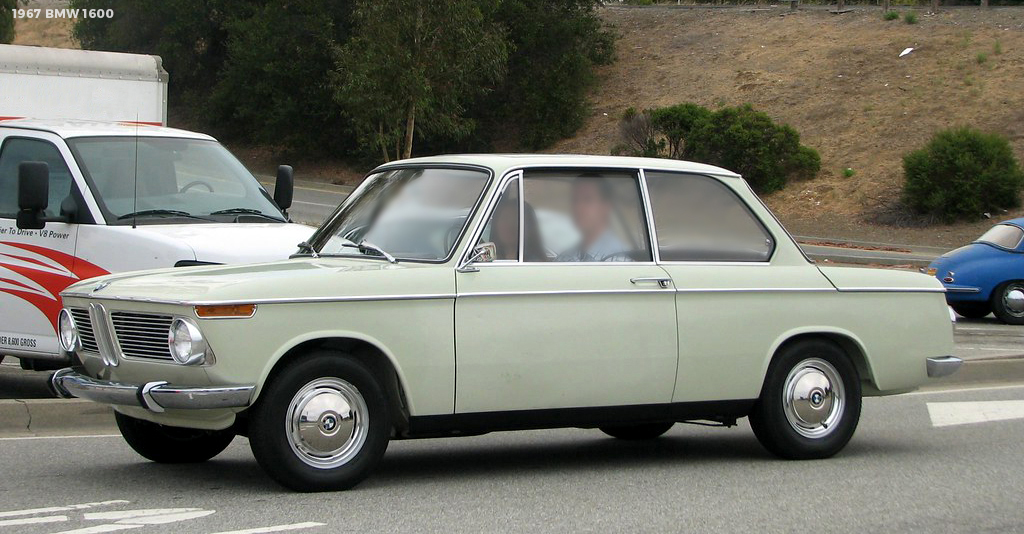 The 1967 BMW 1600 – The classic car under $100k with the greatest total increase in value.
The BMW New Class (Neue Klasse) lineup of sedans and coupes manufactured between 1962 and 1977 were critical ingredients of BMW's sporting history and styling lineage. Not only did the New Class establish BMW's identity as a sports sedan manufacturer, but it rescued the German automaker from insolvency after the 1950s financial crisis. The New Class were also the first production BMW vehicles to feature the iconic Hoffmeister kink.
The 1967 BMW 1600, in particular, is gaining the most value among its New Class siblings. Manufactured from 1964 to 1971, it has a reworked 1.6-liter four-cylinder M10 engine with 83 horsepower and 83 pound-feet of torque.
The Top 10 Classic Supercars Now Worth a Fortune
There's a reason why classic high-performance vehicles, sports cars and supercars fetch astronomical sums at private sales and auctions. These vehicles were the pinnacle of performance and technology back then, and most came in limited production numbers.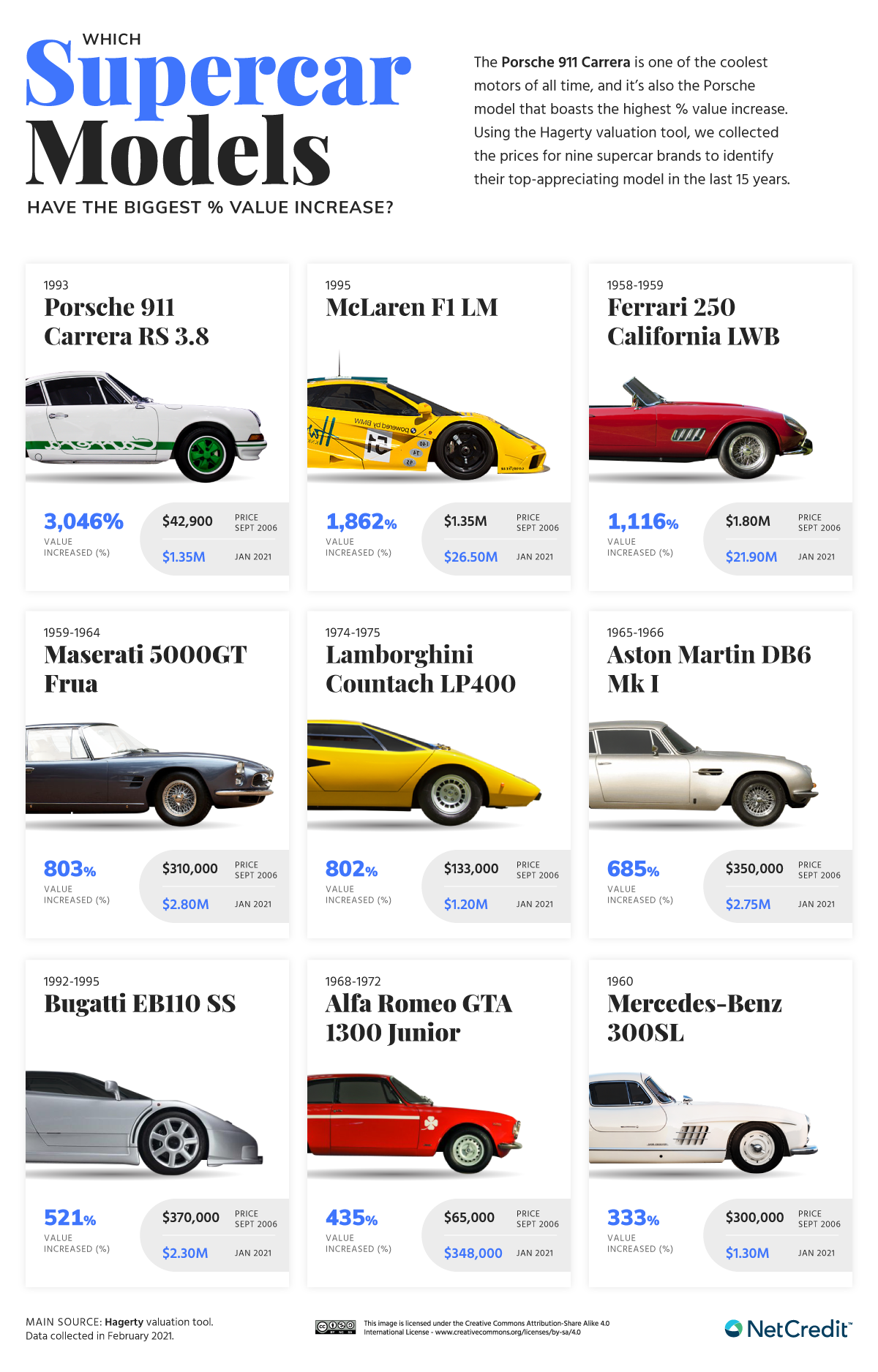 It's not highly unusual for a vintage supercar to be shrouded in mystery, but none is more perplexing than the Bugatti Type 57 SC Atlantic. Bugatti only sold three handcrafted Atlantics between 1936 to 1938. The first model built in 1936 was destroyed on a level crossing, eventually killing the car's second owner. Initially built for British banker Victor Rothschild, the vehicle underwent a complex restoration a few decades after the crash.
The third Atlantic was completed in 1938 and is now under the ownership of fashion designer Ralph Lauren. The second Atlantic, however, remains missing to this day. Initially built by Jean Bugatti as a personal car, there are no records of the vehicle's existence after 1938. If found, experts agree its value is over $119 million (over €100 million), potentially making it the world's most expensive barn find.
Will Electrification Cause Vintage Car Prices to Rise?
Determining a classic car's future value requires extensive knowledge, prudent research and a little bit of luck. As the automotive world shifts towards electrification and alternative energies, we expect iconic, gasoline-powered, high-performance vintage cars to demand astronomical prices at auction.
METHODOLOGY
We collected car price data using the Hagerty valuation tool in February 2021. Prices were collected for the last 15 years (2005 – 2021) for over 24 thousand vehicles assuming "Concours" condition (the best condition). The appreciation of each vehicle was calculated in USD and %.