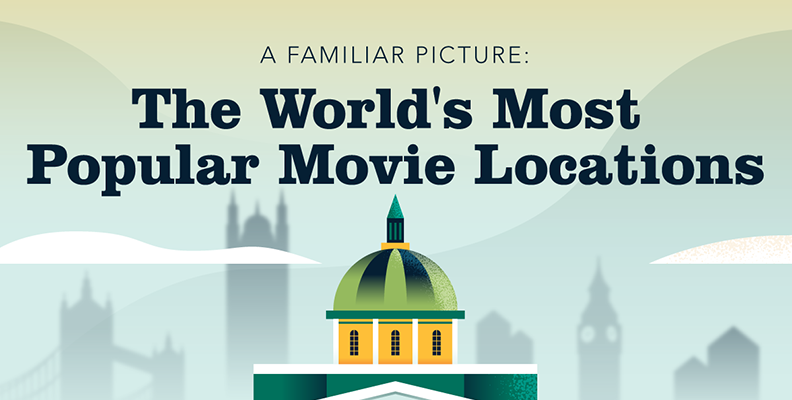 The Most-Filmed Location in Every Country
You know that feeling when you're watching a movie and you see old-what's-his-name appear in a supporting role? Ever had that feeling about a movie location?
You turn to your viewing buddy (or to Google) to ask "what have I seen that guy/building/monument in before?" Your buddy probably shrugs. Some locations, like some actors, are just there. Again and again. Doing their thing in every movie ever made, apparently.
NetCredit has stepped in to help your inner movie-nerd. We've identified the "that guy" locations of every country in the world: the landmarks and buildings that have the most movie credits on IMDb. Scroll on to find the most-filmed location in your country, as well as the top 10 in the USA, UK, and more.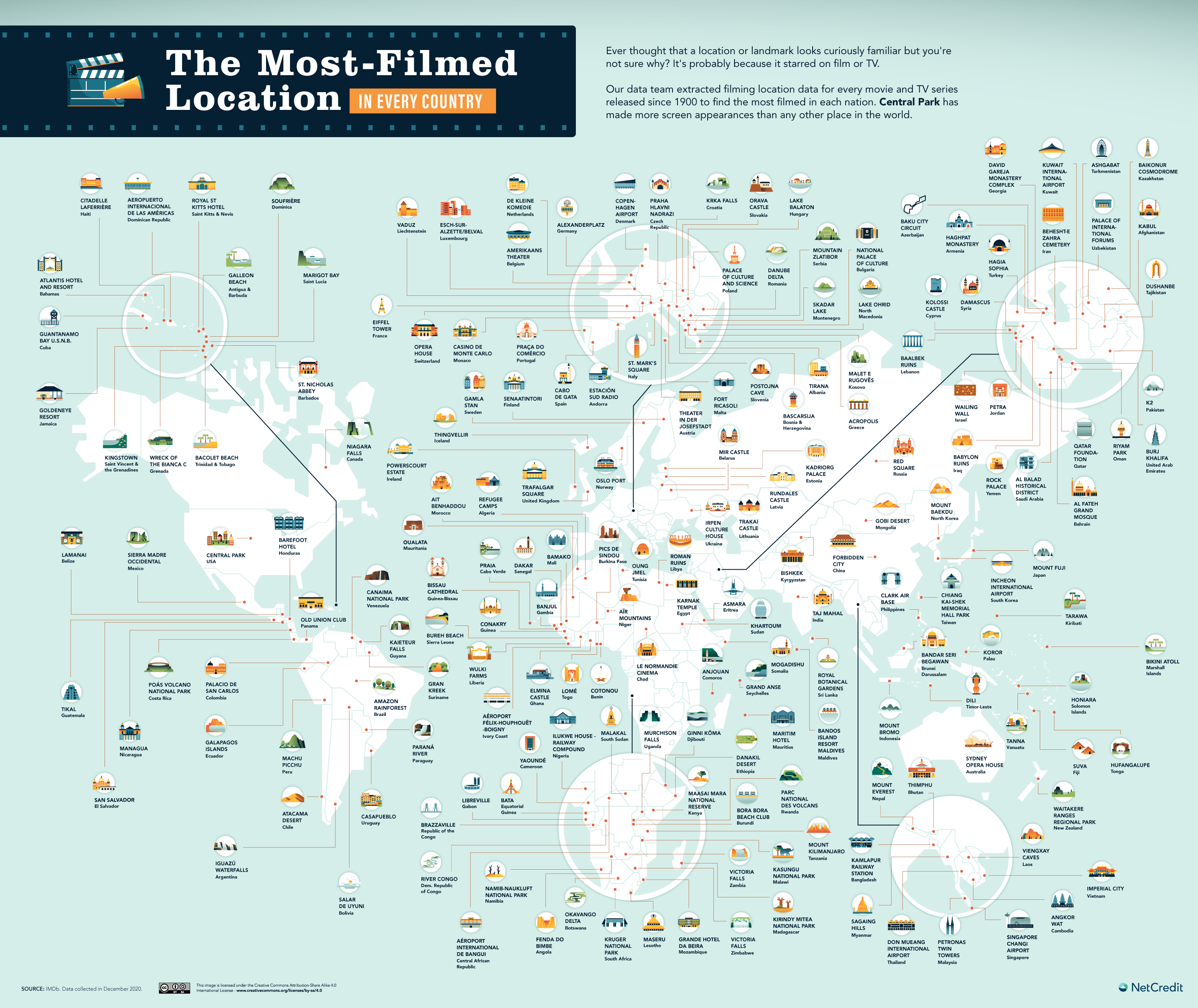 Key Findings
The most-filmed location in the world is Central Park in New York City, with 532 movie credits.
Europe's number one movie location is Trafalgar Square in London, England, with 131 credits.
The most-credited location outside of Europe and America is Kabul in Afghanistan (113 credits).
Only four countries have a top location with more than 100 credits: US, Canada, UK, and Afghanistan.
The Top 10 Movie Locations in the US and UK
Use the slide show below to see the top ten locations in both the US and UK.

North America
It's no surprise that the US dominates the location tables, seeing that the US film industry is the most profitable in the world (although Bollywood makes more films). Central Park is a bona fide movie star, with 532 appearances to its name – including a title appearance in a movie from the year 1900 named In Central Park.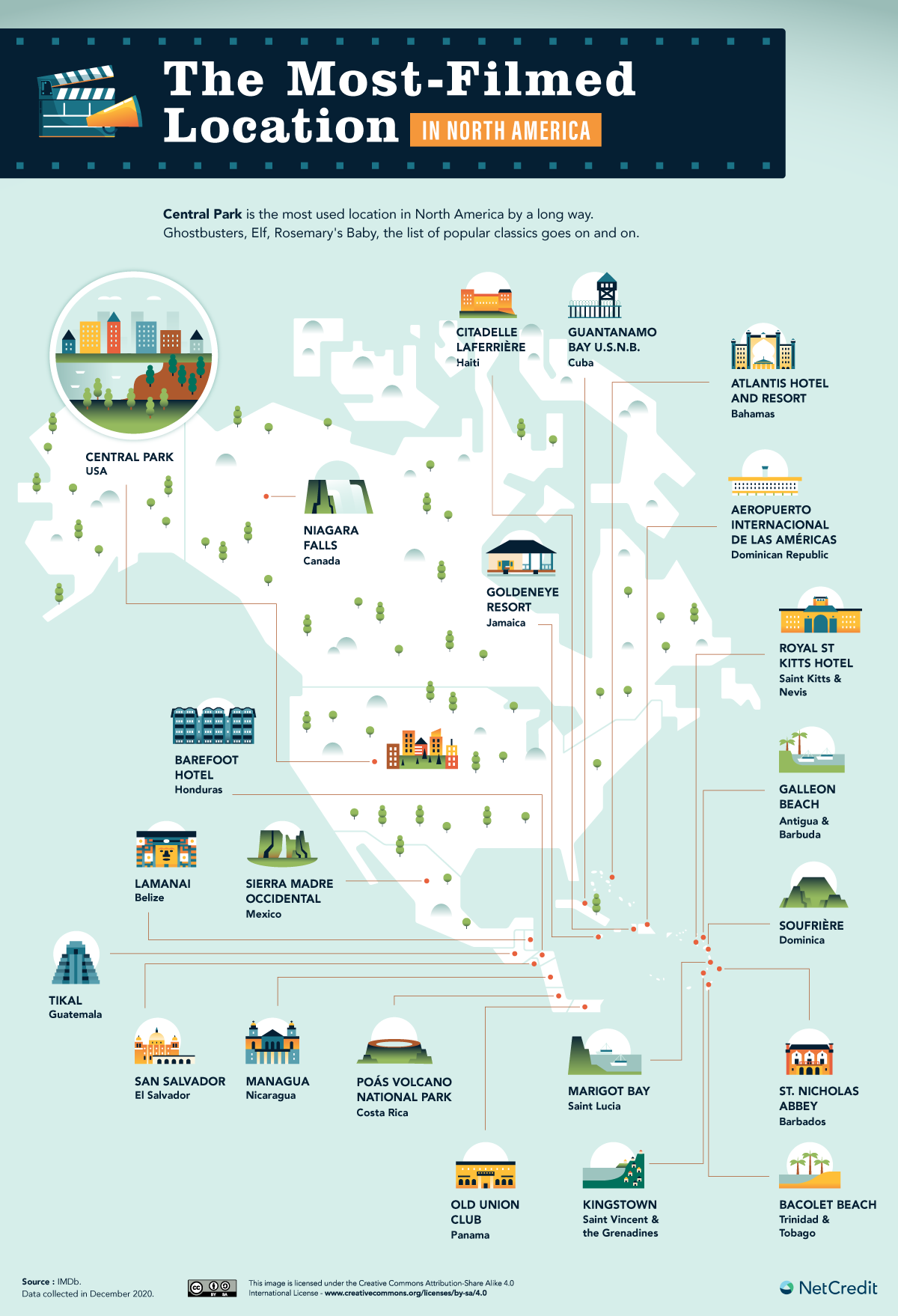 Canada's Niagara Falls is a highly cinematic landscape, with a thundering 142 movie credits to its name. Meanwhile, Mexico's top location is another to have been namechecked in the very movies in which it has appeared: The Treasure of the Sierra Madre is a gritty John Huston flick in which Humphrey Bogart goes prospecting for gold in the eponymous mountain range.
South America
Chile and Ecuador's number one locations are tied for top 'place' in South America. Each has 50 credited appearances on IMDb. The Atacama Desert in Chile is famous for having the largest radio telescope in the world. The observatory's high-tech appearance makes it ripe for espionage flicks – from Spy Kids to James Bond.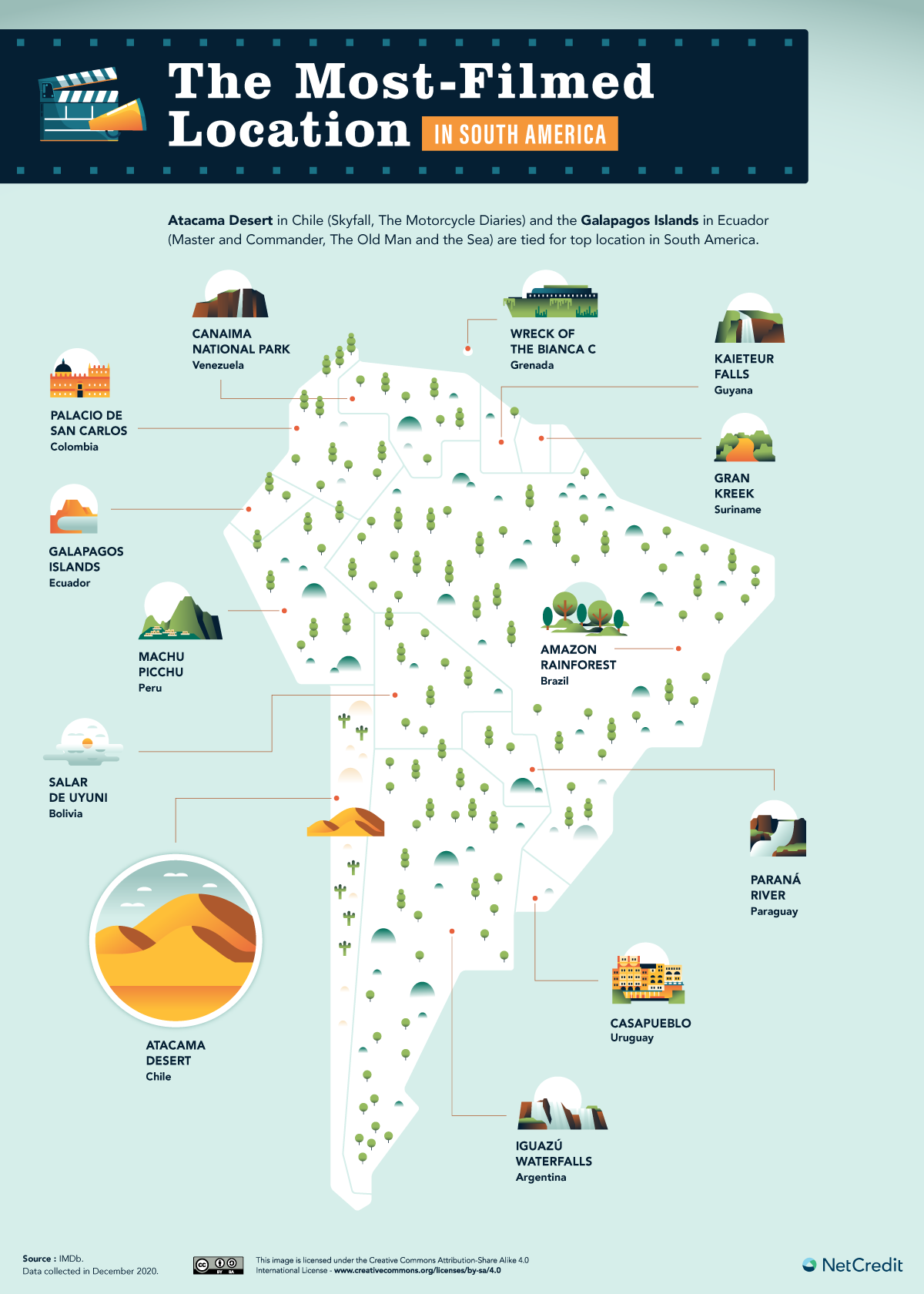 Ecuador's star location is a little more genteel. The Galapagos Islands are the birthplace of the theory of evolution, thanks to the vast diversity of unusual animals who dwell there. This makes it a natural destination for documentary-makers, as well as providing an exotic background for Master and Commander and, ironically, The Bible: In the Beginning (another John Huston picture.)
Europe
London's Trafalgar Square seems to appear in every "arriving in London" montage ever, so it's no wonder it's the top location in Europe. The real-life square is packed with galleries and museums, and frequented by protesters due to its proximity to the UK's political district. This is what makes it so haunting to see it completely abandoned as the zombie flick 28 Days Later unfolds.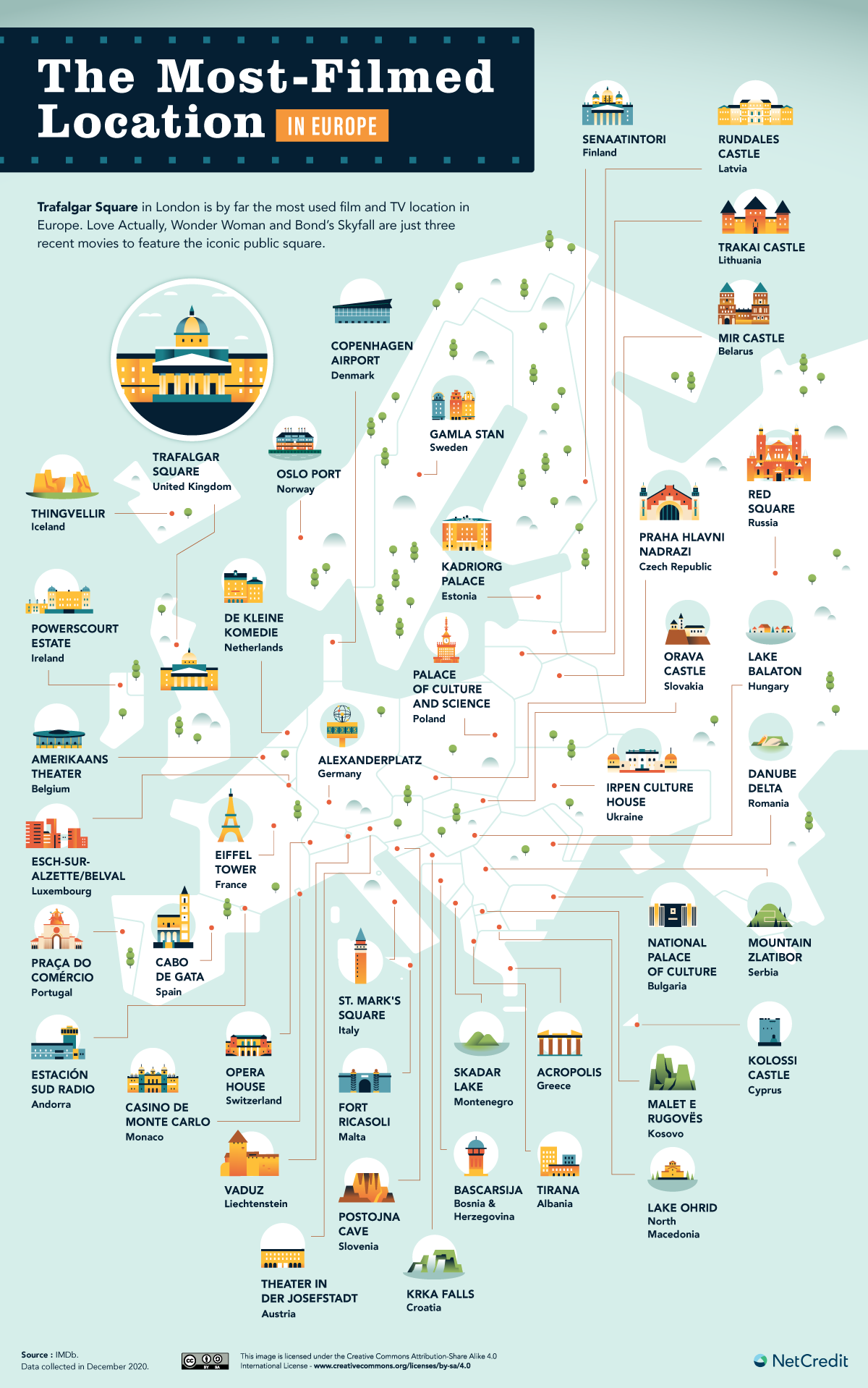 Spain's top location is also in our top five. The Cabo de Gata is a coastal region in Andalusia. Sounds a bit broad for a movie location? Not when you realize it is known as "Europe's only desert," qualifying the arid landscape to double for America's wild west in dozens of Spaghetti Westerns, such as Sergio Leone's The Good, the Bad and the Ugly.
Middle East and Central Asia
Okay, so Kabul is a whole city, but it's the most-credited location in this region and the fourth most-credited in the world. As the capital of Afghanistan, this exquisite city has found itself at the heart of a series of civil and international conflicts over recent decades, and is therefore the subject of dozens of documentaries. However, locally-produced cinema is on the rise as the city experiences a rebirth.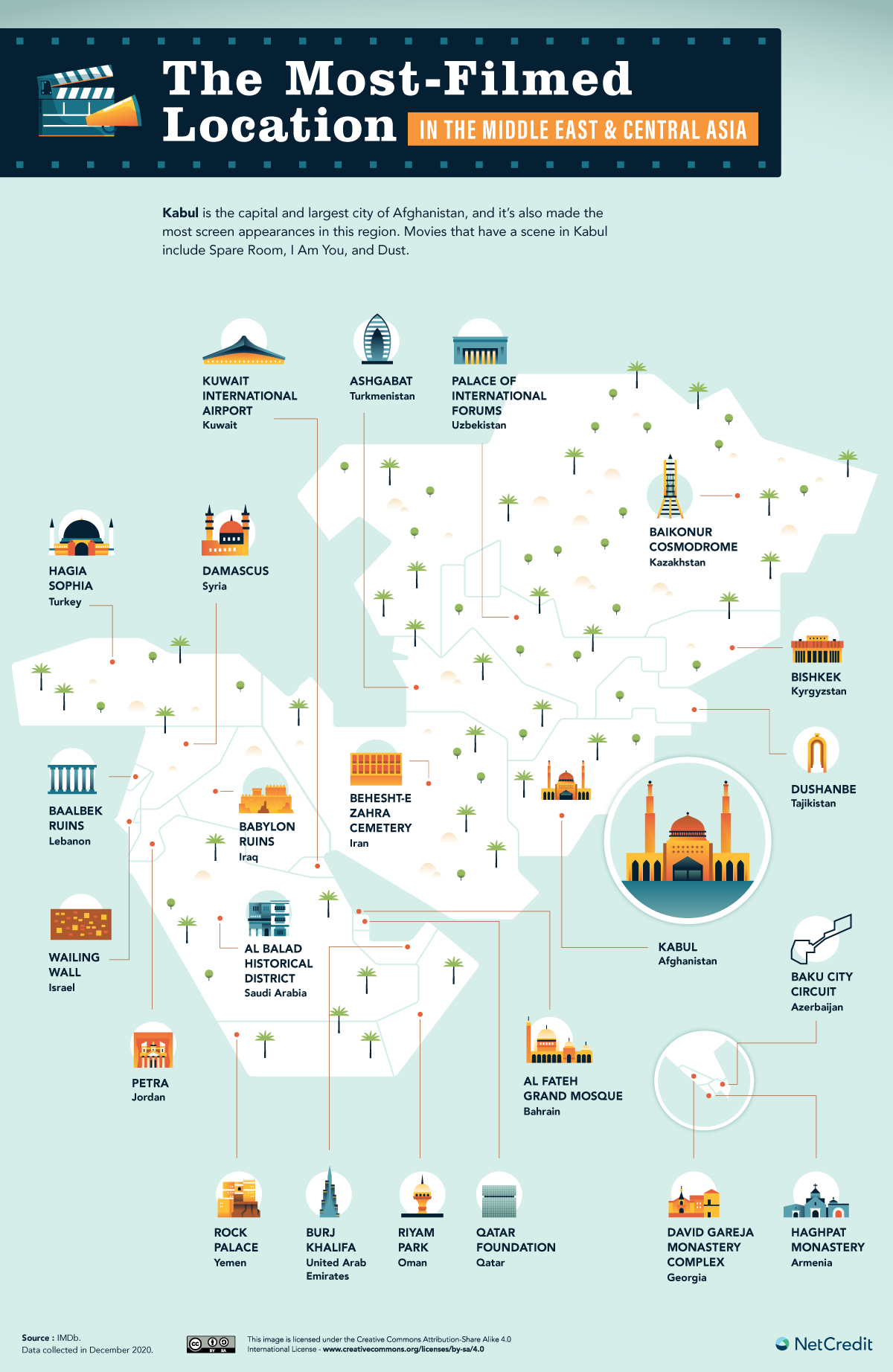 The number two location in the region is another capital city but with fewer than half the credits of Kabul (113 vs. 45). Damascus, in Syria, has been another focal point of armed conflict. But it is also an important cultural center and one of the region's oldest cities, having been founded in the 3rd millennium B.C. Like Kabul, it owes much cinematic coverage to the documentary form. Syria has a fascinating film history of its own – just much of it doesn't appear on IMDb!
Rest of Asia and Oceania
Feel like you've seen Sydney Opera House somewhere before? Australia's signature building is also the nation's number one movie star (category: locations). In addition to all the live shows that have been filmed and added to IMDb (including Live Aid), the location has also provided a stunning background for action flicks including Mission: Impossible II and Mighty Morphin Power Rangers: The Movie.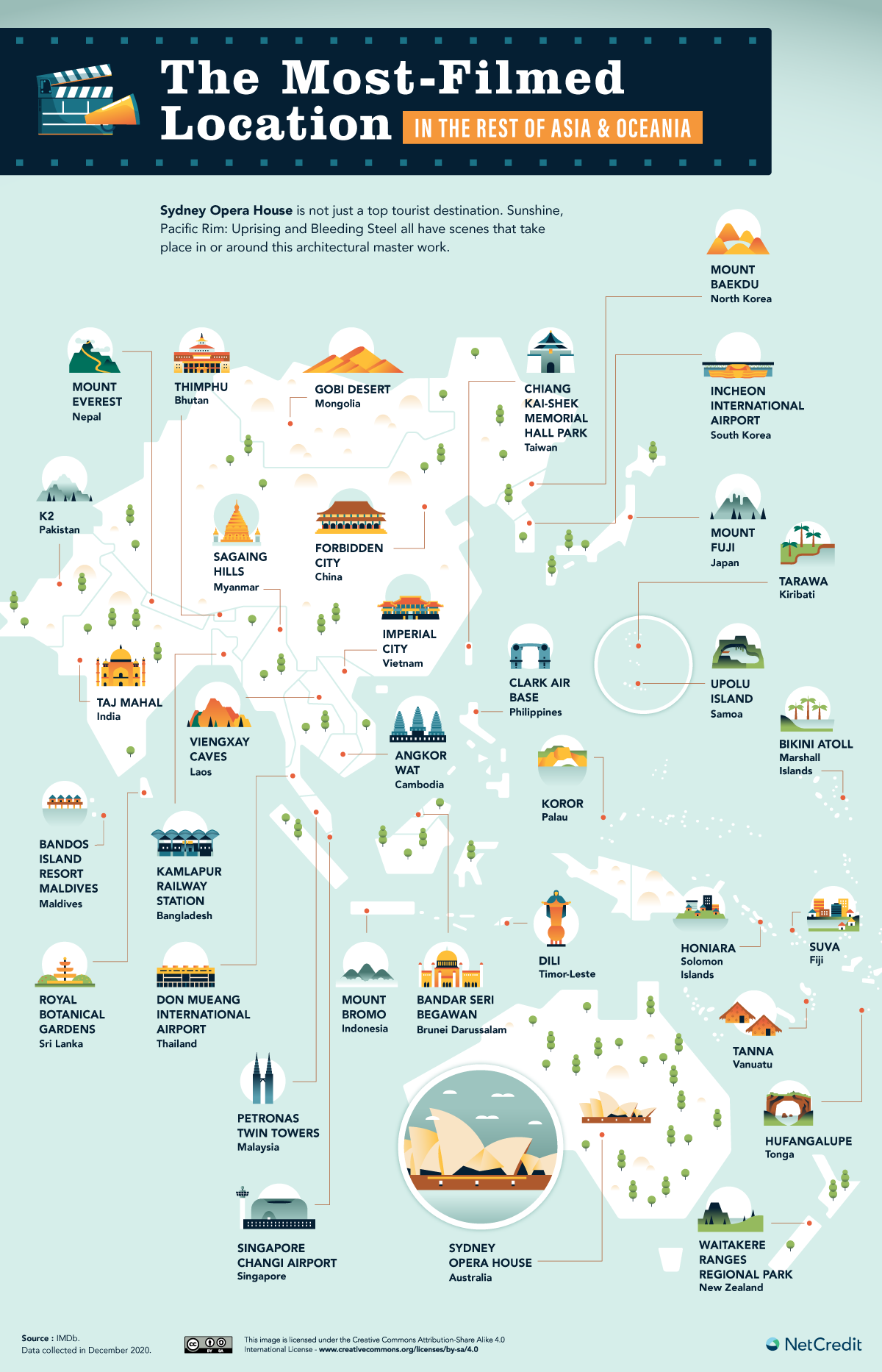 In Asia, Japan's top location claims 19 credits across various genres. Mount Fuji is an aesthetic icon, place of reverence, and thrilling landscape. It has played in pictures as diverse as the 1956 Around the World in 80 Days and the Japanese classic, Street Without End.
Africa
Dakar is Senegal's capital and a lot of movies are set here. However, it still seems curious that it is the number one location in Africa, particularly with the mega-industry of Nollywood in Nigeria. Maybe Senegalese producers are more diligent in completing the IMDb paperwork. Senegal has a fascinating cinematic history, although it has tapered off of late. The work of Djibril Diop Mambéty, including Dakar-set Touki Bouki, is particularly worth a look.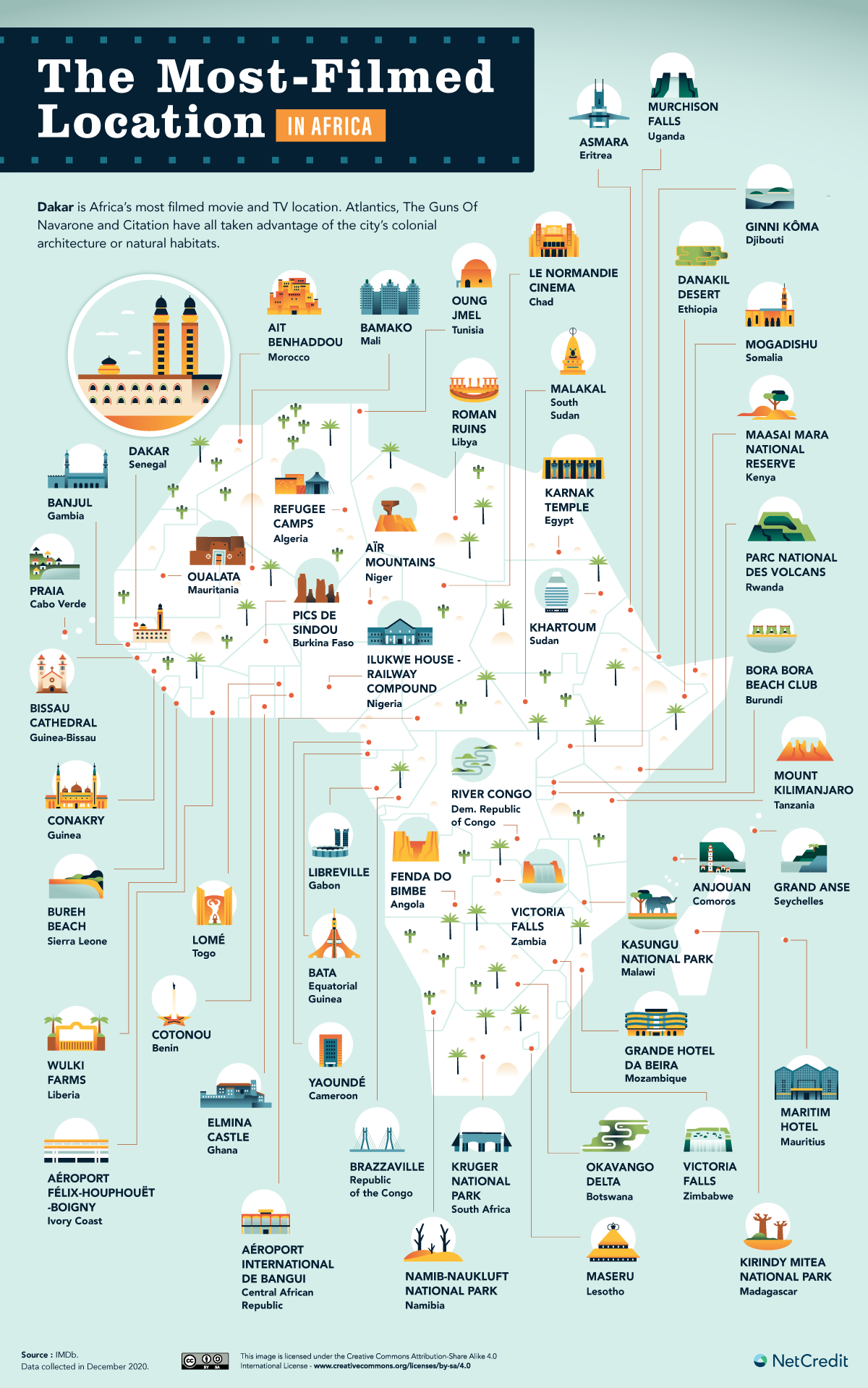 Egypt's most-filmed location is the Karnak Temple Complex in Luxor. In addition to serving many documentaries, the temple appears in the Agatha Christie adaptation Death on the Nile. And, of course, James Bond has been here to do battle with steel-toothed henchman, Jaws – in The Spy Who Loved Me.
The world of movies offers a caricatured landscape of the real world. Frequently-used exterior shots promote the importance of big national monuments, searing them into the collective memory in a way that doesn't quite match the history of the world outside the cinema. And they look great being blown-up, jumped-off, or kissed beneath by our favorite (human) stars, too.
Don't forget to check out the table below to sort through our full movie location data!
METHODOLOGY
Using IMDb Advanced Search we selected the movies from 01.01.1900 to 31.12.2020 that had data about filming locations.
Then we collected these locations from all the movies in our list and compiled a long list of movie / location pairs.
We then counted the number of appearances of each location and separated the locations by countries.
The data was collected in December 2020.