The Oldest Building in Every US State
The United States is a comparatively young country, but one with a rich and diverse history. From the ancient villages of New Mexico's Pueblo people and the early Spanish settlers in Florida, to the Russian traders of Alaska and 19th-century missionaries in Utah, each of the 50 states has its own story to tell.
There's no better way to trace this history than through buildings, which is why we've mapped out the oldest intact building in each US state. Whether they're cottages, grand mansions, fortresses or churches, these historic sites offer us a glimpse into the early days of the regions. They help us to understand what brought early inhabitants to the state – and what their lives might have been like.
Some of the buildings we've chosen only had a brief moment in the spotlight, like Nevada's Old Mormon Fort, abandoned just a few years after the Utah War. Others have built up centuries of history, such as the Louis Bolduc House in Missouri. It was built for French-Canadian settlers in 1798, and their descendants continued to occupy it right up until the 1940s.
Some are impressive feats of construction, such as the wattle-and-daub Cataldo Mission in Idaho. Not a single nail was used in the entire building! Others, though, were less successful. Ka Hale Lāʻau in Hawaii was designed in and brought over from New England, with only a later realization that the structure was completely unsuitable for comfortable living in a tropical climate.
Whatever the case, these structures are all an important part of their respective state's past. So get exploring – you might discover some buildings you didn't expect!
Note: You won't find any ruins in the map because we focus solely on the oldest intact buildings across the country.
Alabama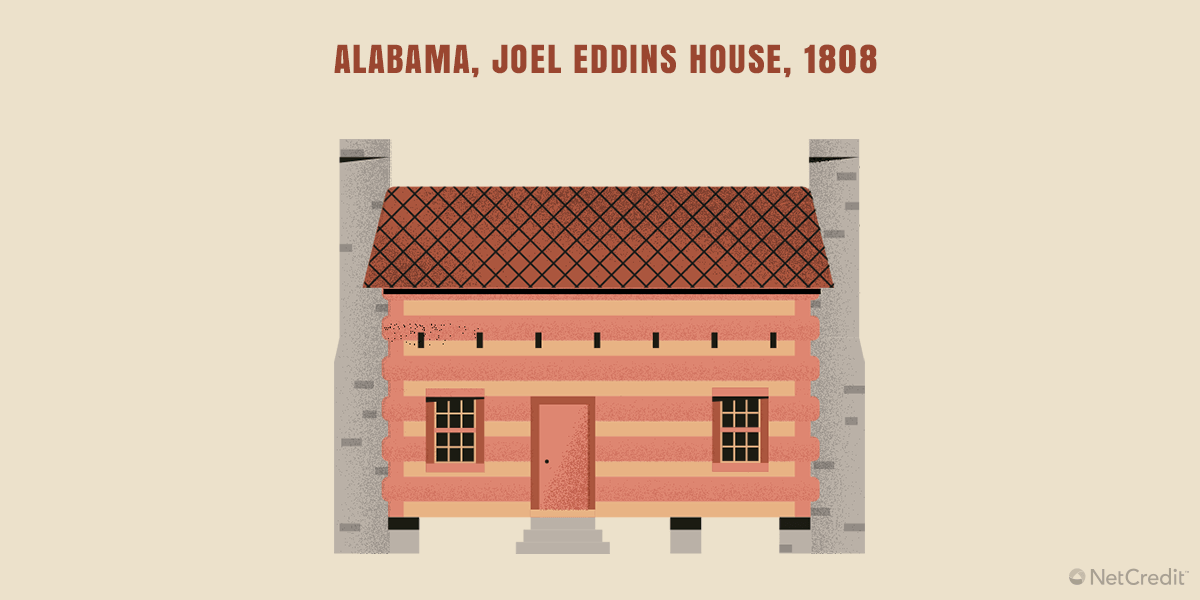 Built in 1808 and restored in 2007, the log cabin was moved from its original location in Ardmore to Burritt on the Mountain and is now listed on the National Register of Historic Places.
Alaska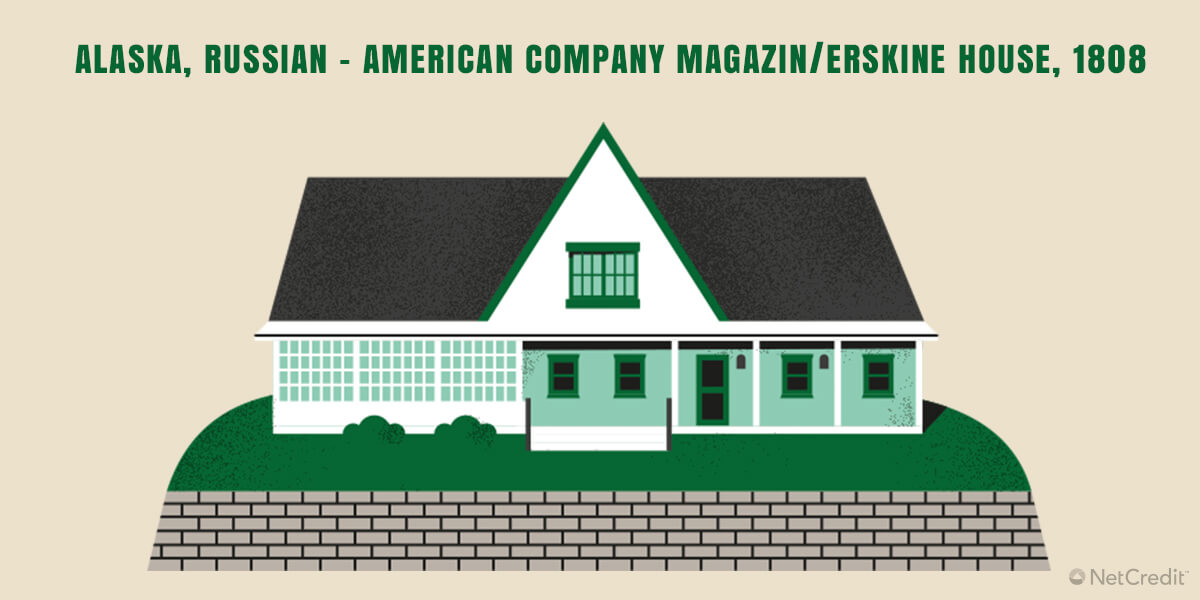 The Magazin, now the Baranov Museum, dates from the Russian colonization of Alaska, when it was used as a storage facility for the Russian-American Company.
Arizona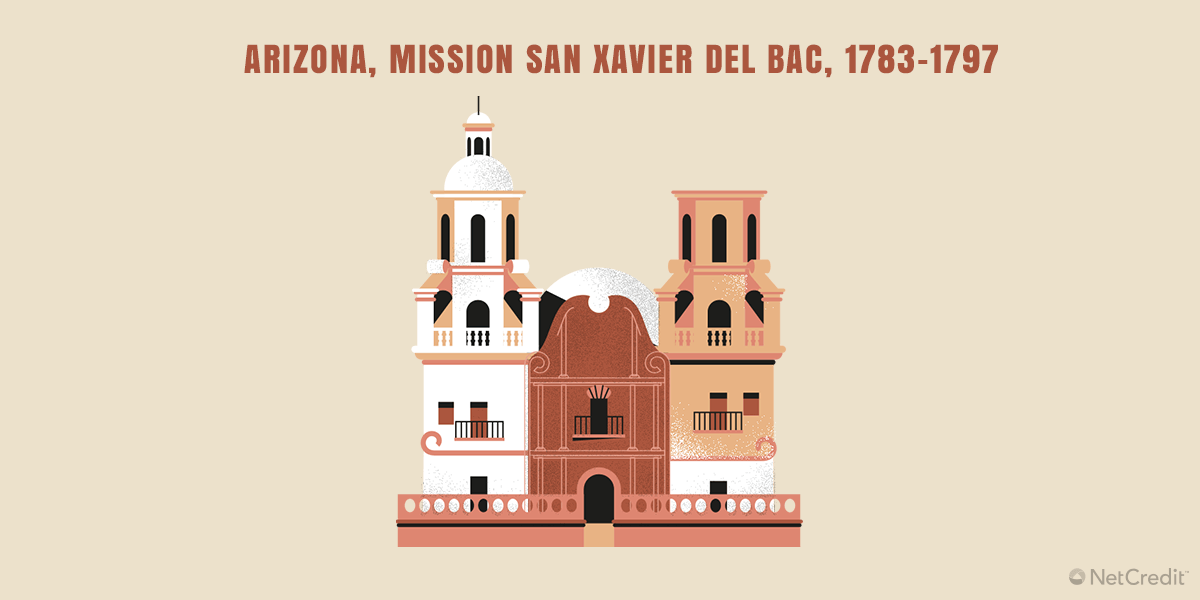 Considered one of the best examples of Spanish colonial architecture in the U.S., the complex is still in the hands of the Franciscan Order and is a popular pilgrimage site.
Arkansas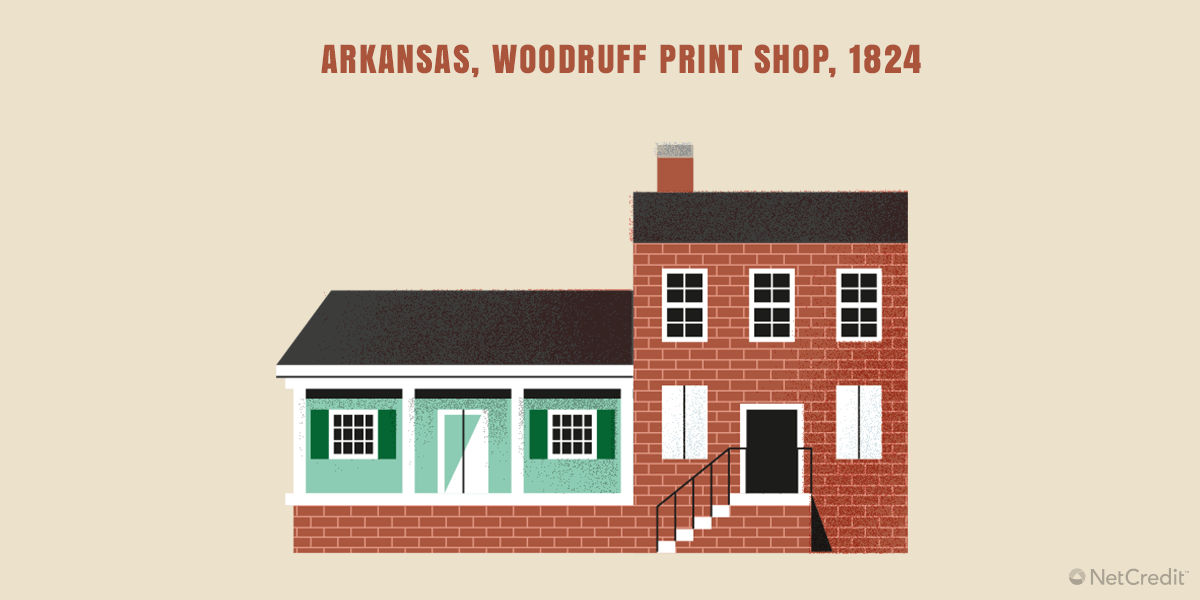 The Woodruff Print Shop was the business premises of William Woodruff, who printed Arkansas' first newspaper, and is now part of the Historic Arkansas Museum.
California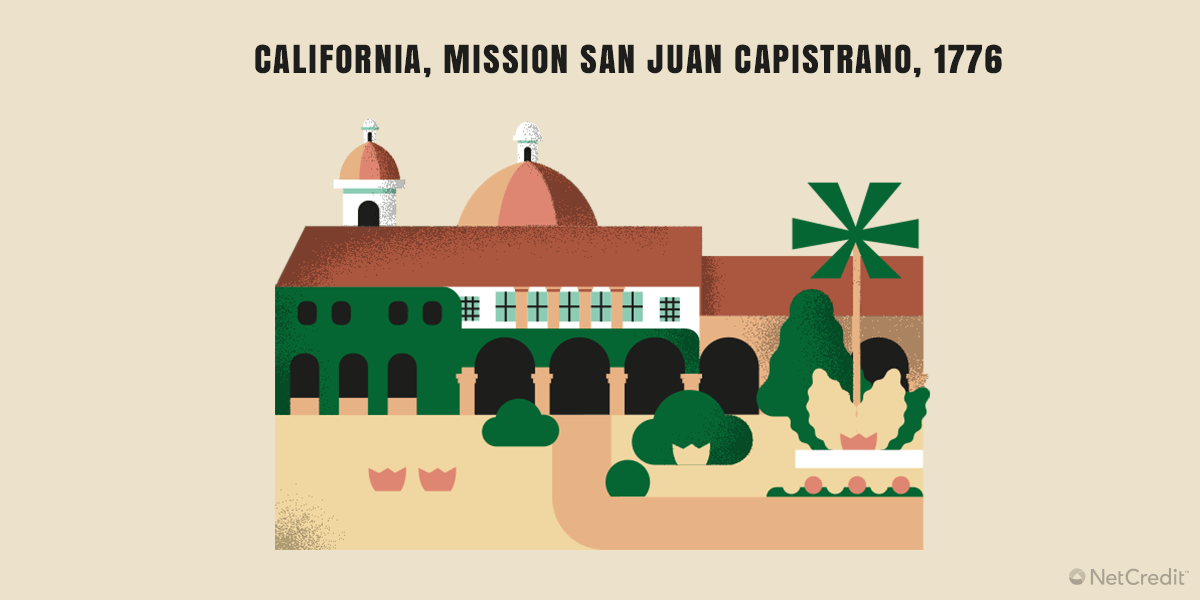 The Mission was founded by Franciscans from Spain and has since been used as a backdrop for early Hollywood films like The Two Brothers.
Colorado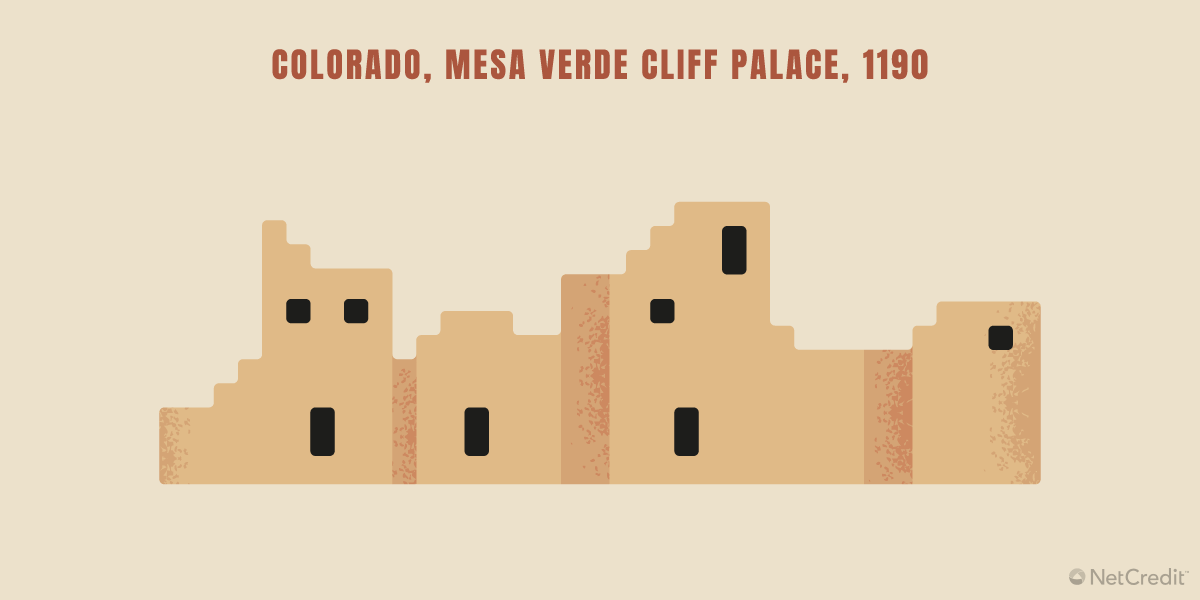 The largest dwelling in Mesa Verde, Cliff Palace was home to an estimated 100 Pueblo people and thought to have been used often in ceremonies.
Connecticut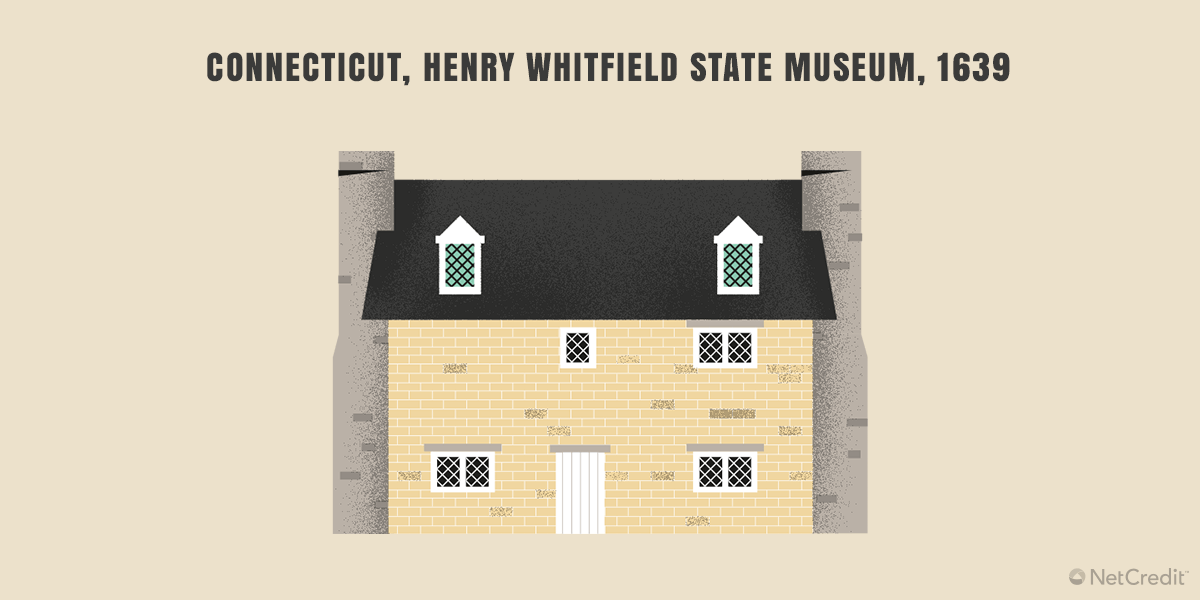 New England's oldest stone house was built for Reverend Henry Whitfield, the leader of an English Puritan community and the founder of Guilford. It's been a museum since 1904.
Delaware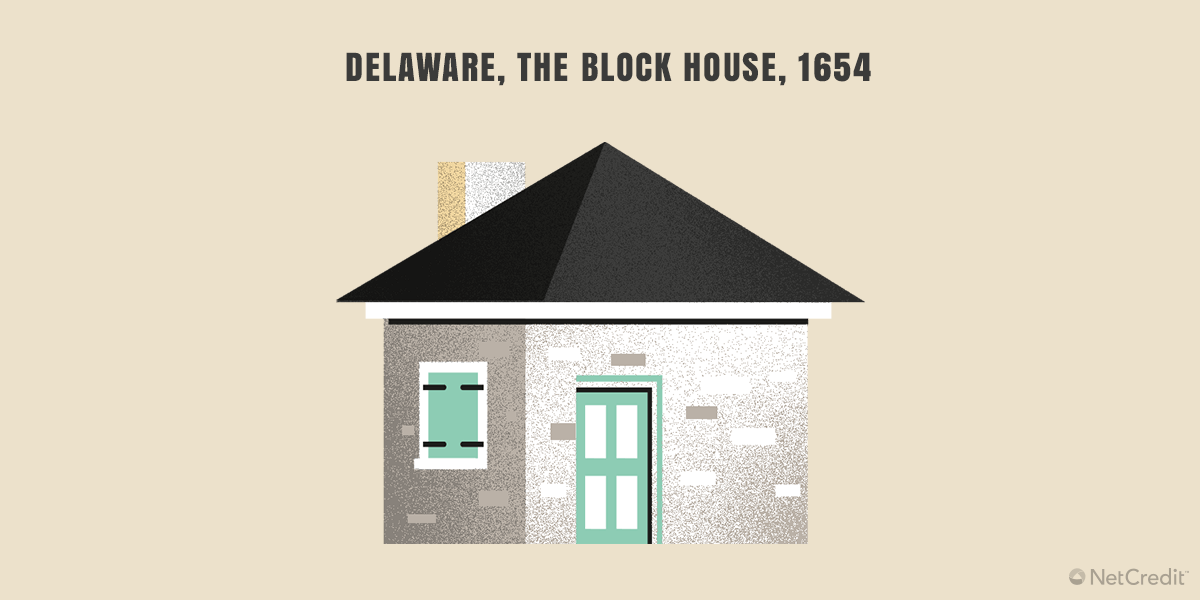 This two-story structure dates from the time of the last Governor of New Sweden, Johan Risingh, who ordered its construction to defend against attacks.
Washington, DC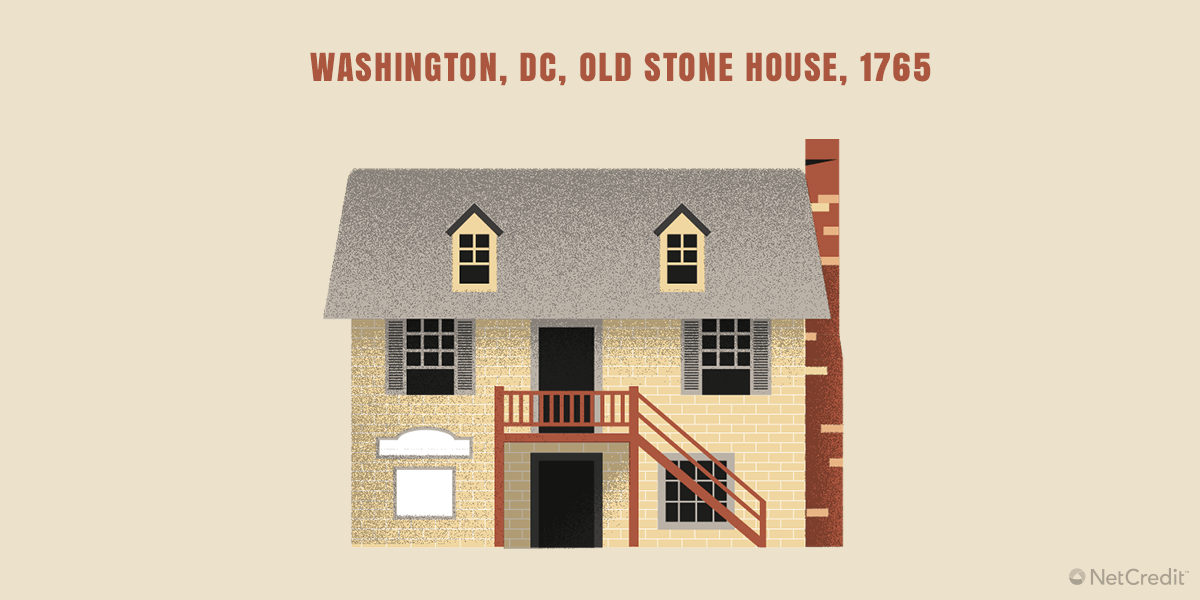 Old Stone House is DC's oldest structure on its original foundation and serves as an example of pre-Revolutionary architecture.
Florida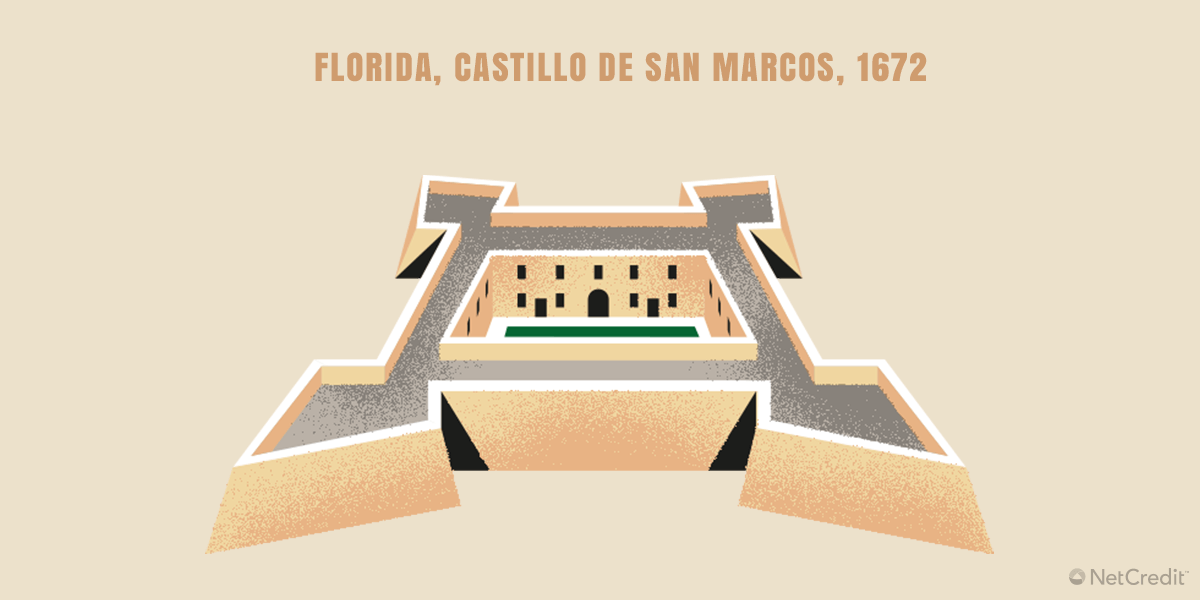 This defensive fort was ordered by Florida's Spanish Governor to defend the city of St Augustine at a time when it was still part of the Spanish Empire.
Georgia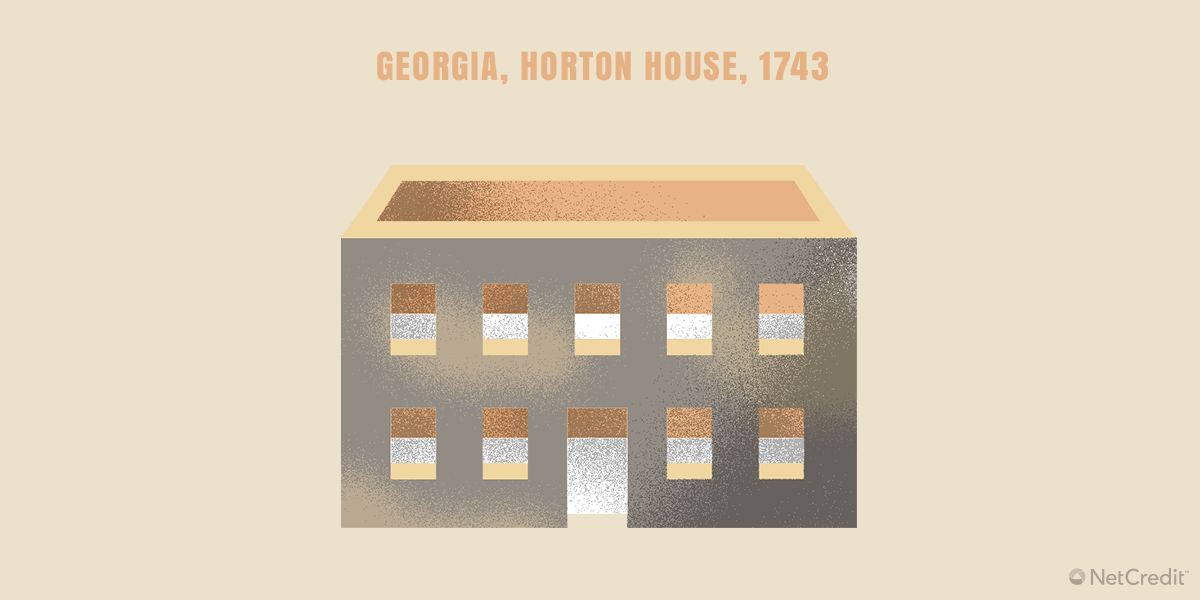 A reminder of the state's colonial history, this house was built by British military aide Major William Horton and is constructed of tabby, a unique concrete that was common in Georgia.
Hawaii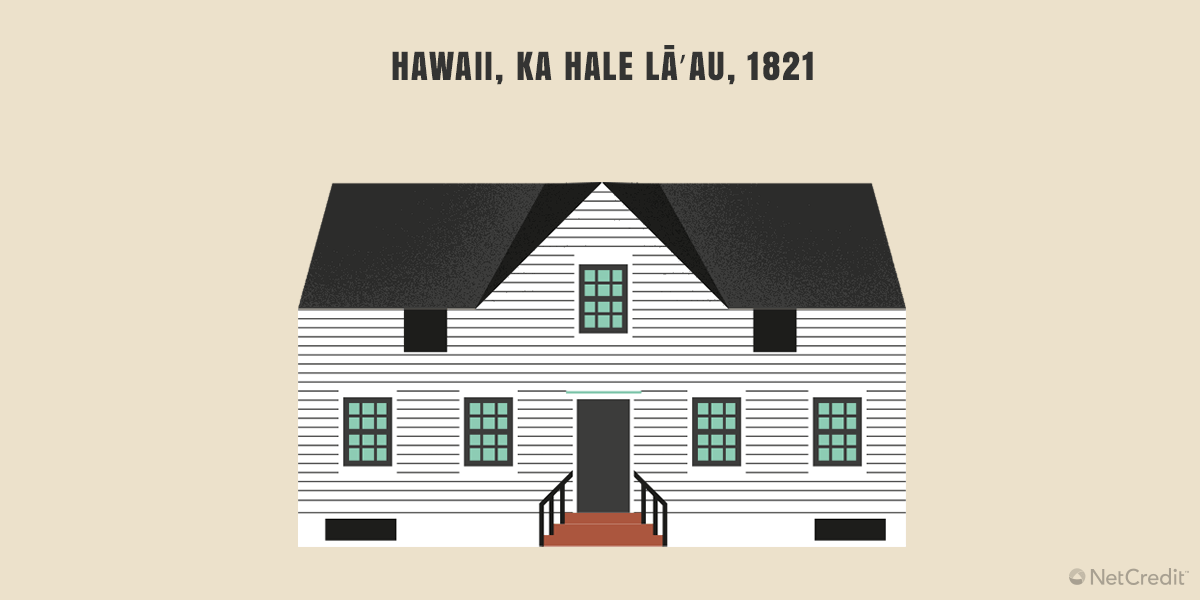 Ka Hale Lāʻau, meaning the 'wood house,' was a pre-cut wooden frame structure designed in New England with little consideration for the Hawaiian climate, but nonetheless housed missionaries for about 60 years.
Idaho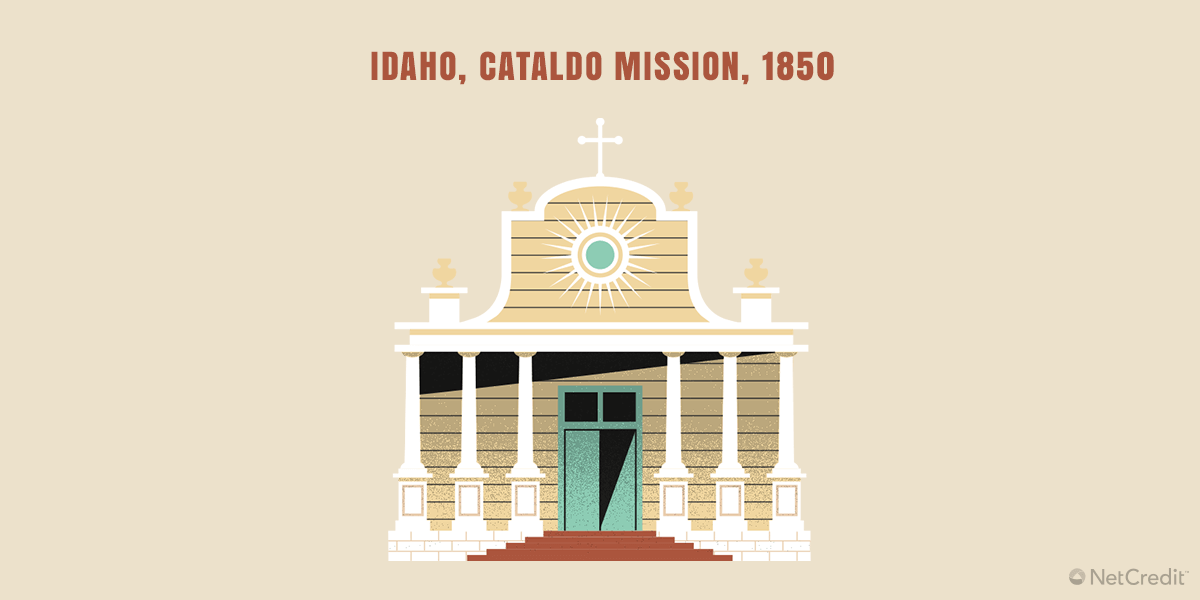 Built at the request of members of the Nez Perce and Flathead tribes, the Cataldo Mission was constructed using an old wattle and daub method – without using a single nail.
Illinois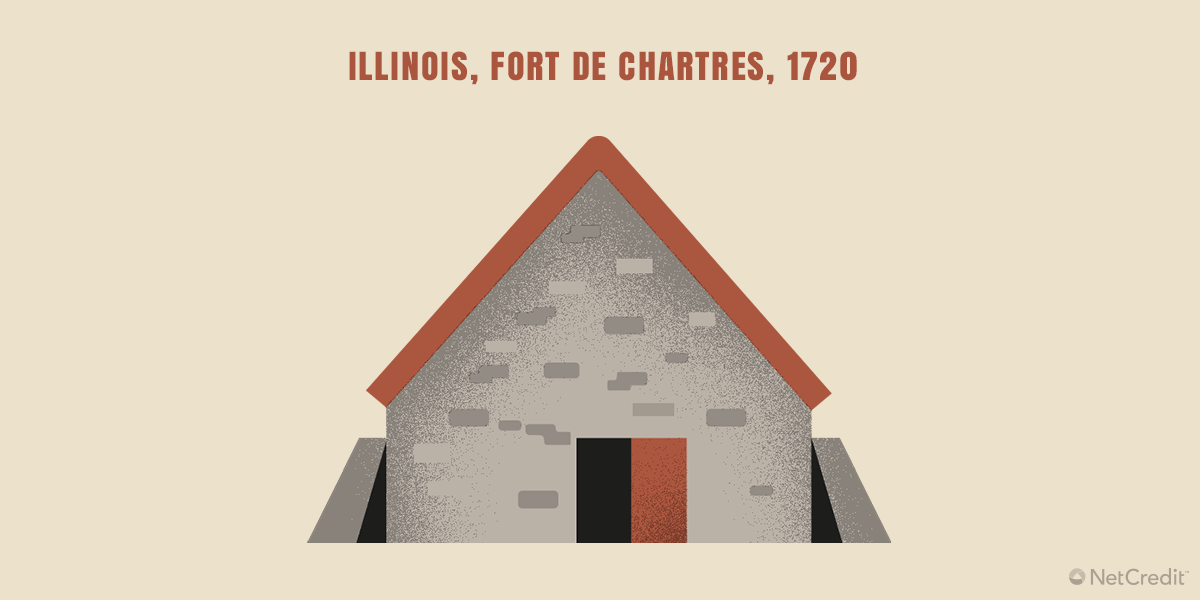 French fortification Fort de Chartres was built to defend against the local Meskwaki people, and while largely reconstructed, its original powder magazine buildings still stand.
Indiana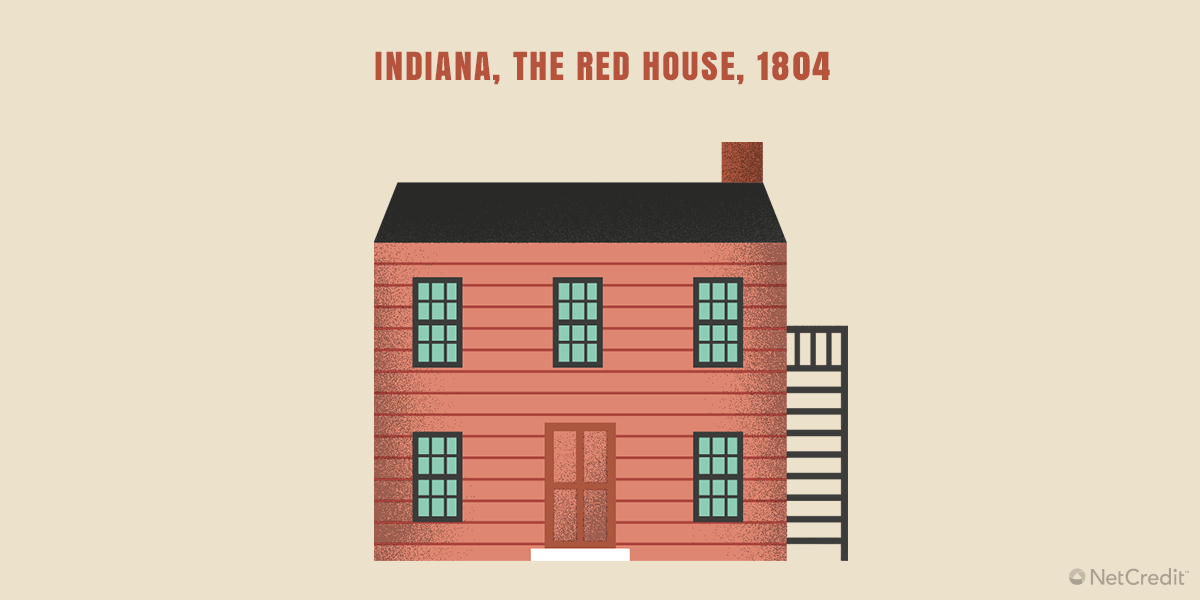 One of Indiana's four original legislative centers, the building was used for meetings in 1811 and is now on display at the Indiana Territory State Historic Site.
Iowa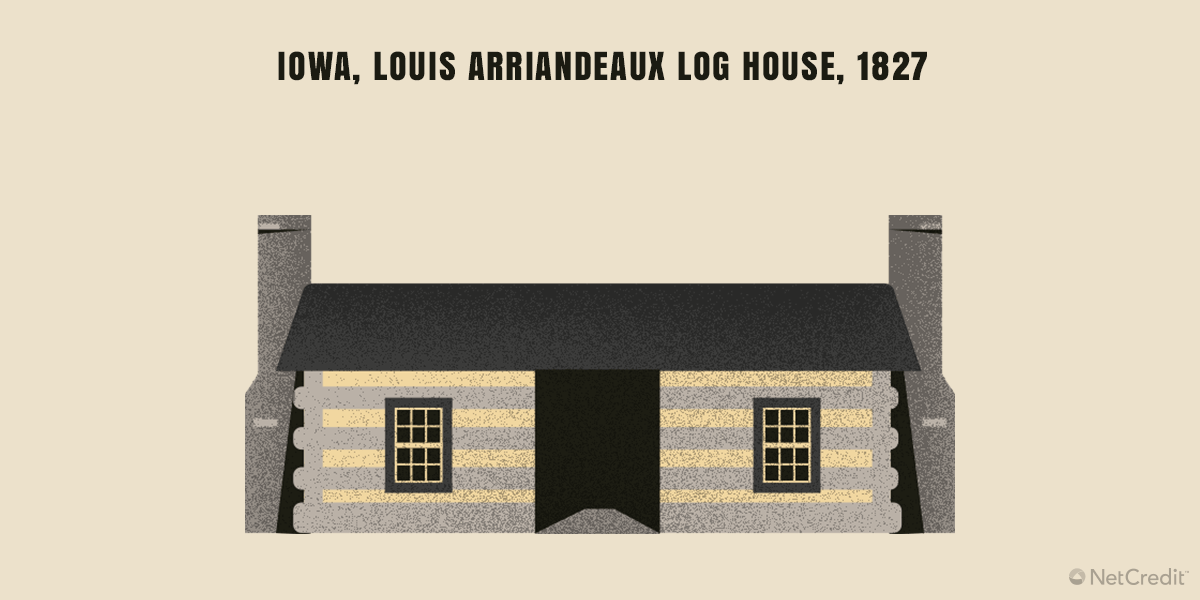 This log cabin originally housed a settler family in Dubuque, but has since been moved twice to settle at its current location on the Mathias Ham House estate.
Kansas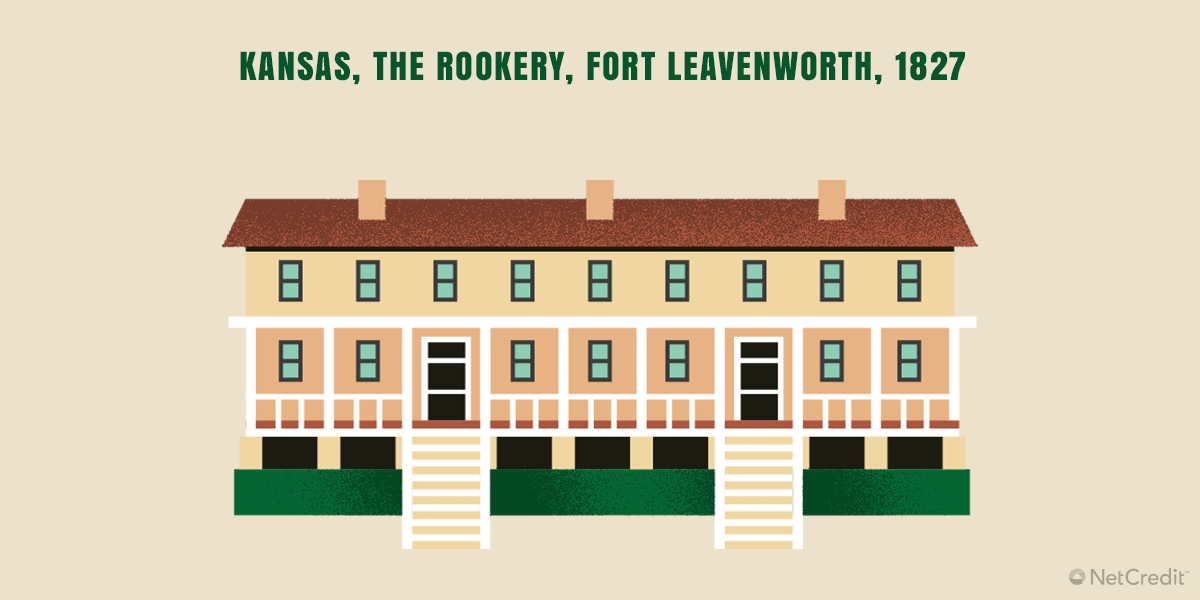 Most famous as the home of the Military Connections Complex, Fort Leavenworth also hosts Kansas's oldest building, the Rookery, built as bachelor officer quarters and later used as the office of Governor Andrew Reeder.
Kentucky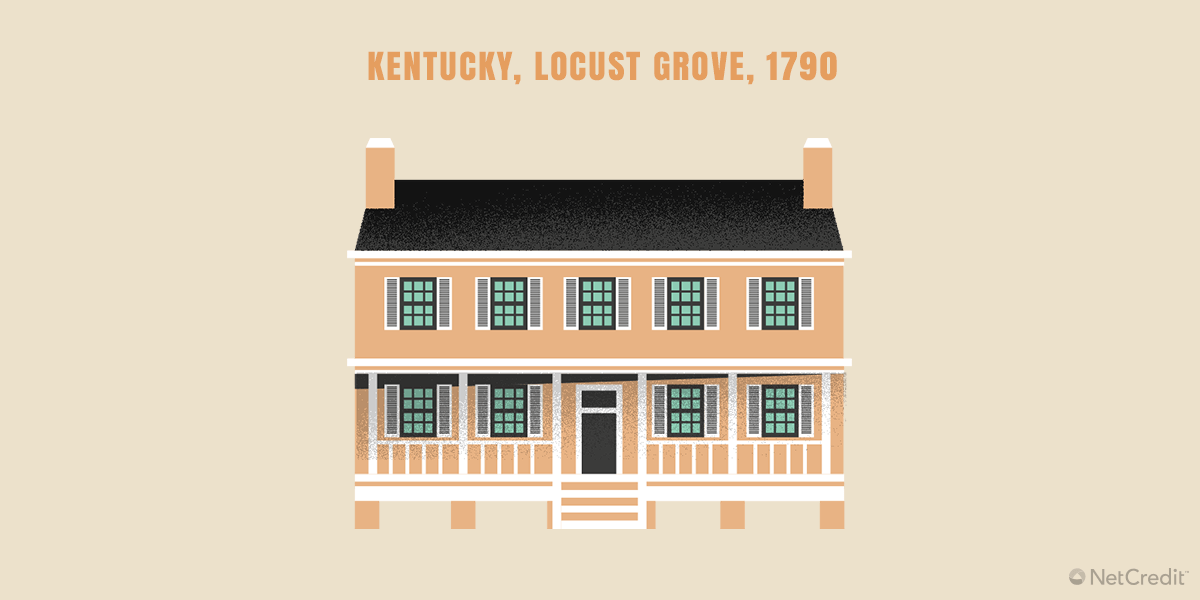 This historic estate, once owned by the sister of William Clark, is the only site west of the Appalachians to have sheltered the famous Lewis and Clark expedition.
Louisiana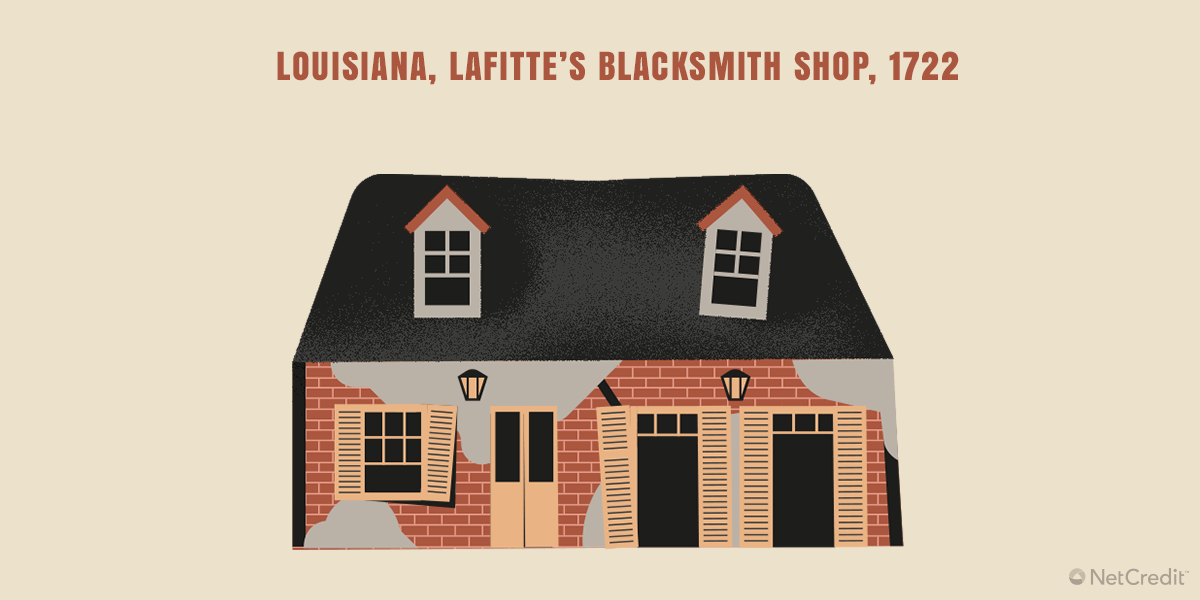 Built in French Colonial style, it's said that this building was used by privateers Jean and Pierre Lafitte as a cover for their illegal smuggling activities.
Maine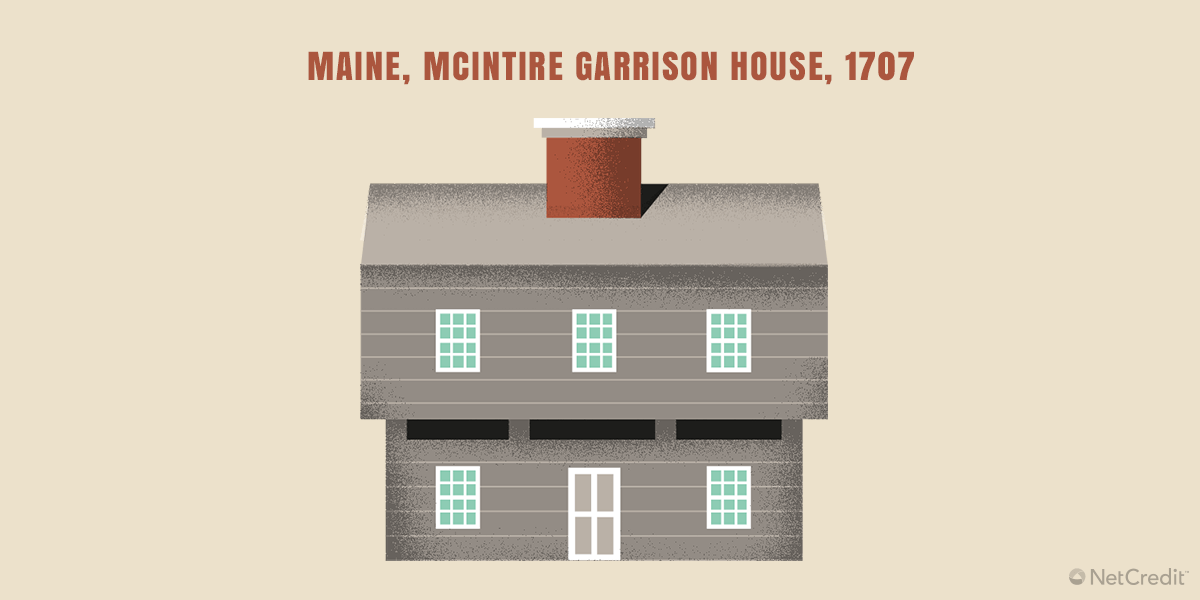 This is one of the oldest examples of a colonial guard house, built by English settlers to protect from Native American and French attacks.
Maryland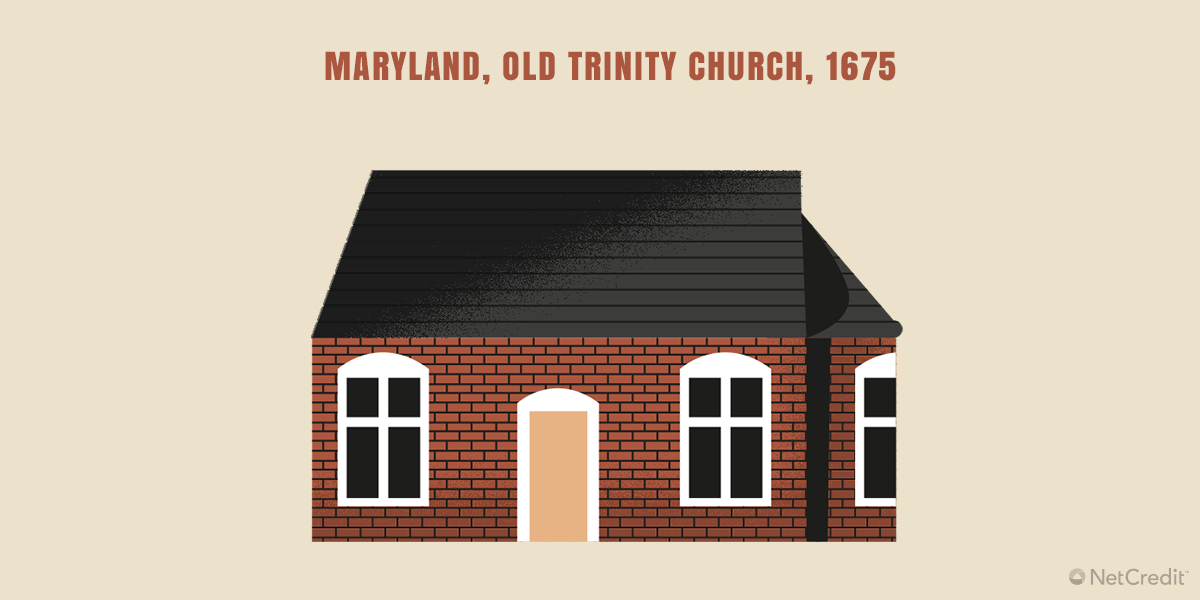 This old church was constructed by English settlers on an 85-acre plot and contains a number of typically English features, including its West Gallery and the coat of arms of Maryland's benefactor, Queen Anne.
Massachusetts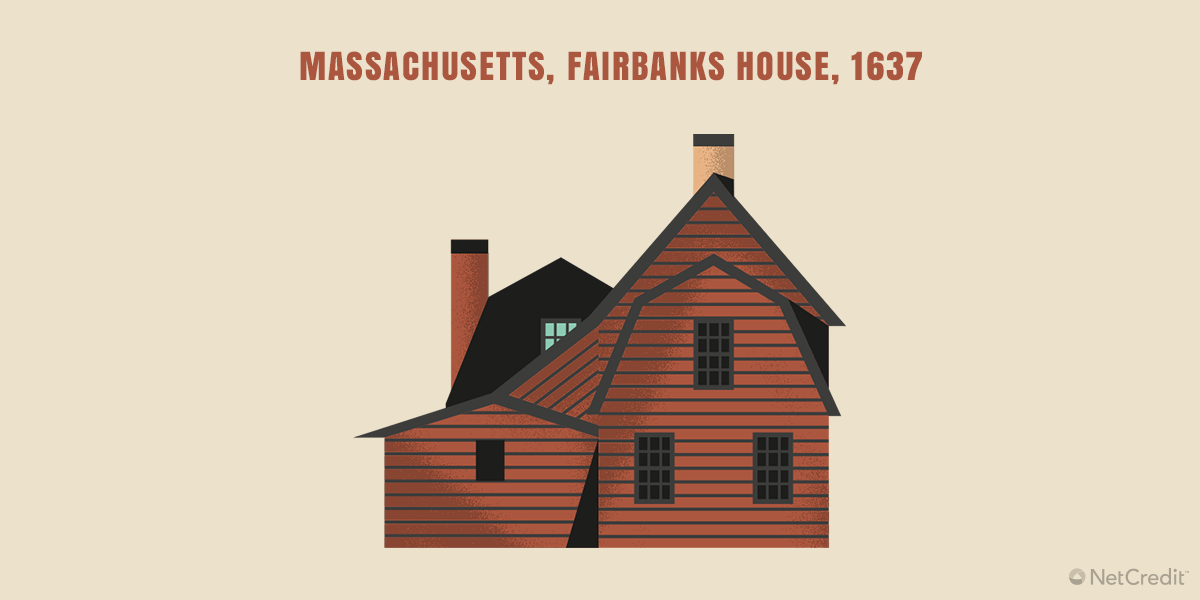 Constructed for Puritan Jonathan Fairbanks and his family, this is the oldest timber-frame house verified by dendrochronology in the US.
Michigan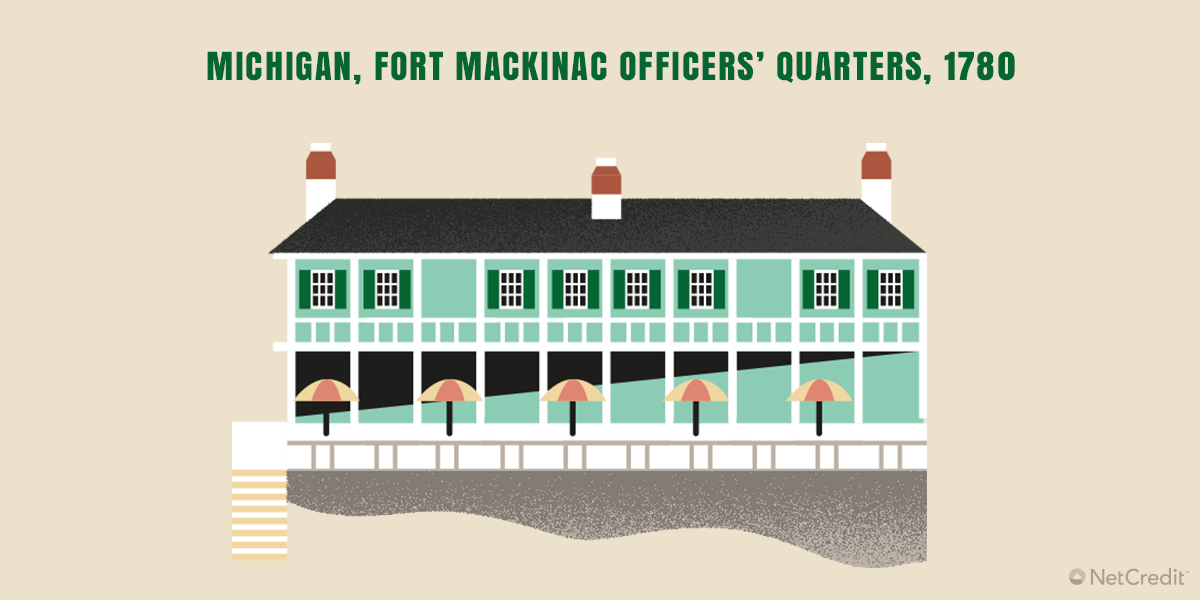 This substantial stone building is part of the wider Fort Mackinac complex and housed British soldiers during the American War of Independence.
Minnesota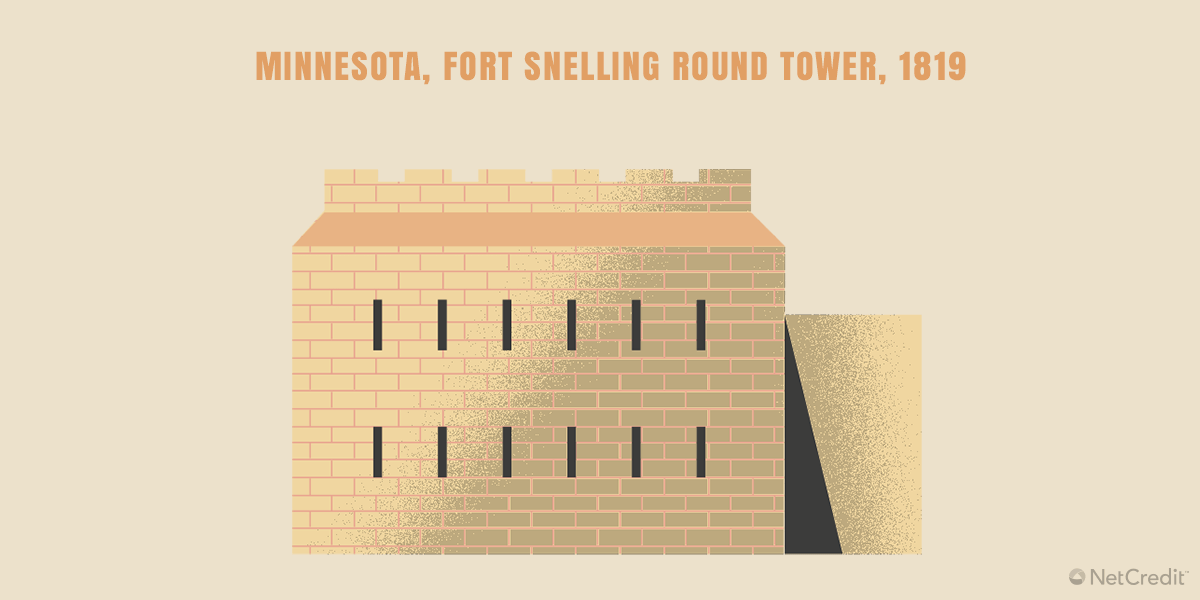 Designated a 'national treasure' by the National Trust for Historic Preservation, Fort Snelling was set up to enforce law and order following the War of 1812.
Mississippi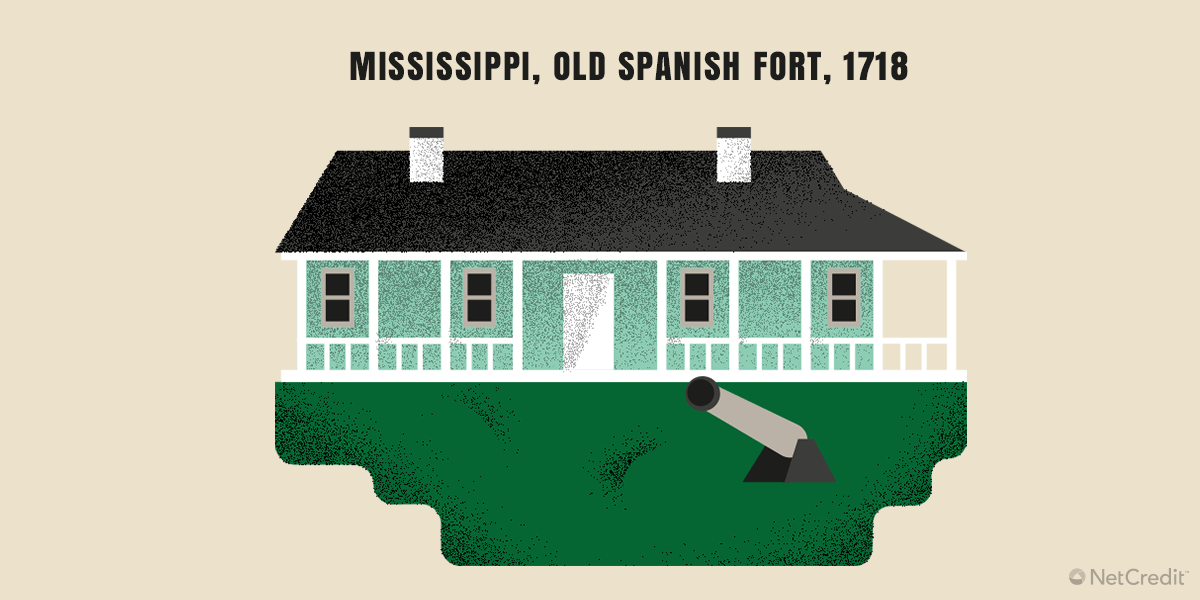 The Old Spanish Fort draws its name from a spell as the fortified residence of a Spanish soldier, but it in fact began life as an indigo and wax myrtle plantation.
Missouri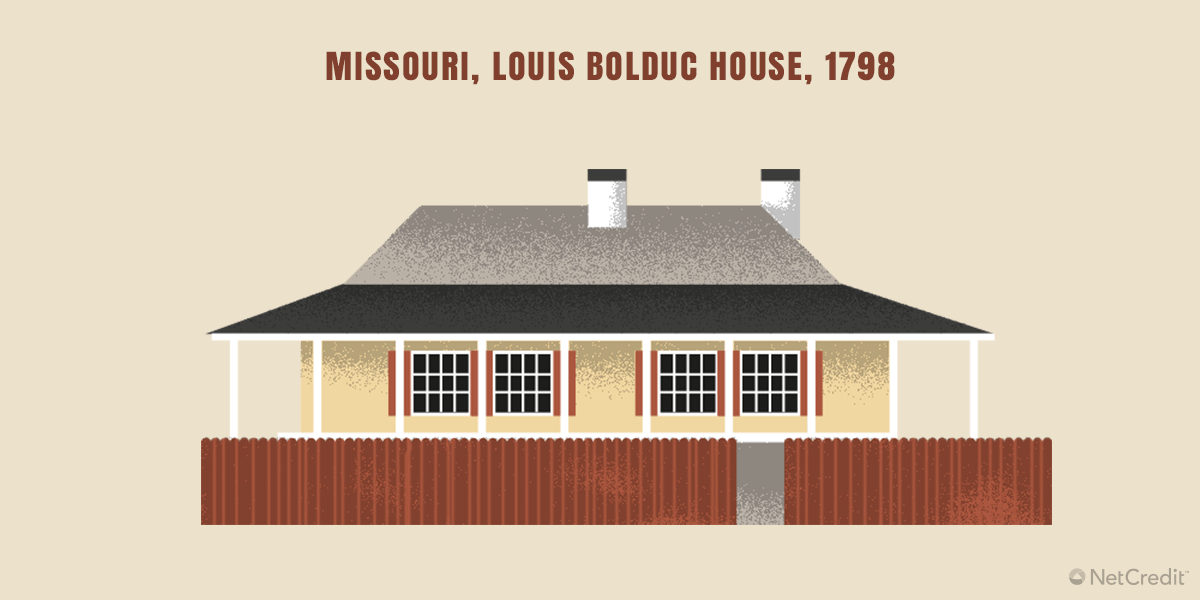 French features like the hip roof are clues to this house's origins; it was built for French-Canadian settlers and remained in the same family until the 1940s.
Montana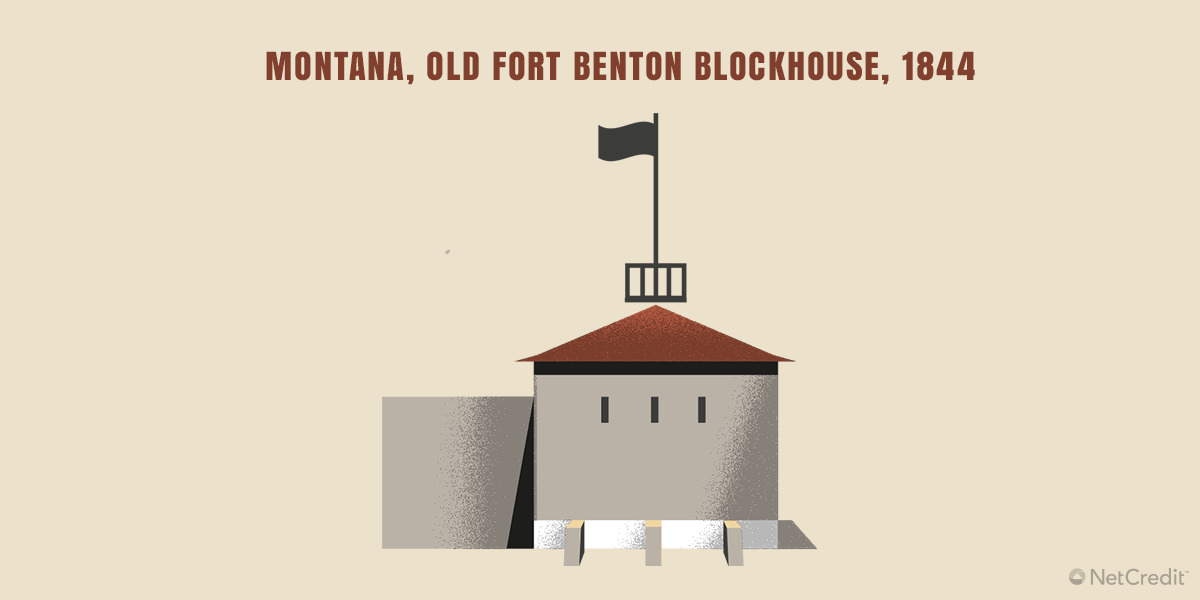 This is all that remains of the old fortress, which was once the final outpost of the Mullan Road and the Upper Missouri fur trading route.
Nebraska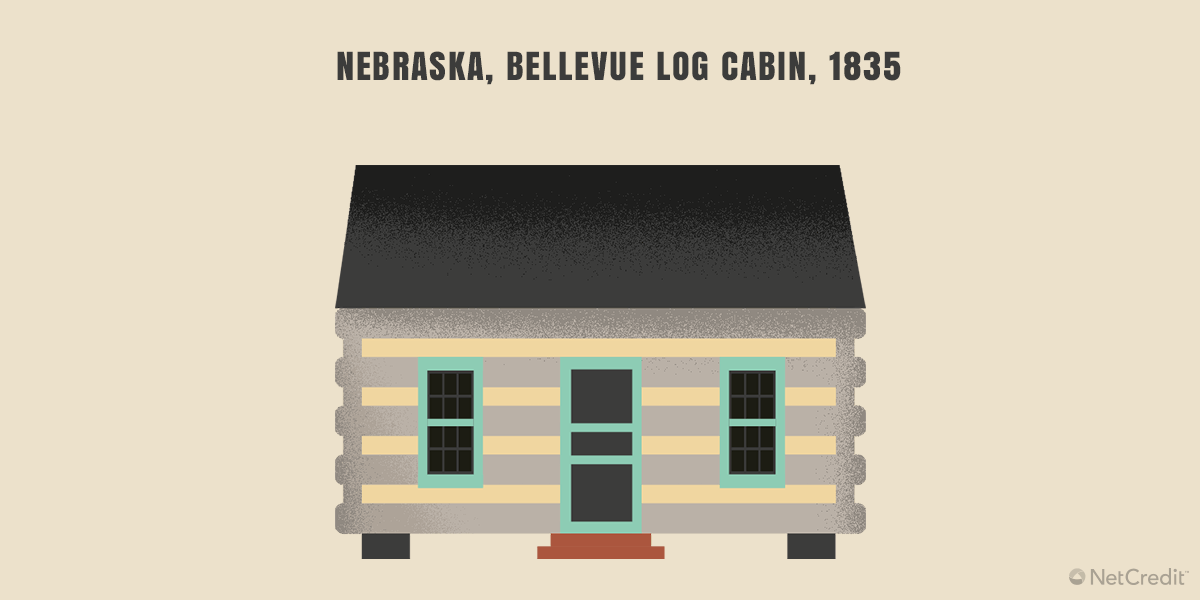 The cabin was built as a trappers' residence in the Missouri floodplains and was later moved in 1850 to Bellevue, where it continued as a family home until the 1950s.
Nevada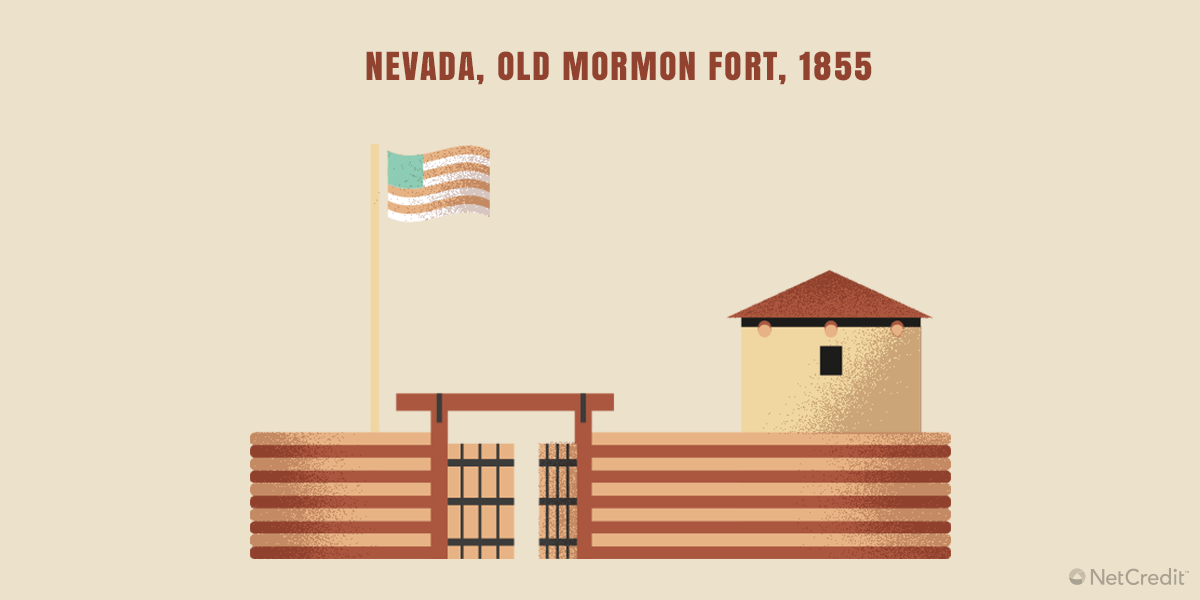 Mormon missionaries established this adobe-brick fort at the midpoint between Salt Lake City and Los Angeles, but abandoned it in the Utah War.
New Hampshire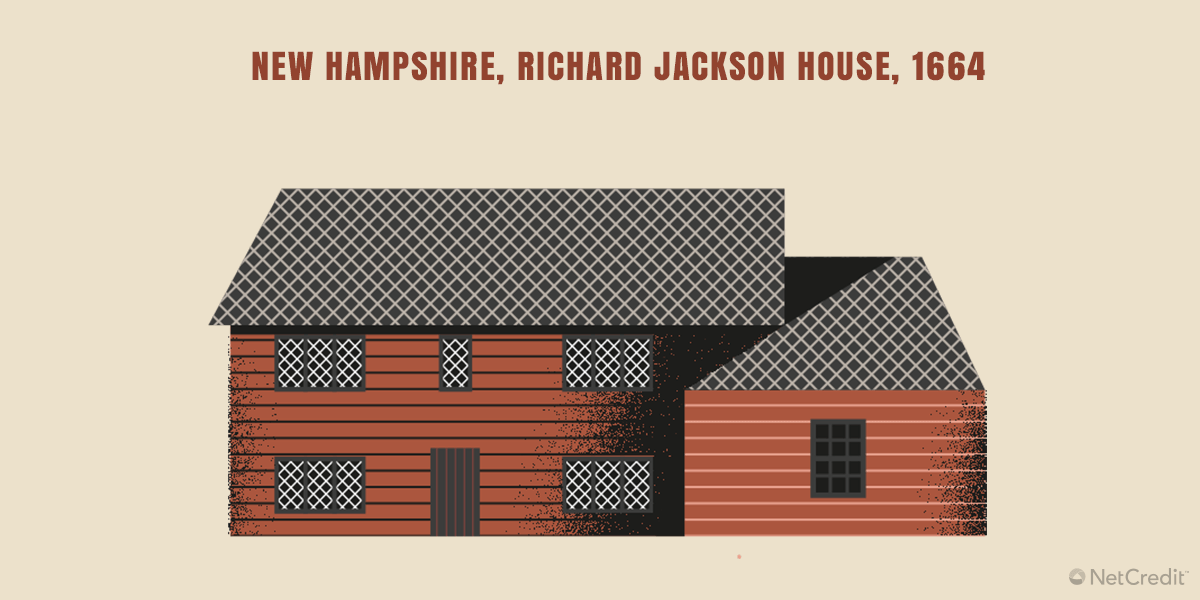 Once part of a 25-acre homestead, the Richard Jackson House has a noticeably American style, with the use of wood and large spaces.
New Jersey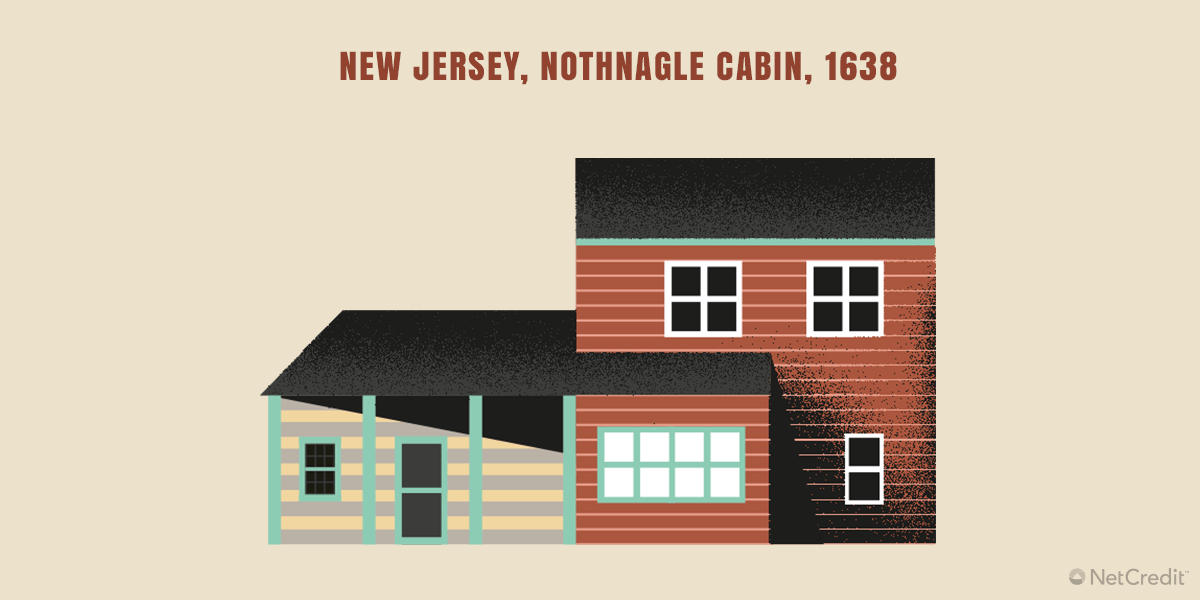 This log cabin was built by Finnish settlers with close-fitting oak logs and was lived in until 1918.
New Mexico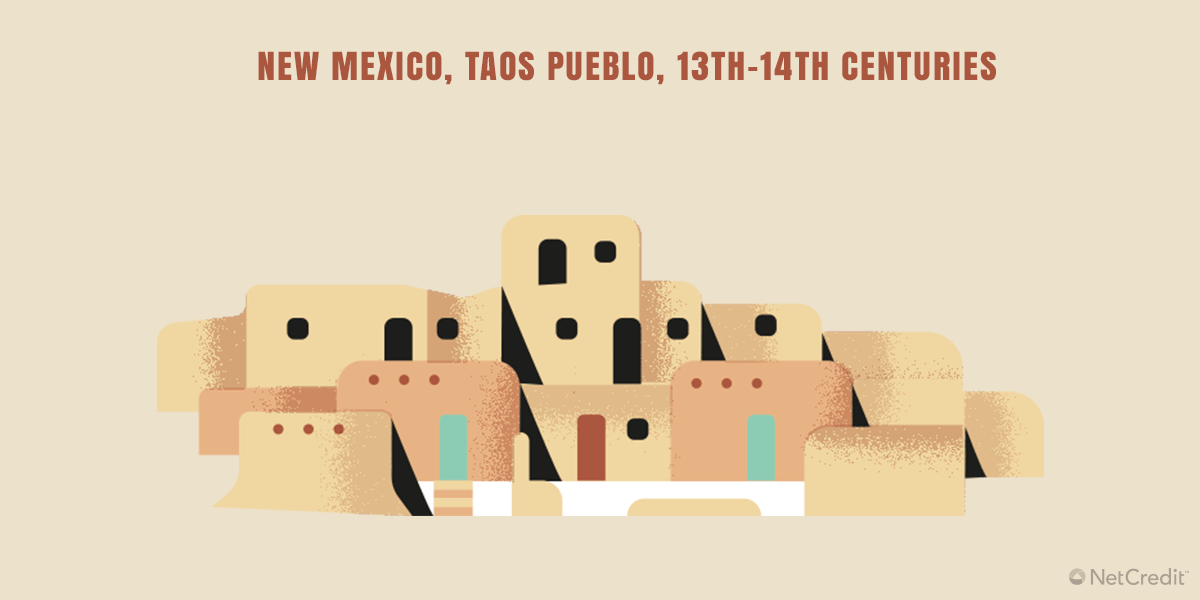 A UNESCO World Heritage Site and still inhabited today, Taos Pueblo was built 700-1000 years ago with adobe brick by the Taos people and is home to 150 residents.
New York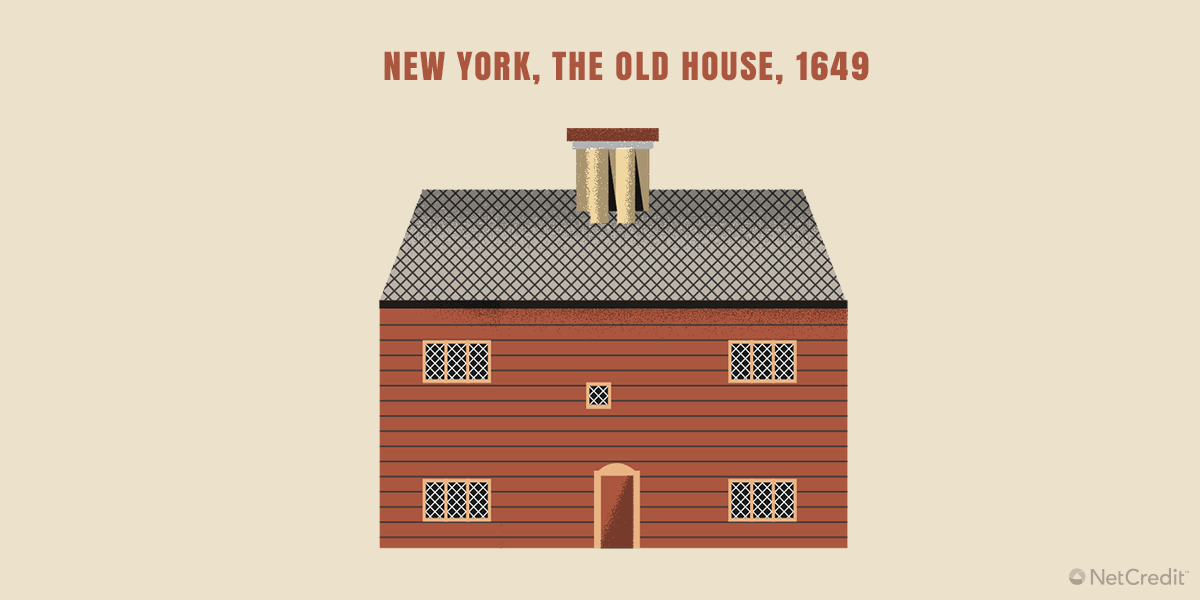 Although predated by a carpenter's shed, the Old House is the earliest standing example of a colonial house in New York State.
North Carolina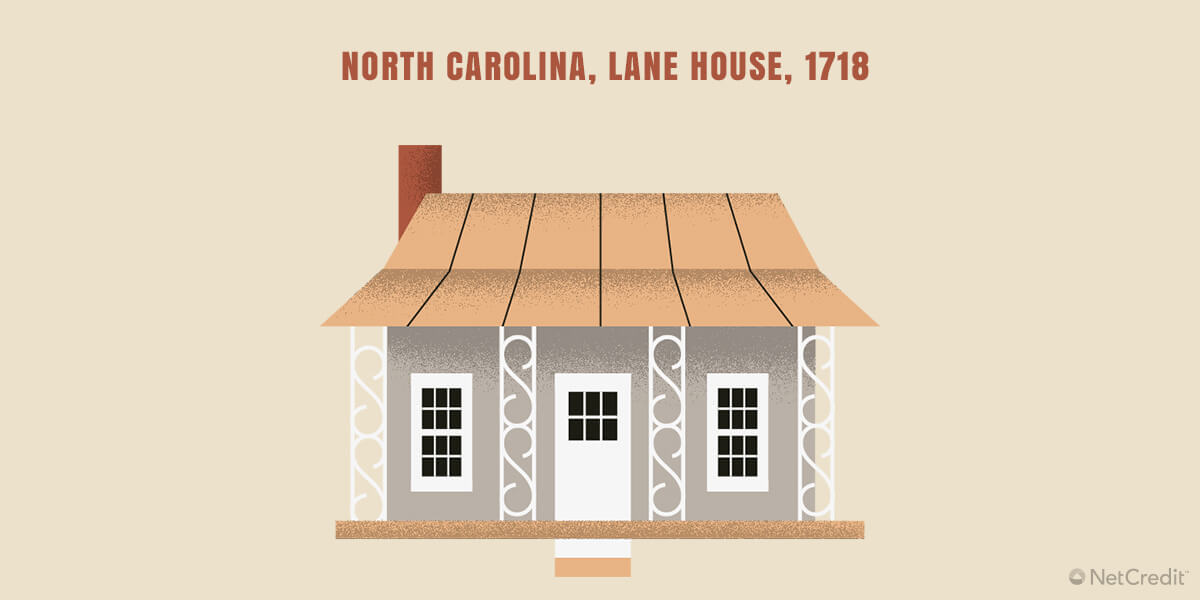 This house was originally a one-story colonial structure, with the half story added on in 19th century.
North Dakota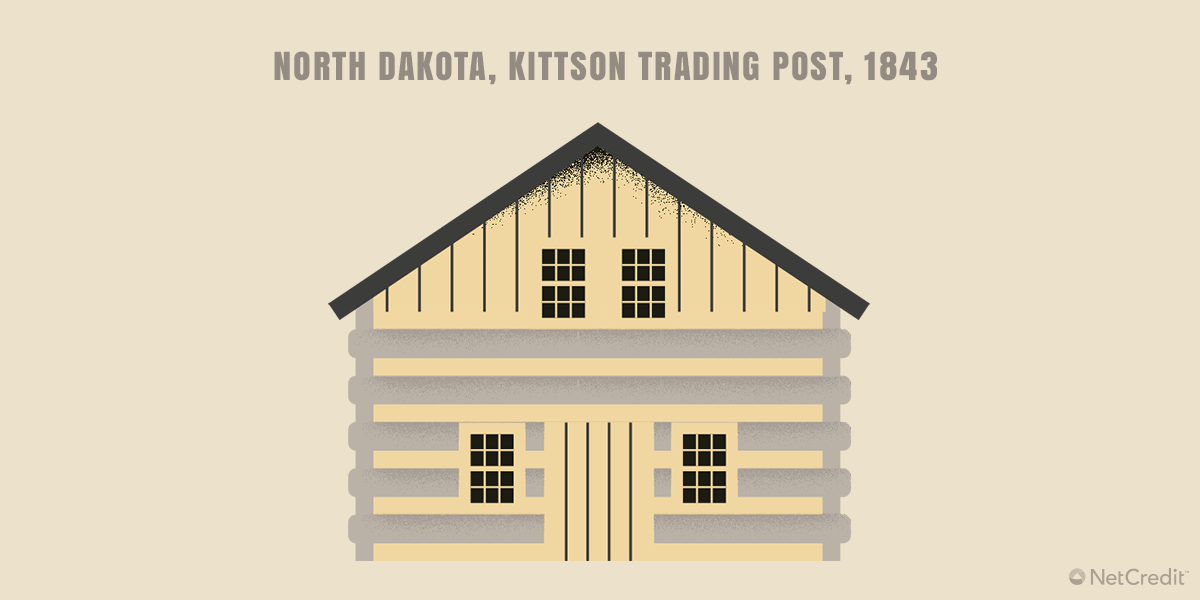 The American Fur Company's agent Norman Kittson established this trading post to take advantage of the local Red River Valley's prosperous fur trade.
Ohio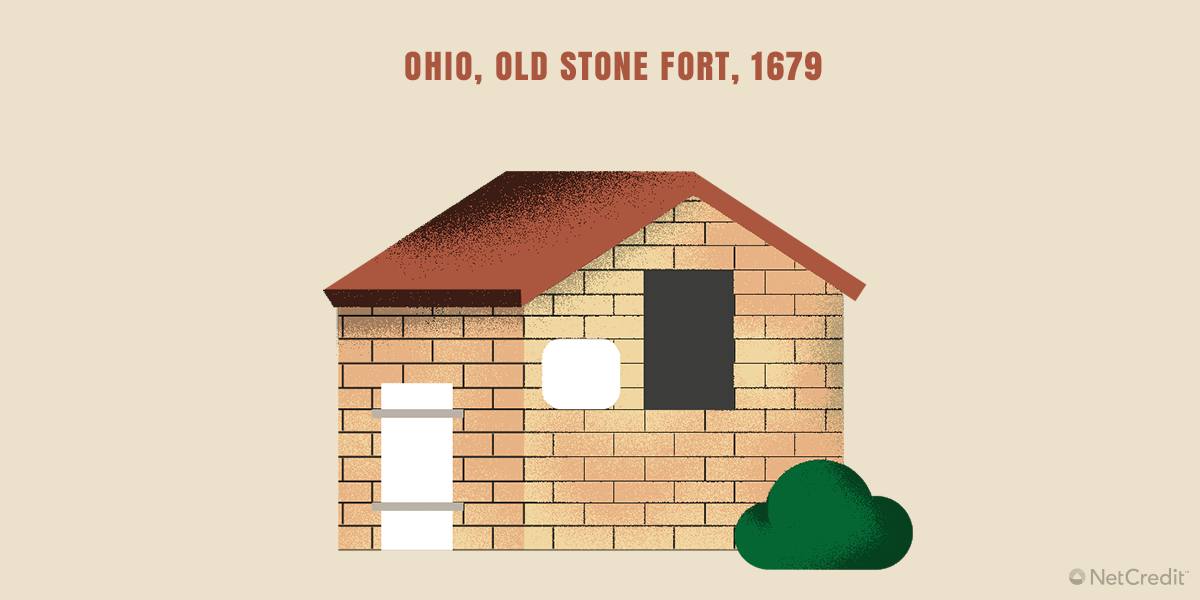 Though no one knows for sure, it's believed that this structure was built by French-Canadian explorer Pierre Le Moyne d'Iberville.
Oklahoma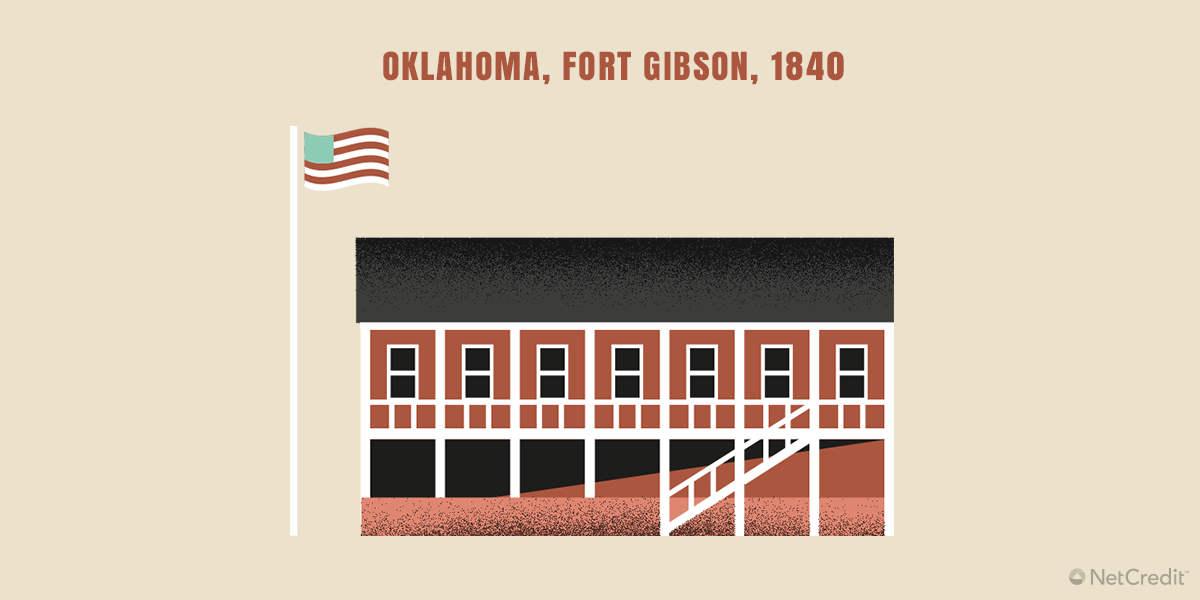 These barracks are the oldest structure in Fort Gibson, a significant outpost that served as a final stopping point on the infamous Trail of Tears.
Oregon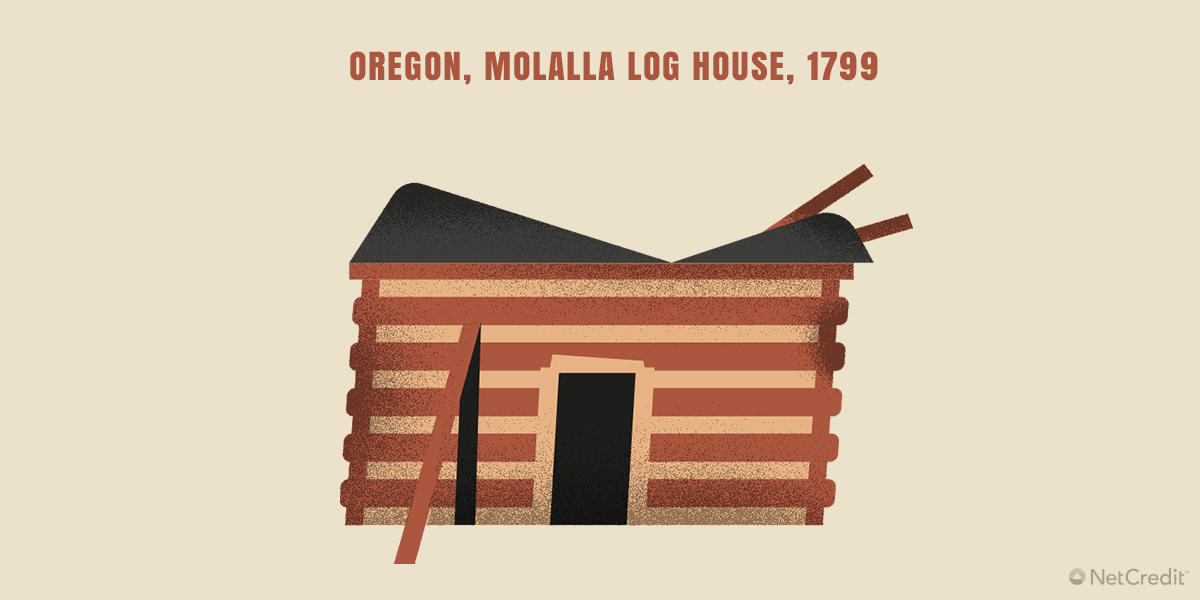 This cabin predates the famous Lewis and Clark Expedition and is thought to be the work of Russian settlers, sent to the Willamette Valley by Catherine the Great.
Pennsylvania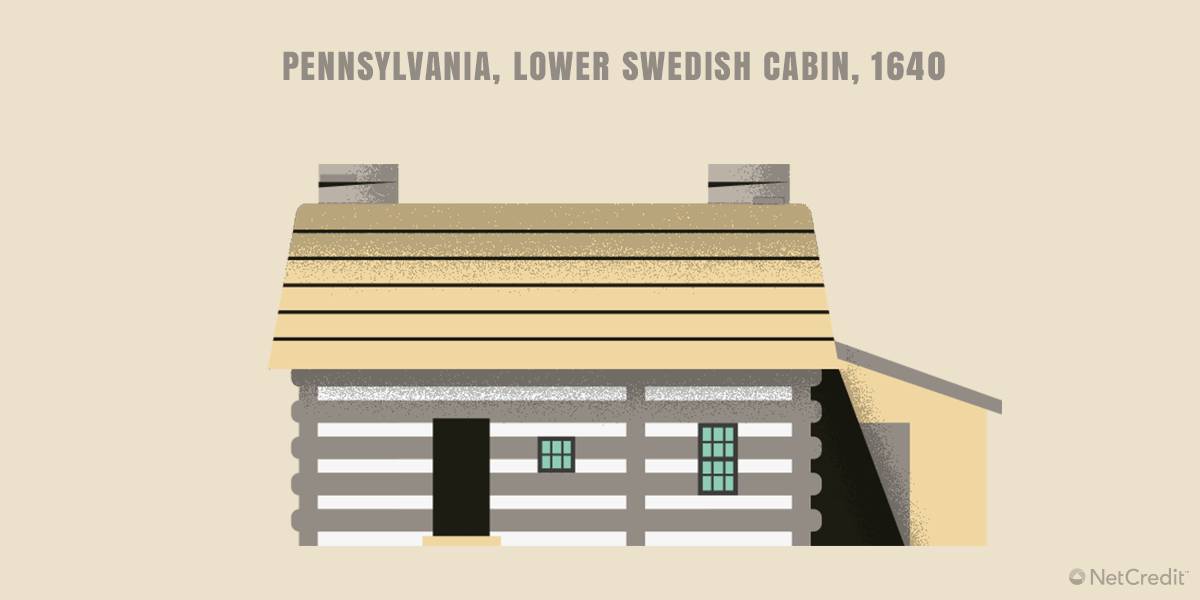 Built as part of the New Sweden colony, this is an interesting example of a Scandinavian log house and was placed on the National Register of Historic Places in 1980.
Rhode Island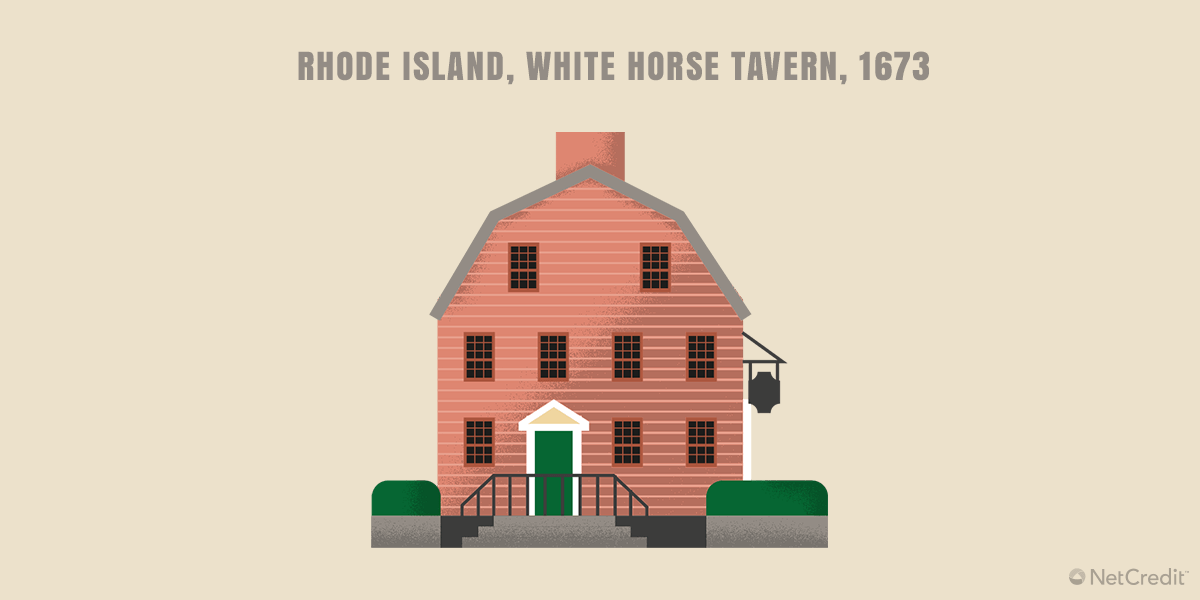 Originally a private residence, this distinctive red, timber building was converted into a tavern in 1673 and has also held the Rhode Island General Assembly.
South Carolina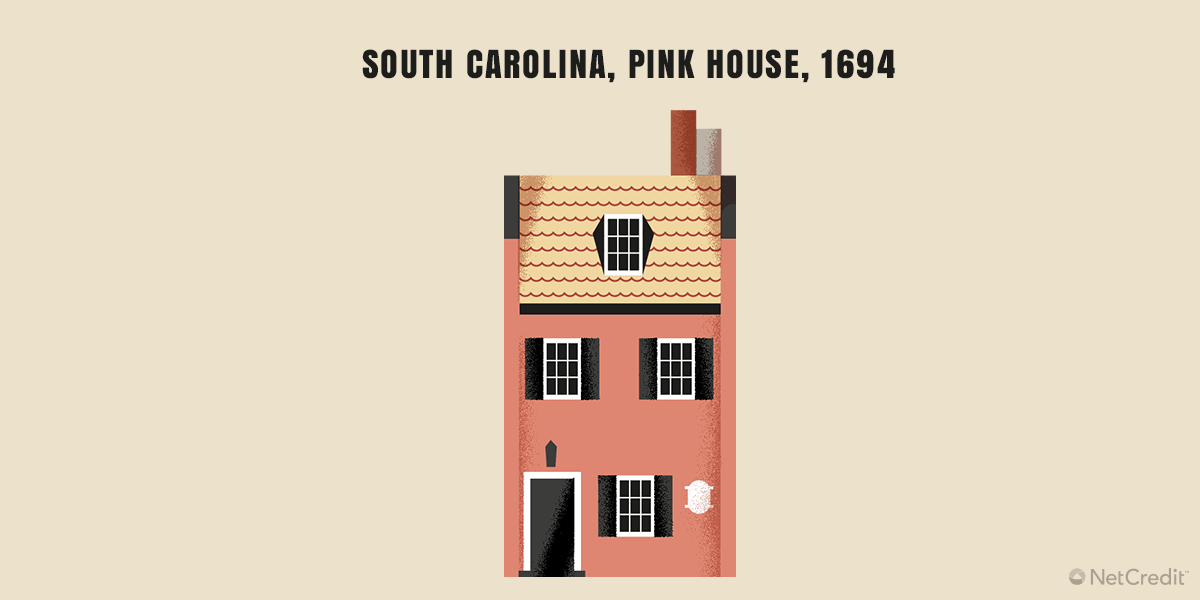 Pink Bermuda stone gives a distinctive appearance to this house, which has also been a tavern and, most recently, an art gallery.
South Dakota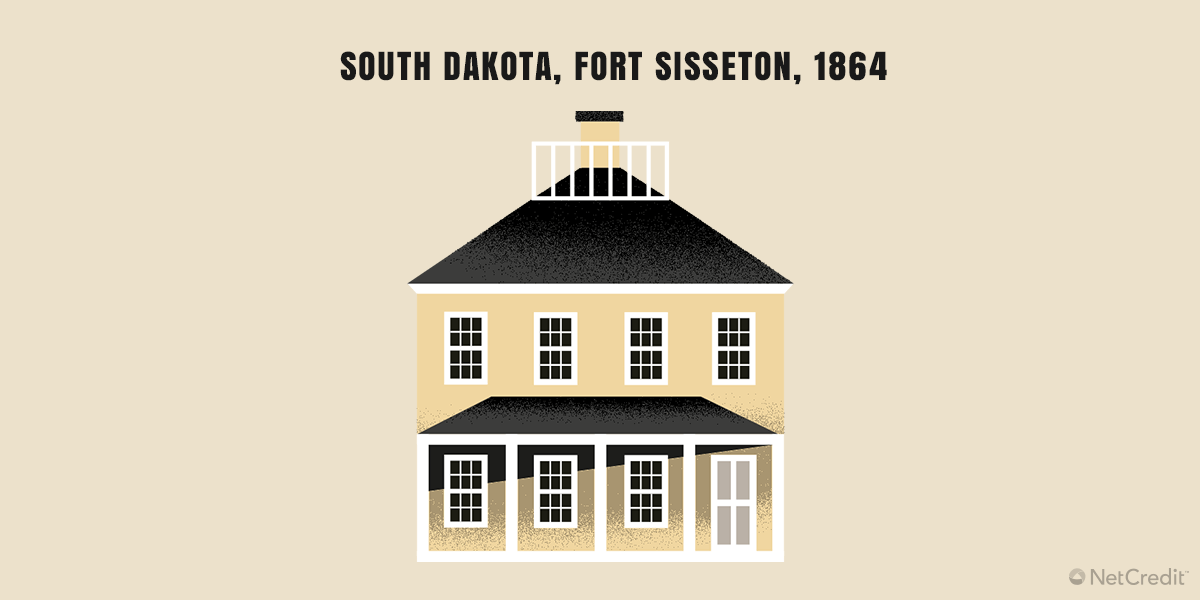 Fort Sisseton, now a State Historical Park, was constructed under the orders of Major General Pope to protect settlers and surveyors moving into the territory.
Tennessee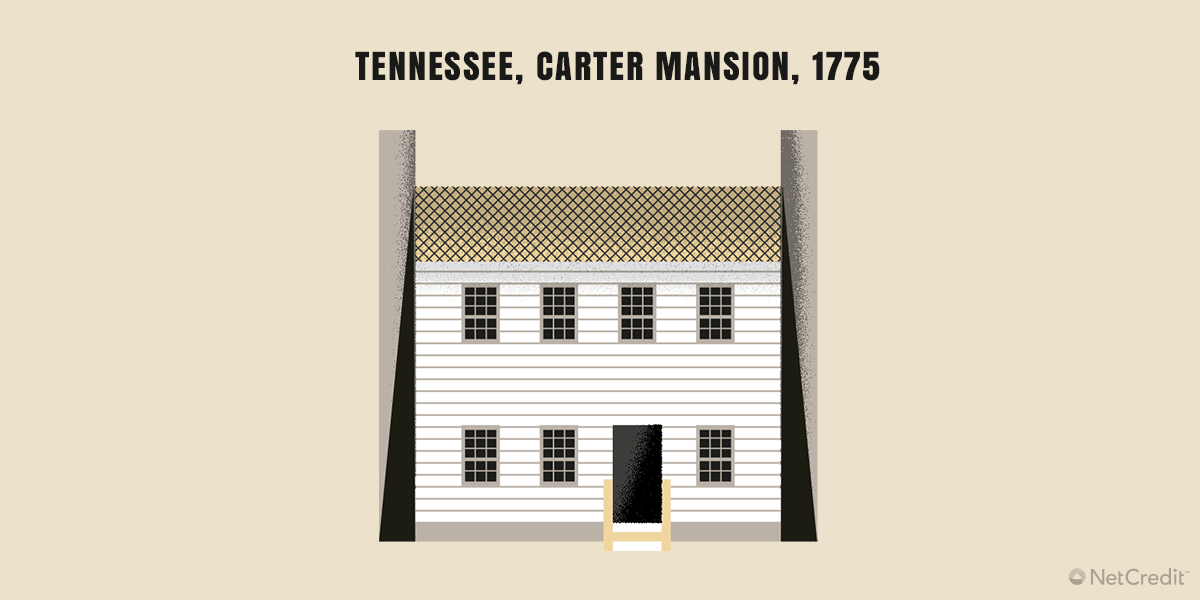 The first house in Tennessee to have glass windows, the Carter Mansion was built for settler and legislator John Carter.
Texas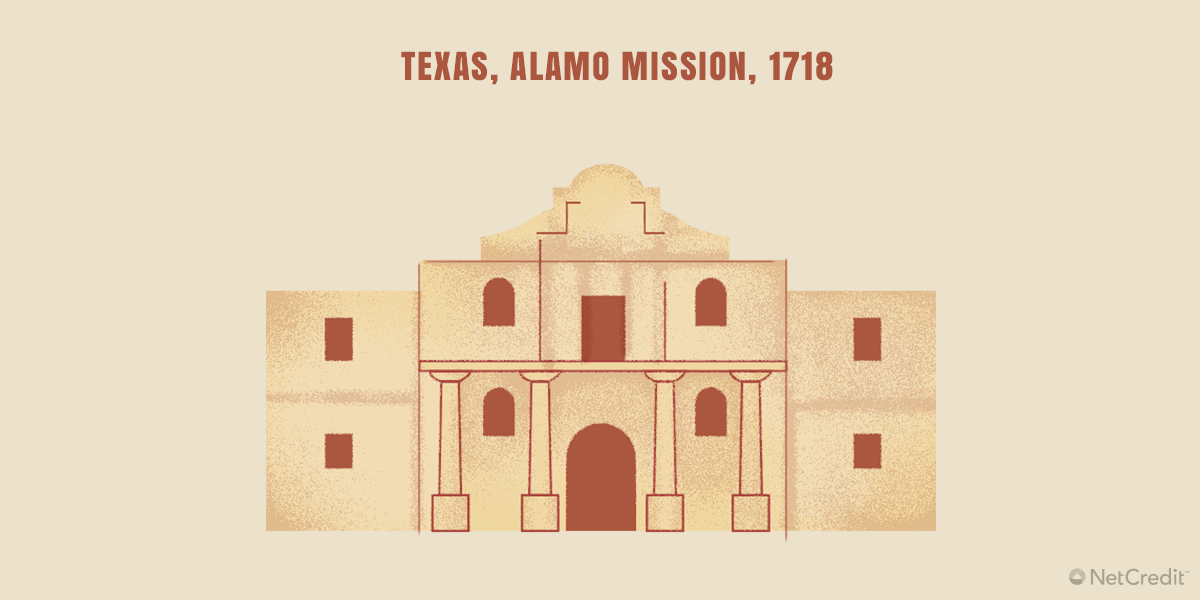 Site of the famous Battle of the Alamo, the Alamo Mission was originally intended to be a place of Christian education for local Native Americans. It later garrisoned both Mexican and Texan soldiers.
Utah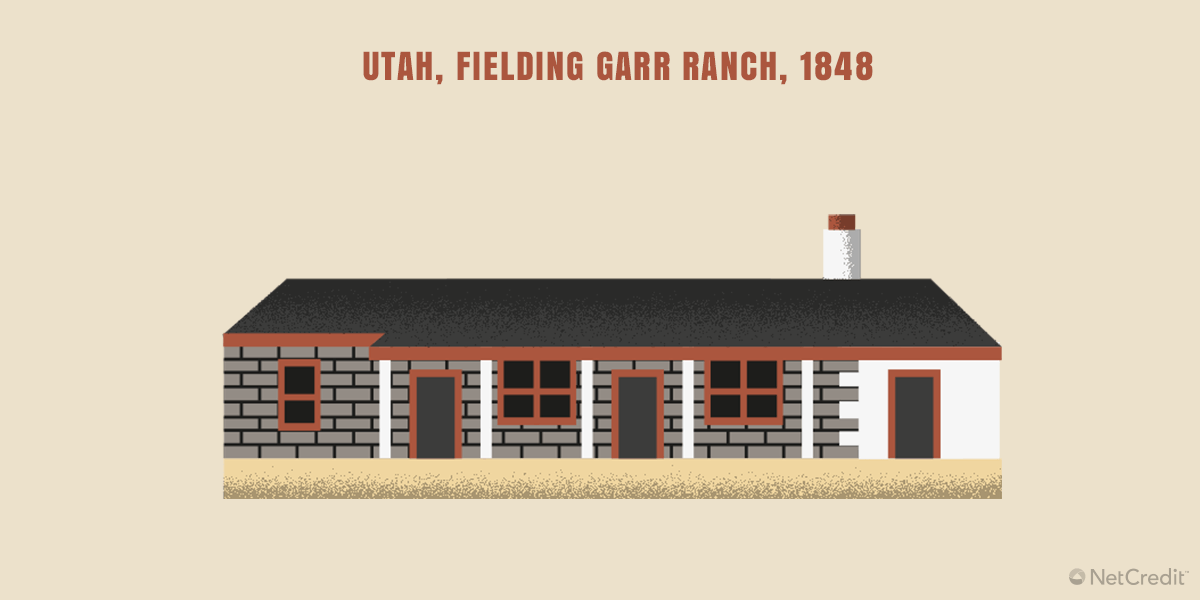 Mormon pioneers established this ranch with adobe construction on Antelope Island, where it continued to be a Garr family home until the 1980s.
Vermont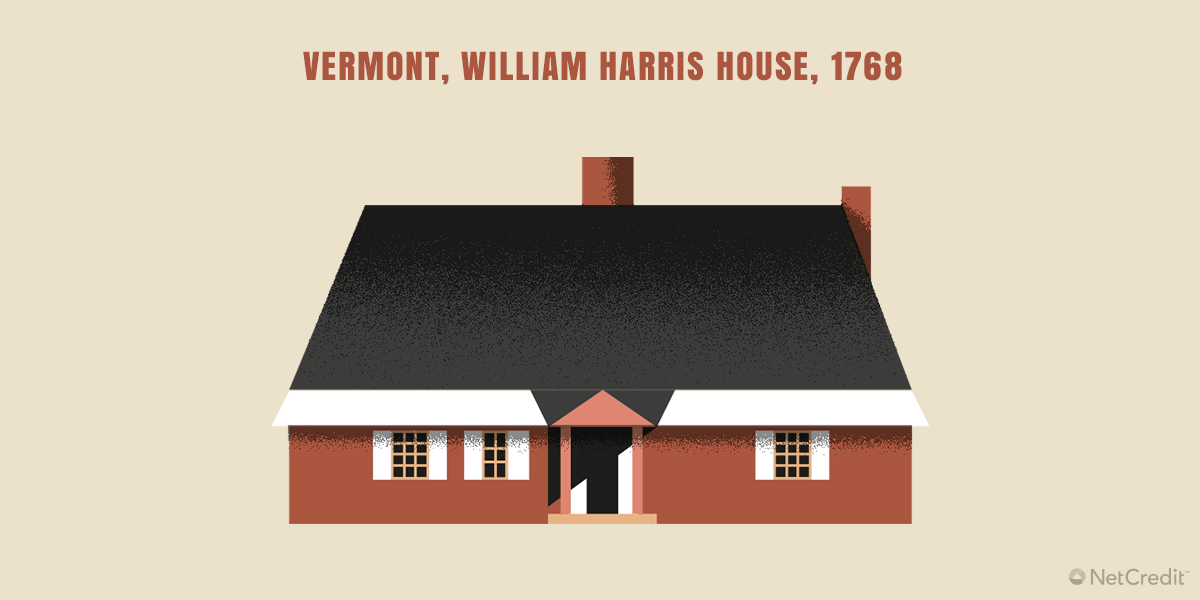 Also known as the Joseph Caruso house, this typical early center-chimney Cape Cod house was built by William Harris, one of the first settlers in the frontier town of Brattleboro.
Virginia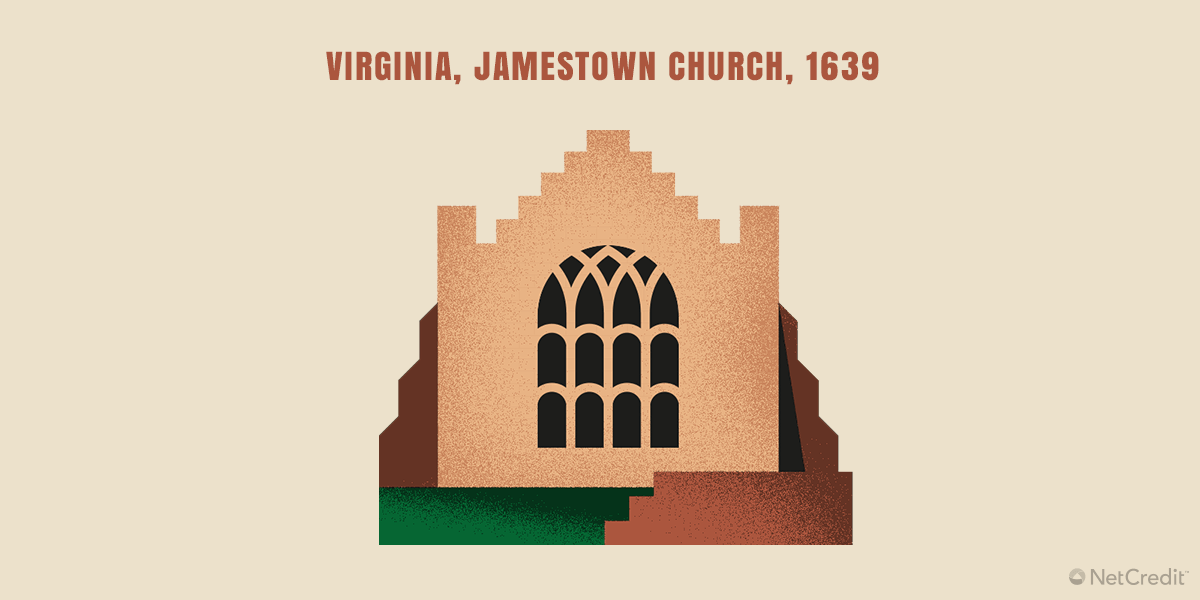 This old church has been amended or rebuilt six times. While the tower dates back to 1639, the nave was reconstructed in 1906.
Washington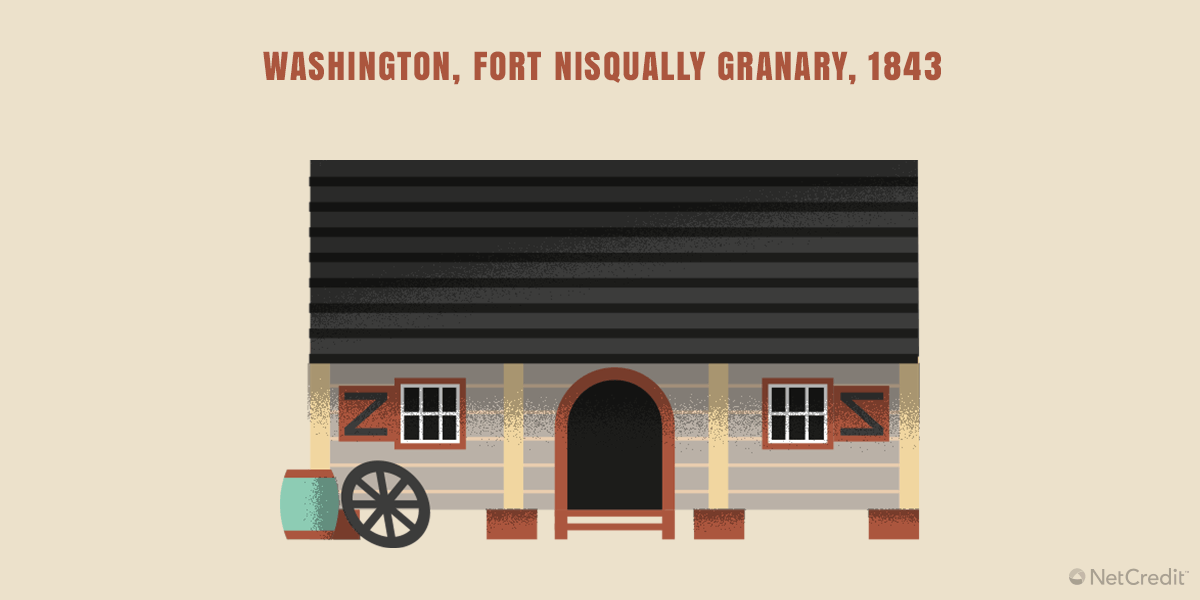 The historically significant granary is one of the few surviving Hudson's Bay Company structures in the US, and also an example of a rare post-on-sill timber construction.
West Virginia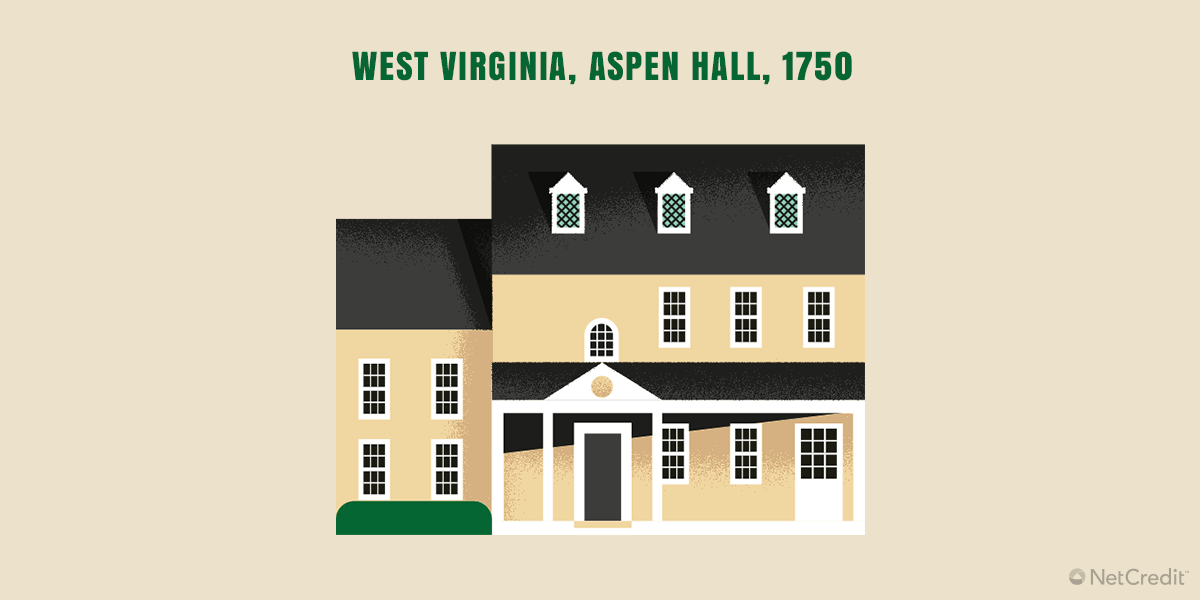 This Georgian-style stone house was once part of a fortified complex, and though it was used as a hospital during the Civil War, it's since been turned into a bed and breakfast.
Wisconsin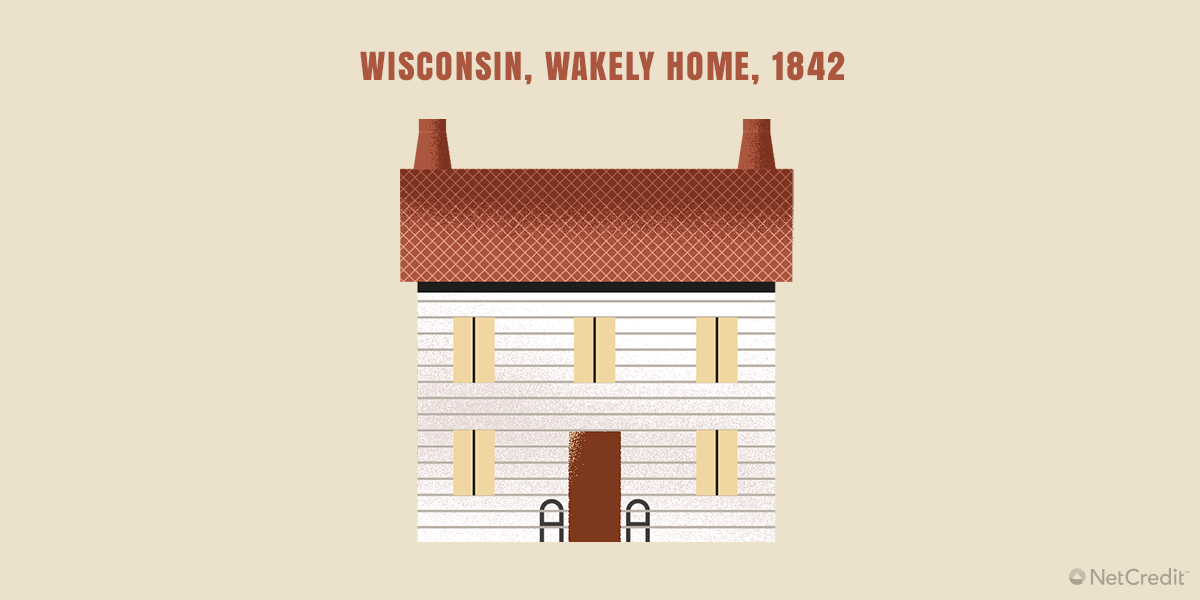 Wakely Home has a classic wooden-frame symmetrical construction and was built for a family of pioneers, who came from New York and were in the lumber business.
Wyoming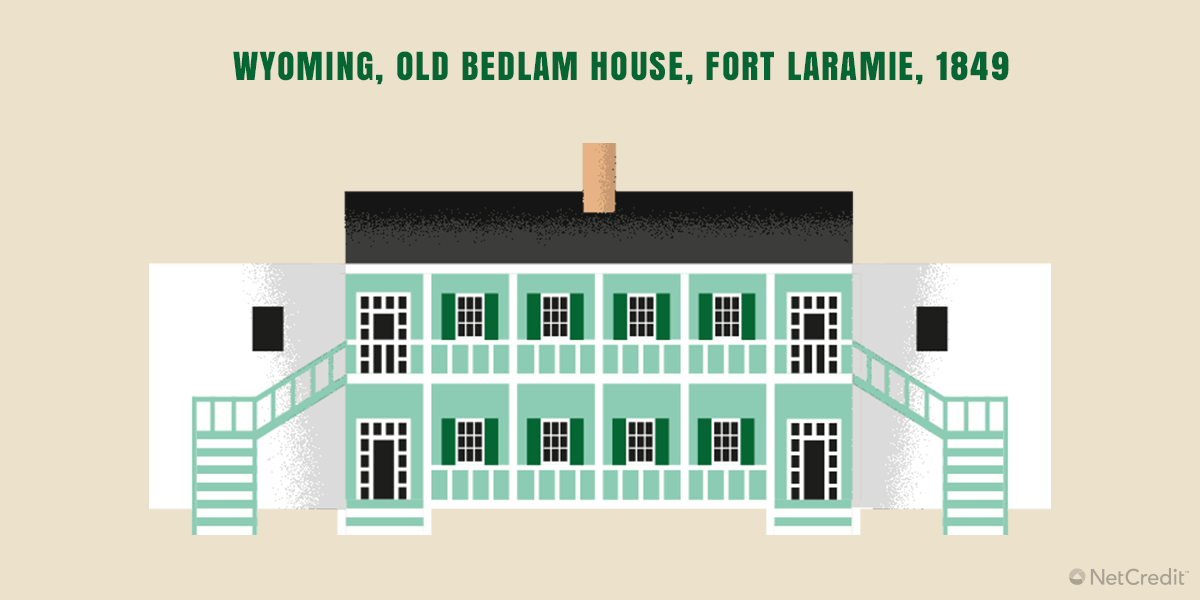 Once an important fur trading post, Fort Laramie sits at one of the best crossing points on the Oregon Trail and is now preserved by the National Parks Service.
Sources
Alabama, Alaska, Arizona, Arkansas, California, Colorado, Connecticut, Delaware, Florida, Georgia, Hawaii, Idaho, Illinois, Indiana, Iowa, Kansas, Kentucky, Louisiana, Maine, Maryland, Massachusetts, Michigan, Minnesota, Mississippi, Missouri, Montana, Nebraska, Nevada, New Hampshire, New Jersey, New Mexico, New York, North Carolina, North Dakota, Ohio, Oklahoma, Oregon, Pennsylvania, Rhode Island, South Carolina, South Dakota, Tennessee, Texas, Utah, Vermont, Virginia, Washington, Washington, D.C., West Virginia, Wisconsin, Wyoming