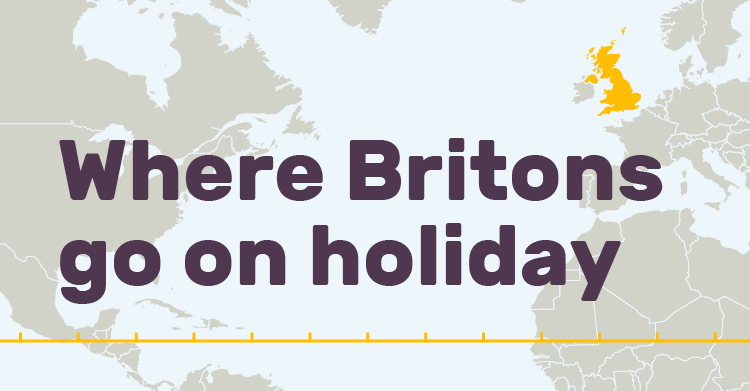 Where Britons Go on Holiday
Opinions are divided over how much the UK relies on the products and services of neighbouring countries, but there's one thing we know we can't import: a reliably good summer! Instead, while some choose to brave it on our windswept beaches and rainy caravan sites, a holiday to warmer climes has become a true British tradition.
With the shape of Europe and the world changing all the time, we decided to use data from the Office for National Statistics to create an interactive map showing just where Britons go to take part in the great British escape.
Perhaps it's no surprise that Spain came out as the number one destination for holidaying Britons from 1994-2017, but the sheer number of Britons travelling there is astonishing: nearly 250 million journeys in 23 years! Spain's popularity is likely down to it's sun-kissed beaches, rich variety of cultures, accessibility as well as it being a fairly cheap holiday destination (at least for the time being anyway).
A less consistent hit with British holidaymakers over the past few years has been Greece. Although it was a mainstay in the destination hit parade until 2010, Brits have been more likely to head to Italy or the States in recent years. It is tempting to put this down to the financial crisis, but ironically Greece could be a victim of its own success: tourism has boomed since the economic bust, to the point where even local politicians have said that resorts have become oversaturated with travellers.
From the 'complicated' relationship between the British and our second most common holiday destination – France – to the far-flung destinations that are only now gaining popularity, it's fascinating to observe the fluctuating summer migration patterns of the UK's citizens over the past two and a half decades. How will the map look in ten years' time when our travel connections to our closest neighbours may be completely redefined?
Methodology
Our researchers gathered data from the Office for National Statistics, which provided figures for the number of UK citizens travelling to specific countries each year, plus data about the purpose and length of trip.
These figures were amassed from the International Passenger Survey (IPS). The IPS conducts between 700,000 and 800,000 interviews each year, of which over 250,000 are used to produce estimates of overseas travel and tourism.
Share this interactive on your site:

Sources
Office for National Statistics. (2019). Travelpac: travel to and from the UK.  ons.gov.uk