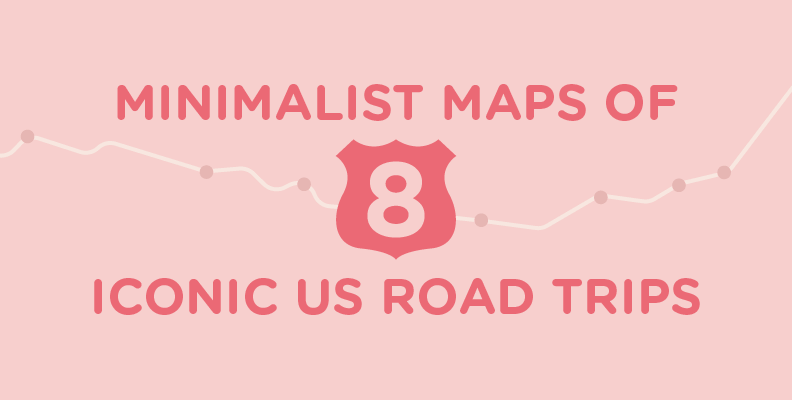 Minimalist Maps of 8 Iconic US Road Trips
The mythology of the American highway has inspired countless movies, books and songs. And it's no wonder – from awe-inspiring natural wonders and national parks to small towns and bustling cities, the USA has it all.
There's really no better way to discover this vast and varied landscape than from the freedom of the open road. So with this in mind, we've mapped out some of the most iconic road trips in a minimalist style. Pack your bags and get the motor running!
1.Pacific Coast Highway 
This cliff-hugging drive down the central California coastline takes in stunning coastal views, seaside villages and a huge dose of classic Americana. Begin by driving over San Francisco's Golden Gate Bridge on your way south to Santa Cruz, where the spirit of the 60s lives on. Cruise along the coast to Monterey, where you can jump out and do a spot of whale watching before moving on to Big Sur, a rural mountain community beloved by artists and hippies alike. Then it's on to the beautiful sandy beaches of Malibu and the glamour of La La Land, before reaching the border city of San Diego.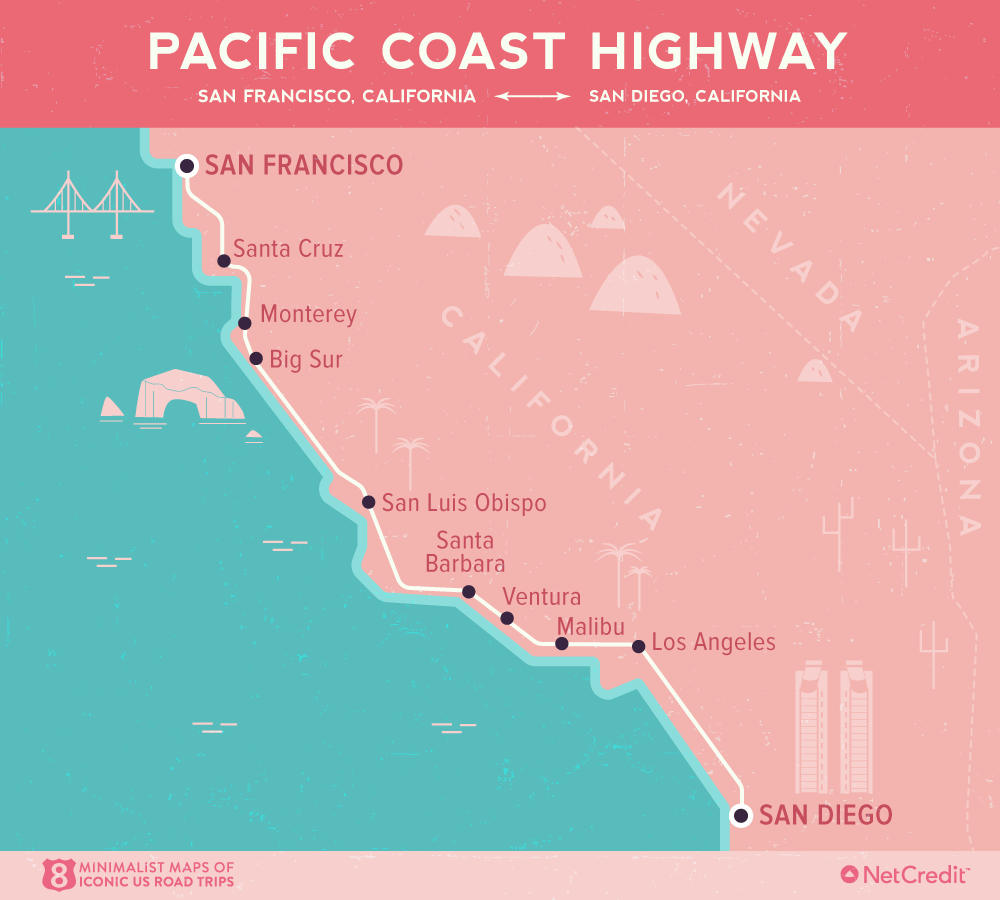 2. Route 66
Possibly the most famous road trip of them all, Route 66 stretches from Chicago to Santa Monica, taking in some of the most quintessentially American sights you could hope to see. Sadly, the so-called Mother Road is no longer part of the US highway system and many parts of it have fallen into disrepair. But don't let that deter you! Motor west from Grant Park towards St. Louis, on your way to classic Route 66 landmarks like the Eisler Brothers General Store and Amarillo's Cadillac Ranch. Explore Santa Fe before arriving in Arizona, where the Painted Desert awaits. The ghost town of Calico is your final stop before reaching Santa Monica Pier, where you can take a ride on the iconic Ferris wheel.
3. US Route 20
This epic coast to coast highway is America's longest road. It stretches from from Boston, Massachusetts to Newport, Oregon, taking in 12 states and cutting through the heart of America. The Finger Lakes makes a relaxing first stop before you rock on to Cleveland. Around the halfway point, don't miss Nebraska's Ashfall Fossil Beds, where you can let your inner Indiana Jones run wild. Then the trip takes you on a scenic drive through the Lamar Valley to spot bison and revel in the spectacular scenery of Yellowstone National Park, all before crossing the Cascades to land in Newport.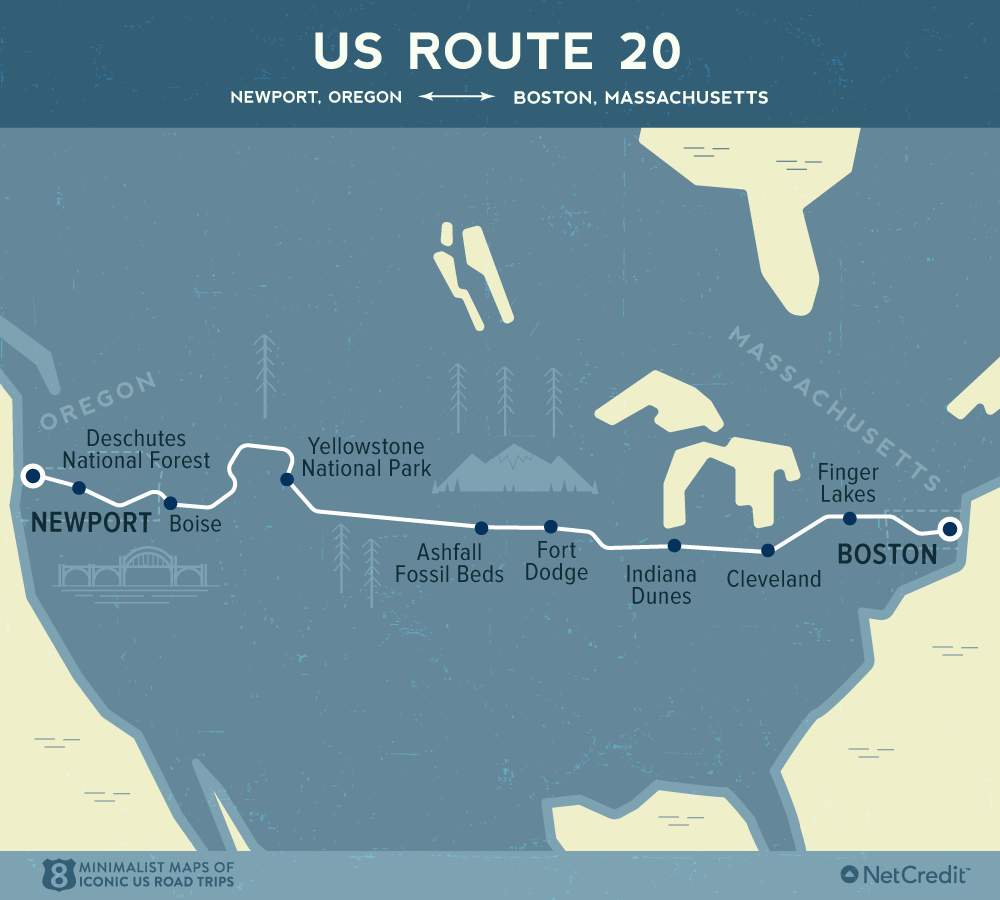 4. Florida Keys
This classic, laid-back drive from Miami to Key West is perfect for those looking to chill along the way. You'll pass through the island paradise of Key Largo, the gateway to the Florida Keys. Stop and take an Everglades tour before enjoying a meal in Marathon. Next up, you'll hit the Seven Mile Bridge, the Keys' longest and most famous bridge. Along the way, take in the crystalline turquoise waters as you approach Big Pine Key, the largest of the Lower Keys. Take a glide through mangrove trails looking for dolphins and tropical birds before you finally land in Key West, where Hemingway once lived.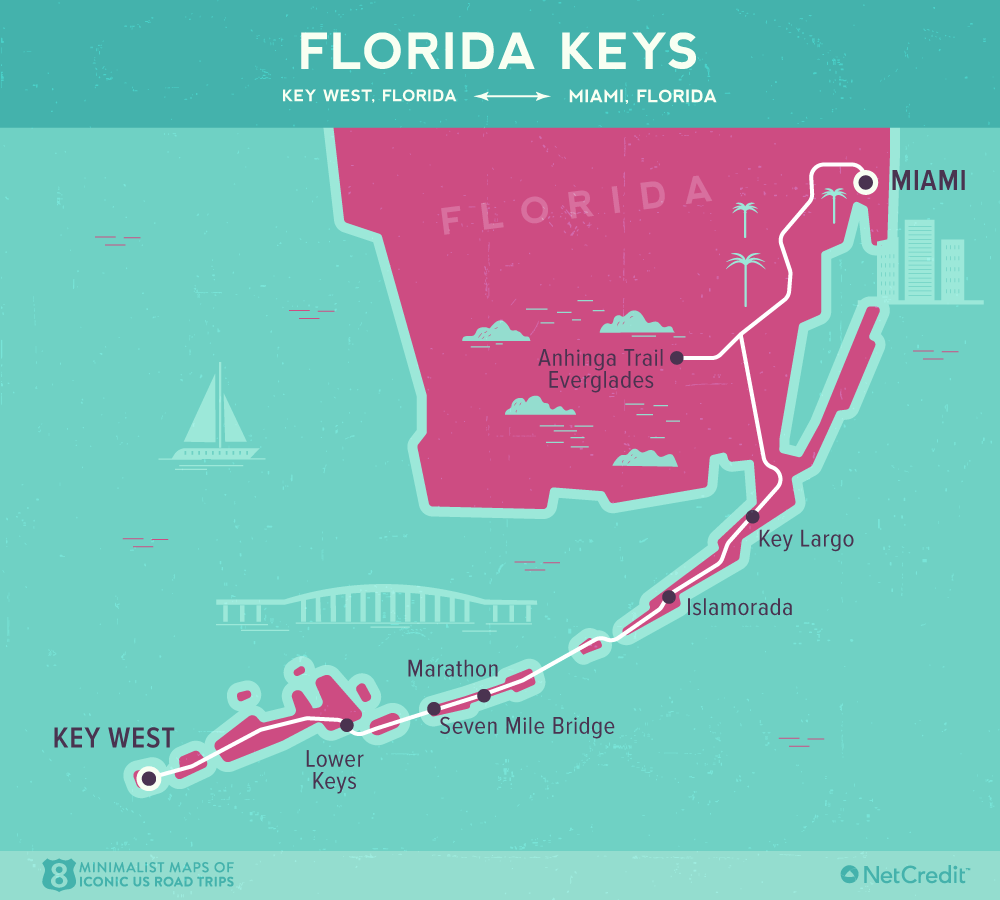 5. Hana Coast
 If you're looking to blow some tension away, this is the road trip for you. Taking in 52 miles of Maui's dramatic eastern coast, the route delivers black sand beaches, cascading waterfalls and a couple of hair-raising cliffhanger moments. Be sure to visit the Garden of Eden Arboretum, the lush 25-acre tract that featured in the opening sequence of the Jurassic Park film. For spectacular nature scenes and outdoor activities, you're spoiled for choice on this journey; don't miss the dramatic Lower Puohokamoa waterfall and Waianapanapa State Park.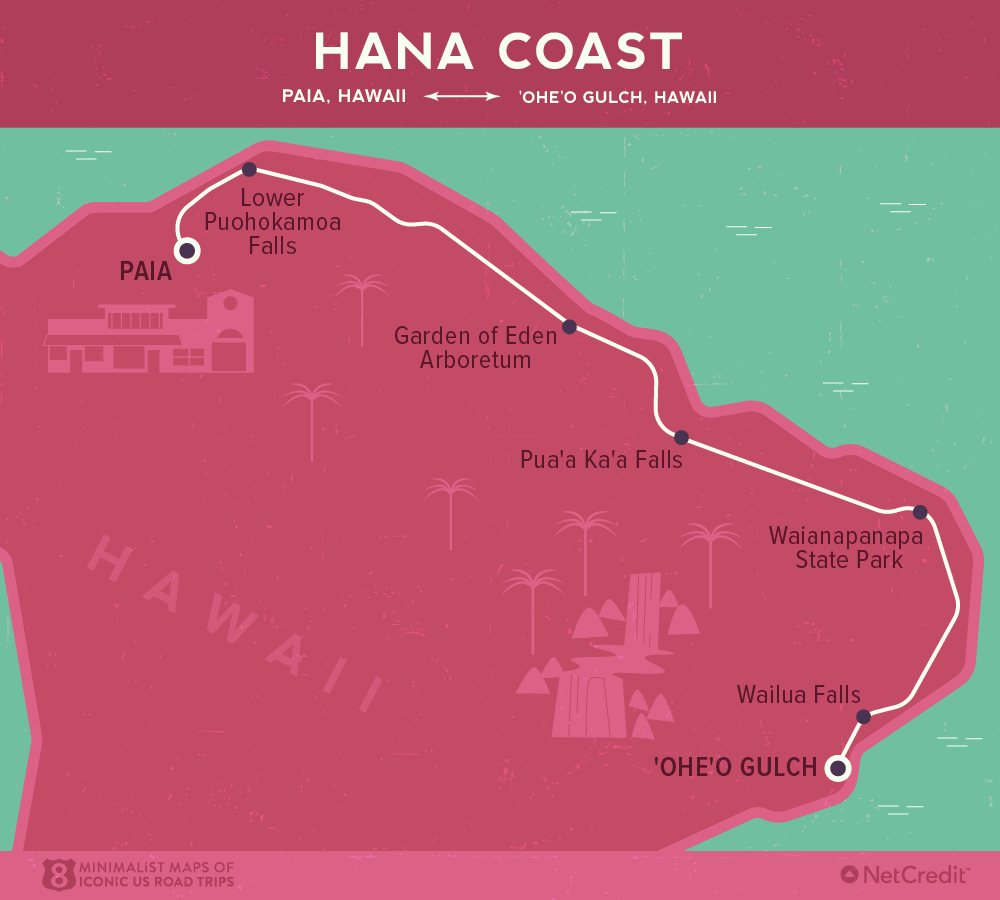 6. Blue Ridge Parkway
If it's the great outdoors you're looking for, the Blue Ridge Parkway has it all. This road connects Shenandoah and the Great Smoky Mountains, two of the most popular national parks in the US. Starting in Charlottesville, Virginia, it won't take long before you reach Shenandoah, with 200,000 acres of trails, forests, caves, mountains and waterfalls waiting to be explored. If that's not enough action for you, a little further down the road is Humpback Rock, which offers a breathtaking view of the Blue Ridge Mountains. But perhaps the most awe-inspiring sights await you at the end of the route, in Great Smoky Mountains National Park.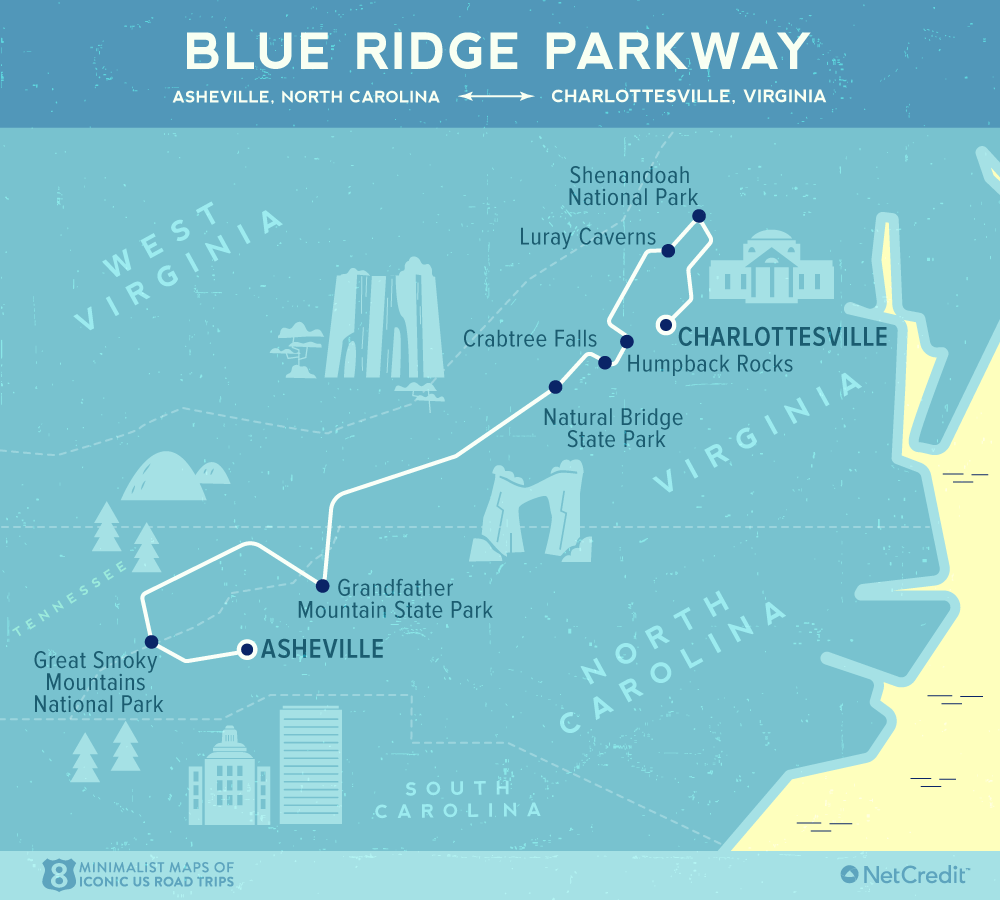 7. Four Corners
The Southwest is home to a unique mix of beautiful horizons and landscapes, carved out by nature and time. The trip starts in Flagstaff, from which you head east to the incredible Petrified Forest National Park. The next must see is Monument Valley, spectacular in itself, but also home to the exact point at which Arizona, Utah, Colorado and New Mexico meet – so that's your Instagram post for the day sorted. The last leg of this drive takes you through the stunning San Juan Mountains to the ski resort town of Telluride. Park the car and finish the journey with a breathtaking gondola ride to Mountain Village.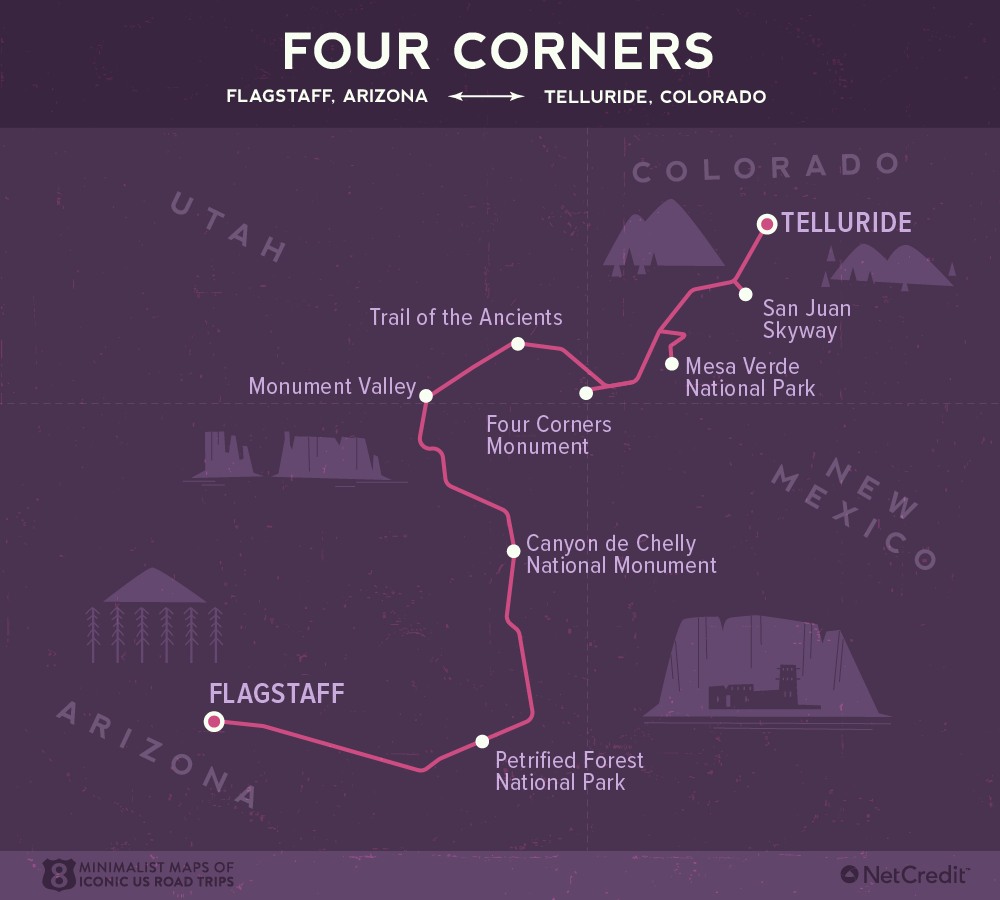 8. Seward Highway
By far the most northern state, Alaska offers some of the country's most beautiful landscapes. This short but spectacular two-hour drive starts in Anchorage and journeys through some incredible natural wonders. Drive through the cliffs of Chugach State Park, then watch as the landscape turns from mountains to wetlands. Don't miss the glaciers of Portage Valley and the gold-bearing Canyon Creek. At the end of the road is the harborside town of Seward and Resurrection Bay, where you can watch for seabirds and enjoy the huge variety of marine wildlife.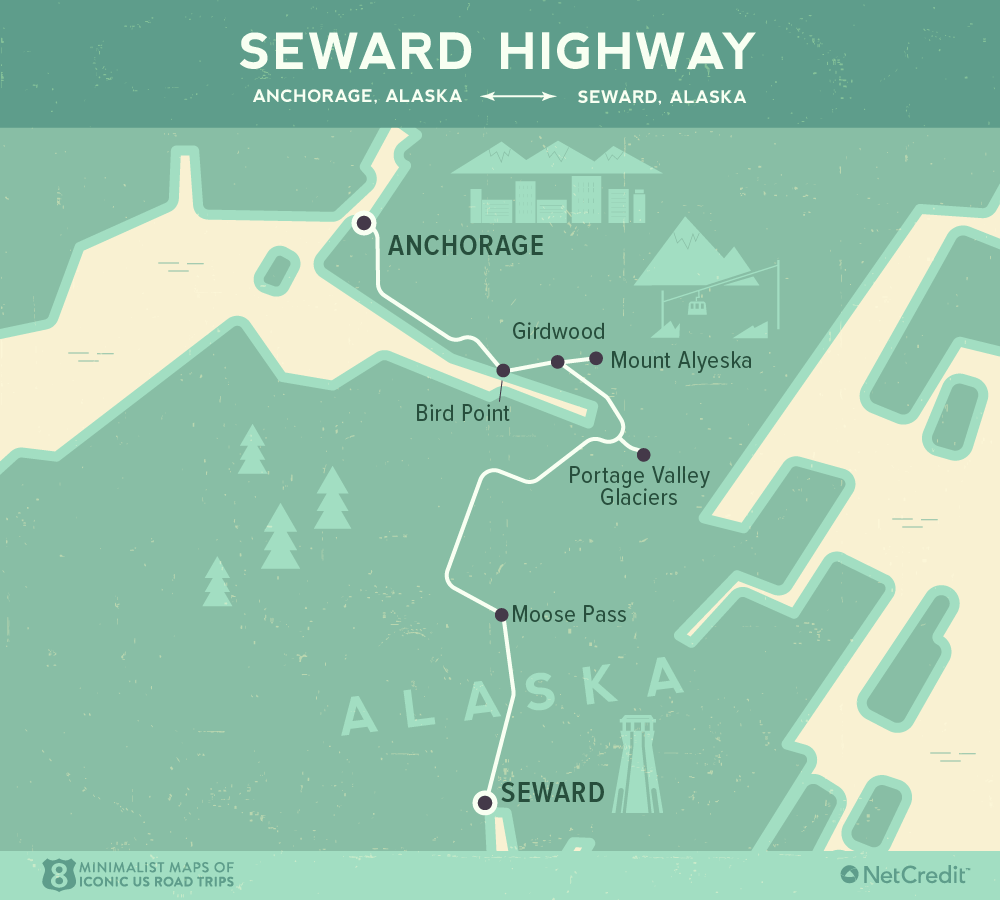 Whether you're looking for adventure, soul-searching or just want a scenic drive to soothe your tensions, these classic American road trips have something for everyone. Each one has its own unique history and offer sights that you're not soon going to forget.
Which journey will you be setting out on next?
Sources
Philpott, V. (2018) 13 Incredible Stops on a Pacific Coast Highway Road Trip. gapyear.com
Nowak, C. (2018) 13 Must-See Sights You Can Only See on Route 66. rd.com
Danger, T. (2016) The Ultimate Road Trip Guide to Route 66. roadtrippers.com
Hartshill, A. (2014) 15 only-in-America sights you'll see on a Route 66 road trip. matadornetwork.com
Lew, J. (2014) Take a classic road trip on America's longest highway. mnn.com
Roadtrippers. (2016) Meet the "Big Daddy": Roadtripping US-20, the Longest Road. roadtrippers.com
Duckett, M. (2018) The Ultimate Road Trip: Florida Keys. nationalgeographic.com
Moss, C. (2017) Eight incredible American road trips you must experience in your lifetime. telegraph.co.uk
Kilberg, L. (2015) 10 classic U.S. Road Trips. pastemagazine.com
Bopp, S. (2010) Road Trip: Maui's Hana Coast. nationalgeographic.com
Roadtrippers. (2016) Must Drive: The Blue Ridge Parkway connects two national parks. roadtrippers.com
Filicori, G. et al. (2017) 14 Best American Road Trips. cntraveler.com
Stewart, C. (2018) America's Five Best Road Trips. allthatsinteresting.com
Rosenthal, J. (2010) Road Trip: The Southwest's Four Corners. nationalgeographic.com