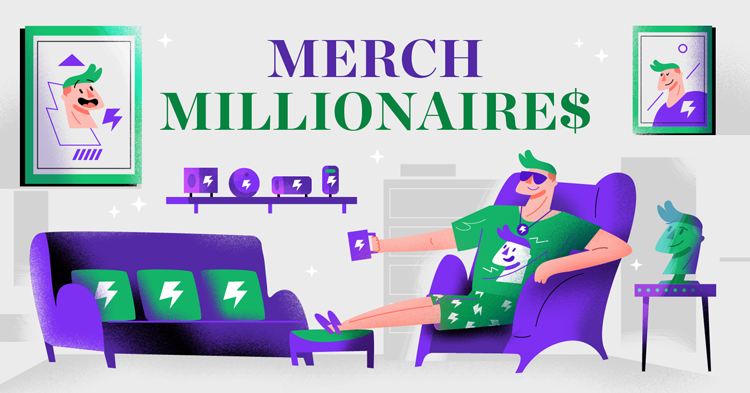 The Celebrity Merchandise Index
While tour merchandise such as gig t-shirts and pins gained popularity as a form of self-expression in the 1960s, today you can find everything from scented candles to dental floss. In fact, you'd be hard-pressed to find a celebrity or influencer today who doesn't have a range of official merch – from music giants to famous athletes, YouTube sensations to verified TikTokers.
But which famous people make the most money from their side-hustle? NetCredit calculated the earnings of some of the top-earning celebrities and influencers based on sales of their official merchandise. Here is our "Rich List" by star, estimated revenue and the cost of being a superfan.
KEY FINDINGS 
Harry Styles earns the most from his merchandise, with an estimated revenue of $22,970,575.
Three of the top five earners (The Sidemen, Jake Paul and MrBeast) found their fame on YouTube.
The top 10 highest-earners have made a combined $144,917,826 from merch sales on Shopify.
The cost of being a Lionel Messi superfan would set you back an estimated $9,967 to buy one of each item from his official store.
Harry Styles earned $1.3m (or 6%) more than YouTube favorites The Sidemen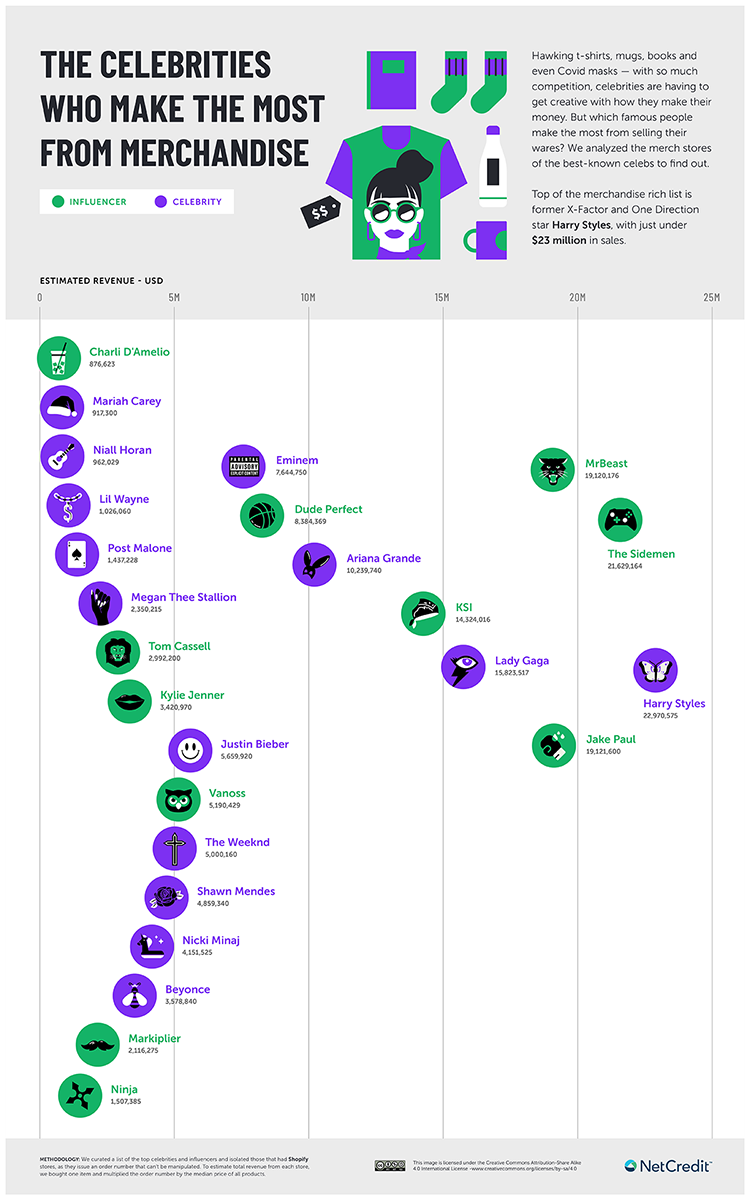 Harry Styles rose to fame after appearing on the X-Factor in 2010. Formerly a member of One Direction, one of the biggest boy bands in the world, it's no surprise that Harry Styles comes up top of our celebrity merchandise index. With a sales figure just short of $23 million, Harry's Treat People With Kindness hoodies and keyrings prove to be selling like hotcakes!
Styles earned £1.3 million more than The Sidemen, a musical group that found fame on YouTube. In fact, three of the top five highest earners are influencers who built their audience through the video streaming platform. Jake Paul comes in third place with $19.1 million, and MrBeast comes in fourth place, narrowly missing out on the top three by just $1,424, or around 40 Classic Beast Plush Pillows!
Lady Gaga is the top-earning woman in our index, selling everything from printed t-shirts and fluorescent jockstraps to a Born This Way printed rug! Her $15.8 million revenue makes Gaga the fifth highest earner of all. Ariana Grande is the only other woman to make our top ten list, bringing in $10.2 million from her merchandise. Outside of Shopify sales, Ariana was named the 17th highest-earning celebrity in 2021.
The Celebrity "Rich List"
Discover which celebrities and influencers are the masters of merchandise. Use the buttons to toggle between traditional celebrities and social influencers.
The top ten of our rich list features an even split, proving that it's not just pop stars who are on top of the merch game! In a digital world where anyone can create content and post it online, the number of social media influencers continues to rise, with (at least) an estimated 3 million active influencers across all platforms.
YouTube influencers The Sidemen, Jake Paul, MrBeast, KSI and Vanoss make up one-half of our top ten list, amassing more than 145.6 million subscribers between them. Making a living from creating videos online rather than selling out arena tours, these influencers still earned a combined total of $78,579,325 from merch sales alone.
The other half of our top ten includes chart-topping music stars Harry Styles, Lady Gaga, Ariana Grande, Eminem, and Justin Bieber. While they may be able to draw in crowds at their concerts, these music moguls have a way to go when it comes to flogging their merch. Reaching a combined total of $63,802,570, these stars come up short of the influencers by almost $15 million.
How much does it cost to be a superfan?
Being a superfan gets expensive when the product selection is broad and diverse, which is probably why Lionel Messi and his store top this list. Named the 5th highest-earning celebrity in 2021, in order to own one of each item from this soccer star's official store, you would have to part with almost $10,000.
Buying every single item of merchandise from The Sidemen, who are also revenue leaders based on our estimates, would cost you $9,877. The only other star to come close to this amount is Eminem. If you were to buy one of each product from the rap superstar, including poster packs and a Slim Shady dad hat, that bill would run up to $8.1k.
The future of merchandise
Given that influencers are dictating today's trends and brands are eager to capitalize, the competition for merchandise sales is fierce — especially for musicians.
With digital music now being seen as more of a throwaway commodity, the savviest musicians are finding other ways to cash in on their fame and talent. For the likes of Beyoncé and Justin Bieber, a loyal fan base means a high demand for branded merch, as fans look for a more physical, tangible product as a way for them to connect and be closer to their favorite artist.
Having a side-hustle is a great way to diversify your income, especially during uncertain times or when money is tight. From selling your own merchandise online to profiting on a skill or hobby, anyone can enjoy getting creative to try and make an extra buck from a side-hustle.
METHODOLOGY & SOURCES
We collated a list of celebrities and their official stores from lifestyle publications, such as Cosmopolitan, MTV, and Complex (only Shopify stores selling celebrity merchandise were counted).
We calculated the number of orders by buying an item from each store and subtracting 1001 from the order number (as per Shopify's order numbering system). This number was then multiplied by the median price across all products on each celebrity's online store to give an estimated revenue.
The "Cost to be a Superfan" was calculated by totaling the amount of money needed to buy every single item available in a given store. All prices were converted to USD using Google Finance at the time of data collection.
Data was collected in May-June 2021.
—-