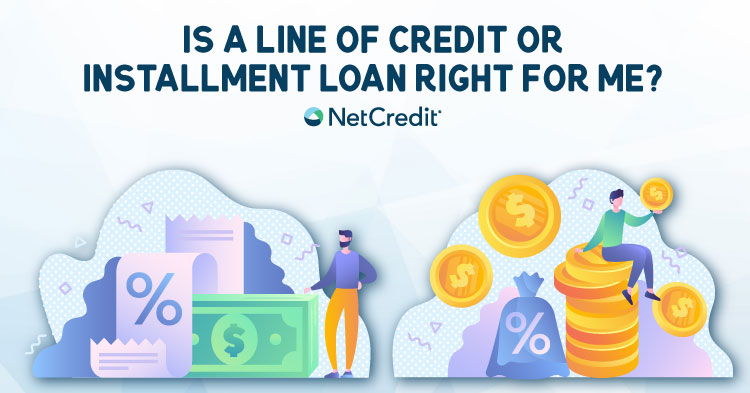 Line of Credit vs. Personal Loan: Which Is Better?
Before you make a decision, it's always a good idea to research your options. This is true for both small decisions and big — and especially when it comes to borrowing money. If you need extra funds to cover personal expenses, two common options are a line of credit and a personal loan.
But what's the difference?
Both personal loans and personal lines of credit carry unique advantages. They're different, and neither is necessarily better than the other — it depends on your needs as a borrower. Before you borrow, make sure you understand how each one works so you can find the best fit.
Line of Credit vs. Personal Loan
Line of Credit
A personal line of credit is a form of revolving credit that lets you withdraw the cash you need, when you need it. Instead of getting a lump sum payment, you'll receive a credit limit that you can borrow against — like a credit card. As you repay, the funds will become available again.
With a personal line of credit, you only pay for what you borrow. To keep costs low, borrow only what you need and no more — you won't pay interest on funds that you don't draw. With most personal lines of credit, you pay back the funds you borrow in installments over time. The amount of the individual payments may vary depending on how much you borrow.
A line of credit can be useful if you want to manage your budget because of variable income or just to keep an emergency source of funds available. They can also be helpful if you're tackling a project and you don't know what the exact cost will be.
Personal Loan
Personal loans provide a lump sum of money. They have many uses and are generally good for consolidating debt, tackling home projects, car repairs or emergency financing — anything that comes as a single, large expense.
Most personal loans are installment loans, which spread out repayment into smaller, more manageable chunks. The payments usually stay the same through the term of the loan — as long as you don't incur any late fees or other charges.
What Are the Main Differences Between a Line of Credit and a Personal Loan?
Line of Credit
Withdraw the cash you need, when you need it — up to your limit.
Only pay for what you use.
Payments may change based on borrowing.
Good for ongoing cash needs.
Personal Loan
One-time lump sum payment.
Interest charged on full funding amount.
Fixed payments over a set period of time.
Good for one-time expenses.
Pros and Cons of a Personal Line of Credit
Pros
Only pay for what you borrow — With a personal line of credit, you'll only pay interest on the amount you borrow. So if you have a line of credit with a $2,000 limit and you've only drawn $500, you'll only pay interest on the $500.
Ongoing access to funds — As long as your line of credit remains open and you haven't reached your borrowing limit, you'll have access to funds when you need them.
Flexibility — One of the main features of a line of credit is its flexibility. A line of credit may be useful to have for emergency cash shortages, to supplement an irregular or seasonal income or even to provide peace of mind with easy access to cash, when necessary.
Cons
Potential to overspend — The constant access to cash can be tempting to tap into, even when you may not need it. As long as you remember your goals and stick to your budget, you should be able to stay on track.
Fluctuating payment amount — The amount you borrow probably won't be exactly the same each month — it will depend on how much you borrow. Also, many lines of credit come with variable interest rates. This can make it difficult to predict the amount of your bill.
Maintenance fees — Even if you don't take a draw from your line of credit, your lender may still charge you maintenance fees to keep the account open.
Pros and Cons of a Personal Loan
Pros
Ability to borrow a large sum — Installment loans are generally issued for larger principal amounts and have longer repayment periods than other types of loans, like payday loans or lines of credit.
Fixed payment amount — Payments are easy to work into your budget because they will always be the same amount.
Fixed timeline — As long as you're making your payments on time, you know exactly when you'll pay off your loan.
Cons
Reapply to borrow more — If you take out a loan for a project and end up needing more, you'll need to apply for more funds.
High fees and penalties — Missing payments is never good, but with a personal installment loan you could find yourself paying a steeper price. Some loans have high late fees and other penalties that you'll need to look out for if you miss a payment.
Is It Harder To Get a Personal Line of Credit or a Personal Loan?
Generally, it's not harder or easier to secure one over the other. Your approval mostly depends on the lender's requirements, the amount you're applying for and what your credit profile looks like.
If you aren't approved, consider applying for a smaller amount of funding. You can also look for lenders that offer loans and lines of credit that are tailored to borrowers with bad credit. These may come with higher interest rates or fees, but they can be helpful in an emergency. Still, you should consider all of your options before deciding whether a bad credit loan is right for you.
Personal Line of Credit vs. Personal Loan: Which Has Better Rates?
Personal lines of credit and personal loans tend to have similar interest rates. These are mostly determined by your credit history. A high credit score will likely give you a better chance of approval and access to lower interest rates. A low credit score will make approval more difficult and come with higher interest rates.
Which Is Better: Line of Credit or Personal Loan?
Deciding which is better really comes down to determining your funding needs. If you need ongoing access to capital or a regular source of funding to help bridge gaps in your budget, then a personal line of credit may be a good option.
If you need cash to cover an emergency or a one-time expense, a personal installment loan may be able to help. And it may be easier to budget for.
Consider what your cash needs are and think through both options before deciding what's right for you.