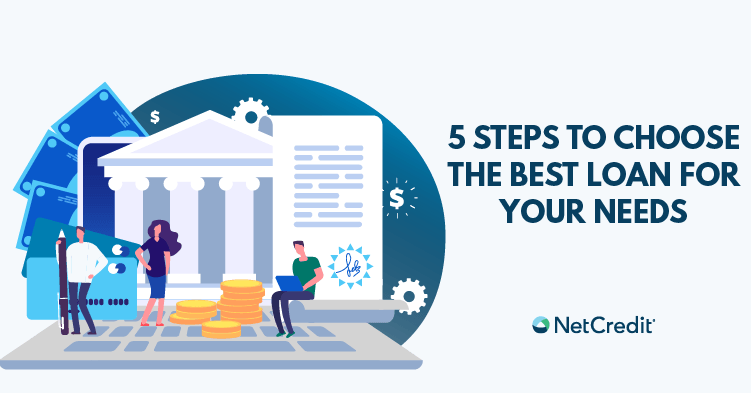 How to Choose a Loan if You Get Multiple Offers
From banks and credit unions, to online lenders and credit cards, there are many ways to borrow money. In addition to the actual funding source, borrowers may receive multiple loan offers for different forms of personal credit.
If you're not familiar with the nuances of personal funding options, or if you receive multiple loan offers while applying for financing, you might feel overwhelmed with choices.
Whether you're looking for the right type of financing now, or just want to make a more informed choice down the line, read on to learn about five important factors to consider when reviewing different loan offers.
1. Familiarize Yourself With Different Loan Options
While your actual loan offer(s) depends on variables such as your creditworthiness, location and the lender, it's a good idea to review a few common personal funding options before applying. Some of these may include:
Payday Loan: This funding option is a short-term financing method typically repaid by the borrower's next payday. Payday loans are not available in all areas.
Installment Loan: Also referred to as a personal loan, installment loans are issued in one lump sum and repaid in installments over time.
Line of Credit: Similar to credit cards, lines of credit are known as revolving funding, which provide ongoing access to capital up to a certain dollar amount. As the balance is repaid, that amount is available to borrow again.
2. Assess Your Needs
Do you have an ongoing need for financing? Or, are you looking to borrow a larger sum of money for a one-time expense? Revolving credit, such as credit cards and lines of credit, are open-ended borrowing agreements designed for access to funds when you need it. However, revolving financing options might not provide as high of a principal dollar amount as other forms of credit, like an installment loan.
3. Consider the Repayment Period
Another crucial factor to consider is the loan repayment period. Can you reasonably expect to repay the loan within the given time period? Some loan products, such as personal loans, have scheduled payments over a given time period. On the other hand, repayment for lines of credit are based on usage, and generally have a set minimum monthly payment in relation to the balance from the previous billing cycle.
4. Review All Loan Details
Borrowing money from a financial institution always comes with some type of fee or cost for financing. In order to get the best deal for your money, make sure to review the APR and any additional fee(s) associated with the loan before signing. Financial institutions may have various fees, APRs and other costs, so consider the total price of borrowing money when considering multiple loan offers.
Occasionally, lenders will apply a fee rather than an APR for financing, particularly with lines of credit. Financing may be subject to other fees and costs, such as late fees, statement balance fees and other costs. Make sure to review all details of your loan offer(s) for information regarding loan and account fees before signing.
5. Review the Lender
If you're applying for financing from more than one creditor, make sure to work with reputable, established lenders only. If you're looking for specific features, such as a convenient app or flexible repayment options, look for creditors that have what you need ahead of time. You may want to look online for actual customer reviews on a third-party website, like Trustpilot.
Another consideration would be the availability of customer support services in case you need help with your account down the line. Some creditors offer additional support to help customers budget, plan expenses, save money and find local resources.
The information in this article is provided for educational and informational purposes only, without any express or implied warranty of any kind, including warranties of accuracy, completeness or fitness for any particular purpose. The information in this article is not intended to be and does not constitute financial, legal or any other advice. The information in this article is general in nature and is not specific to you the user or anyone else.