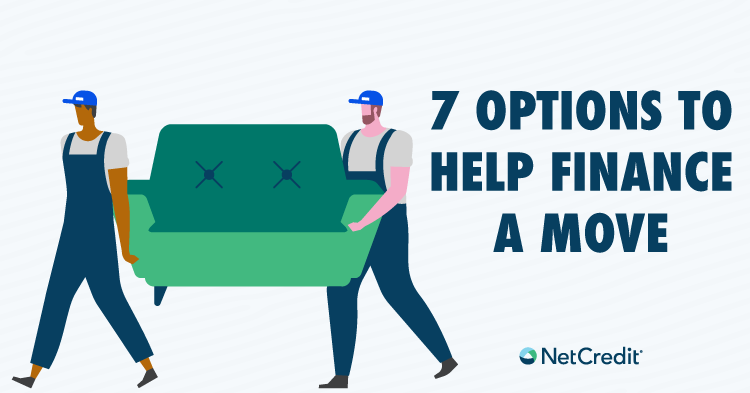 How to Pay for Moving Expenses
Moving can be one of life's most demanding and stressful responsibilities. As if it weren't difficult enough to find a place to live, relocation expenses can accumulate very quickly. Beyond the boxes, tape and moving costs, it often involves saving up for a security deposit or down payment, application fees and other unplanned costs, depending on your specific situation.
If you're planning an upcoming move, you have a few options to help pay for it. Read on for seven practical ways to finance your next move.
1. Save in Advance 
Ideally, you can plan ahead and start saving money well in advance for an upcoming move. In order to estimate roughly what you need to save, write out and tally up all the known relocation expenses you expect with your upcoming move, which may include:
Packing materials, like boxes, tape and labels
Movers
Moving truck or transportation
Deposits, fees or other costs related to the new home
Utility and/or other monthly service startup fees
Cleaning supplies
If you're not sure about a specific cost, you may want to call a few local companies to find the best price. Since you may have additional unplanned moving expenses, you may want to save an additional $100 to $200 beyond your estimated total, depending on your specific needs.
If you have less time than you'd like to save money, you may need to cut or reduce expenses in order to put more money away each month. Opening a separate savings account can help you dedicate money for moving expenses, and keep it relatively out of reach to prevent usage before moving day.
2. Borrow What You Need From Your Emergency Fund
 While moving may not qualify as an "emergency", borrowing funds from a well-funded rainy-day fund may be the best course of action to help pay for a move. Make a plan to replenish the amount borrowed from savings for the move within a reasonable amount of time post-move. Use this guide to build your emergency fund after your move.
3. Sell Your Stuff
 As you comb through and pack your belongings, look for items you no longer need that you can sell. If possible, consider selling your items with a garage sale, Facebook Marketplace, eBay, Craigslist or your personal network. You may also want to consult with local or online specialty resellers for high-value items, antiques or other in-demand collectibles.
4. Look for Available Tax Breaks
In 2018, the federal government suspended tax deductions for moving expenses through 2025. However, a handful of states may still allow residents to deduct moving expenses on their state tax returns, which may include:1
New York
Arkansas
California
Massachusetts
New Jersey
Pennsylvania
Hawaii
If you plan to move this year, it's a good idea to research your specific state for the latest information about potential tax deductions, restrictions and how to qualify. If your state allows moving deductions, you may also want to discuss the requirements with a tax professional.
5. Take Out a Personal Loan
If your move is more extensive or you need access to funds quickly, you can also consider taking out a personal loan. While the specific type of loan depends on factors such as your location and creditworthiness, personal loans may be available for higher principal amounts than other forms of funding, such as credit cards or payday loans. Certain lenders, such as online lenders, are typically able to review and fund approved loan applications faster than traditional sources, such as banks and credit unions.
6. Borrow from Friends and Family
 If you have close relatives or friends willing to provide financial help, you may want to ask loved ones to borrow money for moving expenses. Make sure to work out a repayment agreement in advance.
Though you may not have the option to borrow large amounts of money from loved ones, they may be able to help donate their time or resources to help you move. If possible, look for activities you could do with family and friends to make moving fun. You could host a moving party to help pack, move and/or unload boxes in your new home. Or, you may have relatives willing to lend you resources, like packing supplies, moving equipment and boxes, to help make your relocation easier and more affordable.
7. Use a Credit Card
Credit cards are another reliable way to pay for moving expenses. Some relocation costs, like car or moving truck rentals, may require a credit card upon reservation. If your credit card offers cash back rewards, using it for moving expenses is another good way to maximize your available benefits. You can also search online for any moving or relocation expense offers that your credit card company may provide.
References
1Camarda, B. (2020). What You Need to Know About the Moving Expense Tax Deduction.
The information in this article is provided for educational and informational purposes only, without any express or implied warranty of any kind, including warranties of accuracy, completeness or fitness for any particular purpose. The information in this article is not intended to be and does not constitute financial, legal or any other advice. The information in this article is general in nature and is not specific to you the user or anyone else.