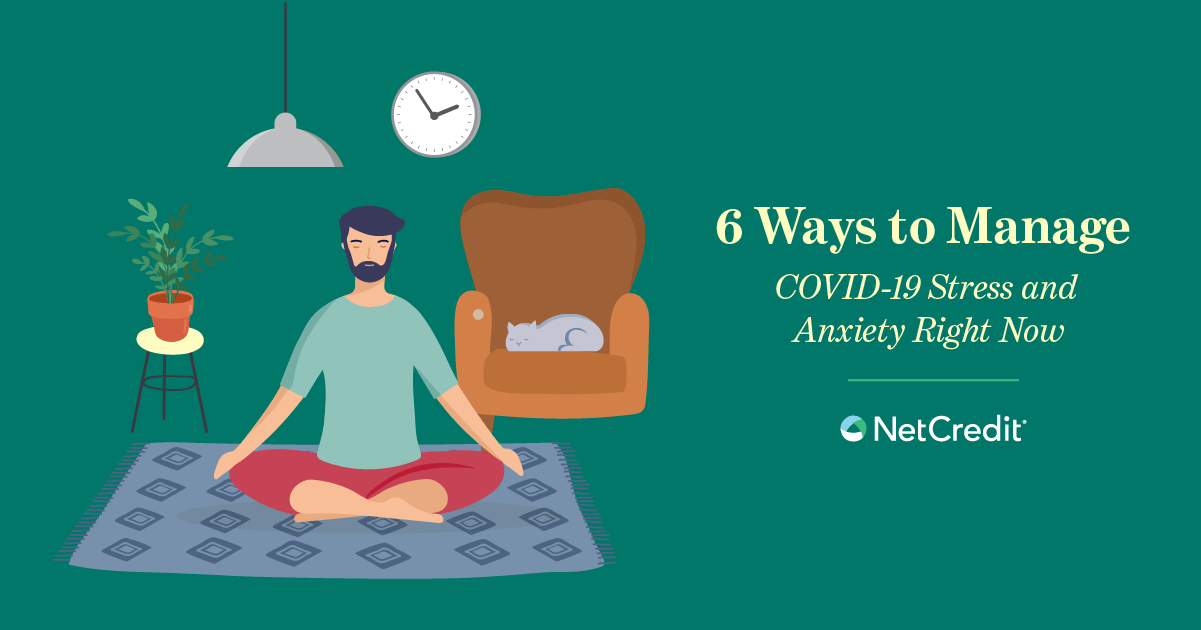 How to Manage Stress and Anxiety from the COVID Crisis
There's no doubt that COVID-19 has dramatically changed the way we live, work and interact with one another for the foreseeable future. You probably haven't stopped hearing about the situation since it began.
If you're having a rough time managing stress and anxiety, there are easy and free ways to refocus your mind and help yourself feel better right now. These six simple strategies can help you stay positive through the COVID-19 crisis.
Help Wherever You Can
Although you might feel isolated and alone right now, everyone is in this situation together. You can assist others in a difficult time and still get that nice, warm feeling. Contact people you know who may need assistance, even if it's just a friendly greeting.
If you want to do more to help out, reach out to local charities that may need specific supplies or organizations like these helping the COVID crisis.
Limit Media Time
With breaking news stories competing for your attention every few minutes, it's easy to get bogged down in the negative details. If you're having trouble managing the flow of overwhelming news stories, consider stepping away from your phone, social networks, the news and other media for a while.
You don't need to log off entirely — you can still stay informed while prioritizing your mental health:
Limit your sources: Use one or two trusted news outlets to provide you with the important information.
Turn off news story notifications: Push notifications make it seem like everything is urgent.
Consider using a timer: Give yourself a time limit so that you don't go overboard reading too much negative news.
Reach Out to Your Network
Social distancing might be here for the near future, but our digital world has made it easier than ever to stay in touch. Break the negative cycle of stress and anxiety with friendly, lighthearted conversation.
Whether it's a quick call, text or remote party, make it a habit to connect on a regular basis. You've probably heard of the video-based platforms, like FaceTime,  Google Hangouts or Marco Polo, but these free apps, games and services can make your remote hangout session even more fun:
Stay in Shape
It might be hard to find the space you need to exercise, especially if you're in a dense area or live in a small space. Although any kind of physical activity can help reduce stress, experts suggest a specific exercise to combat stress at the source. Autoregulatory breathing exercises, like yoga or meditation, can help you refocus your mind and make you more aware of the negative thought patterns that cause stress and anxiety.
Stay Hydrated and Well-Nourished
It might seem too simple, but you can combat stress with a well-balanced diet and proper hydration. And though it may be hard or impossible to go to the grocery store, food delivery services may still be available in your area. There are plenty of food options you can plant and regrow from your own garden.
Before you venture out, try to call local stores to see if they have your item(s). You may also want to ask about delivery options, or look for stores in your neighborhood with curbside pickup services.
Refresh Your Surroundings
You might be surprised how much your surroundings can affect the way you feel. Now is the time to start that DIY home project or rearrange your living space. Something as simple as lighting a candle can do the trick — aromatherapy may help you reduce stress and anxiety.
Reducing clutter in your home can also improve your stress and anxiety levels. Cleaning your surroundings can help you regain a sense of control.
If you need more help: