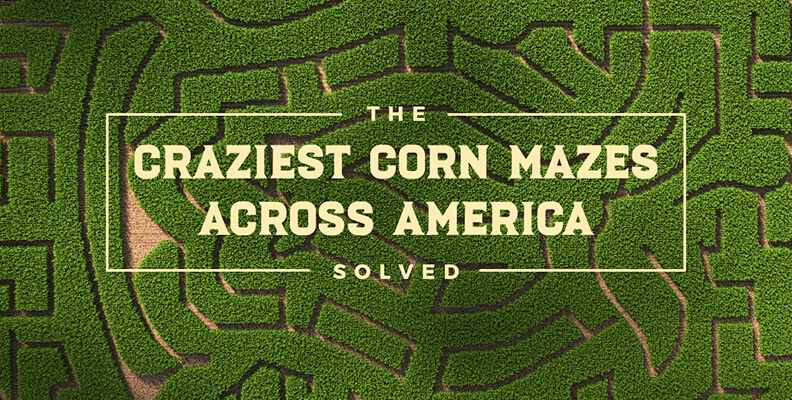 Solve America's Toughest Corn Mazes Without Leaving Your House
The corn maze is a very American invention.
In 1993, theater impresario Don Frantz took the genteel European tradition of the garden maze and added showbiz pizazz and an epic sense of scale. New GPS tech made it possible to design tough-to-crack puzzles in elaborate shapes: "a railroad train, a classic riverboat, a violin, the solar system, a farmscape, the largest living sundial…" Soon there would be hundreds of corn mazes across the US.
Every fall, families descend on America's farms to try to solve this year's 'maize maze' before the November harvest. In 2020, things might be a bit different. Many mazes could be closed or promote limited access for everyone's safety. After all, it's hard to social-distance when you don't know where you're going!
We hope Americans can enjoy a safe, fun, puzzling time at their local maze as soon as possible. Meanwhile, to keep that passion burning, NetCredit has handpicked some of the nation's favorite corn mazes from across the years and recreated them digitally, complete with their solutions. Go on, walk them with your fingers and see if you can get out!
1. Treinen Farm's Trilobite Maze
Real trilobites were just a few inches long and lived at the bottom of the sea a quarter-billion years ago. But "the largest trilobite ever found" was no Paleozoic crab monster: it was a 480-foot corn maze cut by Alan Treinen on his Wisconsin farm in 2017. The trilobite is also Wisconsin's 'official fossil,' making it an apt choice. Since the Treinins create their mazes with a lawnmower and an army of teenage helpers rather than GPS, it's really a local effort.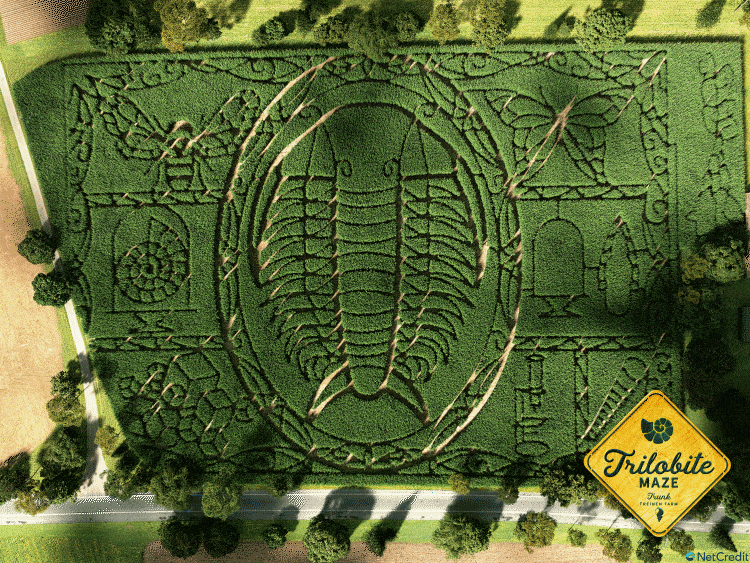 Treinen Farm Corn Maze & Pumpkin Patch
W12420 WI-60 Trunk
Lodi, WI 53555
Wisconsin
2. Treworgy Orchard's Blueberries for Sal Maze
In 2019, the Treworgy family's maze won second place in the USA Today Reader's Choice Award. The maze was inspired by the cover of the children's picture book, Blueberries for Sal. Like the Treinens, the Treworgys proudly create their mazes without hiring a specialist company: "We developed our own methods, and in the spring it takes our crew about two days to basically put a grid out into the field, carve out pathways and begin planting around that."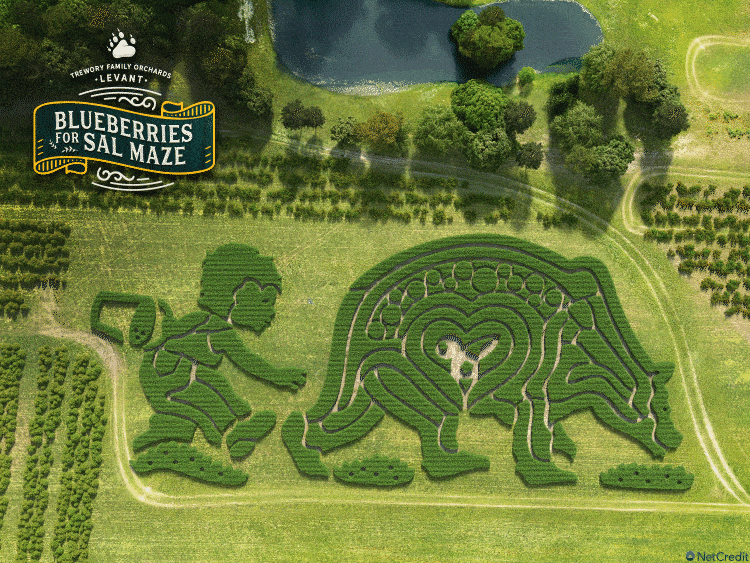 Treworgy Family Orchards
3876 Union St
Levant, ME 04456
Maine
3. Gull Meadows Maze
The Gull Meadows Maze is a reliable family favorite. It occupies a house-shaped six-acre plot on a farm owned by the Wendzels since 1949. The farmers like to keep things fresh and have recently added a bridge to give an (almost) aerial view over the maze for a clearer perspective. They also run a 'flashlight corn maze' after dark and a mini-maze for little puzzlers and their parents.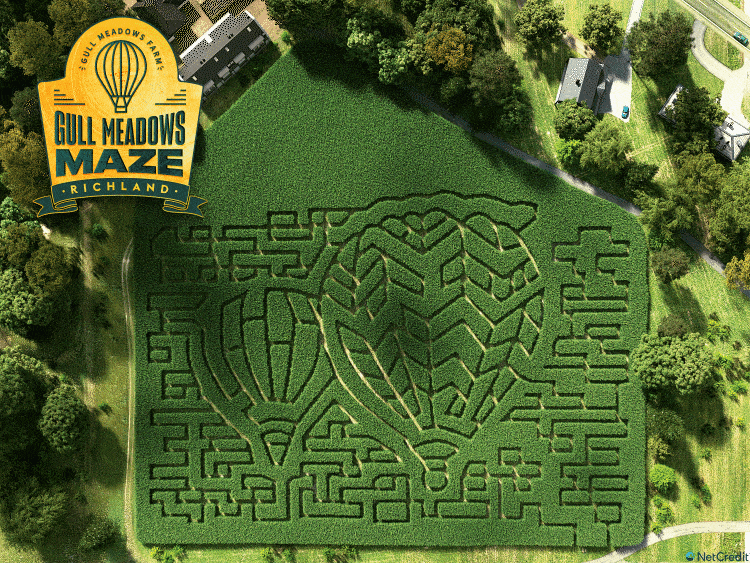 Gull Meadow Farms
8544 Gull Rd
Richland, MI 49083
Michigan
4. Queens County Farm Maze
New York City's only corn maze takes an abstract approach to each year's design. We've chosen 2016's Big Apple-themed maze, in case you can't tell! The correct route is nearly two miles long, and there are clues along the way, such as scraps of a map to find and piece together. "If you really get stuck," writes one reviewer, "you can ask for assistance from the helpful workers sitting up in the tower by talking to them through a long black hose."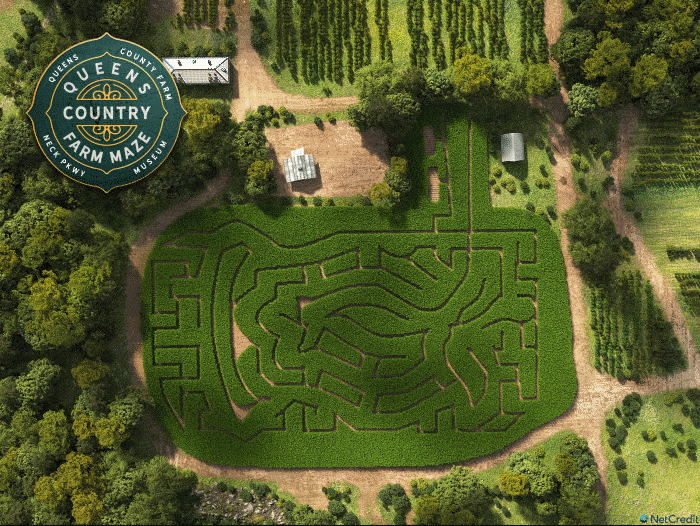 Queens County Farm Museum
73-50 Little Neck Pkwy
Queens, NY 11004
New York
5. Cherry Crest Adventure Farm Maze
This year marks the 25th anniversary of the Cherry Crest Maze. Their 2018 theme was 'board games,' and the maze featured dice, pawns and a victory star at the end. Cherry Crest's mazes are specially designed by Don Frantz with three levels of difficulty, depending on the route and clues you choose. And there are helpers to point you the way if you start to panic. "Rest assured," the website tells us, "we haven't lost anyone yet!"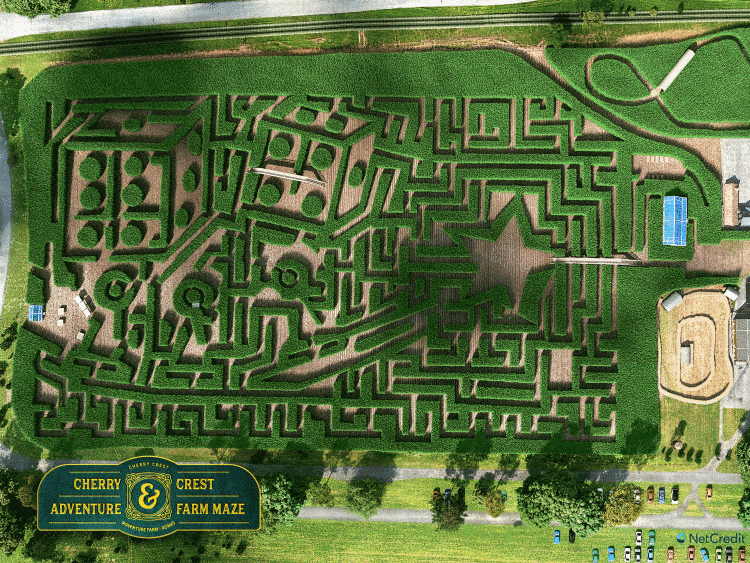 Cherry Crest Adventure Farm
150 Cherry Hill Rd
Ronks, PA 17572
Pennsylvania
6. Lost Vegas
It took 13,000 hours to build the Vegas-themed Davis Mega Maze in 2007. The eight-acre maze included three miles of trails and eight bridges that were moved each day to make the route different. Only 5% of challengers made it through the real thing without help (apparently 8-12 year-olds do best!), so varying difficulty levels were created – including a junior version that "allows those who are truly stumped to still cross over the Victory Bridge before they lose their mind."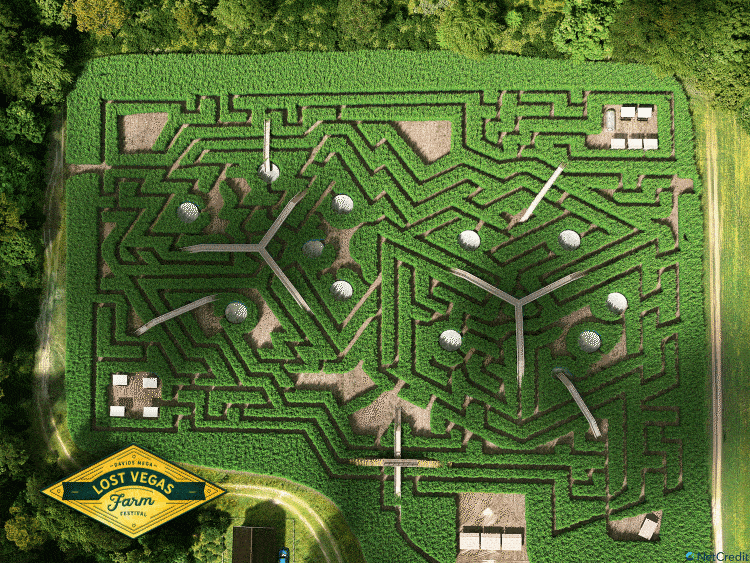 Davis Mega Farm Festival
142 Redstone Hill Rd
Sterling, MA 01564
Massachusetts
7. Lentini Farms Maze
Lentini's mazes cover a 10-acre plot with corn stalks up to 10 feet high. They are so baffling that one year a stranded visitor called 911 to be rescued. But the owners aren't completely merciless! "We put clues, so you have different stations throughout the corn maze," says farmer Anthony Lentini. "We put a secret message in there, and if you get the secret message, you win a pie or something like that."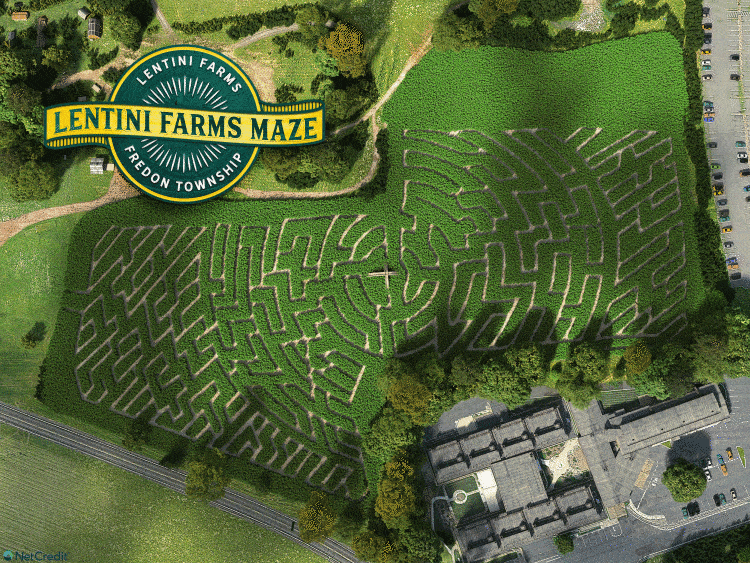 Lentini Farms
251 High St RT.94 S,
Fredon Township, NJ 07860
New Jersey
It's Nice to Get Out
You never quite know what's around the corner.  But it's important to remember some of fall's greatest pleasures – from good food to being able to go out and get lost in a good ol' corn maze!
The keepers of the corn maze at Ferguson's Orchards have shown just how interconnected values like these are in the best way they know how: by creating a corn maze that spells THANK YOU HEROES in giant letters. When the most heroic thing you can do is to stay home and stay safe, a puzzle is a great way to pass the time and keep your mind sharp. Now… anyone know the way out?
Sources
10Best Local Expert. (2018). USA Today 10 Best Corn Mazes. 10best.com
10Best Local Expert. (2019). USA Today 10 Best Corn Mazes. 10best.com
Bennett, E. (2019). The 20 best, biggest, and scariest Michigan corn mazes to
get lost in. mlive.com
Daley, J. (2017). Check Out this Awesome Trilobite Corn Maze. smithsonianmag.com
Gull Meadows Farms editor. (2020). Plan a Visit. gullmeadowfarms.com
Labovitz, K. (2016). 5 Great Places to Spend Halloween Weekend with the Family. innewyork.com
Laliberte, M. (2017). 8 of the Most Insane Corn
Mazes in America. rd.com
Lentini Corn Maze Facebook. (2017). 2016 Giant Maze!! facebook.com/Lentinicornmaze
Miller, M. (2019). Cherry Crest Adventure Farms Corn Maze. familyfindsfun.com
Podolak, L. (2016). The Best Corn Mazes in NJ. bestofnj.com
Southcoast Today editor. (2007). Elsewhere in Mass. southcoasttoday.com
Stephens, K. (2019). Cheap Dates: Wander a Maze in the Design of Blueberries
for Sal. penbaypilot.com
Wild, Craig. (2017). Treinen Farm Corn Maze: A
Trilobite! treinenfarm.com