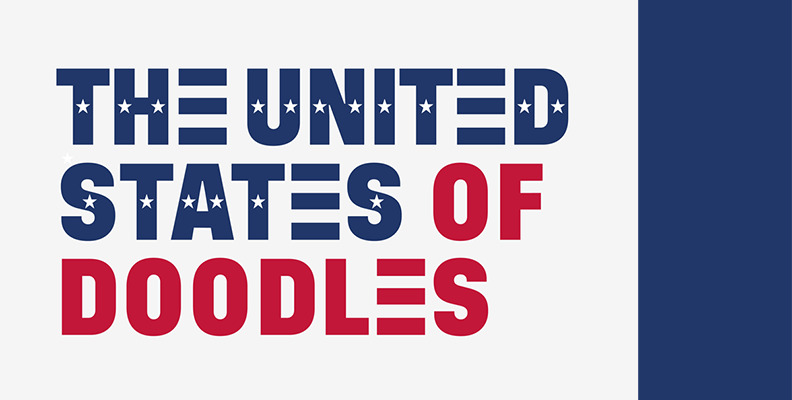 The United States of Doodles
America is a vast and well-traveled land, but with so much to see, it's difficult to visit everything. Many Americans, like the rest of the world, know the U.S. best through movies, songs and postcards. So, when the average American pictures the top travel destinations in the US, what do they see?
We asked 100 Americans to imagine 12 of the most popular travel destinations in the country and draw the first thing that came into their head. These guest artists then used a Sketch app to doodle an icon for each city – without using Google for research! The results are 12 alternative travel posters that reveal the America that U.S. citizens carry in their minds.
How many American landmarks can you recognize?
1. Alaska

Tucked away on the far side of western Canada, Alaska is America's least-visited state. But for those who make the expedition, it is truly the adventure of a lifetime – and one of the most highly-rated destinations in the U.S. Our doodlers have mostly chosen to illustrate the cold weather and snow. Polar bears, igloos and snow-capped mountains dominate our posters. It's true the wildlife is phenomenal and the landscapes otherworldly, but Alaska has a wide variety of climates and is a beautiful summer visit, too!
2. Austin

The SXSW festival. Ruggedness. Matthew McConaughey. It's not easy to draw a picture of some of the things that make Austin, Texas such a popular destination. The preponderance of guitars among our doodles may indicate the celebrated music, film and VR festival that takes over the city every March – or it could be a reference to legendary country singer Willie Nelson, who made the city his adopted home on the strength of its music scene.
3. Chicago

If you thought Austin was hard to draw, how would you draw Chicago's famous wind? A few of our guest artists gave it a pretty good try. If the weather isn't winning you over, other top Chicago attractions include the Chicago Cubs who play at the must-visit Wrigley Field. Everybody's heard of Chicago's famous deep-dish pizza, but what's that bean shape that recurs through our poster? None other than Anish Kapoor's extraordinary Cloud Gate sculpture. You can find it in Millennium Park, on the AT&T Plaza.
4. Florida

The green of the palm trees and alligators! The pink of the flamingos in Everglades National Park! The orange of the… uh, oranges! Our doodlers have created an exotic explosion of color for their artist impressions of Florida. Some of those oranges have a distinctly 'cocktail'-look about them, and that's no surprise since the Sunshine State is renowned for its tropical drinks at places such as Gramps in Miami and Moxie's in Jacksonville. Just don't get too close to those 'gators after you've had a drink!
5. Grand Canyon

The Grand Canyon is most famous for being, well… a big canyon. That means our artists' doodles are mostly variations on the theme of a 277-mile-long, 18-mile-wide, six-million-year-old gorge. But what variations! When you arrive in Arizona, there's plenty more to do than sit and stare, since the canyon is the backbone of the awesome Grand Canyon National Park. Hiking, horse trails, swimming in the oasis of Havasu Falls – you name it, there are a million ways to get that Grand Canyon selfie that one of our doodlers (bottom right) dreams of.
6. Hawaii

Every American has their own fantasy of Hawaii, as these 100 doodles demonstrate. It seems like quite a few of them involve hula dancing and grass skirts. Historically, the hula has been a way for Hawaiians to preserve and celebrate their history and mythology. The Merrie Monarch Festival in springtime is the best moment to see a range of performers and learn about Hawaiian culture through art, crafts and demonstrations.
7. Hollywood

Lights, camera, action! Hollywood is, of course, best known as the home of the blockbuster movie industry. But if you don't make it as a star, how can you get up close to the action? As our doodlers reveal, the Walk of Fame on Hollywood Blvd is a glamorous stop-off point, featuring thousands of terrazzo-and-brass stars commemorating cinema's brightest and best. Plan carefully, and you can even attend an unveiling ceremony. Studio tours reveal the secrets behind the glamor. And for a wider angle, head to Sunset Boulevard for the best view of the Hollywood sign (or make a hike of it).
8. Las Vegas

The bright lights, poker hands and Elvis impersonators have made Las Vegas one of the most instantly recognizable cities worldwide. But Vegas' identity as a gambling capital is barely a century old. The first bets were made in the heat of the wild west, and mobsters dominated the scene until the 1960s when super-wealthy developers such as Howard Hughes began to exploit the city's potential. Today, around 40 million tourists a year visit Vegas knowing that if they don't strike it lucky, they'll at least have fun trying.
9. New York City

If there is one American destination that's impossible to capture in a single image, it's the sprawling metropolis of New York City. Our doodlers had a pretty good try. The Statue of Liberty is a true icon of America's warm welcome towards 'the tired, the poor, and those huddled masses yearning to breathe free.' However, it is the skyscrapers and rich street life that keep the Big Apple fresh.
10. Philadelphia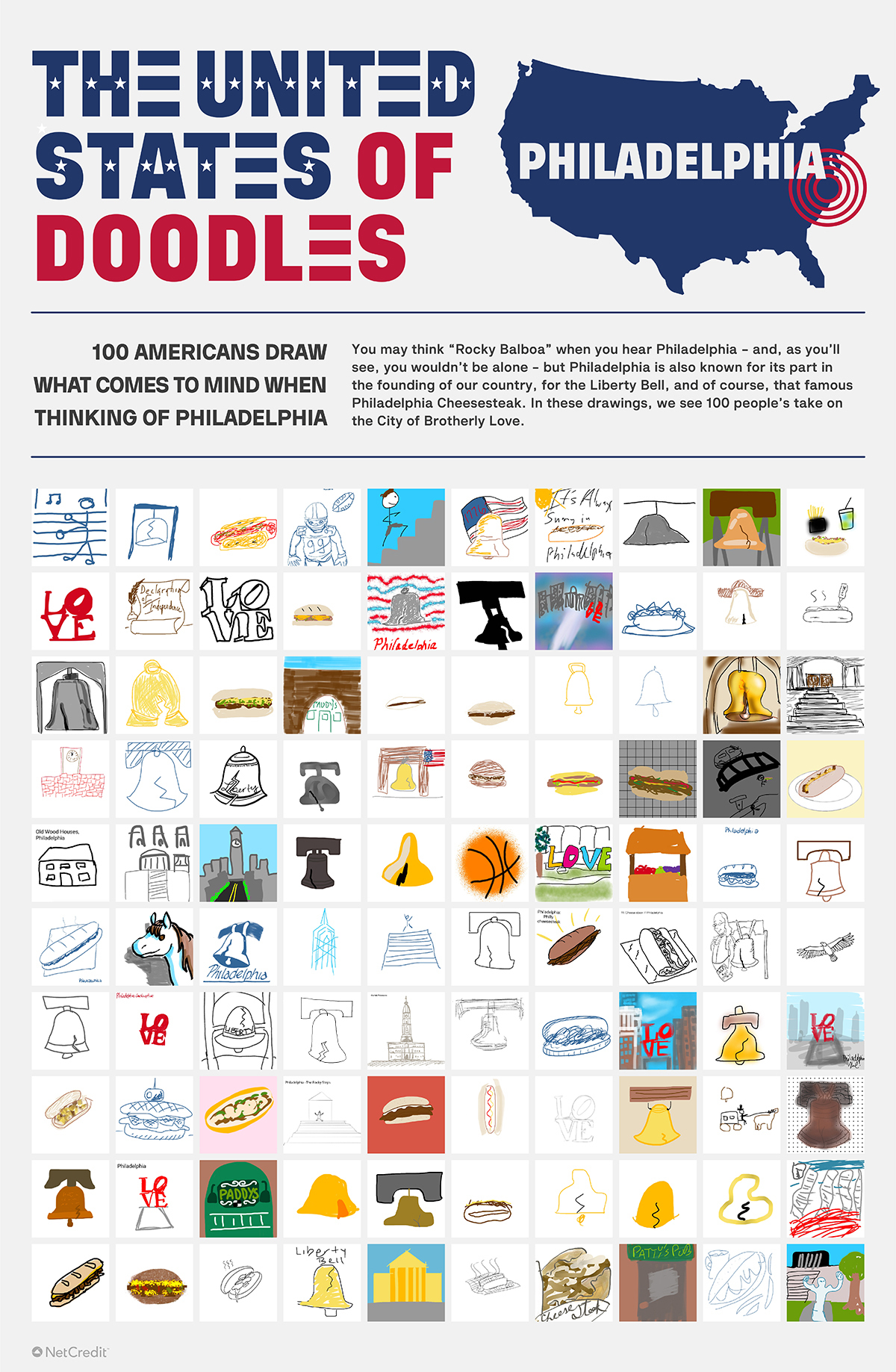 "Proclaim Liberty Throughout All the Land Unto All the Inhabitants thereof," reads the message on the Liberty Bell, Philadelphia's famously cracked symbol of American freedom. Judging by the number of doodlers who instantly thought to draw the bell, this sentiment is still dear to the hearts of American people. Almost as dear to our hearts (or perhaps stomachs) is the city's iconic cheesesteak – a long, crusty roll packed with sautéed beef ribeye and melted Cheez Whiz.
11. San Francisco

San Francisco is all about the Golden Gate Bridge, according to our doodlers. The famous suspension bridge has straddled the Golden Gate strait since 1937 and narrowly avoided being turned into a tidal energy farm in the 1990s. Just as fabulous as the bridge drawings are the colorful representations of the rainbow flag, representing Frisco's welcoming, diverse LGBTQ+ community.
12. Washington D.C.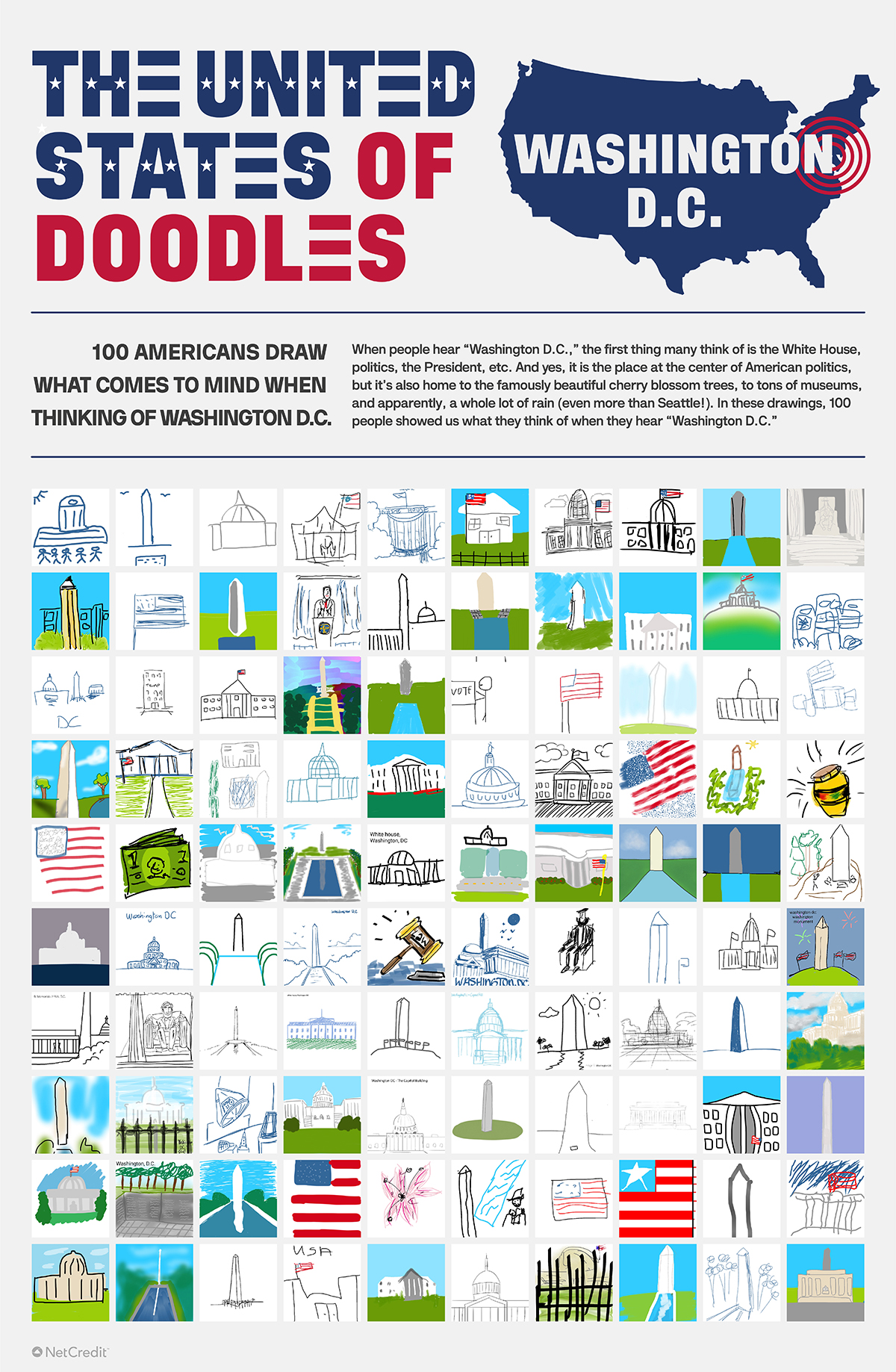 Were we wise to ask 100 randomly chosen Americans to draw what comes to mind when they picture the country's seat of power? Thankfully yes. We got some truly American symbols, from the Stars and Stripes to the White House. The 555 foot tall Washington Monument was the most common choice. The world's tallest stone structure is visited by 800,000 people every year, so you need to line up early to get in. But once you get to the top, you can see as far as 20 miles away over the roofs of America's movers and shakers. Power at last!
Now that you have a better idea of how America's most popular travel destinations are thought of by Americans, why not visit them and make your own impressions?
Methodology
Gathering up over 1,000 drawings from people all over the country was no easy feat. We started out the process by picking our 12 locations: Florida, Alaska, Austin, the Grand Canyon, Las Vegas, Hollywood, Hawaii, Washington D.C., New York City, Chicago, Philadelphia and San Francisco. We wanted diverse locations from around the country – a mixture of cities, states and attractions – that were popular and well known.
We then needed to find 100 people from all across the country to draw these 12 places. The idea being, we'd see what people in the U.S. think of when they hear the name of a certain place. To do this, we posted ads and reached out to people on Reddit, Craigslist and Fiverr.
Each of the 100 people we recruited then downloaded the app "Sketch." With the app, they drew the first thing that came to mind for each location, taking no more than two minutes for each drawing. We ended up with 1,200 unique drawings, 100 for each location.
Sources
(2019). Facts About Alaska. Alaska.gov
(2019). Florida Facts. Coolkidfacts.com
(2019). Washington, DC Fun Facts for Kids. Washington.org
Andrews, E. (2018). Why is Chicago Called the 'Windy City'?  History.com
Burrows, D. (2019). 20 Most Expensive U.S. Cities to Live In. Kiplinger.com 
Childers, C. (2015). The 20 Most San Francisco Movies of All Time. Thrillist.com
Dvorsky, G. (2018). The 18 Most Dangerous Volcanoes in the United States. Gizmodo.com
Editors. (2016). 8 Facts About the Grand Canyon You Never Knew. Nationalparks.org
Editors. (2018). Hollywood. History.com
Goff, J. (2016). Fast Facts About Philadelphia. Pbs.org
Kellman, A. Flo Rida. Allmusic.com
Kiffel-Alcheh, J. Hawaii. Nationalgeographic.com
Sawe, B. (2018). The 50 US States Ranked By Population. WorldAtlas.com