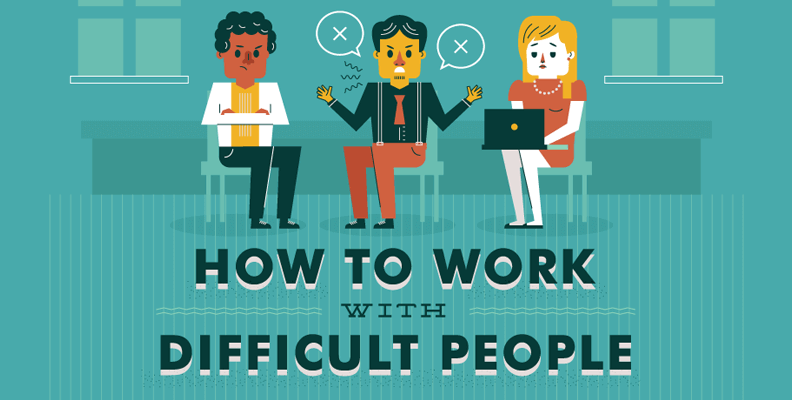 How to Work With Difficult People
Co-worker tensions account for up to 80% of all workplace difficulties, but looking for a new job isn't always the best solution. Instead, try to make life easier using a series of easy-to-implement techniques.
Luckily, there are plenty of steps you can take to improve things, whether it's through your body language or the way you define your working relationships. Staying calm is essential, particularly as the vast majority of top professionals say that they are good at managing their emotions.
It's not just a case of knowing when you need to keep cool or when to stand up for yourself, you also need to take your colleague's thoughts and feelings into consideration. Remember that they also will be struggling with this tension. Studies have shown the importance of good communication for maintaining productive working relationships.
These are all skills and techniques that you can learn and develop to improve not only your ability to enjoy your work week, but to also your company's productivity and your own career prospects.
We've put together this infographic with nine effective ways that you can learn to work with difficult people. Try out the tips today and see what you can achieve.

Sources:
Schabner, D. (2017) Americans work more than anyone abcnews.go.com
Moody, V. (2014) The People Factor. Nashville: Thomas Nelson Inc.
Lallukka, T. et al (2012) Workplace bullying and subsequent psychotropic medication: a cohort study with register linkages Bmj.com
Llopis, G. (2013) 6 Ways Effective Listening Can Make You A Better Leader forbes.com
Michael, J. (2017) 7 Effective Listening Techniques To Boost Your Performance At Work jodymichael.com
Petty, R. & Cacioppo, J. (1986) Communication and Persuasion: Central and Peripheral Routes to Attitude Change springer.com
Wiltermuth, S.S. & Cohen, T.R. (2014) I'd Only Let You Down: Guilt Proneness And The Avoidance Of Harmful Interdependence ncbi.nlm.nih.gov
Bradbury, T. (2014) How Successful People Stay Calm forbes.com
Bradbury, T. (2016) 7 Positive Ways Body Language Will Radically Improve Your Life forbes.com
Schwatz, T. (2011) There's no such thing as constructive criticism. HBR.org
Porath, C. (2016). Give your team more effective positive feedback. hbr.org
Hogan, M. (2016) 5 Employee Feedback Stats That You Need to See linkedin.com
Umiker, WO. (1998) Management Skills for the New Health Care Supervisor. 3rd ed Burlington: Jones & Bartlett
Embed This Image On Your Site (copy code below):