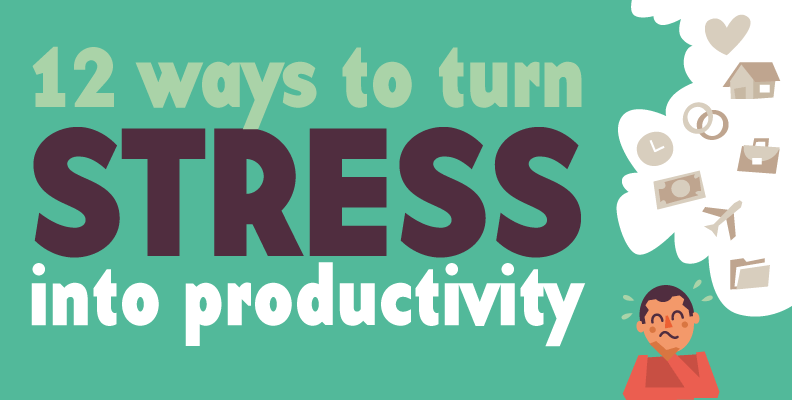 12 Ways to Turn Stress in to Productivity
From the cradle to the grave, life hands us stressful situations — so much so that we should consider stress to be an integral part of living a full life, rather than a nuisance to be avoided at all costs. Rather than ignoring stress, it can be healthier and even more productive to harness the energy that such trials create and direct it towards a more successful outcome.
Science backs this up: stress stimulates the brain to secrete 'noradrenaline', a chemical that improves neural connectivity, perhaps explaining why some of us perform so much better immediately before deadlines or in exams. It's a difficult balance, though, and psychology also plays an important part. 'Owning' your stress – and the superpowers that come with it – requires a positive, proactive mindset. When a stressful situation arises, it's vital to take control: to understand, plan and prioritize, and to direct that energy towards productivity rather than panic.
Take starting a new job. It can be a super stressful experience, but will feel a lot less intimidating if you're fully prepared: research the company and the sector, set up Google alerts or Twitter lists to keep yourself abreast of developments in your particular industry. If you're getting married, make time to sit down quietly and list your concerns. Throw yourself into the tasks you enjoy, delegate the rest and be sure to keep an open dialogue with all involved. And if you're off on an adventure, research your destination(s), make to-do lists and get to work on them weeks ahead of your departure so that you're not filling your last days at home with seemingly insurmountable tasks.
You may just want a quiet life, but there will always be dreams and desires tempting you to make improvements, and pursuing them needn't involve destructive levels of anxiety. For advice on a few more such situations and how to make the most of them, check out this new infographic, take a deep breath — and face up to your fears.

Sources
Mills, H. Reiss, N. Dombeck, M. 2015. Types of Stressor (Eustress Vs. Distress) mentalhelp.net
Goldhill, O. 2016. There's a way to train our brains to cope with stress that changes chemistry "as much as any antidepressant" Quartz
Gallo, A. 2011. Turning Stress into an Asset. Harvard Business Review
Mackay, J. 2016. How to Reframe Your Stress and Anxiety into Productivity. Lifehacker
Waitley, D. 2014. 3 Rules for Turning Stress into Success. Success.com
Crum, A. Crum, T. 2015. Stress Can Be a Good Thing If You Know How to Use It. Harvard Business Review
Hargrove, M. et al. 2015. The HRD Eustress Model: Generating Positive Stress With Challenging Work. Human Resource Development Review 14: 3 (279-298) researchgate.net
Various. Stress Statistics. 2015. statisticbrain.com
Google. 2016. Create an alert. google.com
Embed This Image On Your Site (copy code below):