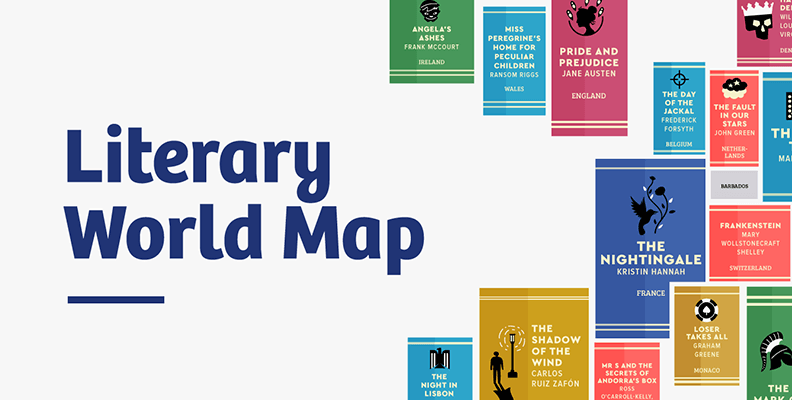 The Most Popular Book Set in Every Country
A good novel can transport you anywhere. From the depths of the ocean to distant galaxies or impossible worlds that could never exist, the author weaves a universe around you and carries you away.
But for many of your greatest literary trips, your feet will remain on Earth. Every country in the world is full of stories and inspiration for the novelist. And fiction is an excellent way to explore the history and potential of a real place in a way that reportage can't quite manage.
A while back, NetCredit explored America through the most popular quote from the best book set in every state. Now, we've expanded our search, helping readers to get back out on tour without passing the front door, through our survey of the most popular book set in every country in the world.
We created an algorithm to give the books on our longlist a score according to their rating on Goodreads and the number of ratings of each title. And then we made a series of virtual bookshelves and maps showing the top-scoring book set in each country. Are you ready to take off your shoes, curl up on your favorite armchair and go traveling?
Key Findings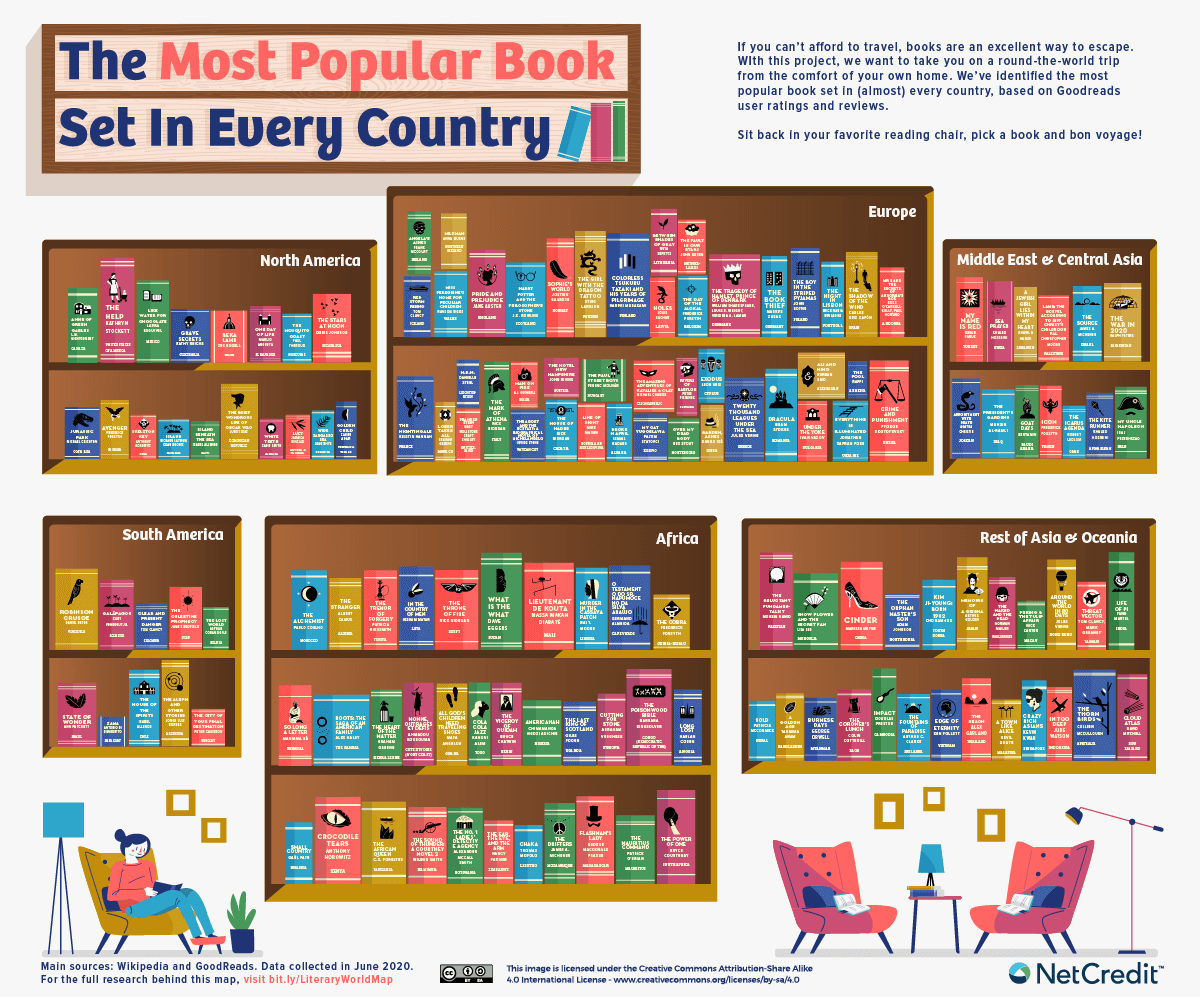 North America
Kathryn Stockett's The Help is the most popular book set in North America. The story takes place in Jackson, Mississippi, as told by three women living in white households: a Black maid, her best friend and a young white woman who wants to reveal the mistreatment that such maids faced in the 1960s.
Science-fiction gets a look-in, too. Michael Crichton's novel of Jurassic Park is set mostly on Isla Nublar, a fictional, teardrop-shaped island of Costa Rica. The book maintains a healthy average rating of 4.03 and remains the most popular book set in Costa Rica thirty years after its publication (although readers still have mixed feelings about whether they'd like to visit Isla Nublar).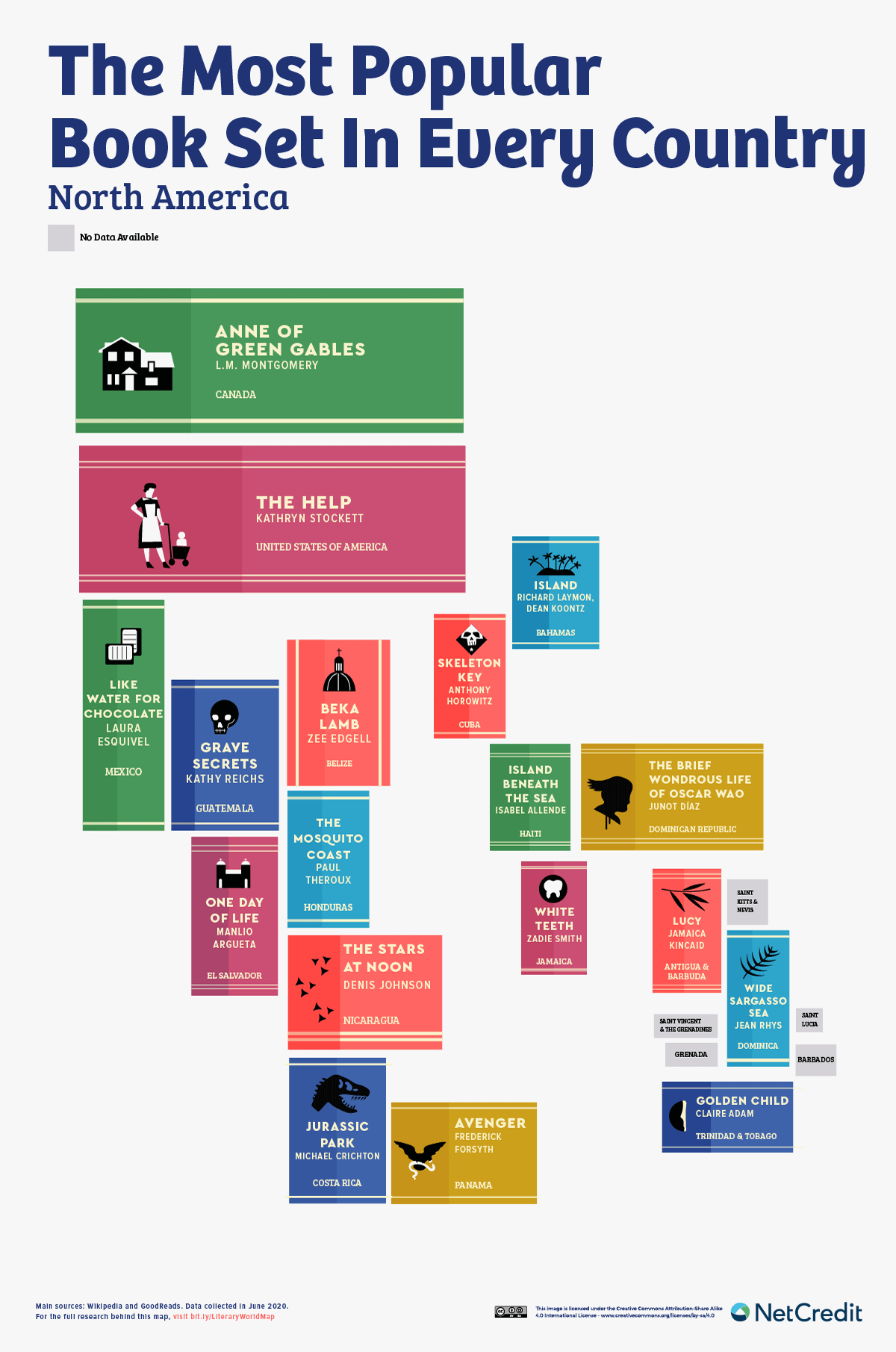 South America
Kurt Vonnegut visited the Galápagos Islands of Ecuador, the inspiration for Darwin's theory of evolution, four years before writing Galápagos. "Of course, I was fascinated by the island's natural life," Vonnegut told the New York Times. "I spent as much time there as Charles Darwin did – two weeks." Vonnegut's novel is about the reverse-evolution of humankind and is the most popular book set in Ecuador.
South America is known as for reality-bending literature, not least due to Argentinian author Jorge Luis Borges. Borges' The Aleph and Other Stories is the most popular fiction book in his home country, and is "[f]ull of philosophical puzzles and supernatural surprises," according to Goodreads.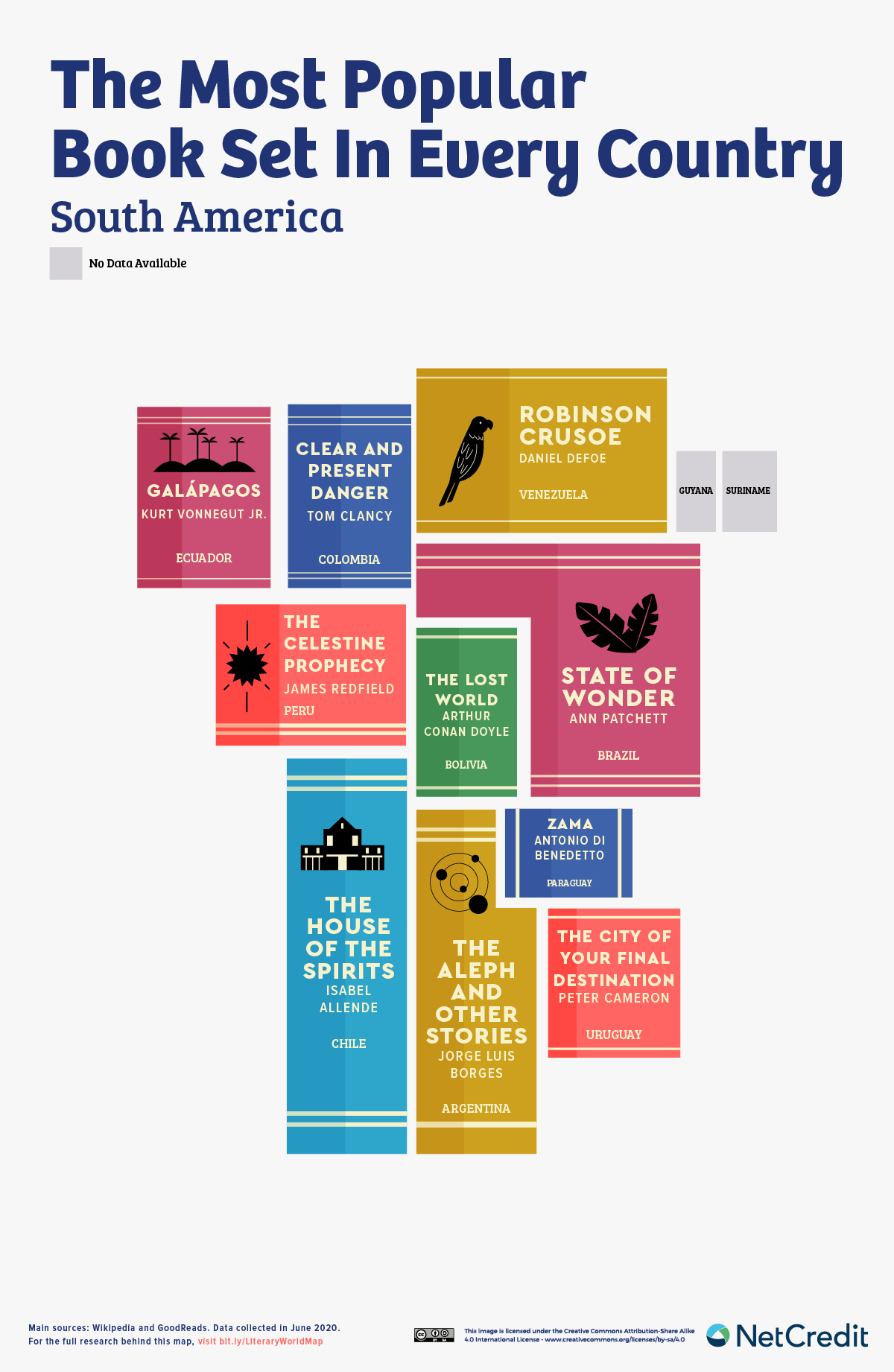 Europe
The most popular book to be set in any particular country on Earth is John Green's The Fault in Our Stars. The book tells of a 16-year-old cancer patient, Hazel, who travels to Amsterdam, Netherlands, to meet the author of a mysterious book about a cancer patient just like Hazel.
My Cat Yugoslavia is the debut novel of Kosovo-born Finnish author Pajtim Statovci. It tells of the relationship between a mother in Kosovo and her refugee son in Finland. "Many things in my childhood and in my life, such as the war in Kosovo, did not make sense to me," says Statovci. "I've always been drawn to works of fiction that make the unimaginable possible and the unbelievable understandable."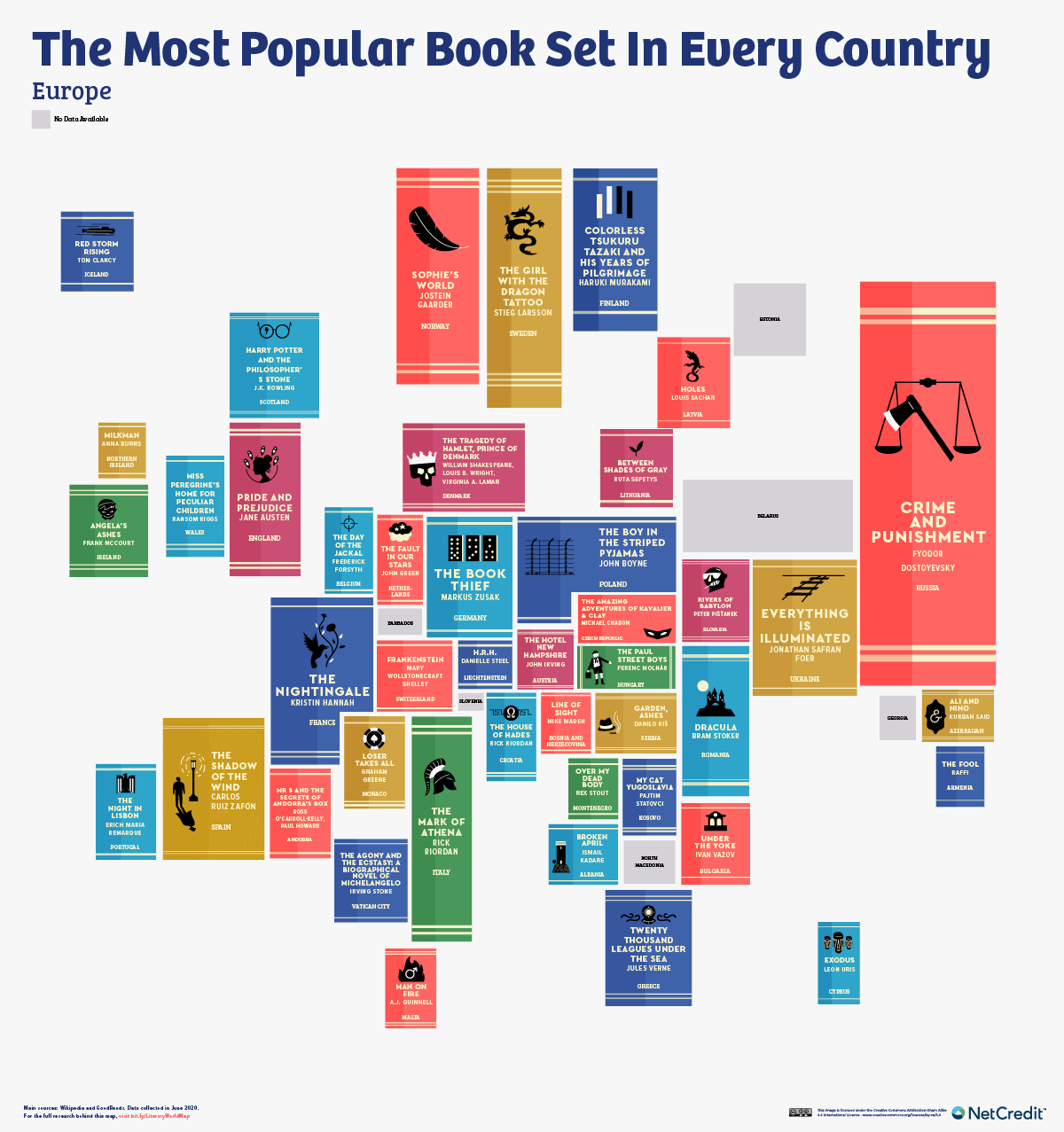 Middle East & Central Asia
Khaled Hosseini's The Kite Runner spans decades of turmoil in Afghanistan's modern history. The novel revolves around the relationship between a wealthy boy and the son and grandson of his father's servant. The Kite Runner has 1,255,000 copies in print in the US and is the most popular novel set in the Middle East and Central Asia region.
Khawla Hamdi is an Arabic-language author, born in Tunisia. She wrote In My Heart A Jewish Girl, which is the most popular novel set in Lebanon. The novel is about an orphaned Muslim girl living with a Jewish family and is understandably contentious, but still maintains a Goodreads score of 4.0.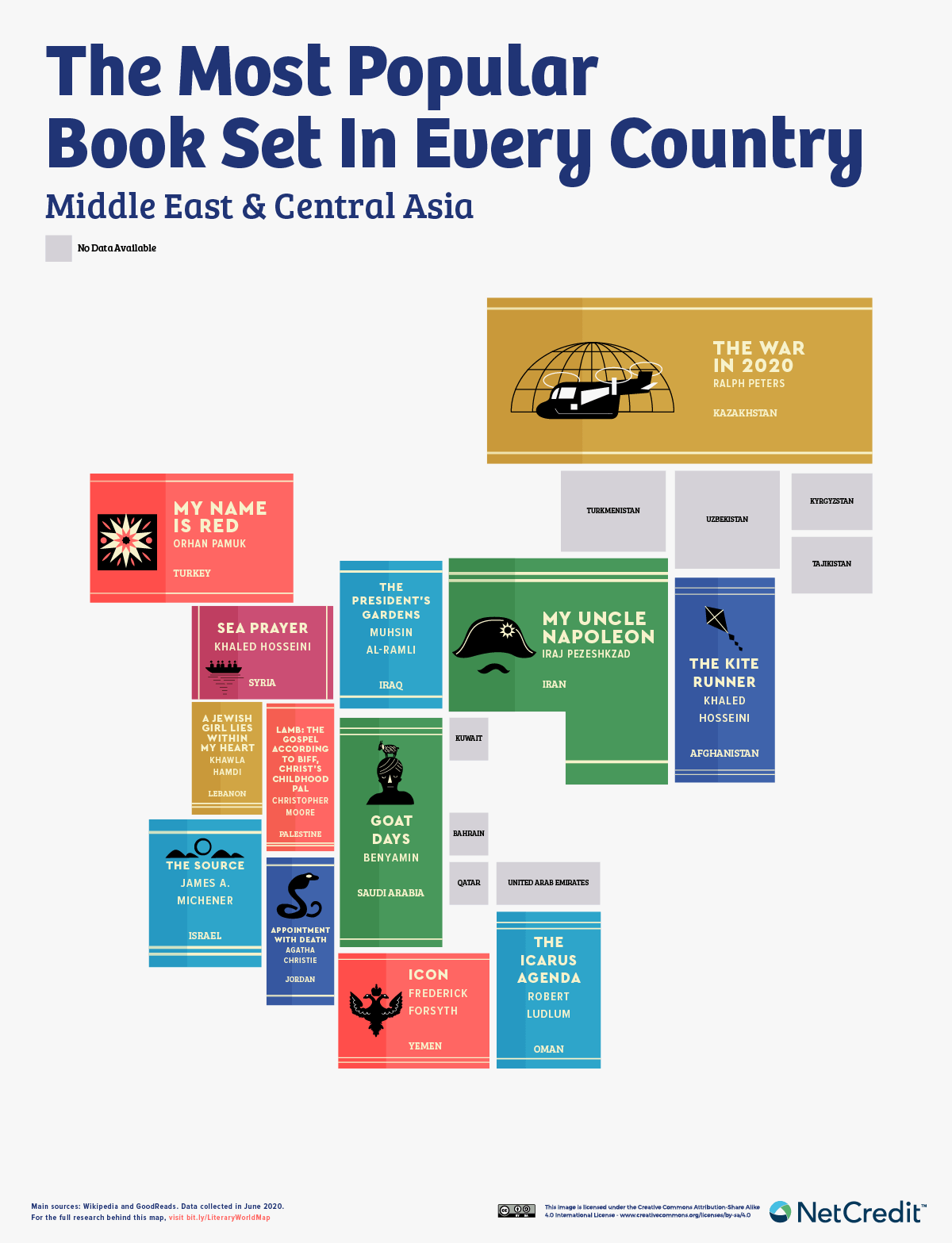 Rest of Asia & Oceania
Arthur Golden's Memoirs of a Geisha is the first-person story of a geisha working in Kyoto, Japan, around the time of World War II. The action unfolds in the real-life Hanamachi geisha district of Gion. Amblin Entertainment adapted the book in 2005 but filmed most of it on set in the States. The book is the most popular novel set in this region of Asia and Oceania.
Cho Nam-joo's Kim Jiyoung, Born 1982 "kick-started a nascent MeToo movement" in South Korea, according to Waterstones. The novel relates the misogyny and sexism a young mother experiences and her sense of futility as things never seem to change. It has an average Goodreads rating of 4.16.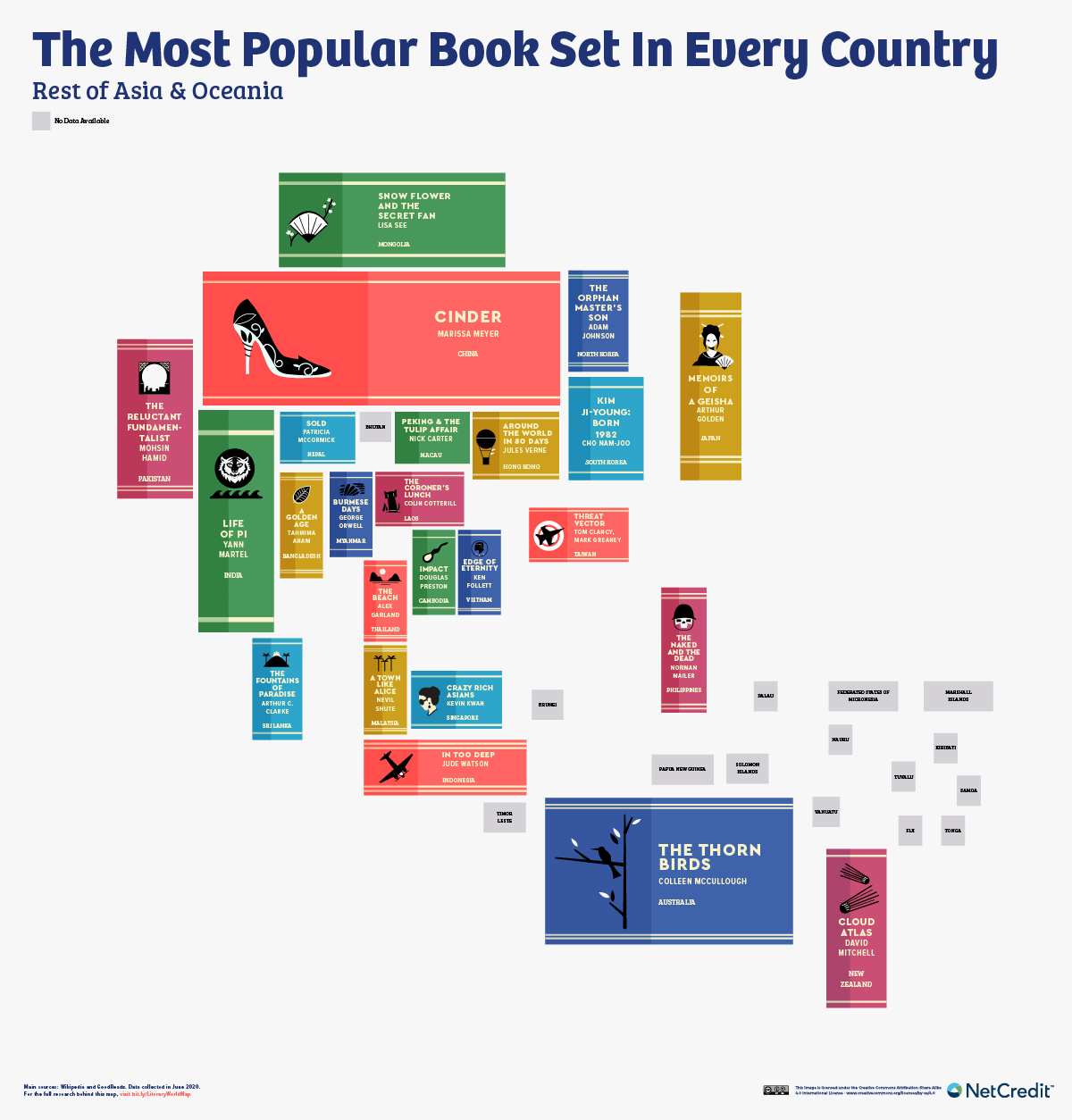 Africa
The Alchemist by Paulo Coelho scores just below 4.0 on Goodreads but remains the most popular book set in Africa with 2,008,728 ratings and 77,076 reviews. The Brazilian author tells the allegorical tale of a young Spanish Andalusian shepherd who travels to the Egyptian pyramids in search of treasure. Much of the action takes place in Morocco, and the book is the most popular to be set in Morocco and Africa as a whole.
Chimamanda Ngozi Adichie set her novel Americanah in her homeland of Nigeria and adopted homeland of the US. There is an upcoming HBO adaptation starring Lupita Nyong'o, and the book has an average Goodreads rating of 4.31. If you're stuck at home, why not do both?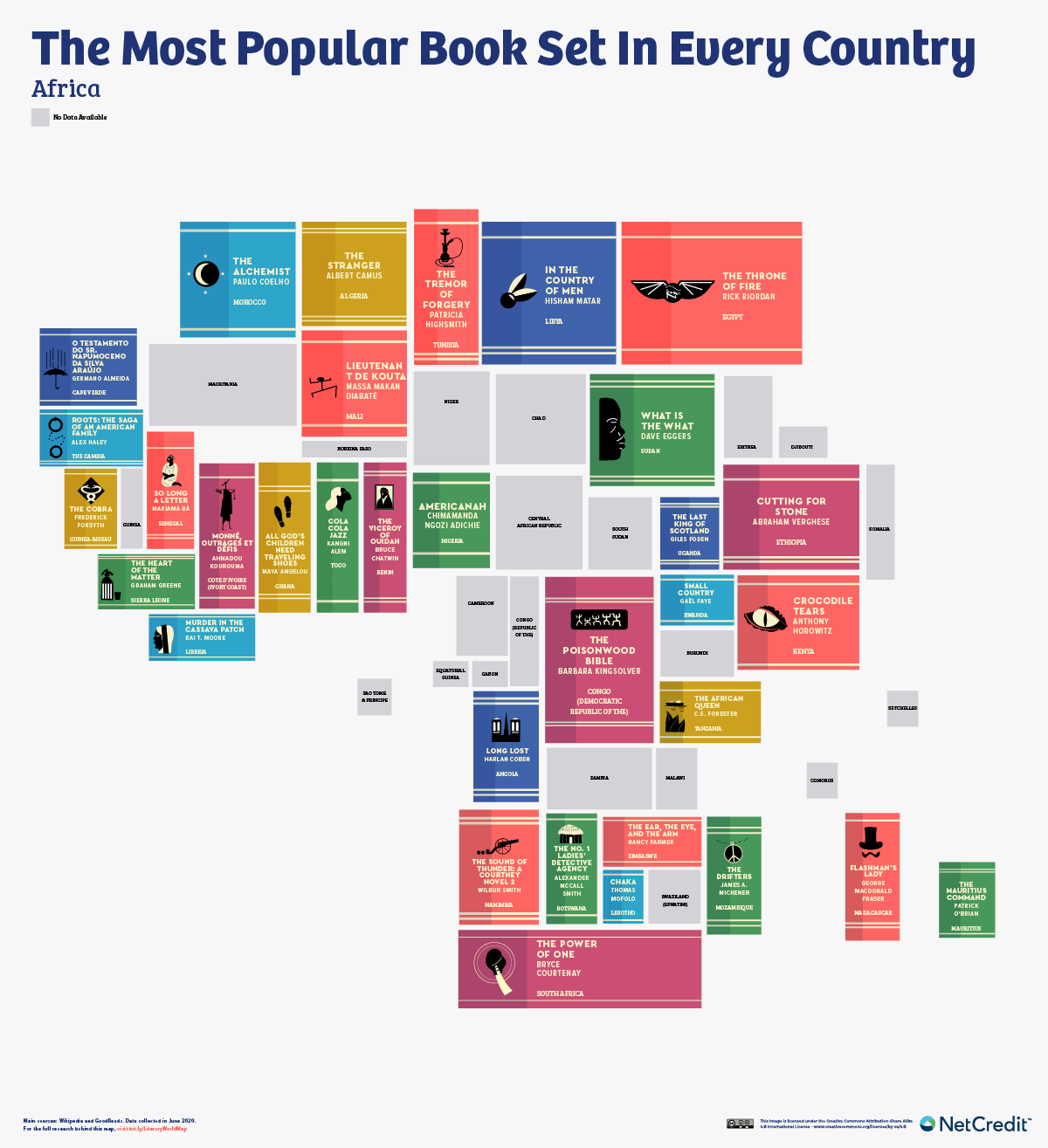 How Do the Most Popular Authors See Your Country?
Love, crime, laughter and adventure happen everywhere there's people. But the flavor of every story changes according to local customs, culture and landscape. Sometimes it takes hundreds of pages of fiction to get a handle on a country – though you may find yourself longing to visit way before you reach The End.
Literature can also give new insights into your own home country or countries. Why not check out the table with our full stats below, and see what is the most popular book set in your homeland?
METHODOLOGY & SOURCES
We made a long list of books set in every country using book titles collected from Wikipedia. This gave us a list of 12,953 books. Next, we collected information on each book from goodreads.com (author, user rating, number of ratings, number of reviews, synopsis). We used user ratings as a measure of how readers evaluate the book and number of ratings as a measure of book popularity and created an algorithm to calculate an aggregated score taking these two features into account.
We chose the book with the highest score for each country. In some cases, the country a book is set in is not defined, and we had to make a number of allowances to account for this. If a book is set in multiple countries, we defined its setting as the place where the majority of the novel takes place. If a book takes place in multiple countries and no single country could be considered the primary setting, it was removed from consideration.
For some books, the primary setting is not explicitly stated. For example, in the Harry Potter series, the majority of the action takes place in Hogwarts. Although not directly stated in the books, there is enough evidence to suggest that the stories take place in Scotland, and so that is where the series has been placed. In all cases, every effort has been made to ensure that the books featured in this project take place in the countries to which they are assigned.
The information for this project was gathered in June 2020. If you want to see the full research, visit bit.ly/LiteraryWorldMap.