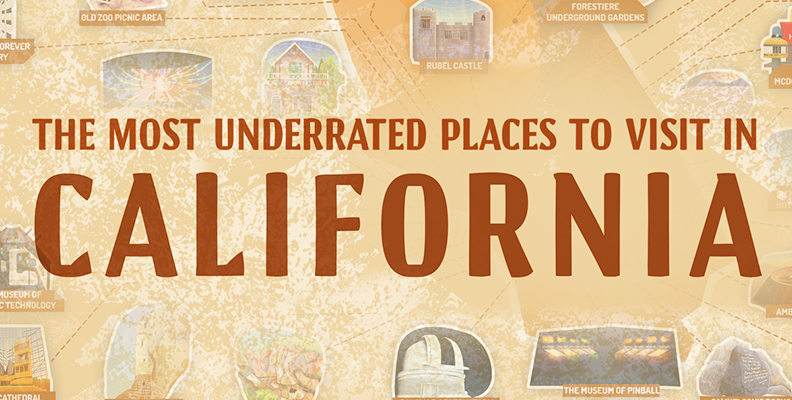 The Most Underrated Places to Visit in California
Everybody dreams about visiting California, but the California in the collective imagination is nothing compared to the real thing. Movies, music and video games tend to feature the surface discoveries. Look a little deeper, and there's a whole lot more to see.
Bizarre rock formations, unexpected architecture and distinctly niche-interest museums are tucked away on back streets or in far-off desert plains. There's a castle built by an 'outsider-architect,' a graveyard of rusted war boats yet to be decommissioned and a store selling time-travel supplies.
Yeah, California is one-of-a-kind. So, following our guide to the most underrated place to visit in every state, we decided to focus in on the Golden State's hidden gems. We trawled Atlas Obscura and found all the places in California that had fewer than 1,000 Google reviews but had earned a four-star rating or higher. The result is this new series of maps showing the most underrated places to visit in each region of California.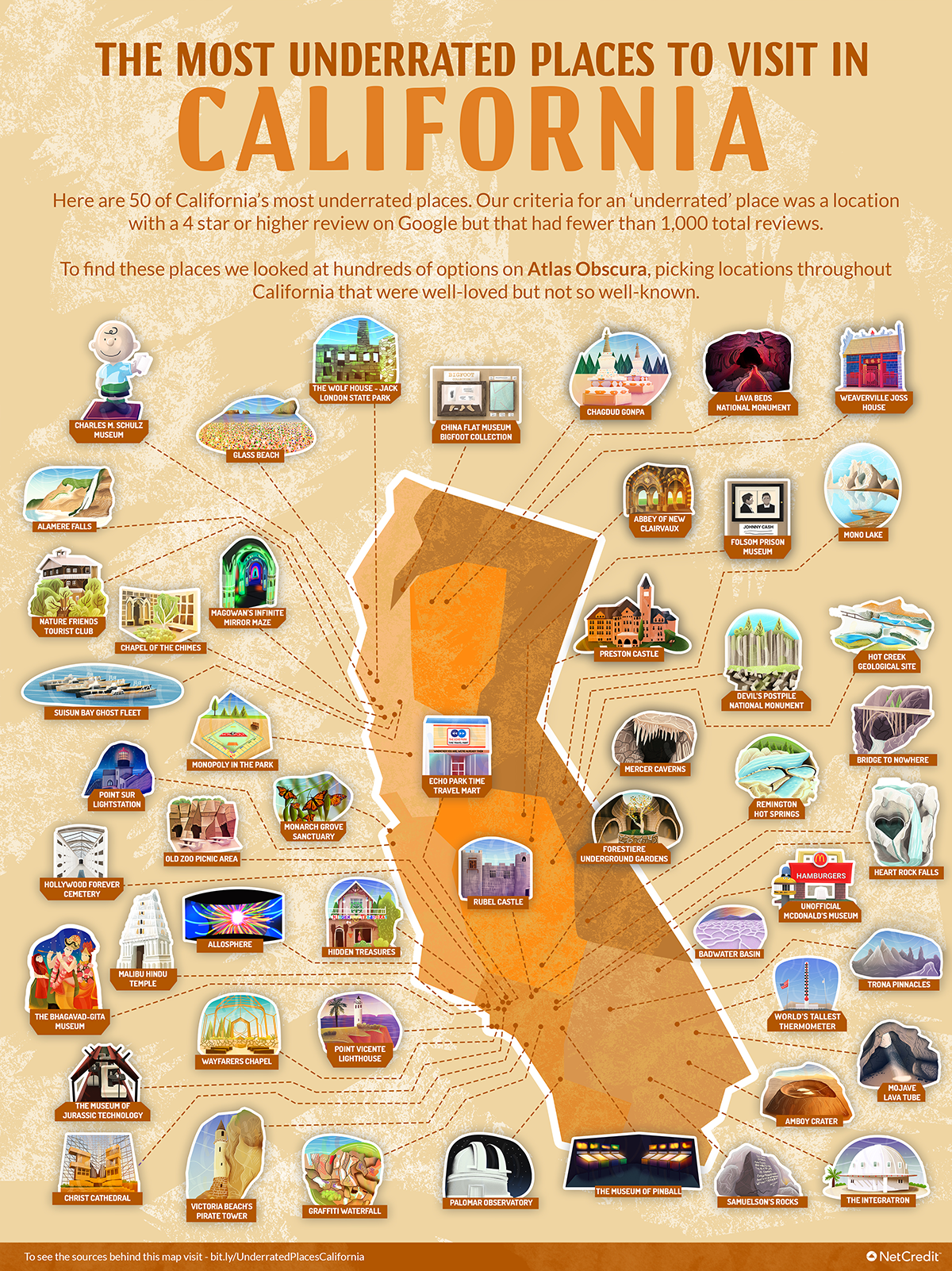 1. Mountain Region
The California Mountain Region is famous for Death Valley and the tallest peak in the contiguous United States. But at an elevation somewhere between these extremes, you'll find a museum dedicated to the sasquatch, a geological oddity that looks like it was made by a Play-Doh factory and a free, natural spa decorated by hippies.
You'll also find the China Flat Museum Bigfoot Collection in Willow Creek, not far from where the Patterson-Gimlin sasquatch film was shot. The museum itself may not be enormous, but its encased assortment of ape-man artifacts gives it the feeling of a Victorian cabinet of curiosities. Among other rarities, you can see preserved footprints of the mysterious creature and a giant wooden sculpture of its likeness. Afterward, why not head out on the trail and try to find the 'real' thing?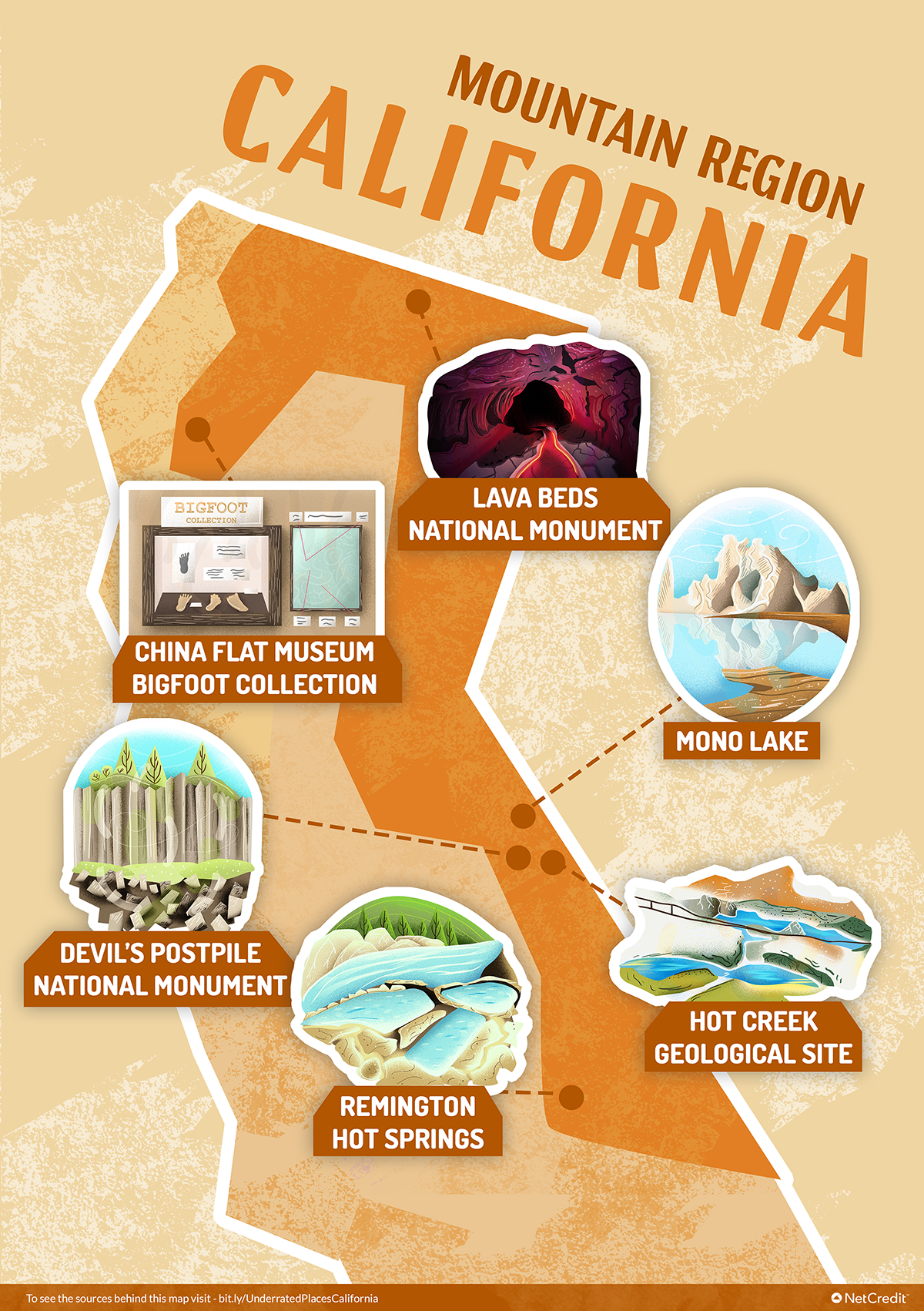 2. Central Coastal Region
The AlloSphere is a Fantastic Voyage-style take on the planetarium concept. Instead of looking up at the stars, scientists and visitors can gaze at the 360-degree, 24-million-pixel screen system and experience the inside of a brain scan, or any other microscopic event. The facility can be found at the California Nanosystems Institute building at the University of California Santa Barbara. It is also one of the biggest anechoic chambers in the world (meaning it gets deadly silent when they switch off the awesome 512-channel sound system).
For a real, live view of nature's magnificence, head to the 1889-built Point Sur Lightstation at Big Sur. It sits on volcanic rock, 361-feet above the ocean. The lighthouse keepers lived up there, too, for many years, but the warning system has been automated since 1972. Today, it is California's only complete lighthouse of its era to be open to the public – yet its remote setting keeps it as obscure as it is romantic!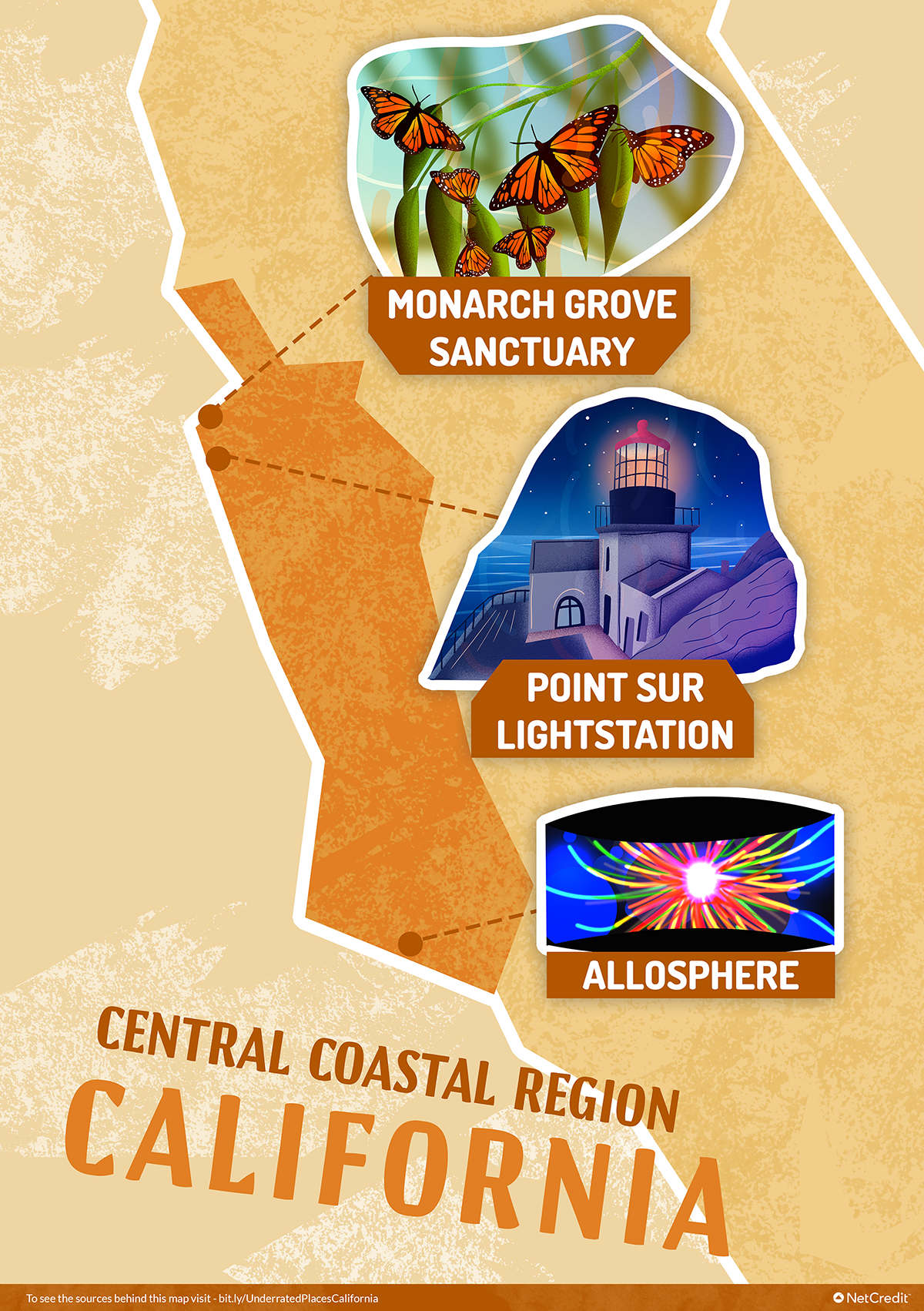 3. Central Valley Region
California's Central Valley region may be known for farming and fabulous wine, but it has its dark and exotic features, too. Folsom Prison Museum mostly belongs in the first category. This former penitentiary is best known for being the prison where Johnny Cash recorded his famous live album in 1968. Now that it is 'closed for business,' the prison retains a spooky sense of yesteryear. Animatronic 'puppet prisoners' populate the cells, and the museum is fully staffed by former prison guards.
Towards the exotic end of the scale, Chagdud Gonpa is an authentic Tibetan-style Buddhist Temple a half mile west of where Canyon Creek meets Trinity River. "This may be as close to the feel of Tibet as you'll ever get without actually going there," writes Atlas Obscura.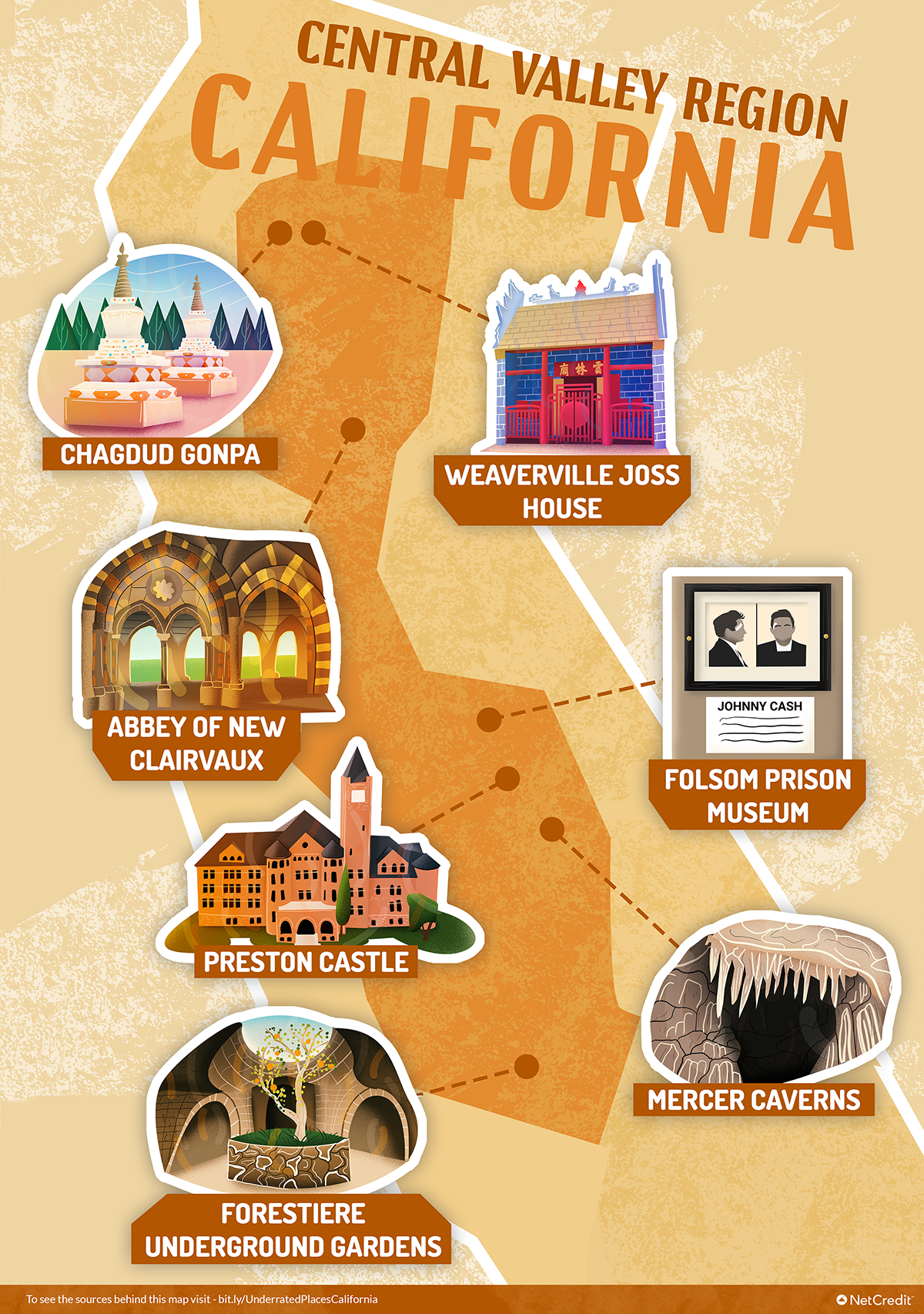 4. Desert Region
Perhaps it's not surprising that there are some lesser-visited attractions in the desert. It's also no surprise that many of them are geological in nature. At the Mojave Lava Tube, you can follow a 10,000-year-old trail of molten lava through tar-black tunnels naturally lit by beams from the hole-peppered ceiling. You're really touching ancient history as you run your hands along the walls of solidified lava.
The Amboy Crater is an underrated side-attraction to Route 66. Like the Mojave Lava Tube, it is a former volcanic site. But this one is outdoors in the sun and represents the moment – 79 millennia ago – when lakes of liquid lava bubbled on the Californian landscape. The crater can be reached by a 2-3 hour hike and offers remarkable views across the desert.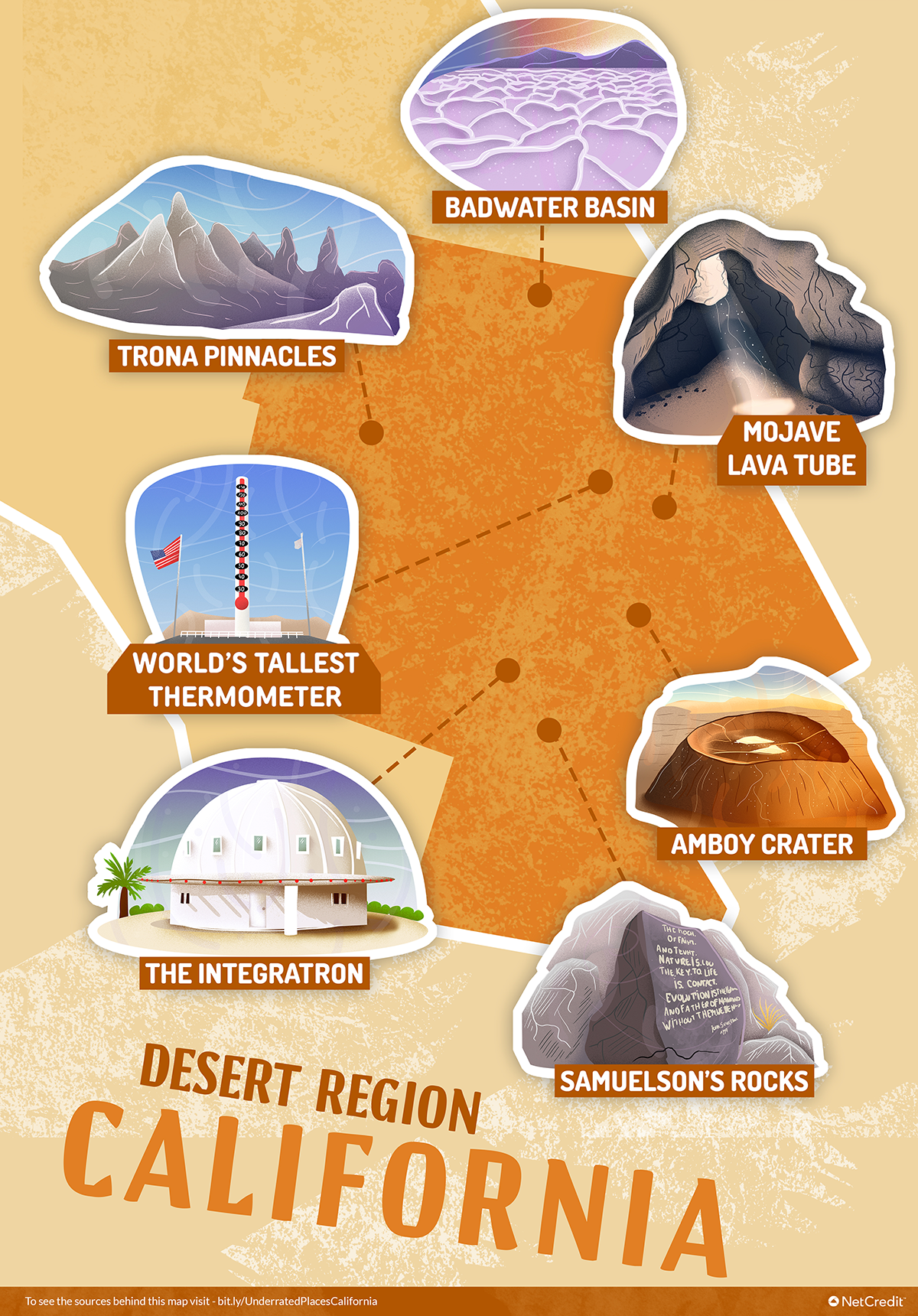 5. Northern Coastal Region
Did you know there's a Charles M. Schulz Museum? This celebration of the Peanuts cartoonist can be found in Santa Rosa in the northern coastal region of California. It features a reconstruction of Schultz's studio, pieces of his early artwork and a Snoopy-shaped labyrinth, as well as temporary thematic exhibitions such as 2019-20's "Peace, Love, and Woodstock" show.
The Glass Beach at Fort Bragg is a curious collaboration between nature and humans. Through the 20th century until 1967, residents of the town would throw hefty garbage such as appliances and vehicles over the cliff to the seafront. Occasionally they would throw a Molotov cocktail down to burn it up and make more space. Years later (and following a clean-up operation), all that remains is a landscape of glass pebbles, worn smooth by the ocean waves.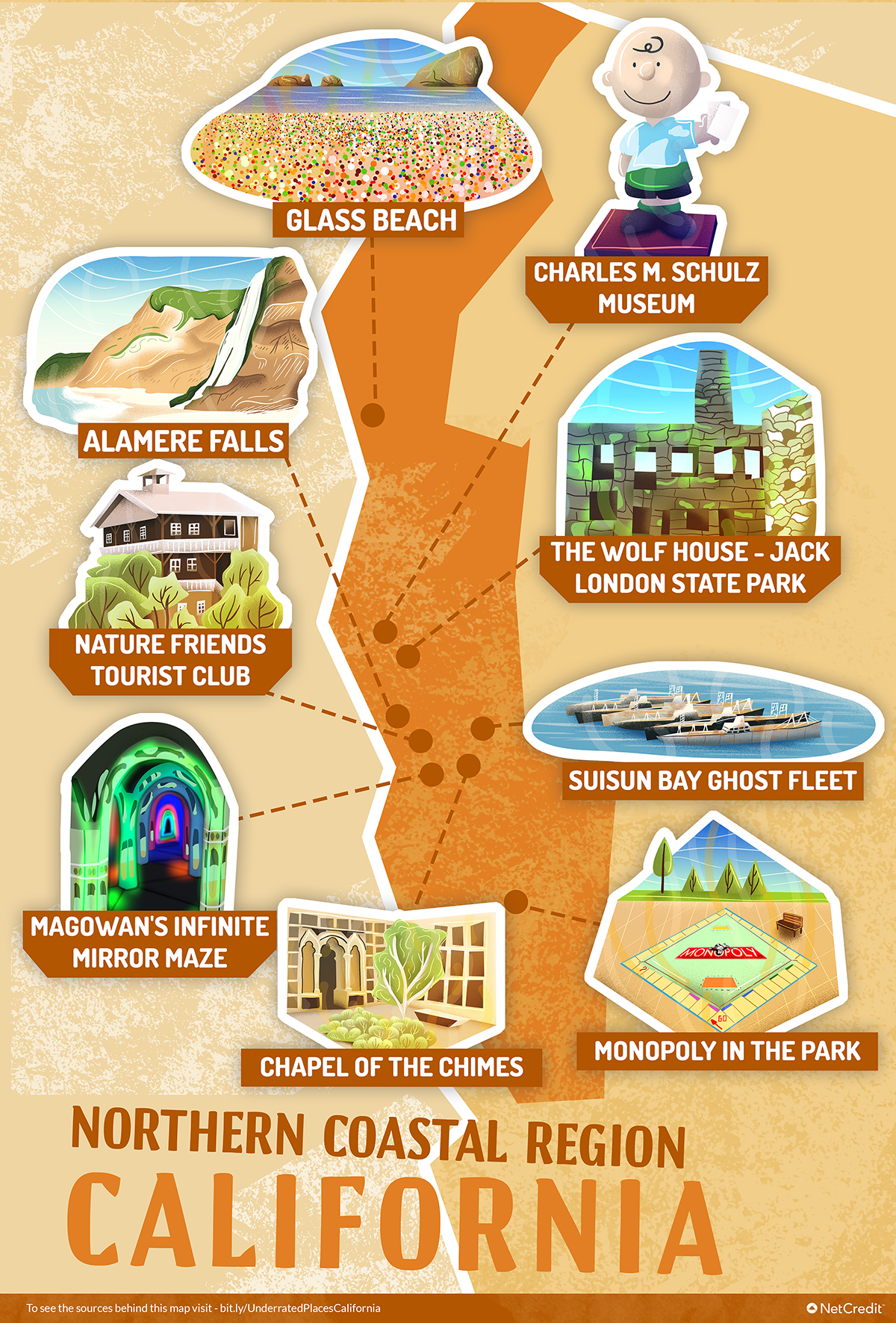 6. Southern Coastal Region
No tour of underrated California would be complete without a stop at an underrated Hollywood attraction. The Hollywood Forever cemetery may sound like a gloomy place for a visit, but it has all the pizzazz and glamor you've come to expect from Tinsel Town. Showbiz names including Cecil B. DeMille, Johnny Ramone and Estelle Getty can be read from among the 'kitsch-but-respectful' headstones. Each summer, movies are projected onto the wall of Rudolph Valentino's mausoleum.
Just up the road, Malibu Hindu Temple is a once-in-a-lifetime opportunity to see a piece of authentic Hollywood history that looks like it was beamed in from the other side of the world. The temple is cinematically cross-cultural, having appeared in both Hollywood's Beverly Hills Ninja (1997) and 'Kollywood' (Tamil) film Jeans (1998). It is open every day of the year for services, recitals and puja.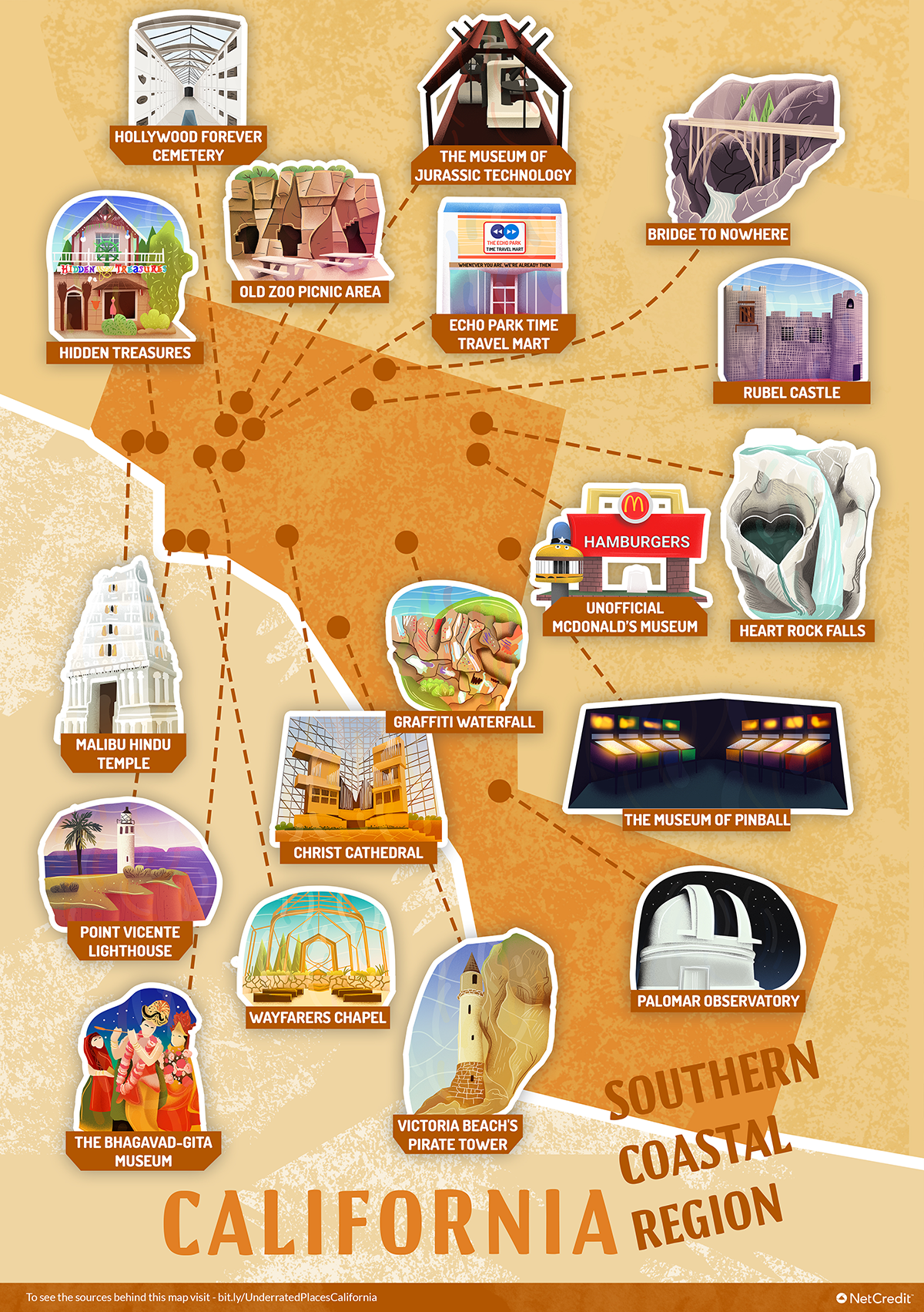 California is even more California than you think, when you get to know it. Which underrated place would you like to visit first?
Methodology
To create these maps of underrated places in California, we searched through hundreds of recommended places on Atlas Obscura and picked those that were most interesting. The criteria for an 'underrated' place was a location that had fewer than 1,000 reviews on Google, but those reviews had to be 4 stars or higher. We also tried to get an even spread across the different regions of the state. This narrowed our list down to the 50 most underrated places to visit in California.
To see the sources behind this map visit – bit.ly/UnderratedPlacesCalifornia