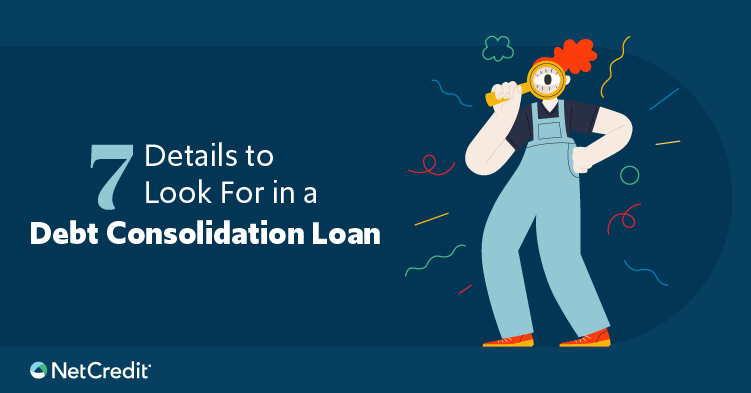 What to Look For in a Debt Consolidation Loan
If you're looking to consolidate your debt, you likely are ready to make real changes that help you move forward financially. Debt consolidation is a popular financial strategy that can help you make more room in your budget and even save you money in the long run. Keep in mind that taking out any new loan — no matter the purpose — is a major decision that should be carefully considered.
Before you sign a loan contract, it's important that you make a well-informed decision for the betterment of your overall financial health. When looking for a debt consolidation lender, it's helpful to consider the following questions to find the right debt consolidation loan for your needs.
1. What is the monthly payment?
One of the most important aspects in a debt consolidation loan is the monthly payment amount. Whether you wish to consolidate debt to lower your total monthly payment, get a lower interest rate or both, it's crucial that you make sure that the monthly payment amount fits into your budget. Additionally, is the debt consolidation monthly payment lower than your current monthly payment(s) to cover outstanding debts? Taking on a new loan with a higher monthly payment than you have currently may not make financial sense in the long run.
2. How much can I afford?
Using your current budget, measure the debt consolidation repayment amount against your income and monthly expenses. It's important that you check whether you can reasonably afford to make the loan payments on time and in full to help protect your credit history and credit score. If not, late payments and fees can add up, causing you to get further behind on debt. Late payments can also negatively affect your credit score. In order to avoid any negative marks on your credit history, aim to always pay on time and in full.
3. Will the loan help me advance my financial situation?
Similar to the last question, it's a good idea to make sure that the loan principal is sufficient enough for you to consolidate your outstanding debts. This means that the debt consolidation loan should at least equal the total of your outstanding debts that you wish to consolidate. If the debt consolidation loan principal is insufficient, it may help to look for a lender that offers a higher loan amount that you need to combine outstanding debts into one monthly payment.
Finally, debt consolidation can help improve your credit score if you maintain good credit habits and work with a lender that reports data to the major credit bureaus. Good credit behavior includes making loan payments on time and in full, and keeping your credit utilization ratio low. In order to improve your credit score with a debt consolidation loan, look for lenders that report payments to the major credit bureaus, and make sure to maintain positive credit usage for the duration of the loan.
4. What is the payment structure?  
Some lenders will ask that you pay monthly, while others may require bi-monthly payments. Depending on your pay structure, the due date of your debt consolidation payment can impact your monthly budget. It's important to make sure that the repayment structure makes sense for your budget. Some lenders offer flexible terms that allow you to customize the debt consolidation loan to fit your needs and budget. Additionally, top lenders offer convenient features to make repayment even easier, including autopay.
5. What type of loan is it?
Some types of loans may be better suited for debt consolidation than others. For example, an installment loan provides capital to approved applicants in one lump sum, while a line of credit provides revolving access to credit up to a specific dollar amount. No matter which route you choose, it's important to look for the type of loan that works best for your unique debt consolidation needs.
6. Does the lender offer payment flexibility?
Leading lenders realize that your budget may change later down the line, even though you have a steady job and income. Lenders that offer payment flexibility can help you through times in which your budget is tight, giving you extra time and leeway to make payments. Make sure that your debt consolidation lender is willing to help you through unforeseen budget shortages with flexible terms that work for you.
Additionally, you may want to pay off your loan early, or use extra cash to make an additional payment to your normal payment. Keep in mind that while some lenders penalize such early repayments, top online lenders like NetCredit allow fee-free early repayment.
7. Is it secure?
Last but not least, data security is of utmost importance to you as well as reputable debt consolidation lenders. Whether you apply online or in person, it's essential that your personal data is safe and secure. Before you sign for a loan, look for high-quality data privacy features, including the usage of special security software like McAfee and TrustedSite.
The information in this article is provided for educational and informational purposes only, without any express or implied warranty of any kind, including warranties of accuracy, completeness or fitness for any particular purpose. The information in this article is not intended to be and does not constitute financial, legal or any other advice. The information in this article is general in nature and is not specific to you the user or anyone else.