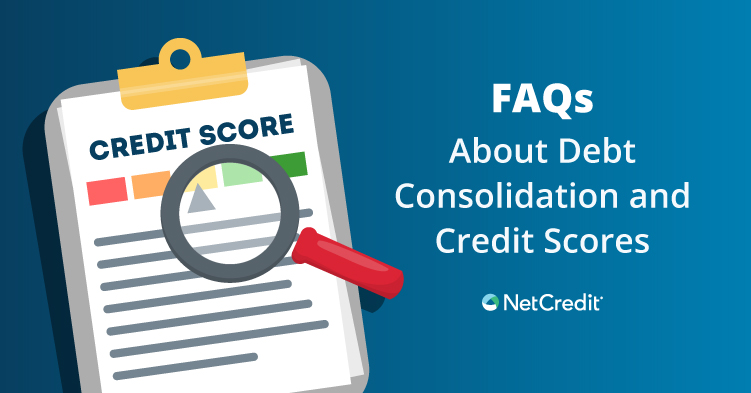 Will Debt Consolidation Help My Credit Score?
Looking for a fresh start financially? Debt consolidation can be a positive approach to take your financial situation into your own hands and turn your credit around. However, it's important to know what debt consolidation really means, and how to improve your finances moving forward. Read our guide for several frequently asked questions about debt consolidation, and how it impacts your credit score.
What Is Debt Consolidation?
Debt consolidation is the process of combining outstanding debts into one more manageable monthly payment. People generally consolidate debt to lower their monthly payments, make it easier to budget and/or to get a lower interest rate. Some common debt consolidation options include personal loans and credit cards.
Will Debt Consolidation Show Up on My Credit Report?
Debt consolidation can impact your credit history, and in turn, influence your credit score. While information such as the loan purpose isn't reflected on your credit history, a loan used for debt consolidation will appear on your credit accounts and usage profile. Even though debt consolidation can impact your credit history, positive credit behaviors, including on-time payments and maintaining a low credit utilization ratio  can lead to a higher score and credit rating improvement over time. On the other hand, debt consolidation loans, like other forms of personal credit, may lower your score if you make late payments and/or continue to raise your credit utilization ratio.
How Does Debt Consolidation Affect My Credit Score?
Credit scores are calculated from the following information, from the highest impact on your credit scores to the smallest: Payment history, amount owed, credit length, credit mix and new credit. Debt consolidation may have a positive impact on your score if you maintain good credit habits, like paying bills on time and maintaining a low credit usage ratio.
Whenever you take out a new loan or line of credit, even in the debt consolidation context, your credit profile changes. Depending on the type of loan, you may increase your revolving credit or diversify your credit profile, both of which have some impact on your credit score. Therefore, applying for a debt consolidation loan will cause a credit inquiry to appear on your credit history.
Keep in mind that negative credit behaviors on a debt consolidation loan, including paying late, missing payments and/or driving up revolving credit balances can cause credit scores to decline.
How Fast May Consolidating Debt Help Improve My Credit?
Two of the best ways to raise your credit score over time include paying outstanding debt(s) on time and maintaining a low credit utilization. However, the amount of time it takes to raise your score following debt consolidation depends on a number of factors, including your current credit rating, your ongoing credit utilization ratio and your payment activity. If you don't see an improvement in your score in a few weeks to a couple months following debt consolidation, make sure to maintain positive credit behaviors and check your score again in a few weeks. It's a good idea to monitor your credit scores with credit software from your bank, a free credit score check website like Credit Sesame or directly through the three main credit reporting agencies.
What Methods Can I Use to Consolidate Debt?
Debt consolidation loans are available from numerous sources, including banks, credit unions and alternative creditors like online lenders. Additionally, credit card balance transfer is another potential debt consolidation method, available from banks, credit unions and major credit card issuers.
What is Debt Settlement?
Debt consolidation differs from debt settlement or credit counseling. While such services vary, debt settlement companies generally advise you to stop paying towards outstanding debts in order to try to reach a settlement with your creditor(s) and/or close your credit account(s). Keep in mind that debt settlement companies often charge you for their services, and they may not guarantee that they are able to reduce, settle or close your credit accounts. Additionally, settling or a closing credit account can leave a negative mark on your credit history, and may cause more damage to your credit score than responsibly consolidating debts yourself.
The information in this article is provided for educational and informational purposes only, without any express or implied warranty of any kind, including warranties of accuracy, completeness or fitness for any particular purpose. The information in this article is not intended to be and does not constitute financial, legal or any other advice. The information in this article is general in nature and is not specific to you the user or anyone else.