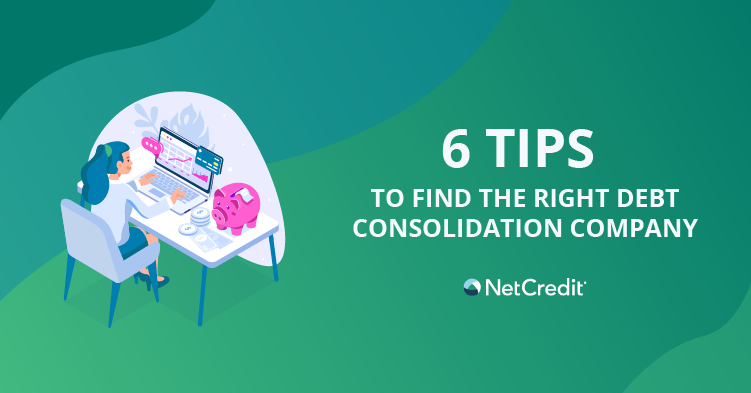 How to Choose the Right Debt Consolidation Company
Debt consolidation is the process of combining multiple outstanding debts into one more manageable monthly payment. Borrowers can consolidate debt with a variety of personal finance tools, including online loans, credit cards with balance transfer and debt consolidation loans.
While debt consolidation may sound like a good option to help you take control of your finances, there are a few considerations to think about before deciding on a particular company or lender. These six tips can help you decide which debt consolidation company is right for you.
1. Are They Trustworthy?
Whenever you take out a loan or apply for credit, you're required to provide some personal information, like your Social Security number, date of birth and bank account number. This helps lenders make more informed application decisions, and it also helps them prevent credit fraud by verifying personal details.
Reputable, trustworthy financial establishments generally have a variety of measures in place to help secure data and keep their customers safe. Before you choose a particular debt consolidation company, look for specific security features, including trusted software like McAfee or TrustedSite for additional layers of security. If you're not familiar with a particular debt consolidation lender, you may also want to read real customer reviews and access company ratings on third-party sites like Trustpilot.
2. Do You Qualify?
Common debt consolidation methods include personal loans and credit cards with balance transfer features. Borrowers with poor to fair credit may not qualify for as many types of personal credit, while those with fair to good credit or better typically qualify for lower interest rates and/or more financing types. If you're not sure about your credit rating, you can check your score for free.
3. Do They Offer What You Need?
Another important consideration when reviewing debt consolidation companies is how much you need to borrow. Debt consolidation lenders vary in a number of ways, including the rates they offer, and the loan amounts for each type of loan. When considering a debt consolidation company, make sure to look for a lender that offers an amount suitable for your debt consolidation needs.
4. Do They Offer Flexible Funding Options?
Sometimes, no matter how much we budget and plan our finances, our borrowing needs change. When reviewing various debt consolidation companies, you may want to look for lenders that offer flexible funding solutions, including features like customizable loan repayments, adjustable loan terms, and more.
5. Can You Access Help When Needed?
Although you might not have any reason to contact customer service now, it's helpful to know that they are accessible if needed. Before you decide on a lender, look for ways to get in contact with a dedicated customer service team:
Do they offer multiple methods of contact including via phone, email, chat and/or website form? Getting in touch is easier when you have more than one option to contact a representative.
Does the lender have an accessible customer service team available with reasonable hours? Look for the hours of operation on a prospective lender's customer service webpage.
Are they responsive? You may want to look for reviews on third-party customer review websites to read about customer service experiences.
If you have specific questions, you may want to write out your concerns and contact the company directly to help resolve any matters before signing.
6. Do They Offer Additional Services to Help You Improve Your Finances?
Debt consolidation means taking a big step to help improve your finances. The best debt consolidation lenders offer more than just debt consolidation loans to help their customers continue on a positive financial journey. When considering a debt consolidation company, look for additional features that can help you along the way, including:
Educational personal finance content and media, from improving your credit to managing a budget that fits your lifestyle, and more.
A resources finder tool to connect you with local financial programs, employment services and other helpful assistance in your area.
Access and manage your account while you're on the go with a useful smart phone app.
The information in this article is provided for educational and informational purposes only, without any express or implied warranty of any kind, including warranties of accuracy, completeness or fitness for any particular purpose. The information in this article is not intended to be and does not constitute financial, legal or any other advice. The information in this article is general in nature and is not specific to you the user or anyone else.