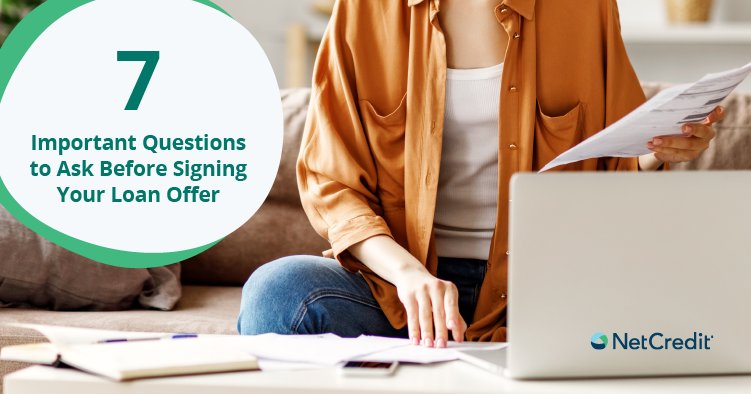 What Should I Look For in My Loan Offer?
If you're in need of a loan to help you move your finances ahead, you might feel stressed about your overall financial situation. However, taking out a loan can be a major decision, so it should be considered carefully.
When you receive a funding offer, whether from a bank, online lender or somewhere else, you'll need to decide if it's a good option for your situation. In order to help guide your decision, ask these seven questions before signing a loan contract.
1. Is the lender reputable? 
Research your prospective lender of choice before you apply for a loan. You'll notice that trustworthy creditors work hard to provide an easy and transparent funding process. This means that you should be able to find the information you need to make an informed decision about the loan in your funding offer. You should also look on third-party review websites such as Trustpilot to learn more and read about real customer experiences from people like you.
2. What is the loan amount?
Although you may not receive the total amount that you requested on the application, it's important to make sure that the loan principal on your offer is sufficient for your needs. If your offer is too low, it may not make sense to take out the loan from that particular lender. If you need a higher loan amount, you may want to look for other creditors that can offer enough money to help you manage expenses and move your finances ahead.
3. When will I be funded?
The timing of your funding can vary a lot depending on the specific lender. While traditional funding sources, including banks and credit unions, have a longer funding timeline, online lenders work hard to put money in your account much faster. If you're in need of a loan sooner, you may prefer a lender that offers fast funding features for approved applicants, like NetCredit.
4. What are the total monthly costs?
Another important detail to look for on your loan offer is the total monthly repayment cost, including the principal, interest rate and any fees. While the fees may depend on the type of funding that you're offered, repaying your loan on time and in full can help you keep these costs to a minimum. Once you know the total monthly repayment costs, it's important to carefully measure this amount against your income and budget to make sure you can reasonably afford to take out the loan.
5. Is my personal information accurate?
Although responsible lenders have reliable methods to cross-check application data to ensure accuracy and prevent fraud, it's still a good idea to make sure that your information, including your full name, bank routing number, address and other personal details on your loan offer are complete and accurate. While it's unlikely that you'll see errors during this step, incorrect information may delay your loan funding timeline or mean that you may need to call customer service to correct information later down the line.
6. How will I repay?
You should also consider exactly how the lender expects you to repay. This information includes the frequency and method of the loan repayments. While such repayment details can depend on the type of funding you receive, it's important to make sure you're aware of exactly how this money will get to the lender. For example, are you setting up an ACH authorization for convenient automatic debits directly from your checking account or making payments via another method? In any situation, it's important to consider the loan payments — and how they'll be made — when planning your budget.
7. How long do I have to repay?
Another important detail to look for in your offer is the loan term, or how long you have to repay in full. While the loan term can depend on factors such as the type of credit and the loan amount, you should have a good idea how long it will take to completely pay off the loan. Additionally, some lenders allow you to pay off your loan early, which can help save you money. Look for details about whether your loan is eligible for a no-penalty early payoff in your loan contract.
The information in this article is provided for educational and informational purposes only, without any express or implied warranty of any kind, including warranties of accuracy, completeness or fitness for any particular purpose. The information in this article is not intended to be and does not constitute financial, legal or any other advice. The information in this article is general in nature and is not specific to you the user or anyone else.