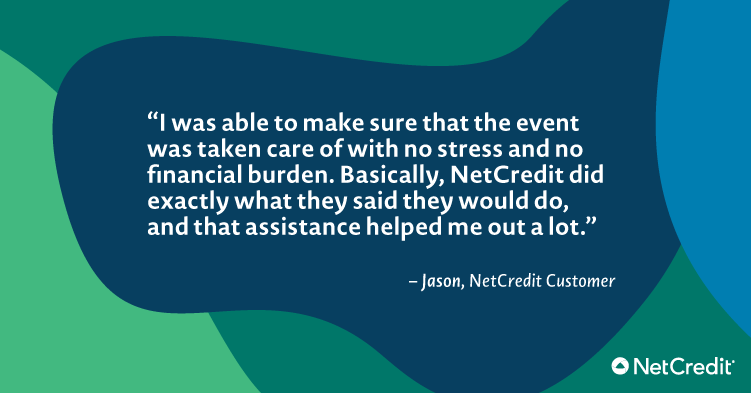 A Helping Hand for Jason's Event: NetCredit Success Story Video
Disclaimer: Customer was compensated for sharing their experience. Interview has been edited for clarity.
Jason is a father of three girls. He needed extra funds for an event that was coming up and found NetCredit. With a personal loan from NetCredit, Jason was able to pull off the event — then pay off the loan.
Jason's Approach to Personal Finance
Jason works side jobs in addition to his full-time job in IT. He's recently started to focus even more on his finances as he is considering buying a home. To stay on top of his finances, he likes to monitor his accounts and gain knowledge and ideas from social media.
"I watch a lot of YouTube videos from a couple that talks a lot about finances…really trying to get on it and budget better. It's been a rough last couple of years, but I see things starting to turn around."
Unprecedented Times Cut Out Some of Jason's Income
When Covid-19 came to the United States, Jason was lucky to keep his IT job and maintain that income, but it affected the income from his side jobs.
"The other jobs that I was doing, not being able to do them…it reduced the income," said Jason. "And I needed to get help. That's why I had to reach out."
Jason Found the Relief He Needed — When He Needed It Most
Jason went to Google to search for a personal loan. He found NetCredit and liked what it had to offer.
"It had a lower rate for me, and I'm able to get my money quick," said Jason.
Jason Preferred His Experience With NetCredit Over Other Lenders
"It was smooth, quick and easy. There wasn't a lot of hassle," said Jason. "Sometimes, in the past when I've dealt with a loan…there's been some hassle to meet with somebody. You gotta go somewhere, gotta fill out a bunch of paperwork. But I didn't have that problem with NetCredit. It was simple to apply online and get a result. Not too long after that, the money was deposited."
The Funds From NetCredit Helped Jason Take Care of His Event 
"I was able to make sure that the event was taken care of with no stress, no financial stress and no financial burden. Didn't have to cancel anything, any parts of the event, because I didn't have the funds. The funds were there. I was able to take care of it, and I was able to achieve the goal of a successful event."
Jason Is Thankful That NetCredit Was Able to Help
"When you have a need and you need some help, you want to know that somebody is there to be able to help. NetCredit was there to assist me in that time of need," said Jason. "NetCredit did exactly what they said they would do. And that assistance helped me out a lot. At that moment in time…NetCredit was there to help. I was able to get what I needed and provide what I needed to provide for the family."
Thank you to Jason for sharing his story with us. It's a great example of how a NetCredit personal loan or line of credit can help provide funds to people when they need them most. If you'd like to read more customer experiences, visit our success story page.