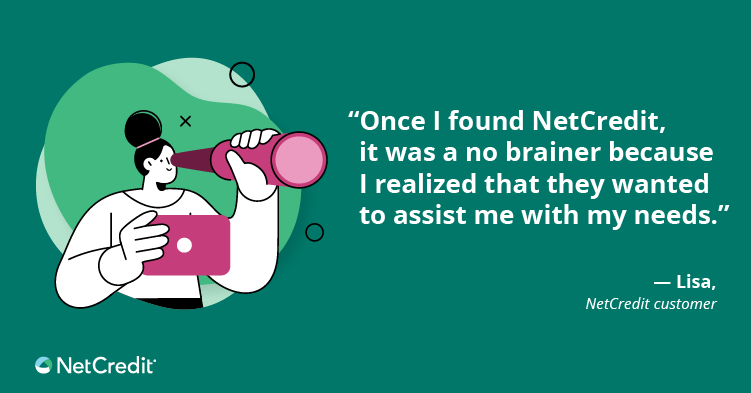 Financial Security in Uncertain Times: A NetCredit Success Story Video
Disclaimer: Customer was compensated for sharing their experience. Interview has been edited for clarity.
Lisa is an event planner who wanted to assist her family while they were going through a rough transition. Discover how she secured financial assistance to ease the burden on her budget.
Lisa's Approach to Personal Finance
"I monitor my accounts on a weekly and monthly basis. I keep a spreadsheet which allows me to understand what I've spent the previous months and what I'll be spending in my future months and see that those can meet my goals. 
Credit's important to me because of my age and my past failures that I've had in not keeping myself up to date with my finances, with my credit scores and opportunities that could have come my way as far as purchasing a new vehicle or a car or not being able to assist my girls when they needed my help. So now what I tend to do is monitor my credit score and stay within my budgets so that I know in the future, if I need or want to purchase a vehicle or [if] I choose to move to another area or another state, I will have that behind me and I'll have something that is secure."
Lisa knows that credit health is important for more than just your financial health. Having good credit can help you secure a job, rent an apartment or even take out a mortgage at a more affordable rate. If your credit score is low, discover how you can take steps to improve it.
Lisa Decided to Help Her Family, but Needed Additional Funds
"My daughter got engaged and then her fiancé [was deployed], and I was trying to figure out something that would make her happy. I wanted to take her on a little trip, but then I also wanted to take care of a couple of other bills that were lingering. 
I was in control of my finances at that time, but because of the circumstances [my daughter] faced and me wanting to give her that little bit of happiness to keep her mind off of her fiancé being deployed, it was going to take a little more than I [had]."
Occasionally, unplanned expenses and bills come our way when we least expect them. If your emergency fund is low, there are financial options available to help you pay for bills and manage unexpected costs. Learn how to build your emergency fund quickly with our guide.
Lisa Applied for Fast Funding With NetCredit
"I heard about NetCredit and I decided, 'well, I'm gonna look into this and see what it entails.' As I followed through, I realized this is [something] that can really work for me. Payments were small, the timeframe was reasonable and I could offer my daughter a little happiness, at least for a short period of time. And it wouldn't really hurt my budget. So once I applied, and immediately within I would say an hour, the funds were directly deposited into my account."
NetCredit is available to help you secure the funding you need with a fast online application. If approved, you can get funds deposited directly in your bank account.
Repayment Is Easy and Convenient
"I didn't have to change one thing in my life to manage those payments. That's how small the payments were.
I like the fact that the payments are automatic and they're reasonable."  
NetCredit offers funding with flexible repayment options that fit your budget. You can also set up automatic bill payments to make paying back your loan even easier.
Lisa Secured the Help She Needed
"I was able to take care of those two bills so they weren't hanging over me, and then take my daughter on this little trip.
Once I received the funds, I couldn't believe it. I actually thought this was going to take weeks to get, and an hour after […] applying, my phone dinged, and the funds were available. It was really empowering to know that someone was out there backing me. It felt good."
If you need financial assistance to help meet your needs, you can apply for NetCredit funding today.