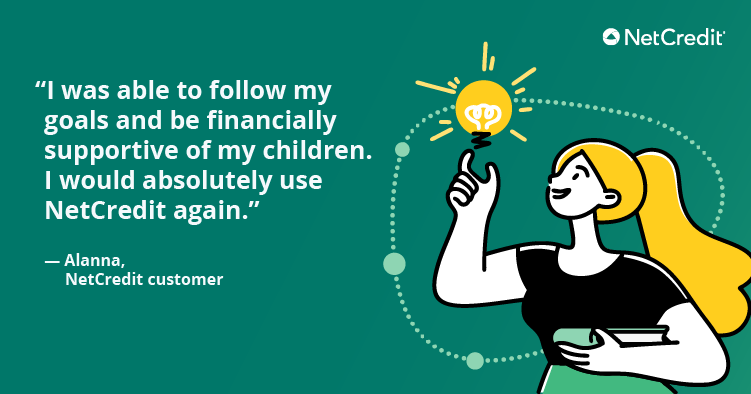 Managing Expenses Through a Lifestyle Change: A NetCredit Success Story
Disclaimer: Customer was compensated for sharing their experience. Interview has been edited for clarity.
Alanna is a hardworking cosmetologist from Missouri with two daughters. Although she earned a steady income working at a salon, she decided to pursue her passion and open her own shop.
Alanna Stays on Top of Her Personal Finances With Budgeting Technology
"The last couple of years I've really taken time to do the research, be diligent and follow a budget. But it did take a little bit of work for me to get there. […] I monitor my accounts by an app that I found, and with that app, I have my bank and all of my credit cards and recurring bills linked."
Alanna has a convenient system to keep an eye on her finances with a helpful budgeting and credit monitoring app. It's never too late to start budgeting and get on the path to improve your finances. With free tools like an online budget calculator, personal finance apps and credit monitoring services, you can take steps toward better financial health.
Alanna Pursued Her Dream and Opened a Salon
"I had just had a move, and I had gone from being at a commission salon to opening my own salon [and] renting a space. And with that, there were a lot of finances involved. I had to purchase all of my product [and] had rent. I had to get licensed and, you know, a magnitude of things. It was just really overwhelming. And that's when I found NetCredit. […] And with that, I applied for the loan. It was so easy. I just did it online, and I heard back really fast and I was able to get that."
Alanna realized that making a lifestyle change was a big financial investment with several unexpected expenses along the way. With a NetCredit loan or line of credit, you can pay for the necessities and get back on your feet faster.
She Created a Financial Foundation With Access to Credit 
"[The credit] put me in a place where I was more financially stable. [I was able] to go […] from having a steady income guaranteed that I didn't have to necessarily generate to having to generate my [own] income. And that credit gave me the foundation to do that." 
A line of credit is a good option for those who have an ongoing need for credit. Similar to a credit card, a line of credit provides revolving access up to a credit limit. As the balance is repaid, that amount is available again to reuse.
She Appreciated the Flexible Repayment Options
"One of the things that I really liked about NetCredit that made me decide to go with them was that people said you can set your payments and it's not overwhelming. If you've been in a better situation, you can pay it off early. And I actually ended up paying mine off early."  
Whenever you borrow money, it's important to make sure you can reasonably afford to take out and repay the loan based on your income. With a NetCredit loan or line of credit, you have flexible repayment options to suit your needs and your budget. If your financial situation changes, you can make extra payments or pay off your loan early with no penalties.
Alanna Established Her Business and Improved Her Finances
"When you have a loan and, you know, you are working on your credit, it just really makes you aware of, you know, how each financial decision will affect your life. And I felt good that I was able to get the loan.  
I was able to follow my goals and be financially supportive of my children. I would absolutely use NetCredit again. […] It helped me establish my business, and from there I was able to grow financially."
If you need flexible funding with options that suit your needs, apply for a NetCredit loan or line of credit today.