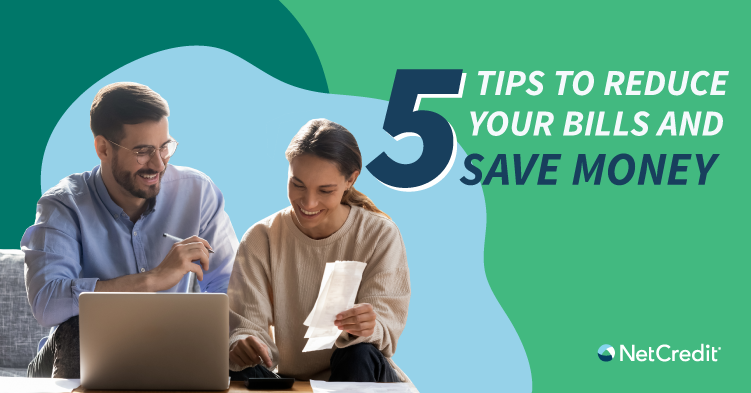 How to Limit Your Monthly Bills
Do you feel like you always run out of money at the end of each month? Following a budget is a great start to help improve your finances and keep your spending in check. Sometimes, though, it's a good idea to dive deeper into your spending habits, expenses and bills to cut out unnecessary costs and keep more money in the bank. Whether you're looking to save significantly or just need to refresh your finances, learn how to limit your monthly bills and lower expenses with these five tips.
Keep Track of All Spending
If you don't already follow a budget, now is the time to plan, track and trim your expenses. Knowing exactly how and where you spend your money is an important step in reducing your overall monthly costs. While you may not have a lot of bills, you may be spending more than you realize on smaller purchases or unnecessary expenses that drain your paycheck without noticing it. In order to find out where you can cut down on costs, it's a good idea to comb through your expenses from the past two to three months. One easy way to do this is using an online bank account with budgeting tools. If you don't have an online bank account, you can use an online budget calculator to list out and total all your monthly bills and expenses. Tracking your expenses can help you create a realistic budget and identify better ways to save.
Look for Affordable Alternatives to Your Biggest Expenses
In general, some of the largest expenses in a budget include housing, transportation and food. Although you may not want to move, sell your car or give up the foods you love, there may be ways to lower costs on these expenses. Here are some tips that can help you save on some of the biggest monthly bills:
Find a roommate: Renting out extra space in your home or apartment is a great way to earn passive, reliable income each month.
Try negotiating your rent: If you have a good relationship with your landlord and regularly pay on time, you may want to try negotiating for a lower rent cost. Though you may need to wait until your lease ends, your landlord may prefer to keep a reliable tenant than risk letting the apartment go vacant when your lease ends.
Work from home: While this option may not work for all occupations, working from home can eliminate the cost of your daily commute and help you drastically reduce monthly transportation costs.
Shop for car insurance: One of the most expensive costs of driving is car insurance. With so many car insurance providers, you can likely find a more affordable plan with a different company. If you have a good driving record, you may also be eligible for discounts or other cost-saving benefits with your existing coverage. To learn more, contact your insurance representative directly.
Shop in season: Grocery stores tend to give the best discounts on seasonal produce. Whenever possible, shop for sales on in-season fruits and veggies.
Reduce Recurring Charges
From monthly subscriptions and membership fees to utilities and phone bills, you likely can reduce or eliminate many recurring charges you pay each month. Although they may seem like small costs, monthly payments tend to creep up over time and deplete your bank account. Below are just a few suggestions to save more on monthly costs:
Gym membership: Following mass business shutdowns from the pandemic, many gyms are offering reduced membership fees to help attract new customers. Rather than sign up for a lengthy membership, you can also aim to work out from home for free or look for gyms that let you pay by the visit.
Streaming subscriptions: Although streaming media subscriptions are generally less expensive than a cable package, small charges tend to add up, particularly if you have more than one monthly membership. Consider cutting down to your most used platform, or staggering streaming memberships every few months to keep your viewing options fresh.
Utilities: Although you may not have a lot of room to cut back, simple changes like adjusting your heating and cooling by just a few degrees can help reduce costs year round. Additional upgrades, including energy-efficient windows or window panels, can help insulate your home and save on heating and cooling costs. Consider also switching to more energy-efficient lighting with LED bulbs. Additionally, it may help to contact your utility providers directly for any cost-savings programs they may offer.
Cell phone: While a cell phone may be necessary for your day-to-day life, you may be able to save significantly each month with a less expensive plan or different phone. To learn more about your options or whether you can switch plans, contact your cell phone provider. If you're not under a contract, you can often take advantage of sign-up bonuses and discounts when switching to a different company.
Consider Consolidating Outstanding Debts
Debt consolidation is the process of combining multiple outstanding debts, like loan or credit card bills, into one more manageable monthly payment. Consolidating outstanding debt may help you secure a lower monthly payment and make more room in your budget. Although you'll still have one loan payment, debt consolidation can also help you eliminate the stress of juggling multiple due dates throughout the month. Some common debt consolidation tools include a debt consolidation loan or credit card balance transfer.
Start a Debt Management Plan
Another way to help lower monthly costs is by reducing or paying off any outstanding debt with a strategic debt management plan. Some of the most popular methods include:
Debt avalanche: This debt elimination strategy prioritizes your highest interest debts first, which can help save you money over time. For this method, you'd make the largest payment you can afford toward your highest interest debt and continue making the minimum monthly payments toward all other debts.
Debt snowball: On the other hand, the debt snowball method starts with the smallest outstanding debt and moves on to the largest. Rather than making a bigger payment on the balance with the highest interest, you would prioritize paying as much as you can afford toward the smallest outstanding debt while making minimum monthly payments on all other debts. This method can help you see results faster, as you eliminate the smaller bills first.
The information in this article is provided for educational and informational purposes only, without any express or implied warranty of any kind, including warranties of accuracy, completeness or fitness for any particular purpose. The information in this article is not intended to be and does not constitute financial, legal or any other advice. The information in this article is general in nature and is not specific to you the user or anyone else.