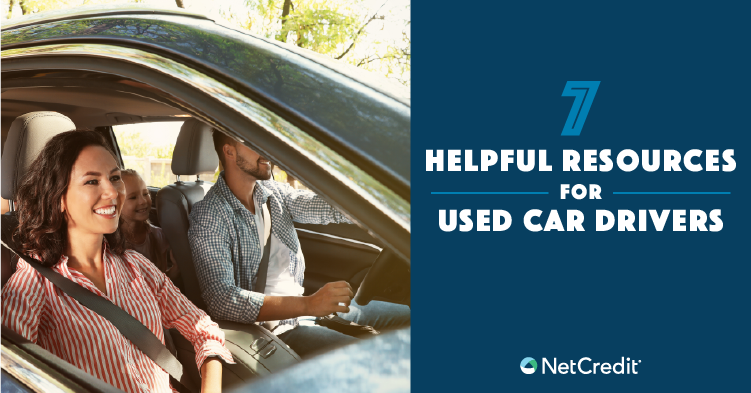 Important Resources for Used Car Owners
Used car drivers should stay on top of car maintenance, repairs and other important tasks to help keep their vehicles in good condition as long as possible. Recent data suggests that 47% of people surveyed plan to use their existing car longer than they originally expected. Whether you want to sell, buy, or hang on to your existing car, check out our used car resource guide for helpful links and tips.
1. DIY Car Maintenance
Routine maintenance is important for the longevity of your used car. If you're comfortable, performing a few basic car maintenance tasks on your own can help keep ownership costs low.
Check and Change Oil: According to AAA, changing your car's oil by yourself can help you save between $25 and $75 per change, depending on the specific types of oil and filter used. Use this basic tutorial to learn how to change your car's oil.
Check Tire Pressure: Proper tire pressure helps promote safety, and is important for basic tire maintenance. Learn how to check your car's tire pressure and inflate tires.
Change Air Filter: A clean air filter can help passengers breath fresher air, but they can also help reduce your car's emissions and prolong the engine's life. This DIY tutorial can help you change your car's air filter.
For best results, consult with your car's specific owner's manual for maintenance tips, requirements and other information.
2. Emergency Car Repairs
Driving a car inevitably leads to repairs. If your vehicle requires immediate work, you may not have a choice to wait until payday to get it fixed. These resources and tips can help when it comes to emergency car repairs.
Ask for Quotes: Before you agree to use any particular auto repair shop, try to get quotes from other mechanics in your area. If you cannot physically move your car, ask for quotes over the phone.  
Look for Online Reviews: Use a customer review site like Better Business Bureau, YourMechanic or Angi to find a local auto repair shop with good ratings.
Secure Financial Relief: If you don't have enough money saved to fund your repairs, consider fast online loans to help finance the cost.
3. Budgeting for Car Costs
Though some expenses will come at the least convenient time, planning for costs down the line can help the burden on your budget. These budgeting strategies can help you put more money aside for a rainy day.
Start or Increase Emergency Fund Savings: Aim to increase your emergency fund savings $10 or $20 per check, depending on your budget. Or, open an emergency savings account if you don't have one already.
Save Money Automatically: Set up savings account auto-transfers so that you can save money on a recurring basis without lifting a finger.
Cut Down Your Budget: Look for ways to trim down your budget in other nonessential categories, like entertainment or dining out.
4. Staying Safe on the Road
Safe driving is important for drivers of any car. In addition to acquiring the proper insurance for your automobile, these tips can help you stay safe on the road.
5. Maintaining Car Resale Value
Whether you intend to sell your vehicle or drive your car forever, maintaining its longevity can help you save money.
Detailing Your Car: Giving your car a high-quality detailing can make it more appealing to potential buyers. Use this step-by-step car detailing guide to save money while you prepare your car for sale.
Save Maintenance Receipts: If you intend to sell your car, place a pocket folder inside your glove compartment to neatly store maintenance and repair receipts, car warranty information and other related documentation.
6. Selling Your Car
If you plan to sell your car, these resources can help you determine what it's worth and get a decent price.
7.  Buying a Used Car
If you need to replace your existing car, these resources can help if you're in the market to buy.
How to Inspect a Used Car: Use this guide to evaluate a used car that you may want to buy.
Where to Research a Car: Use a website like Carfax.com look up the car's specific Vehicle Identification Number (VIN) to find information about car estimates, the number of owners, accidents and service records reported.
Ensure There Are No Active Recalls: Before buying a used car, the FTC recommends checking the National Highway Traffic Safety Administration database for any open safety recalls. Avoid purchasing a vehicle with existing recalls and/or incomplete repairs.